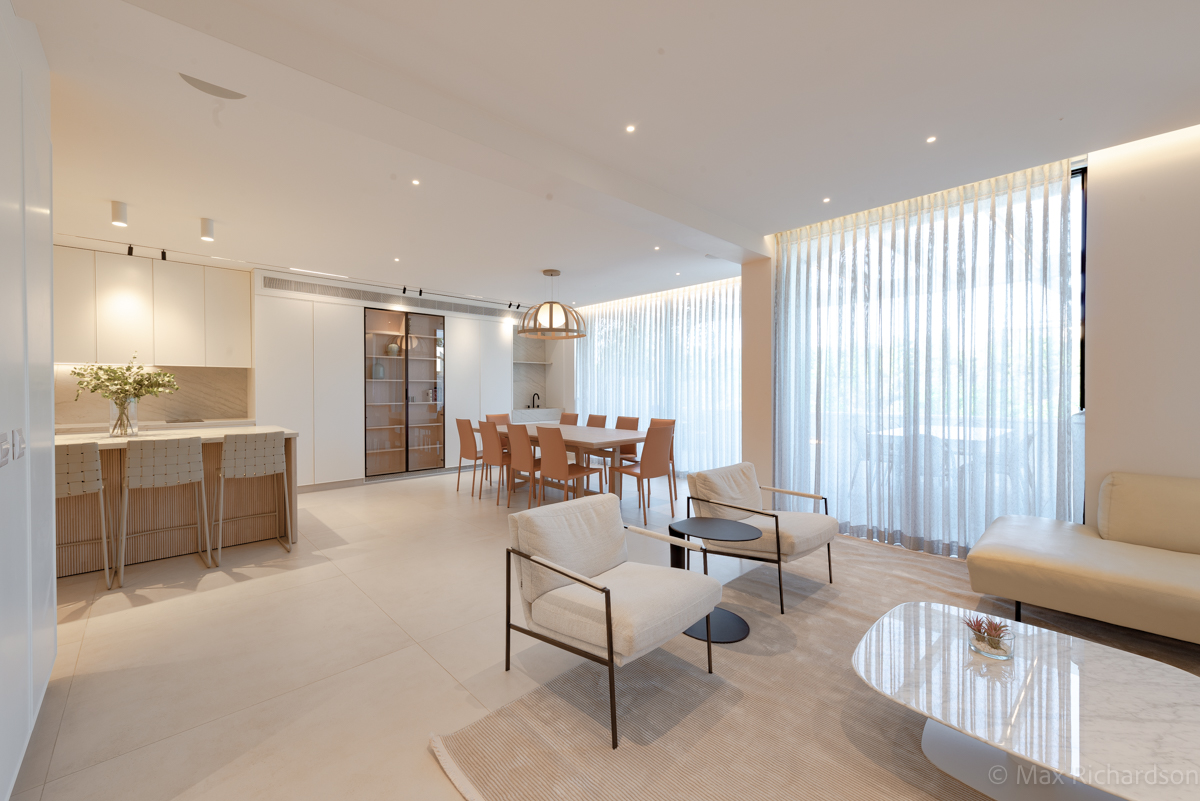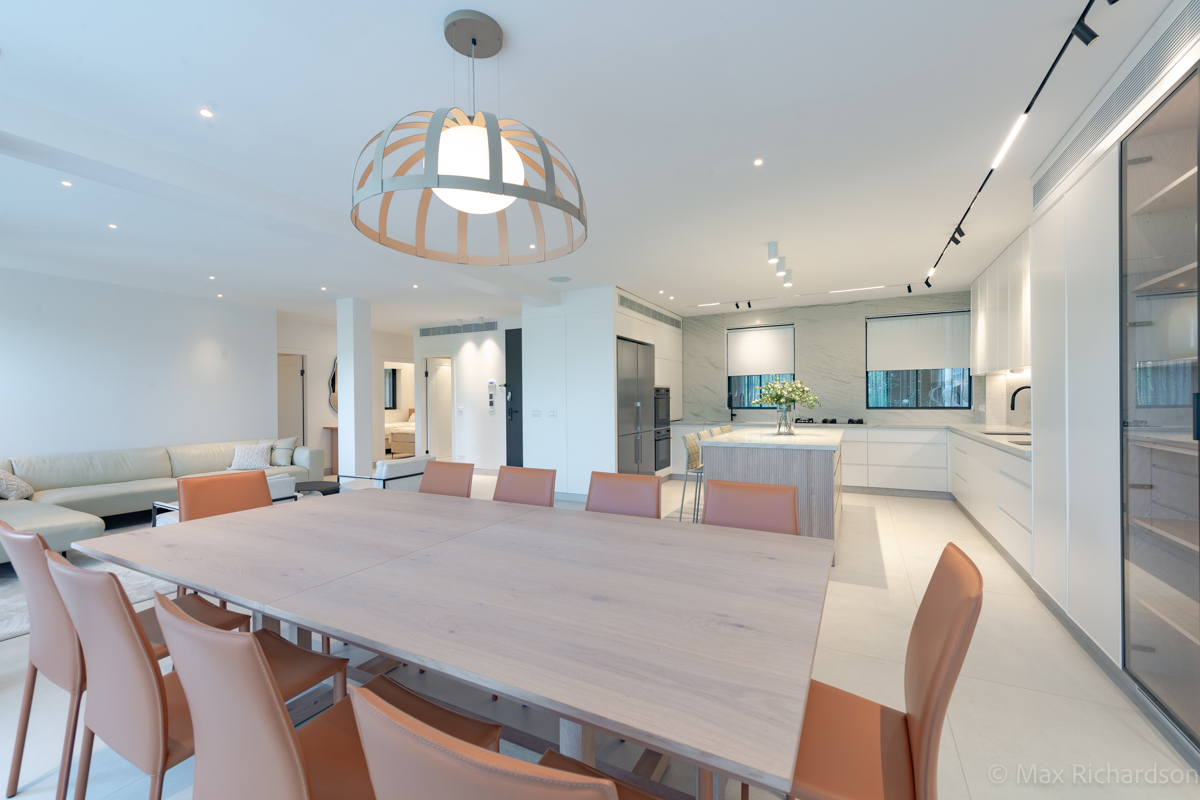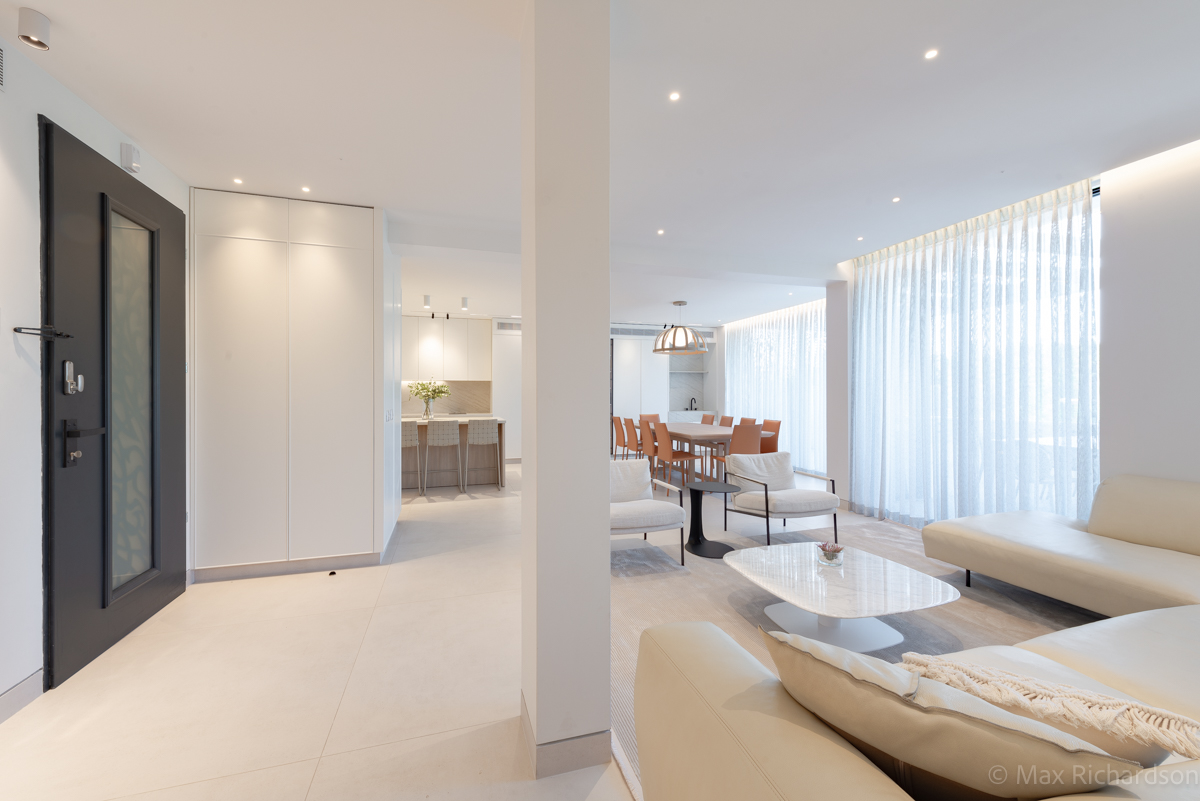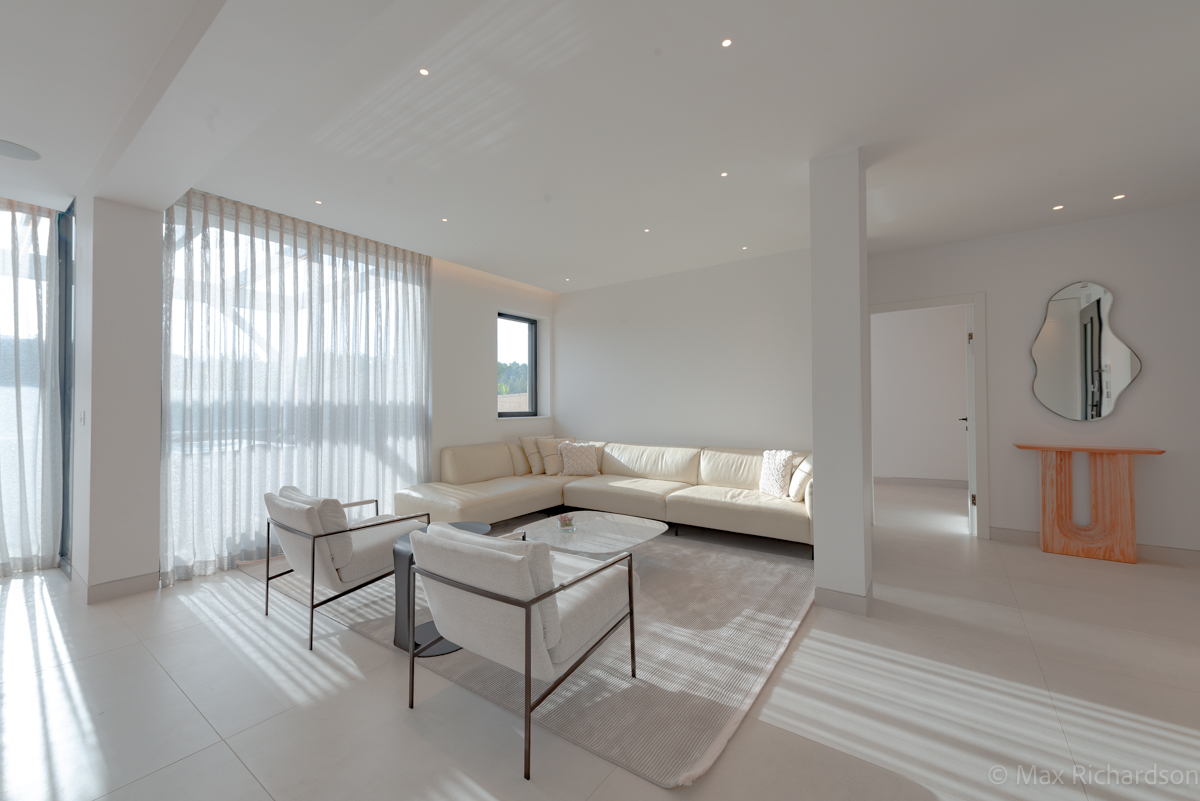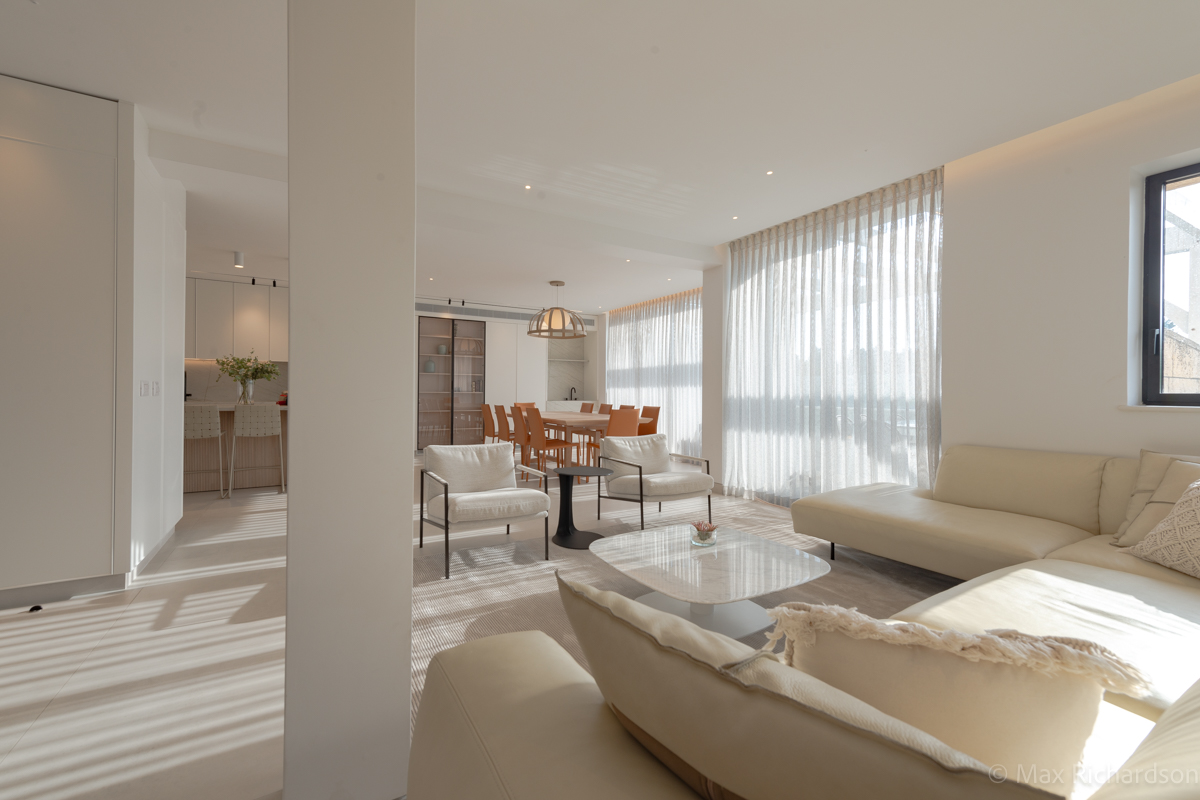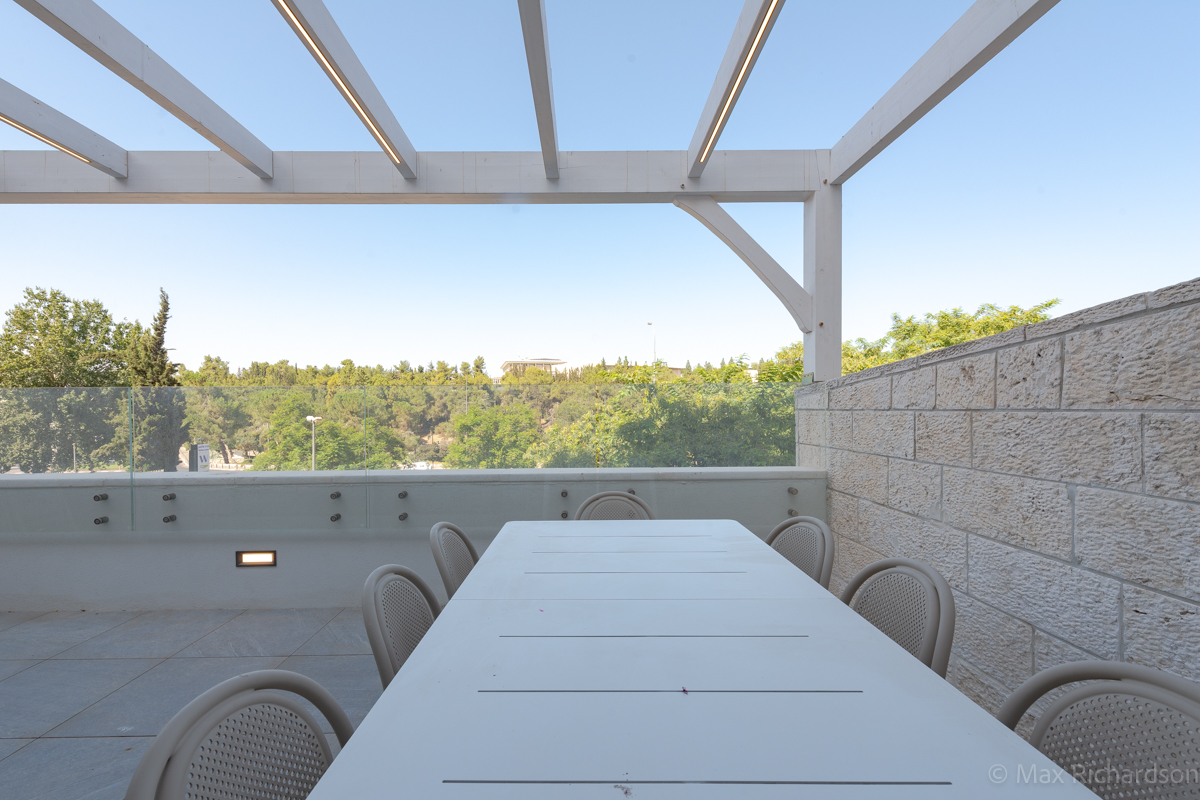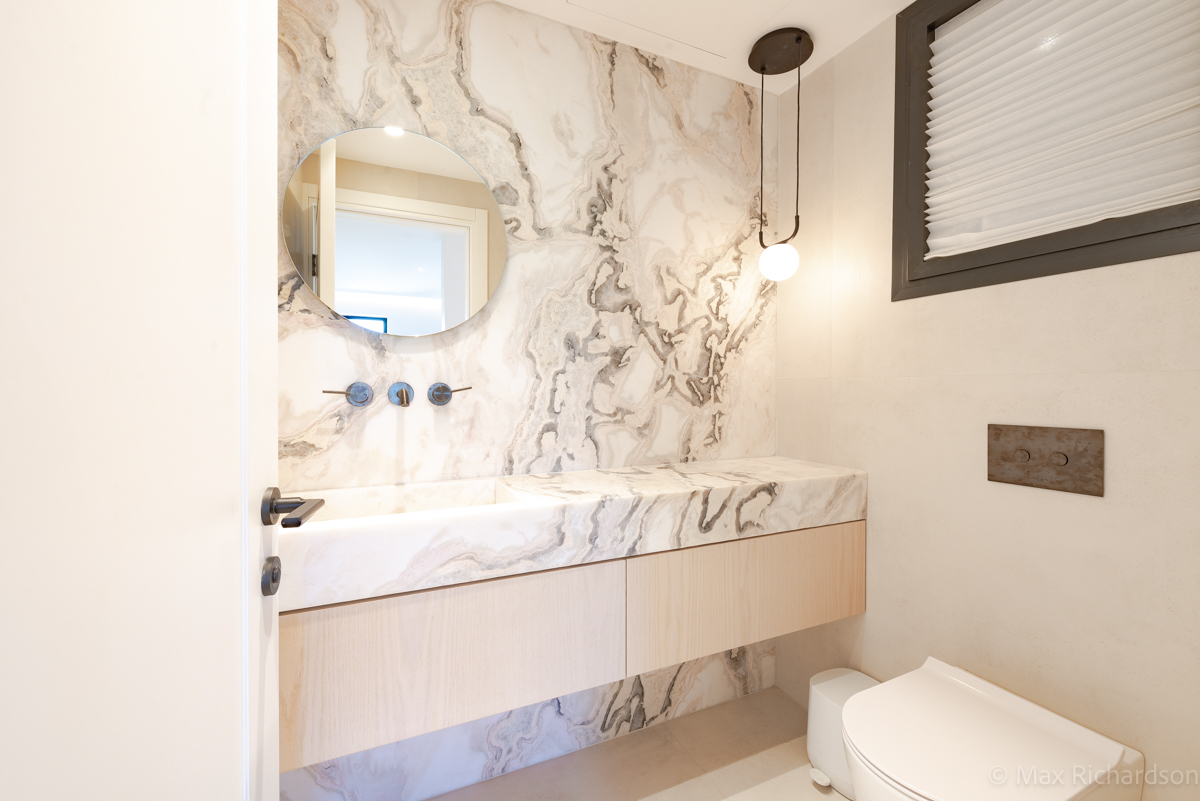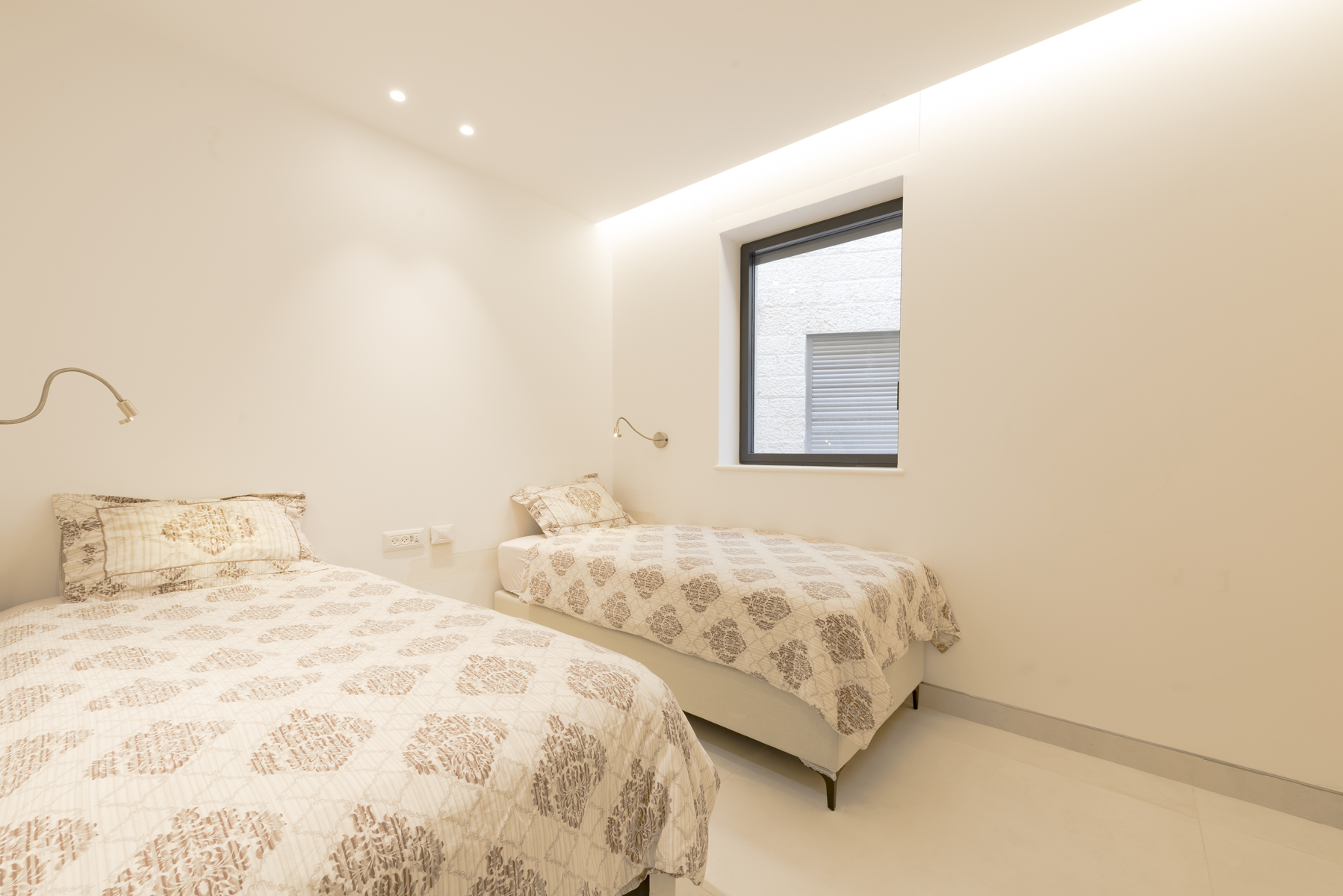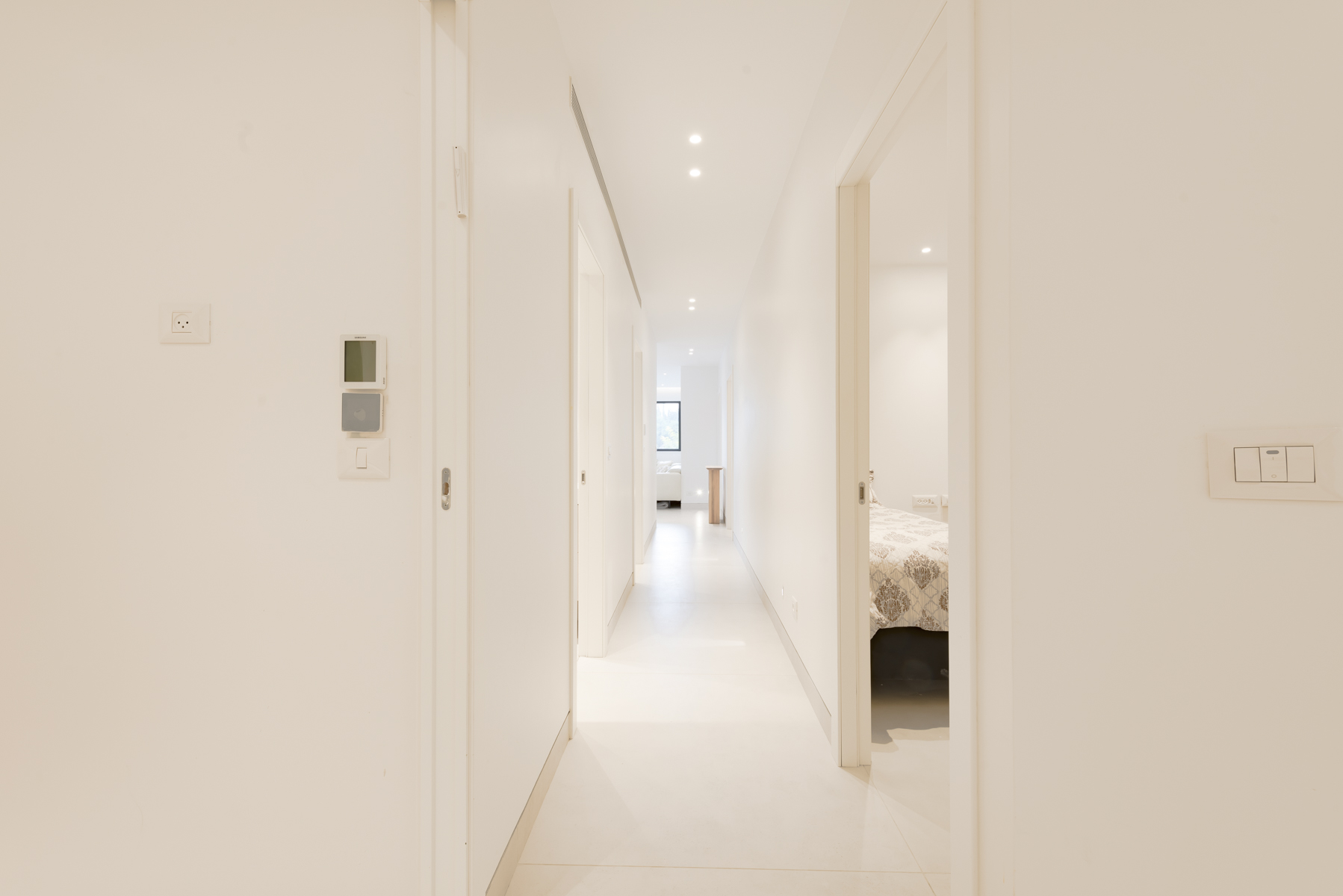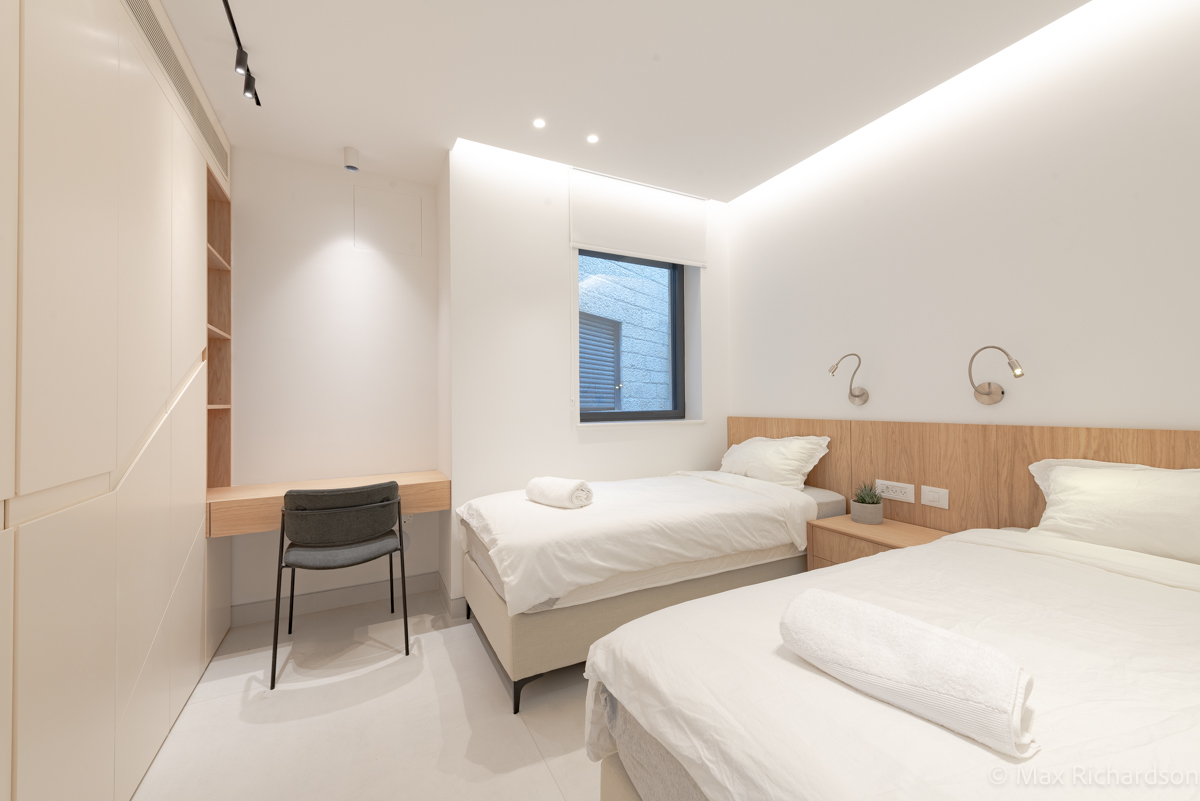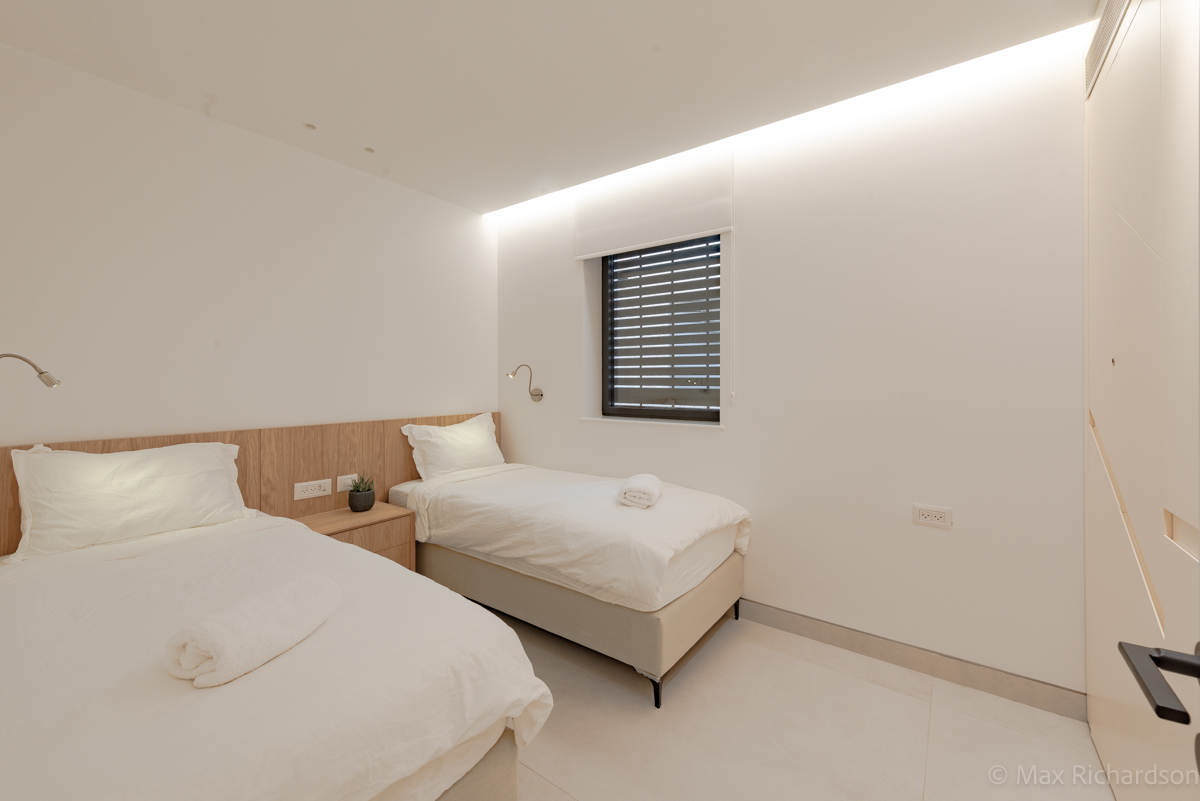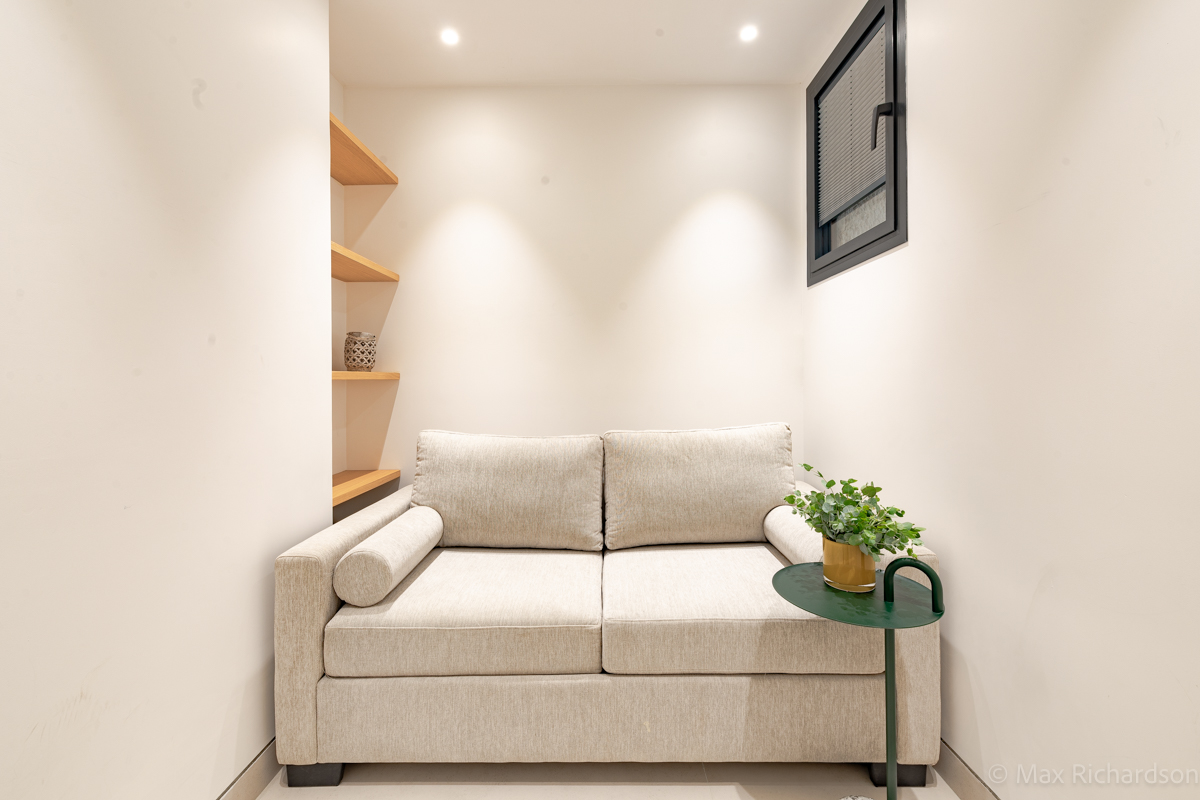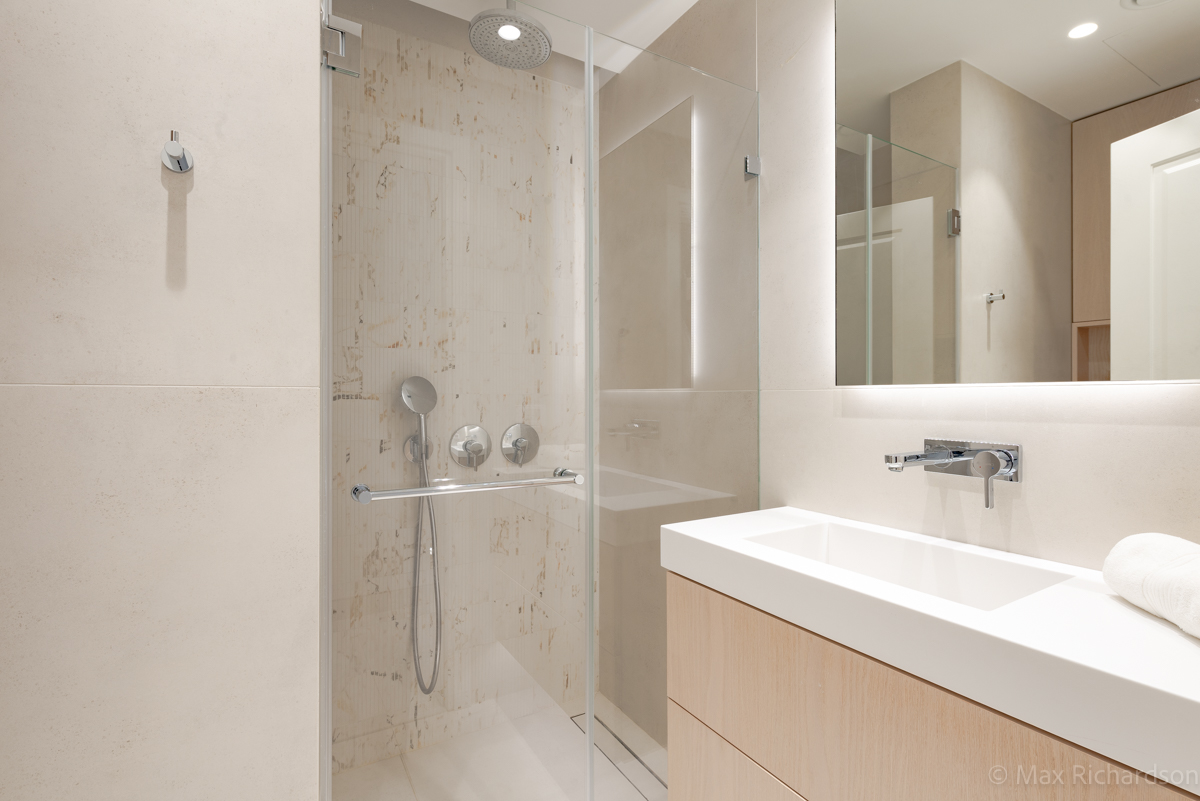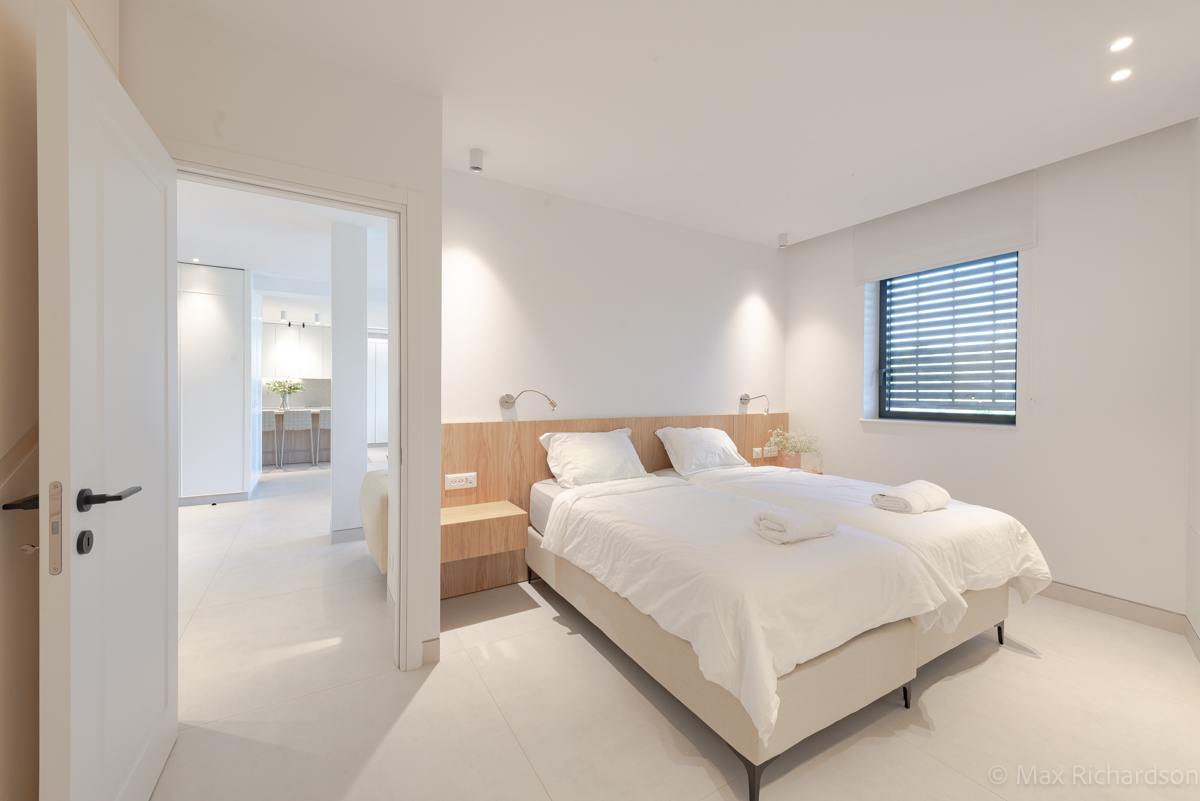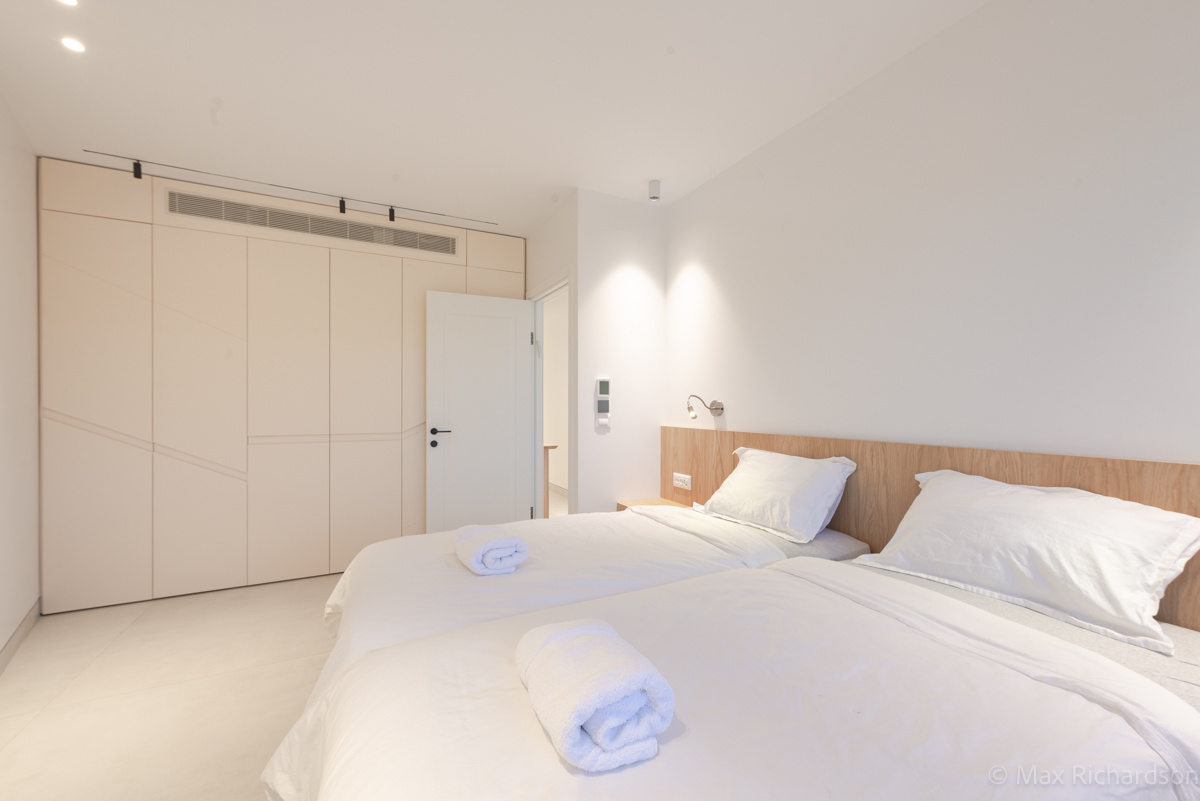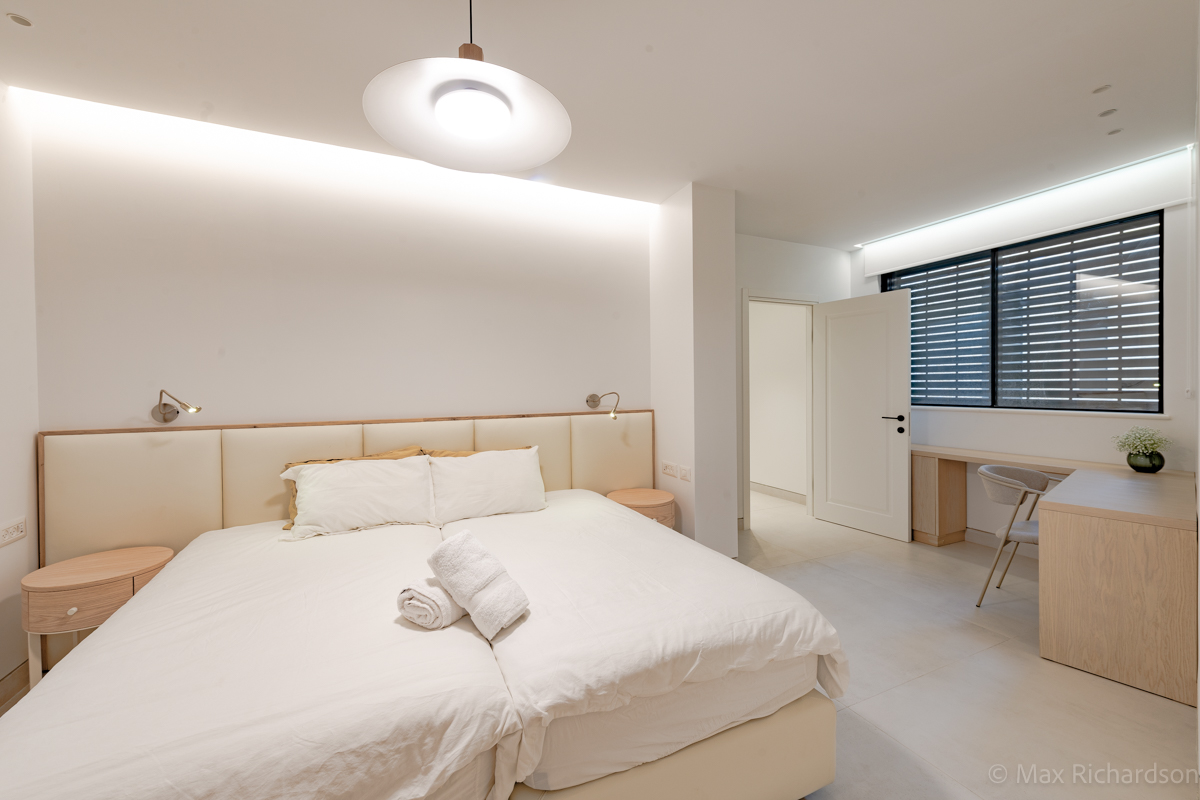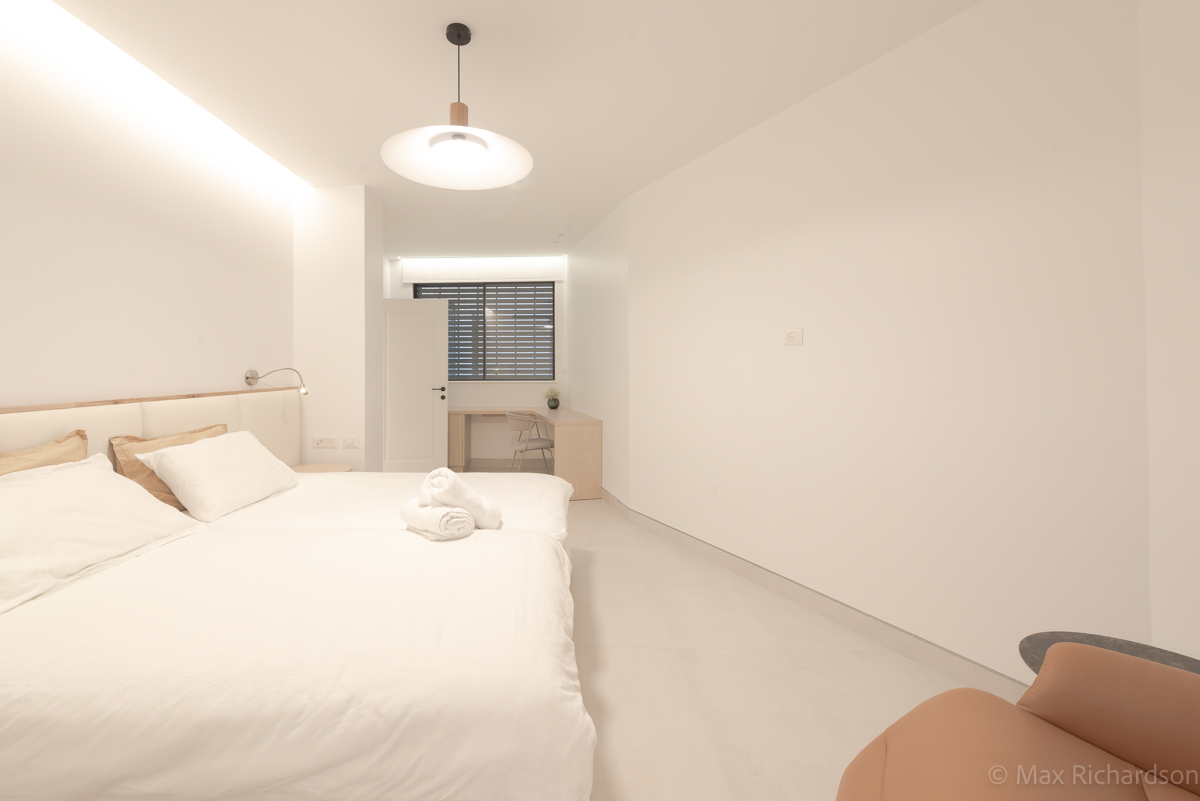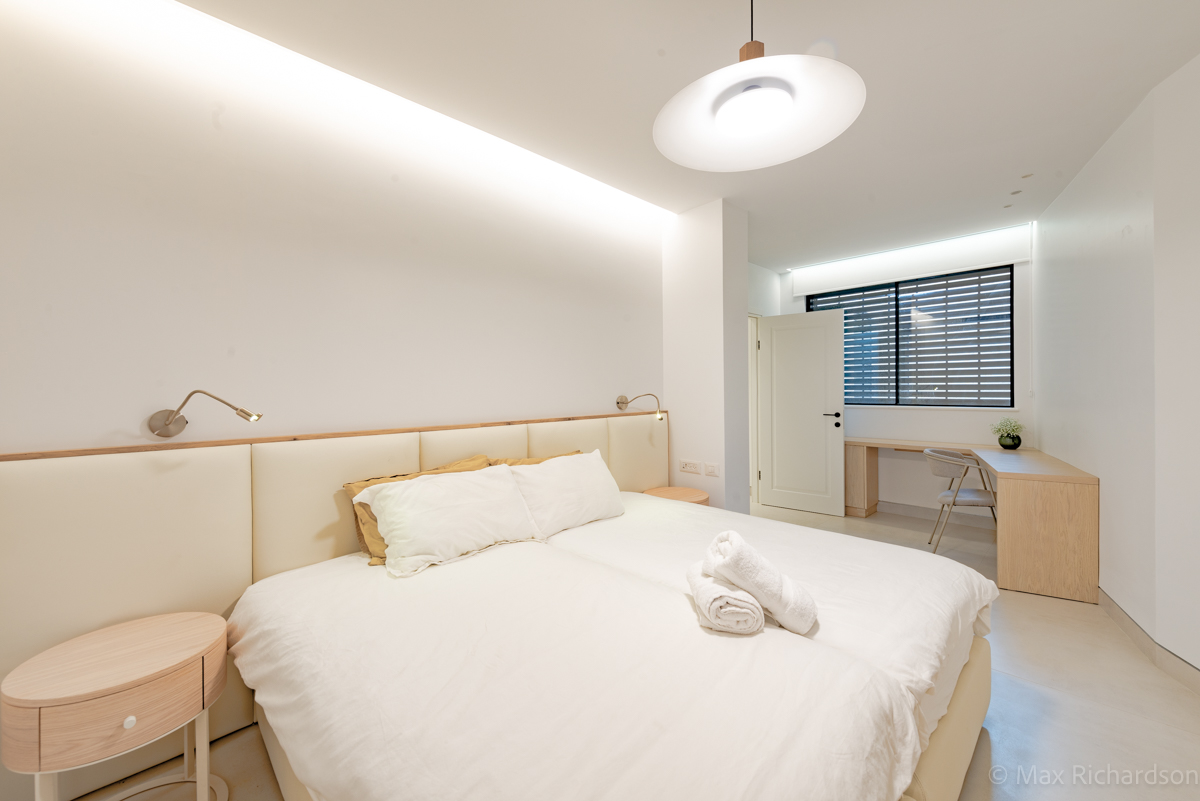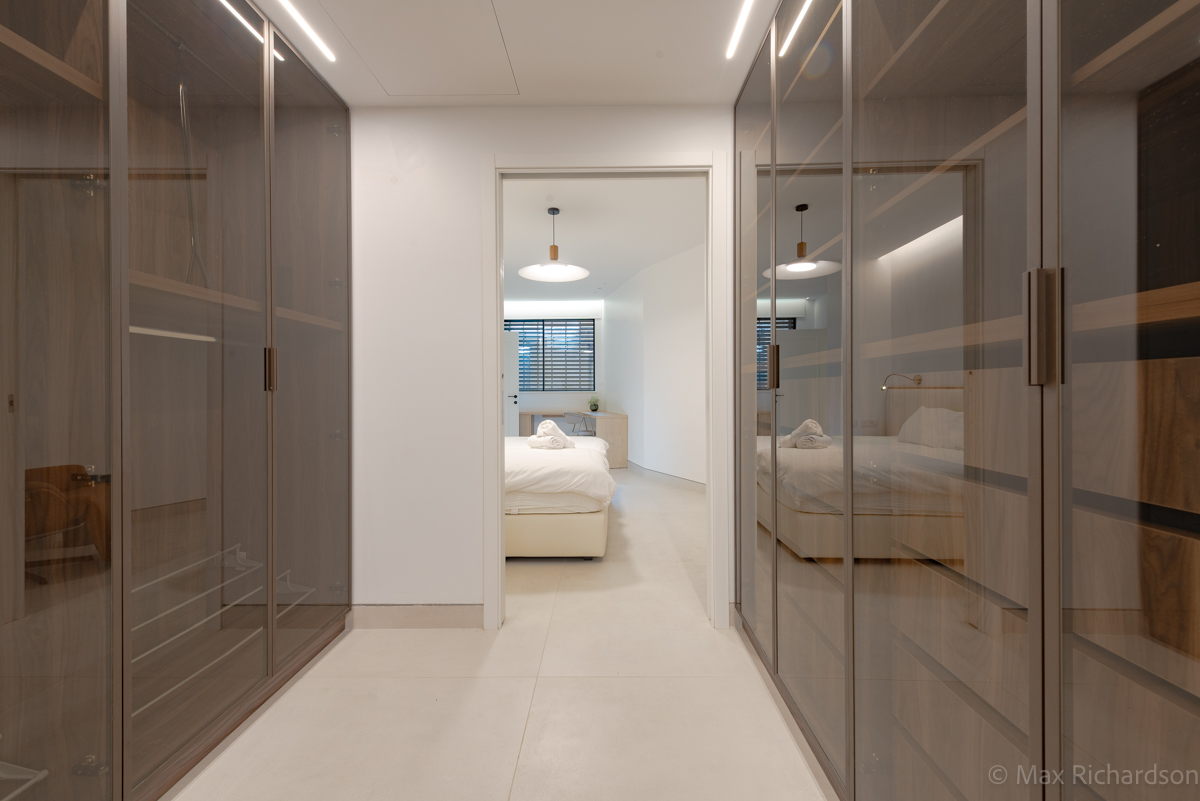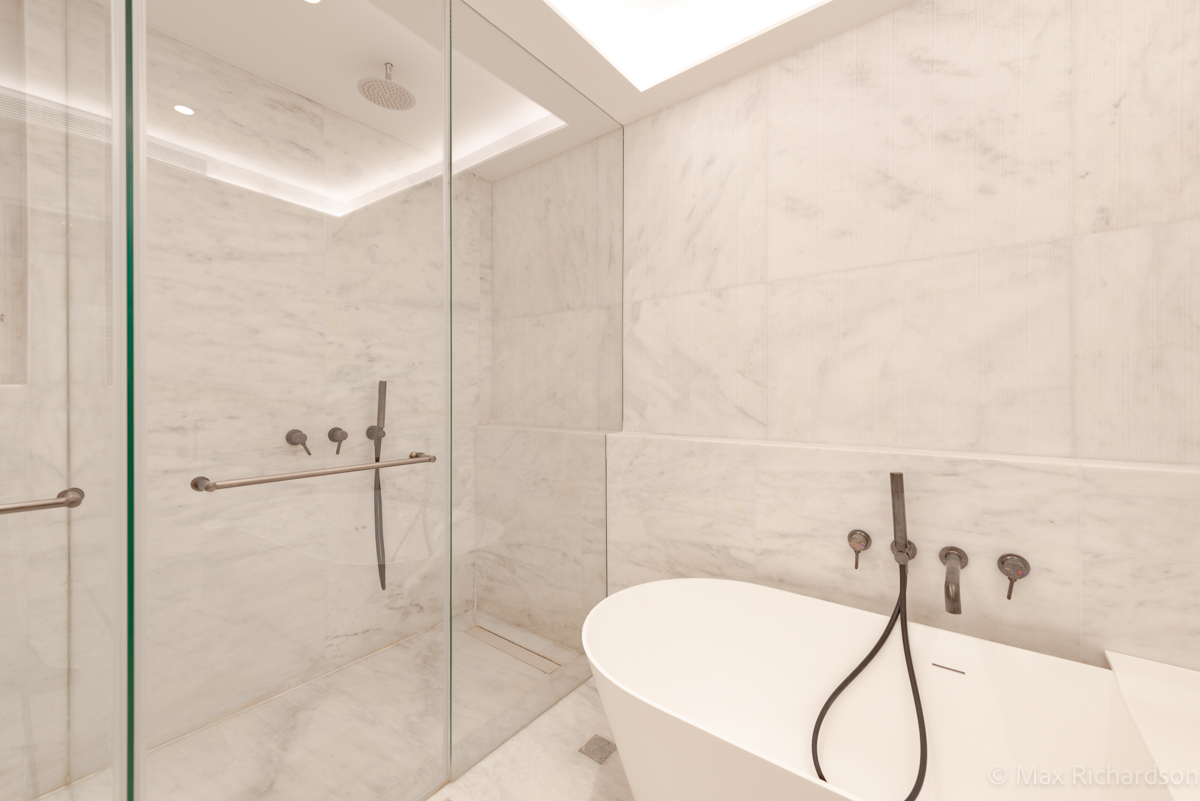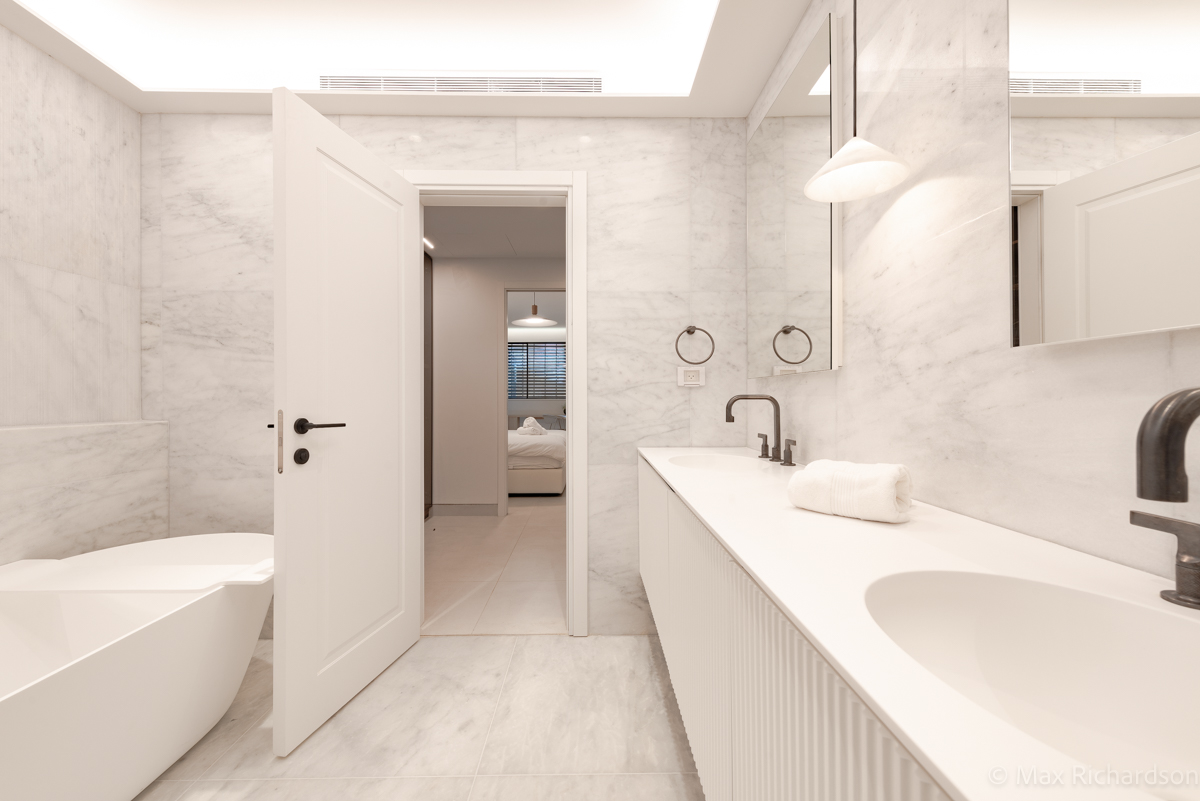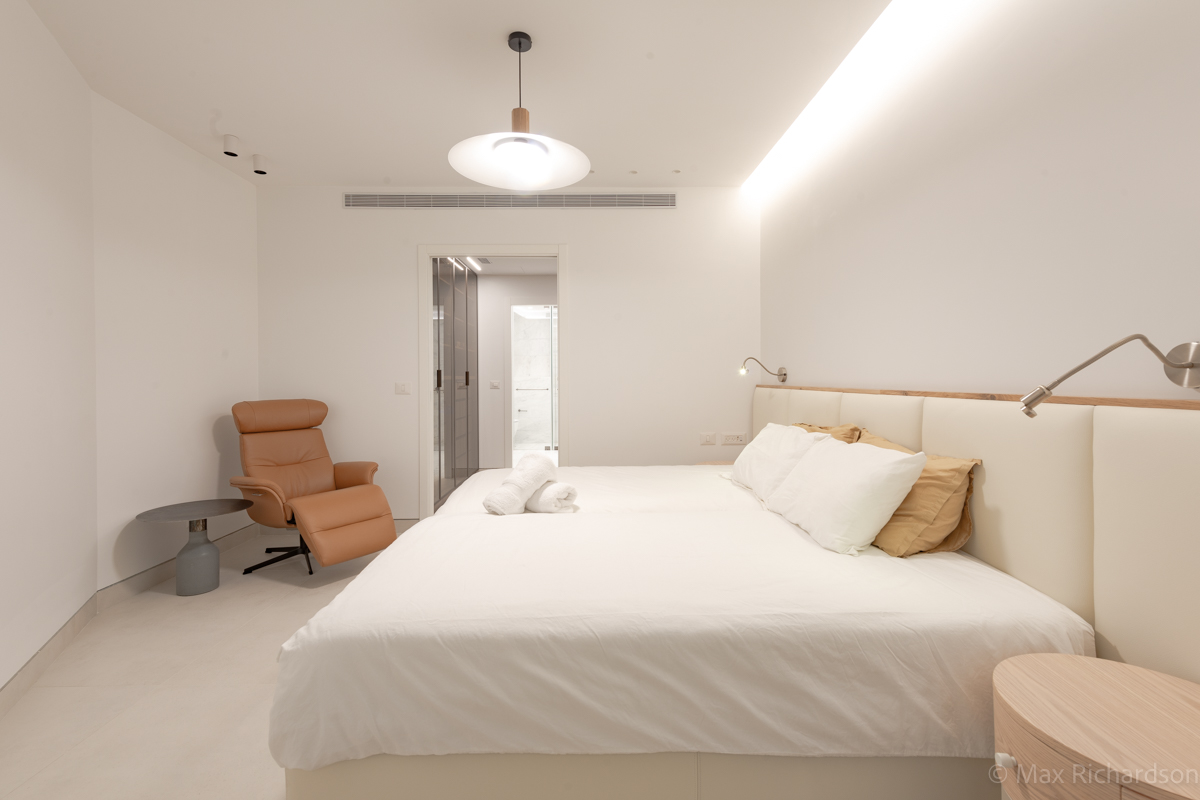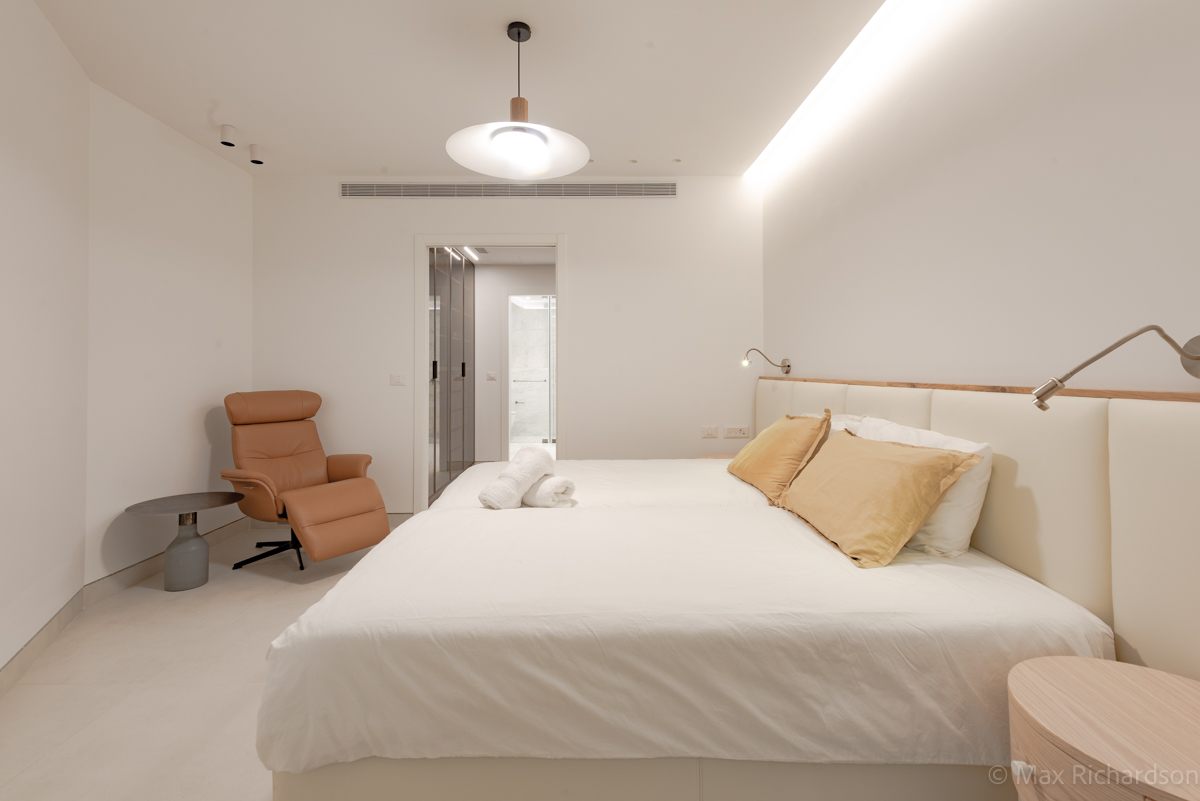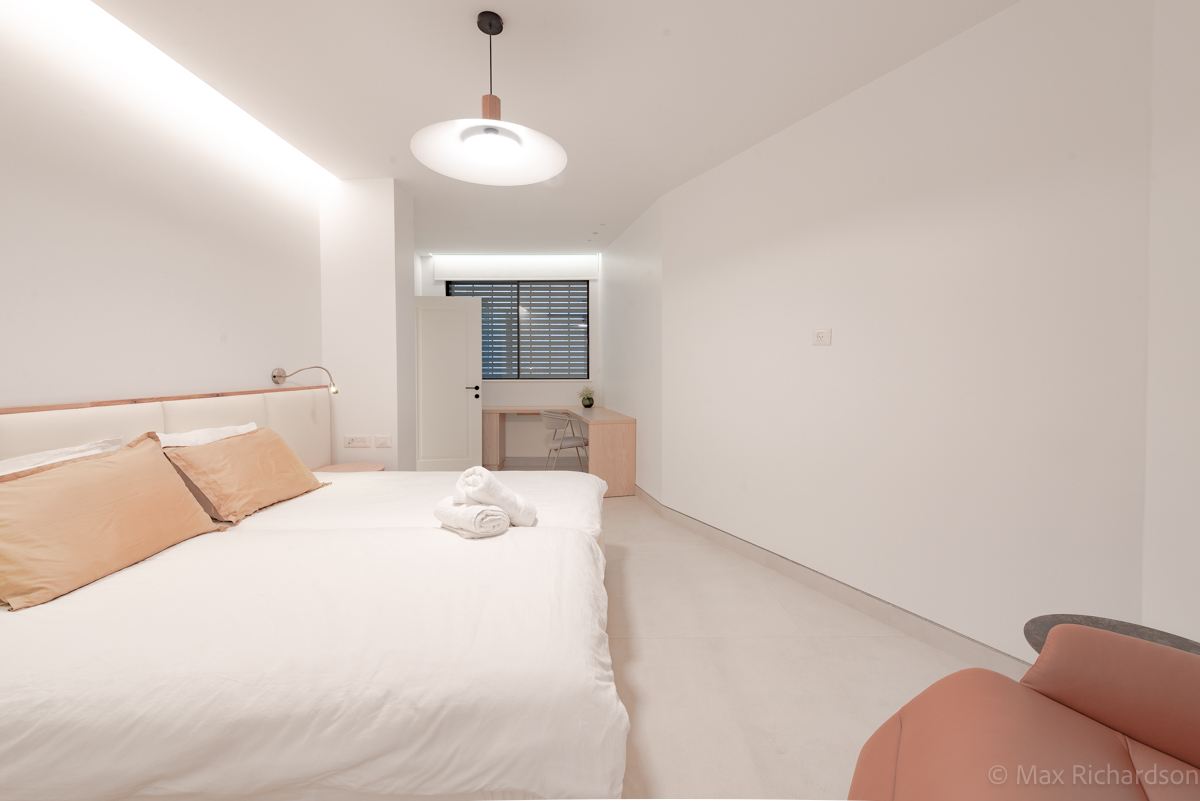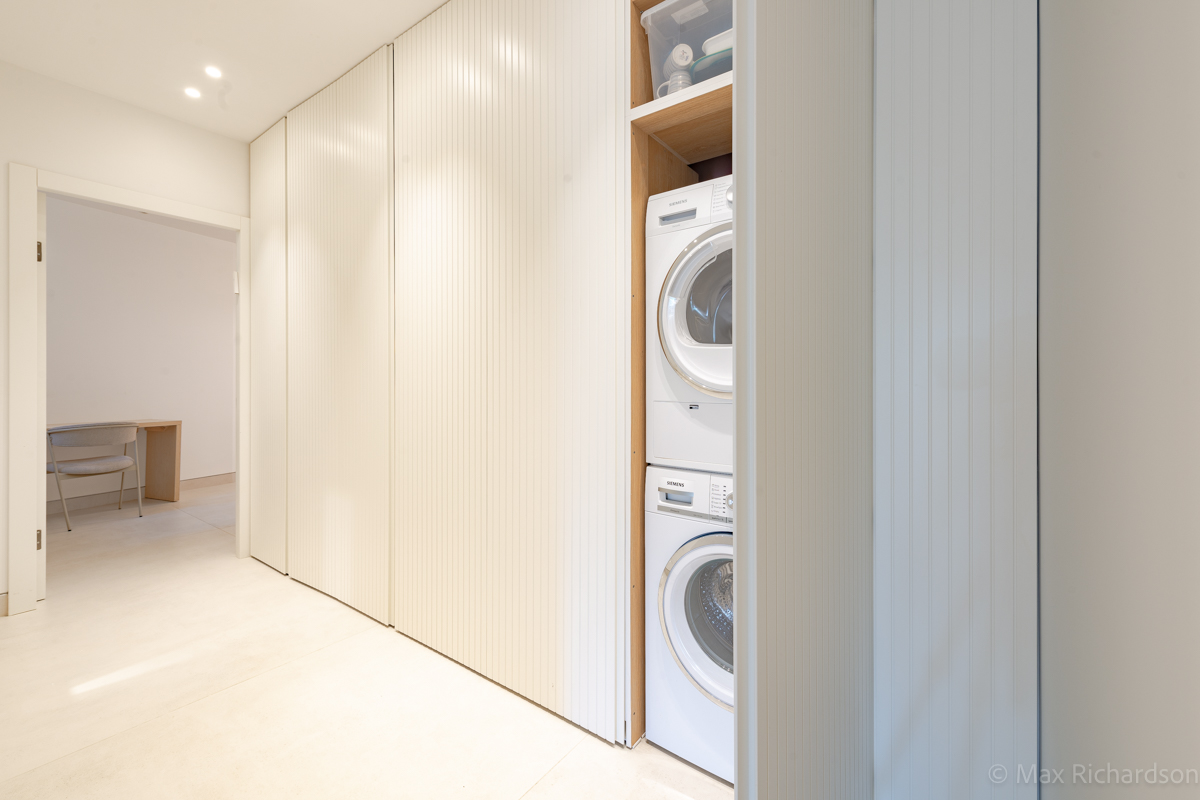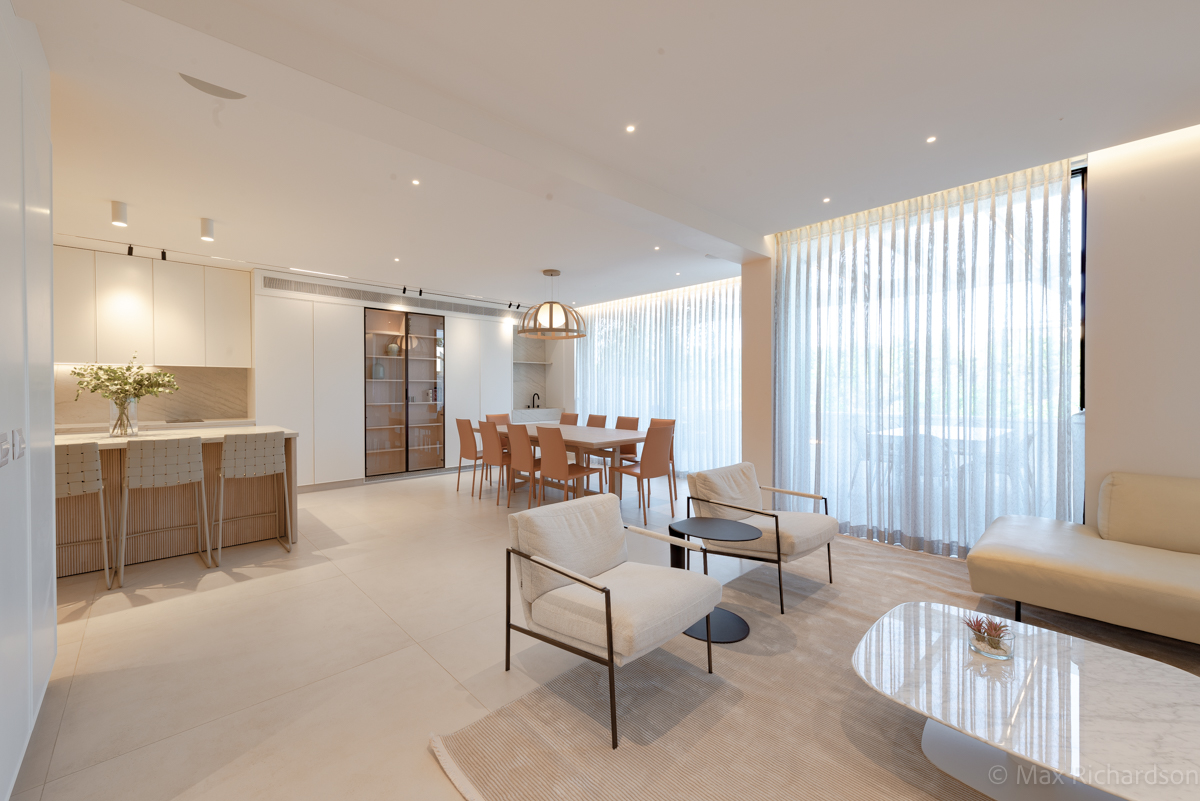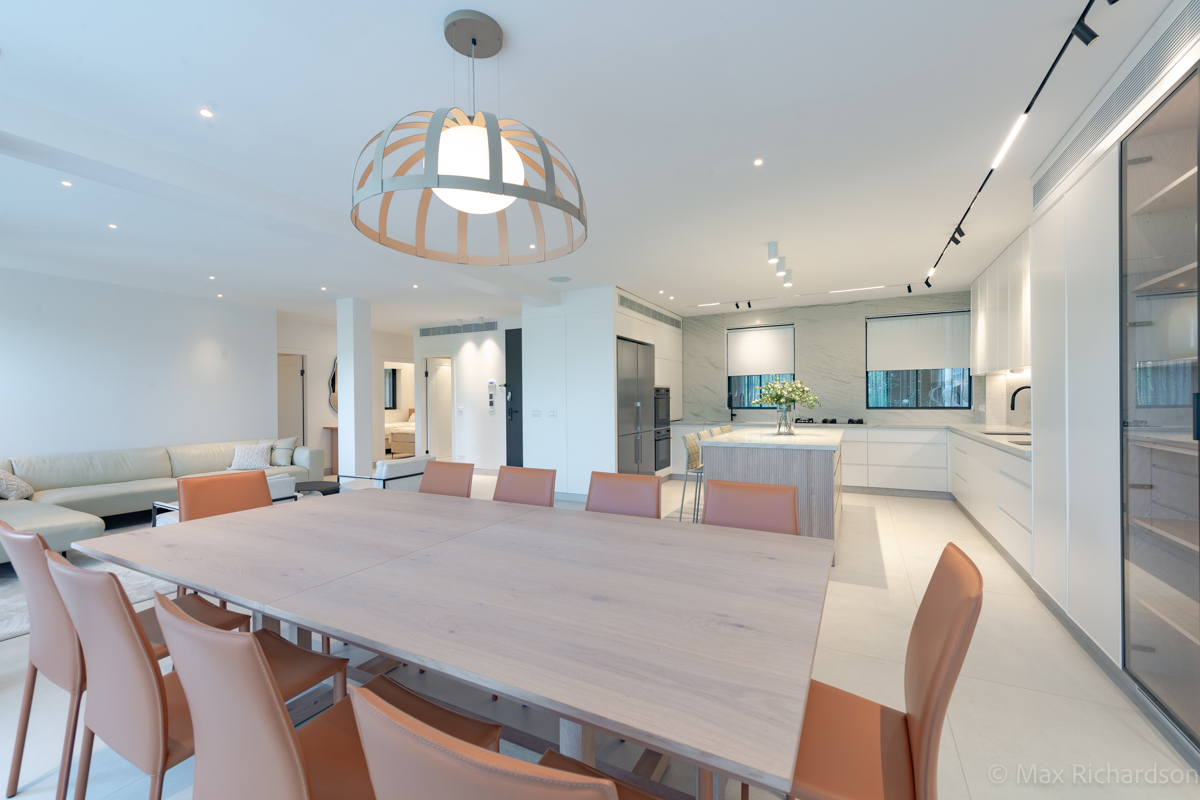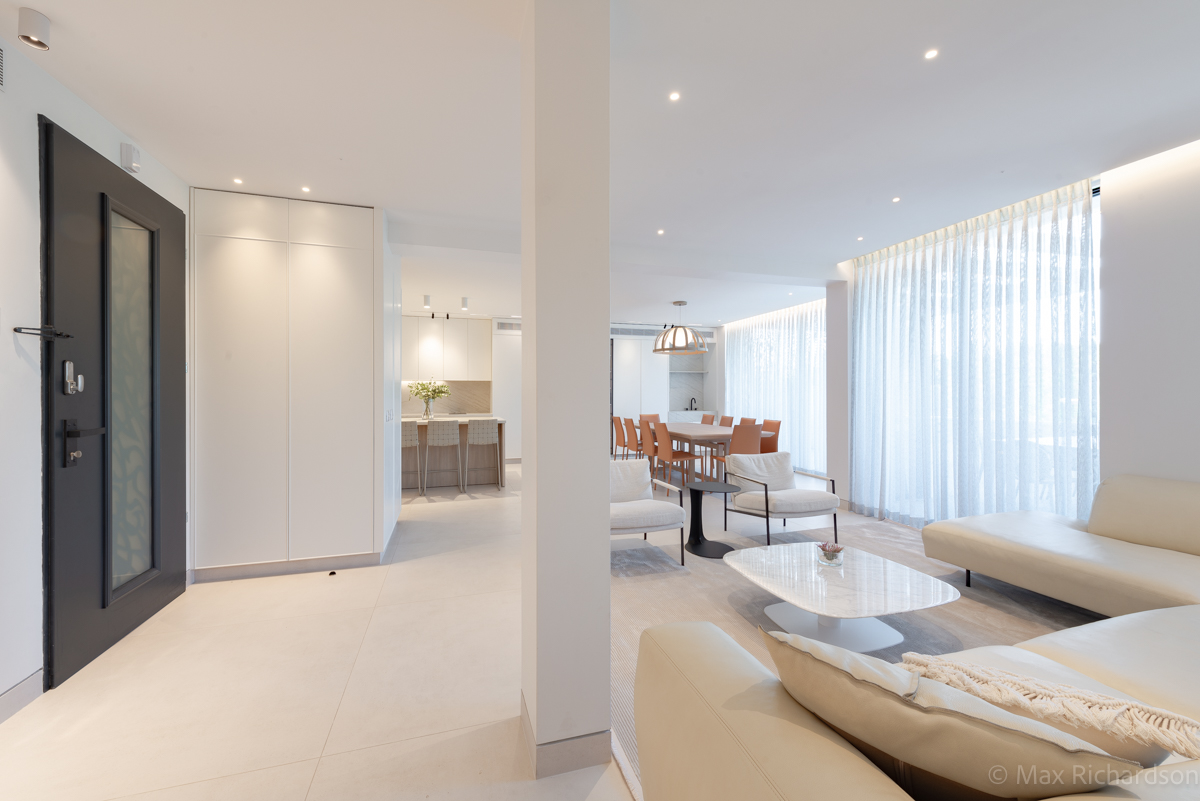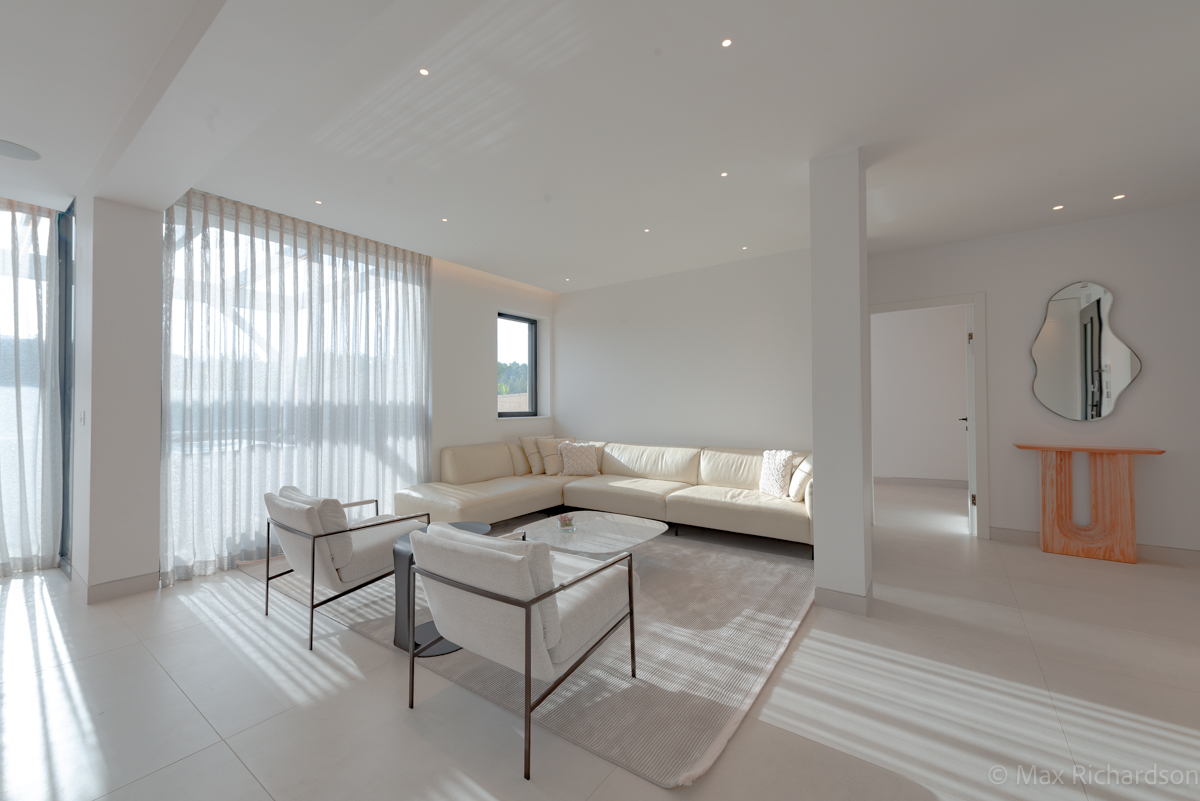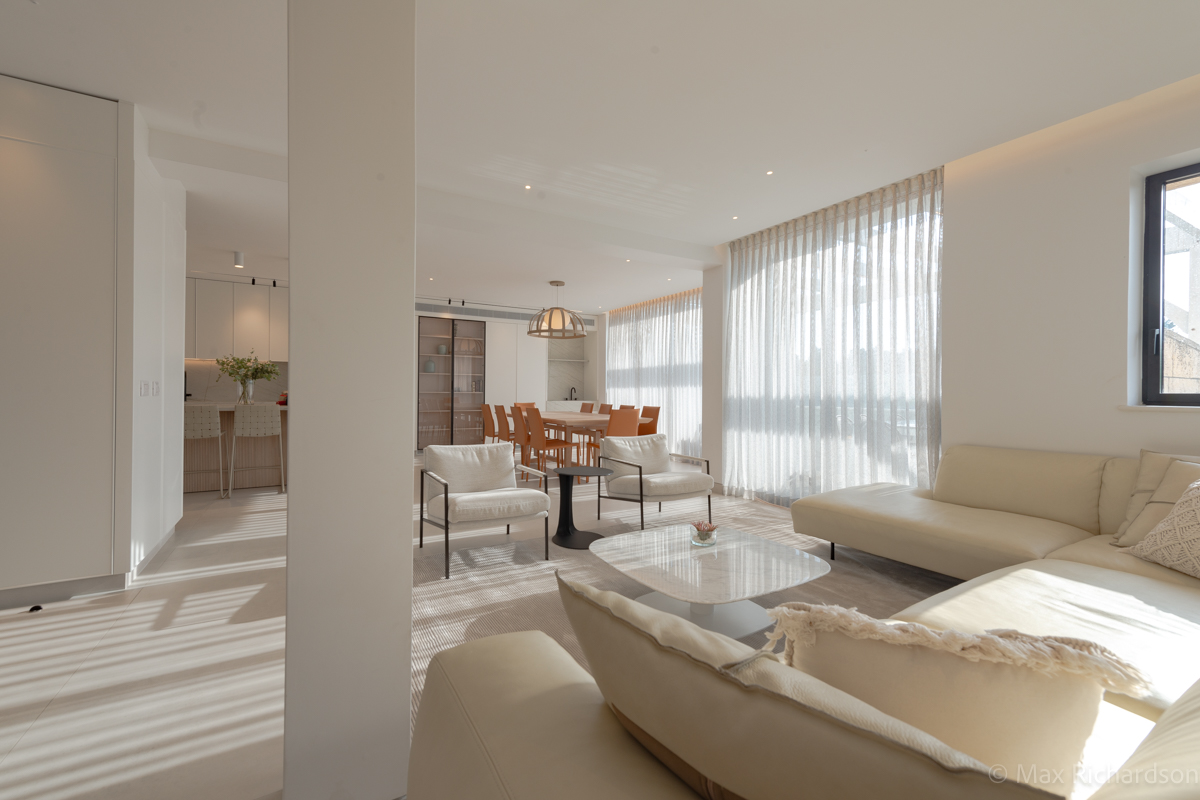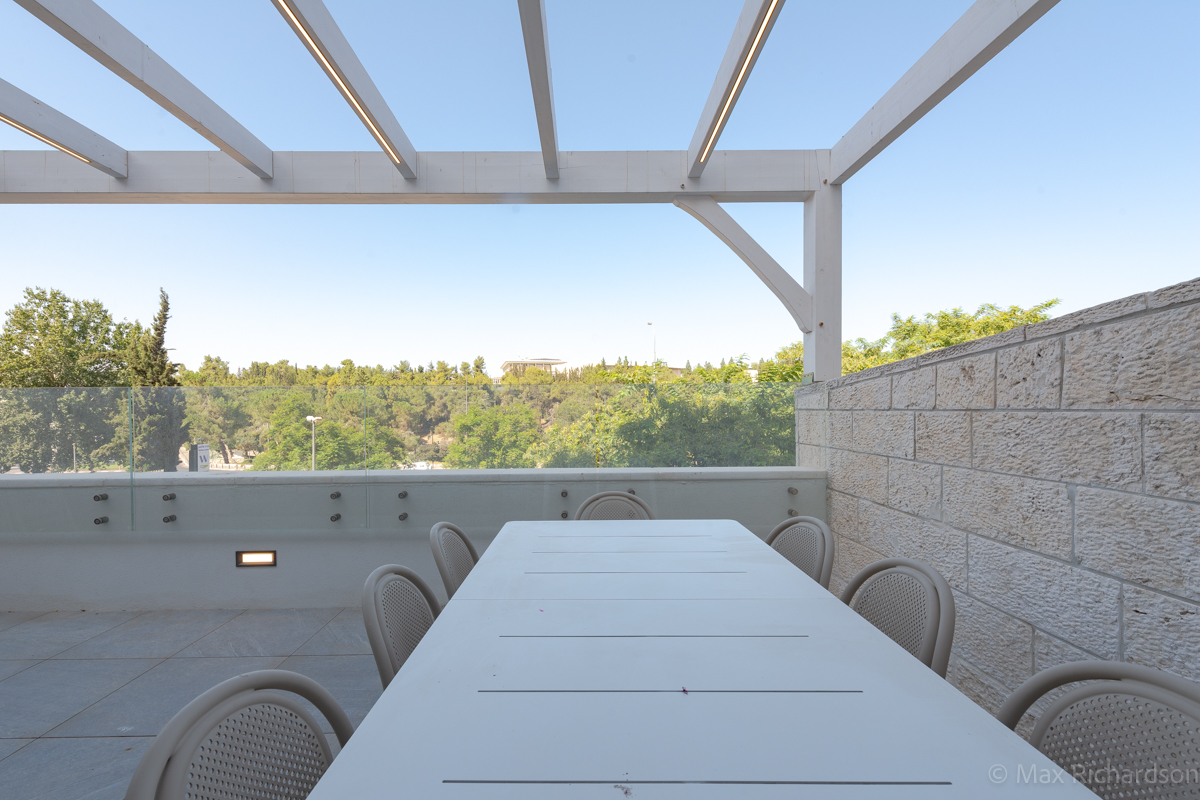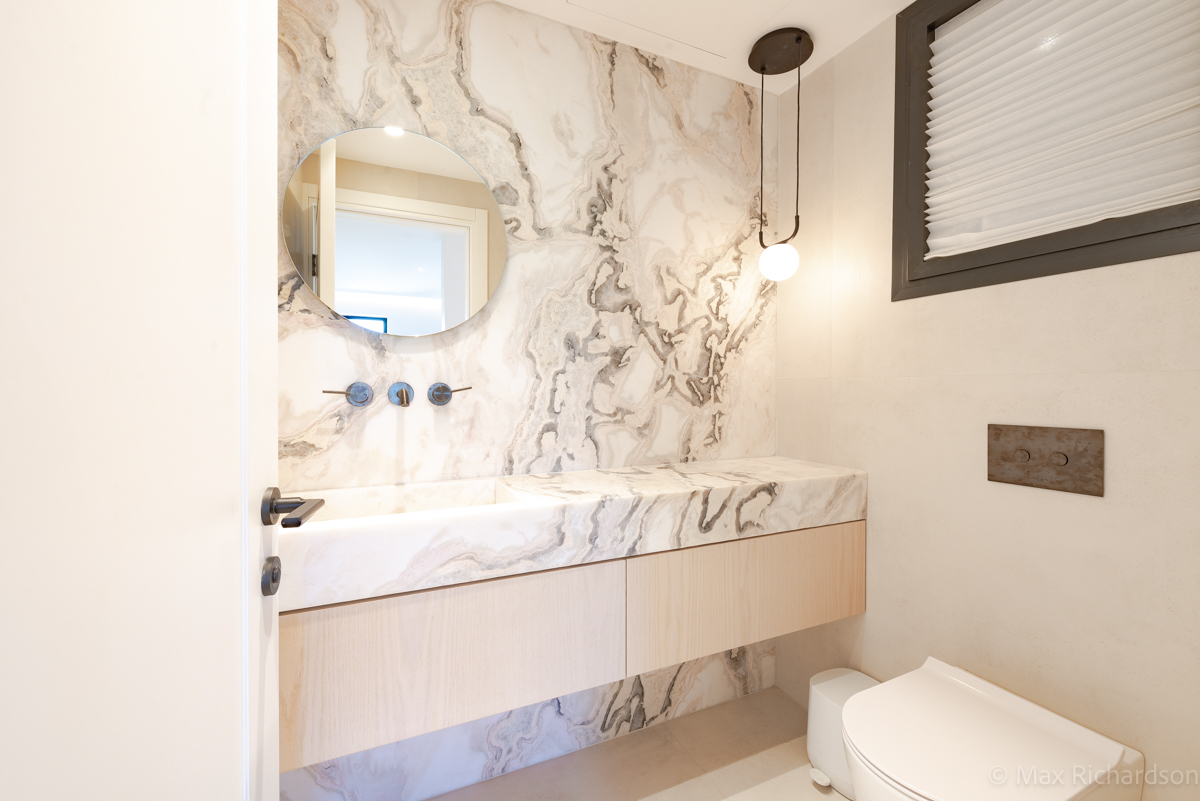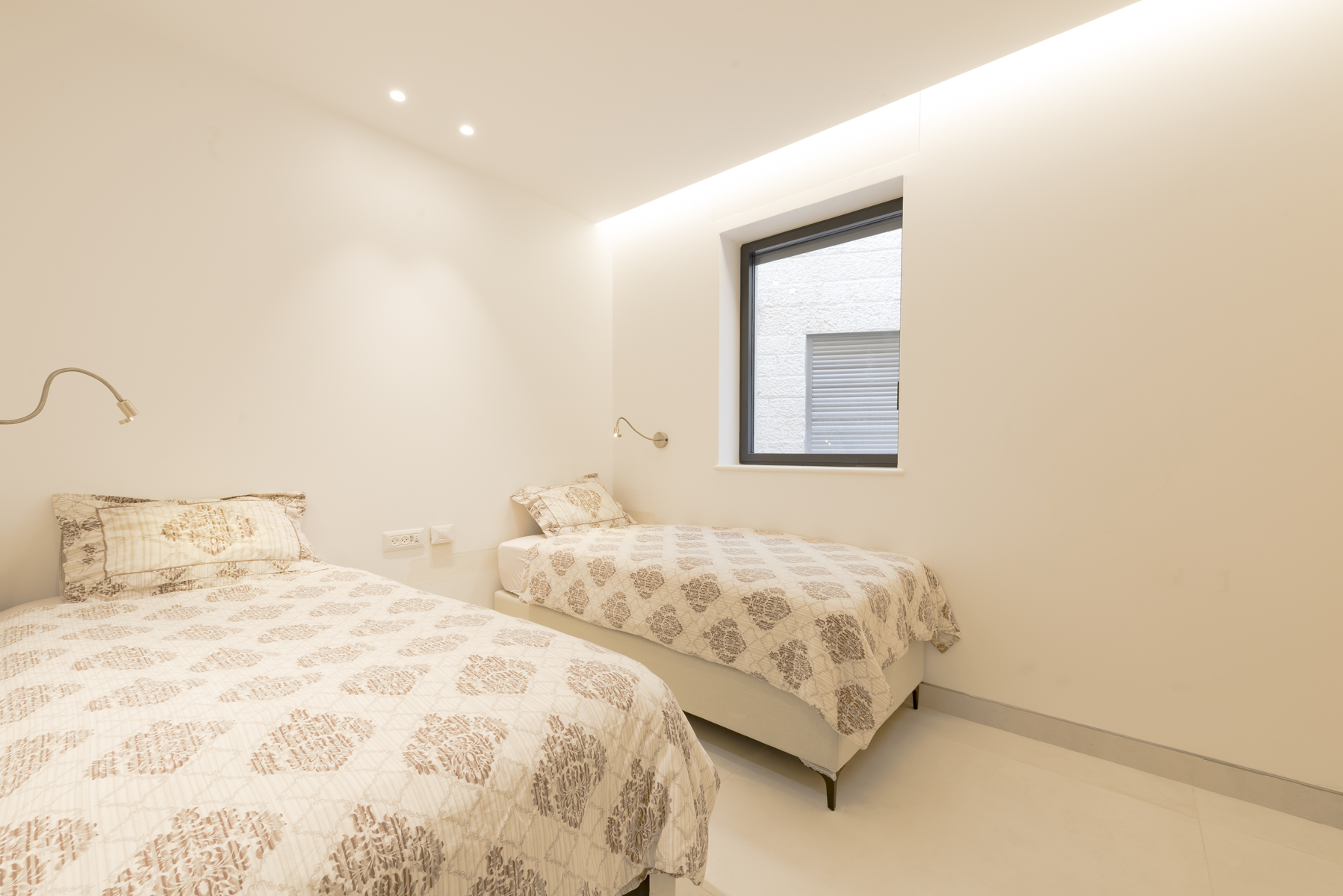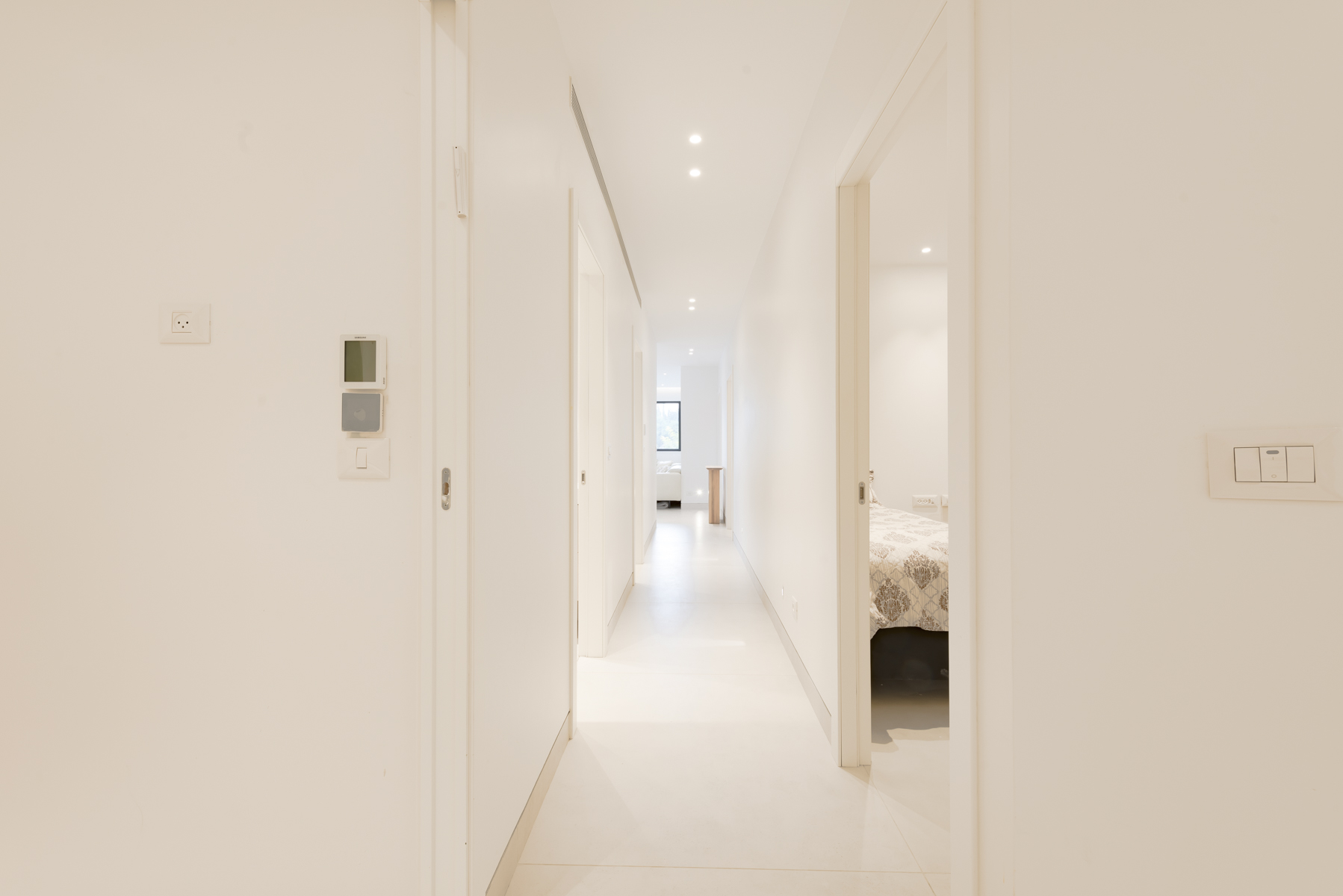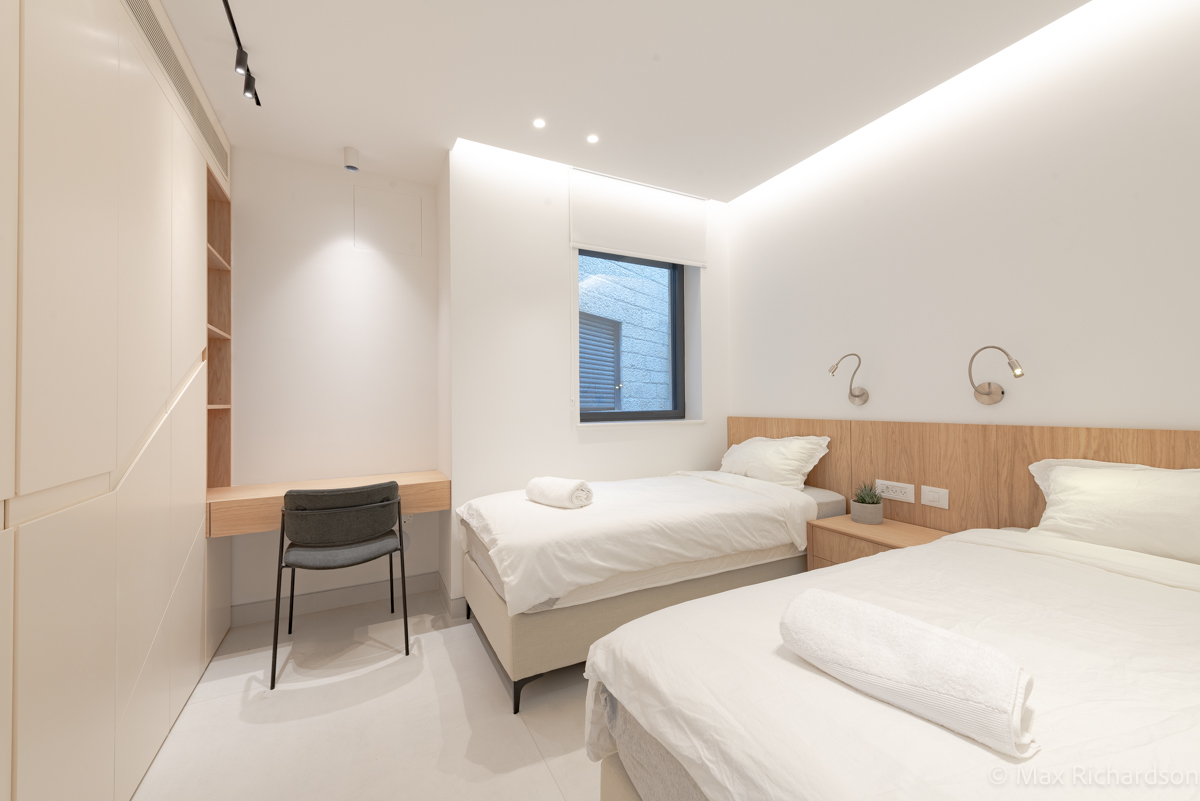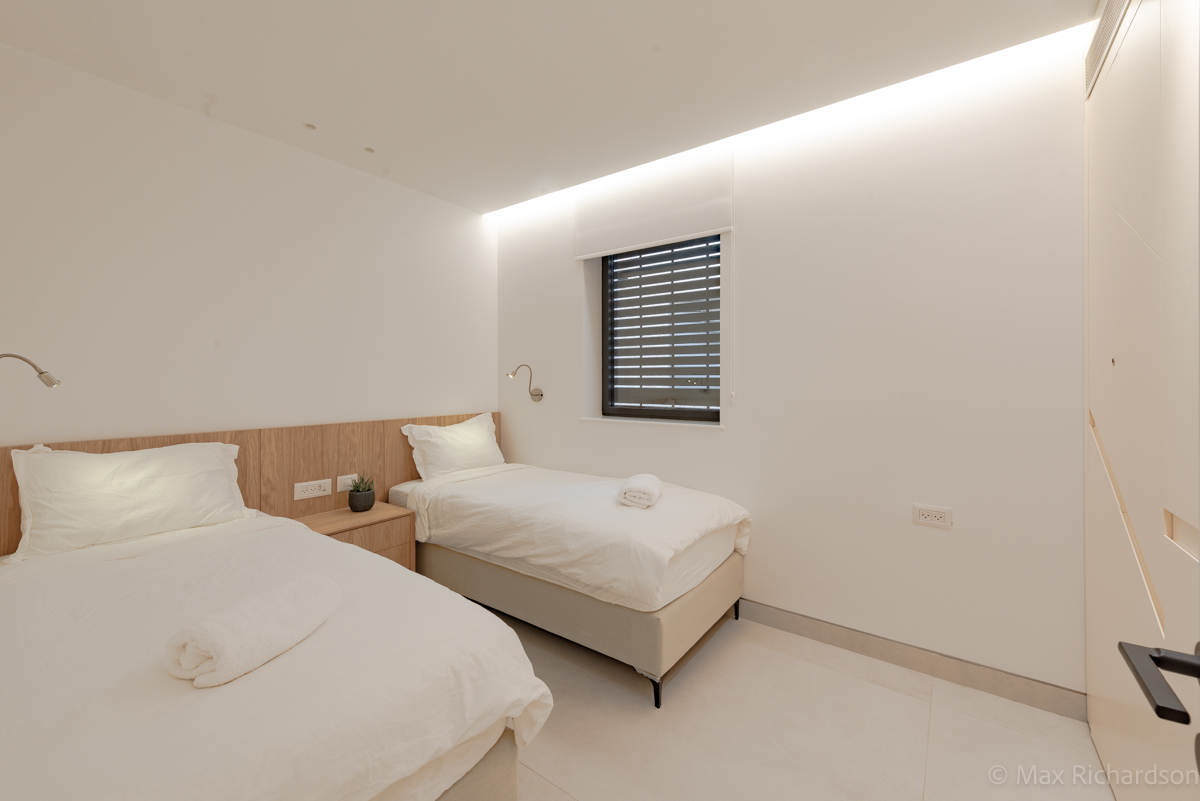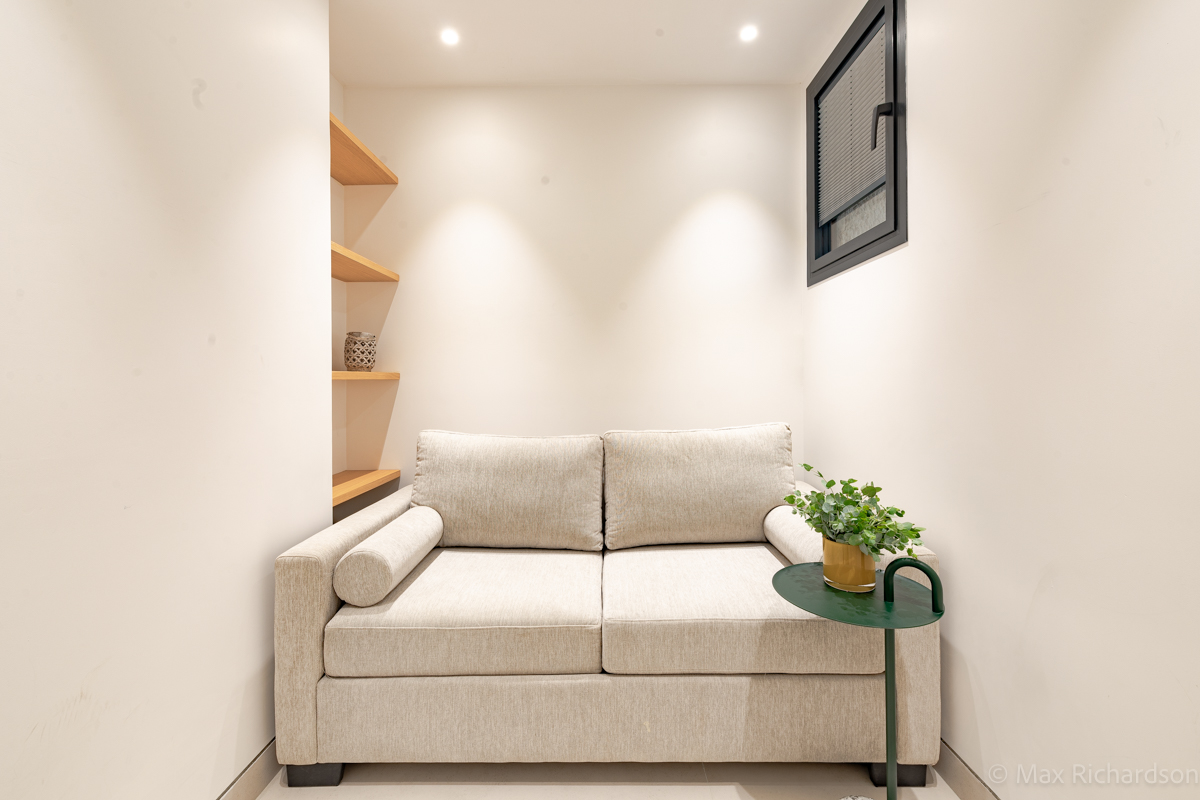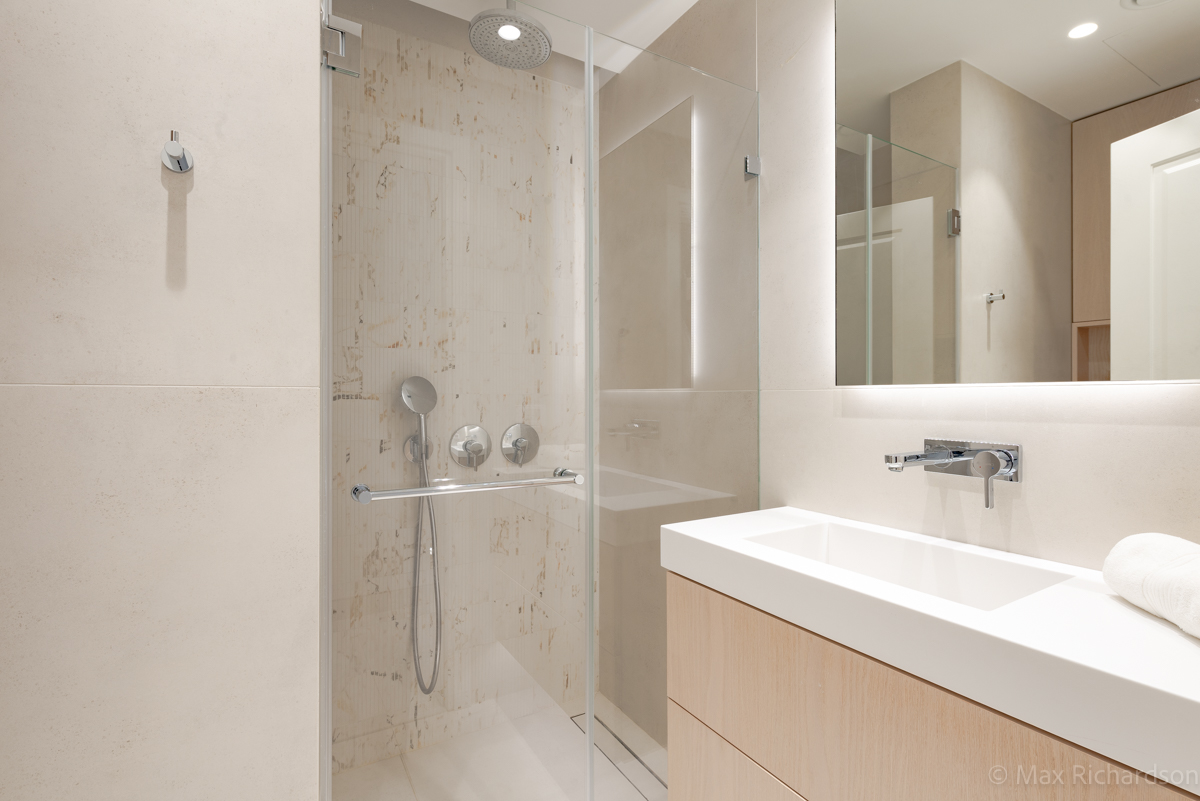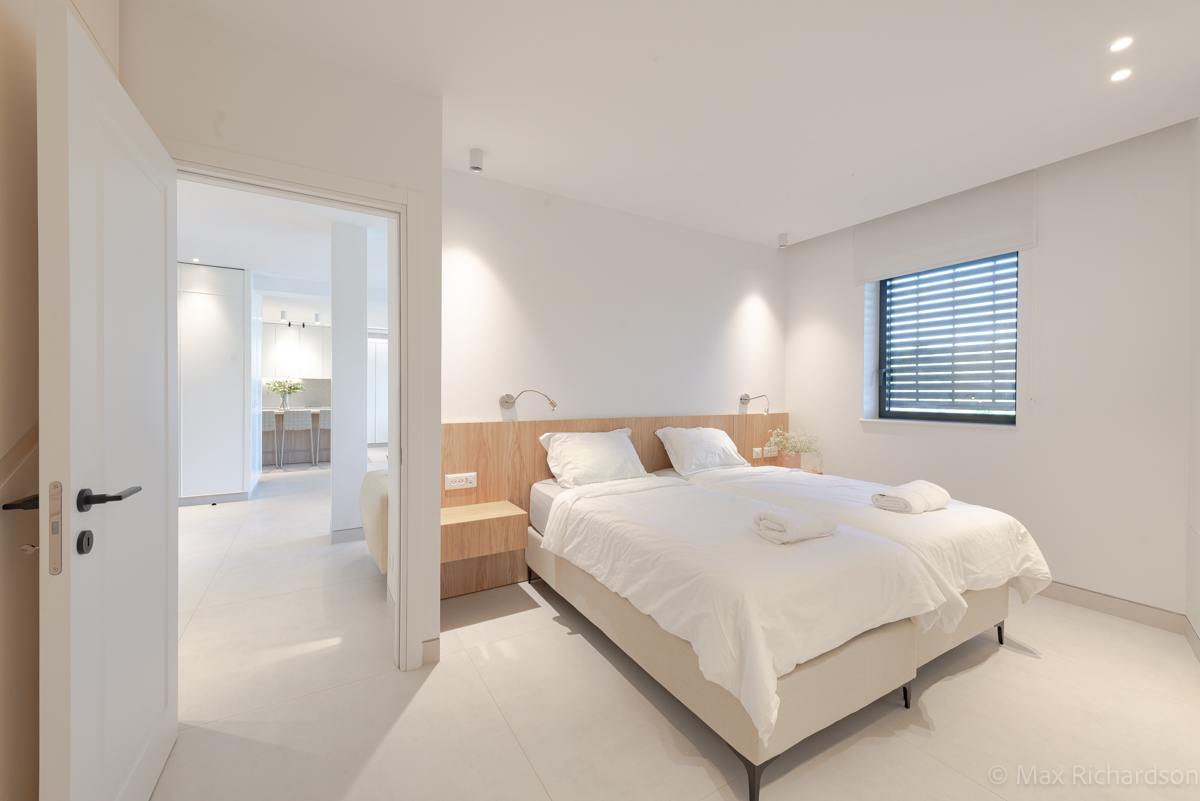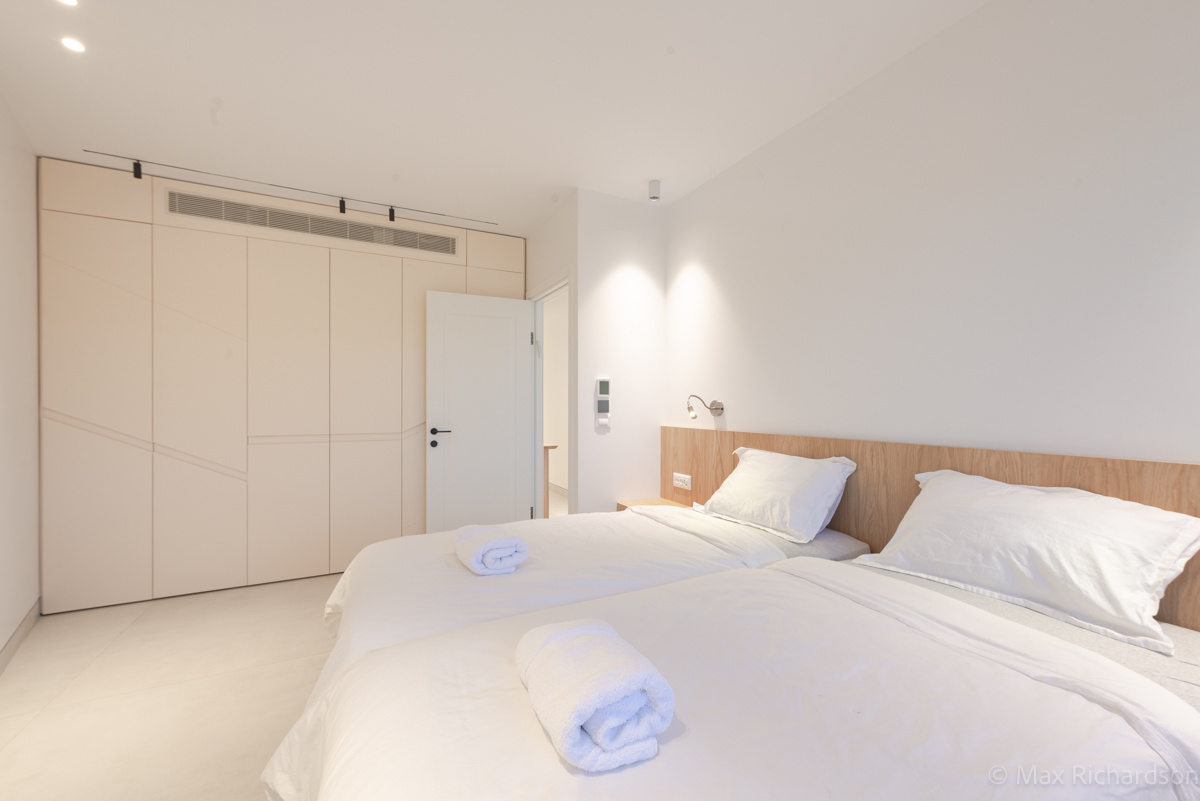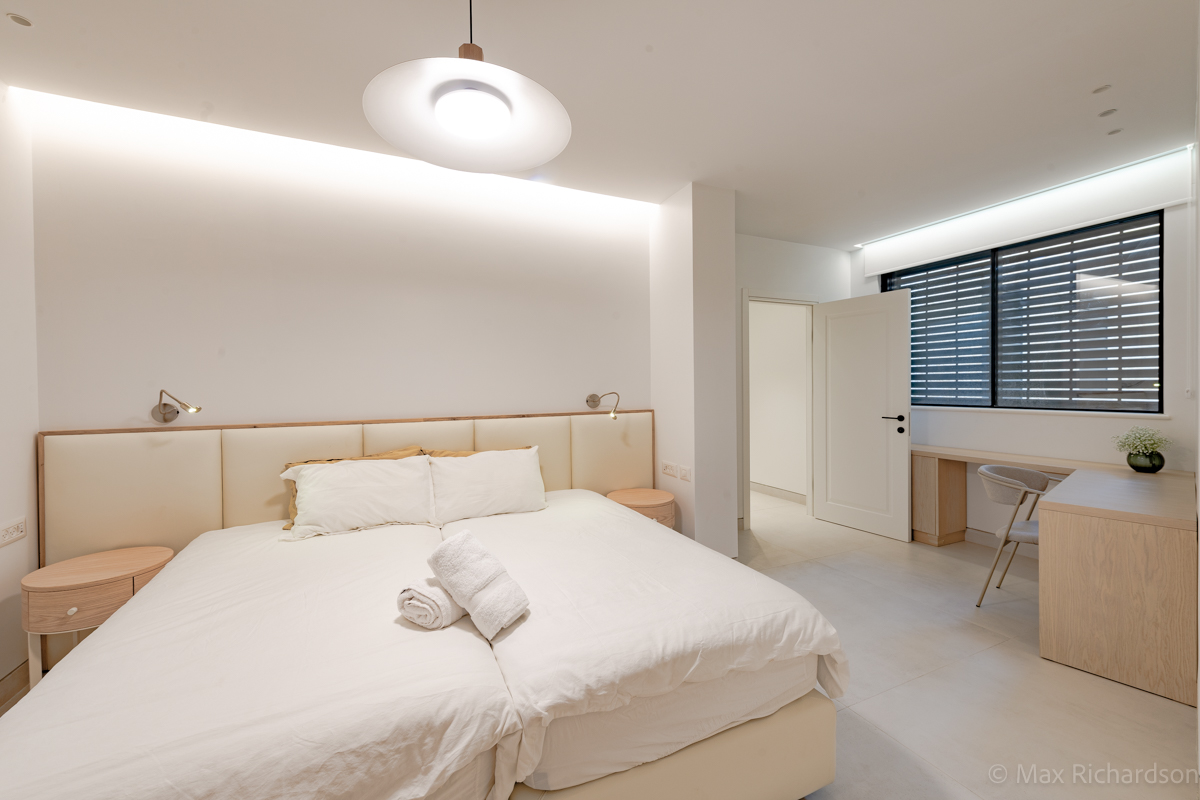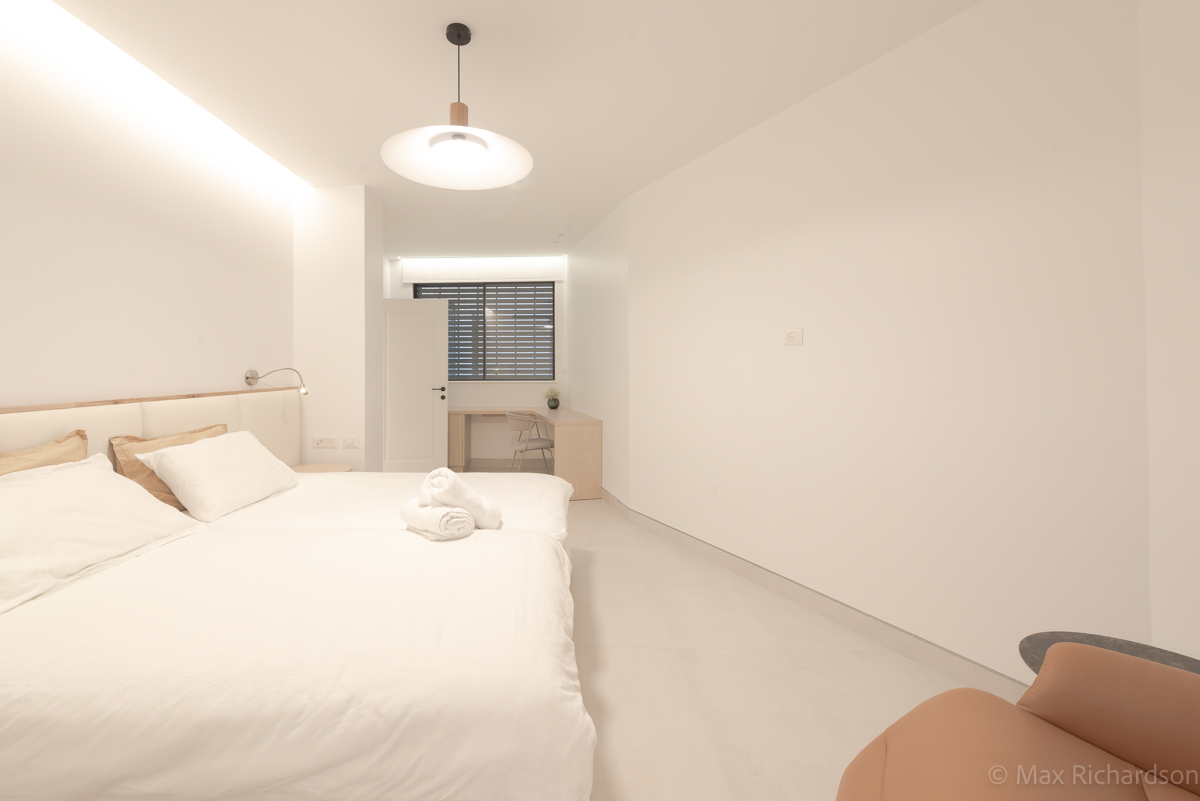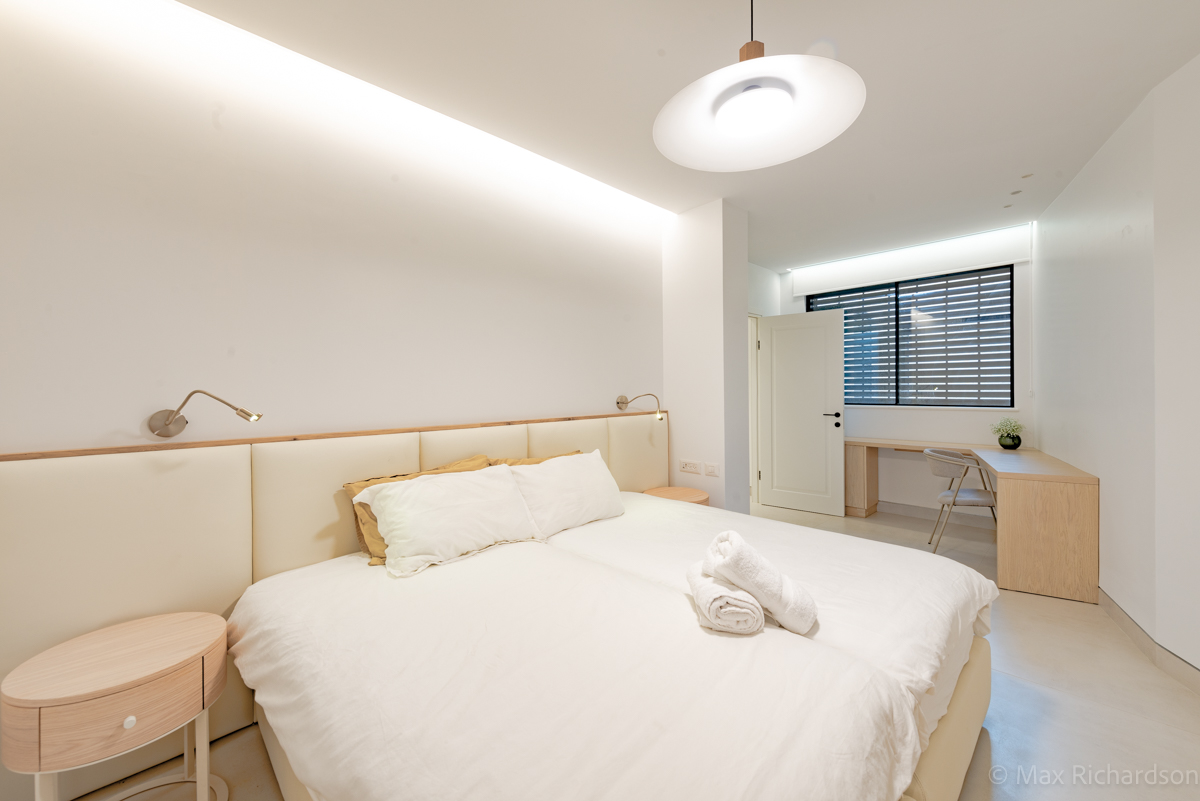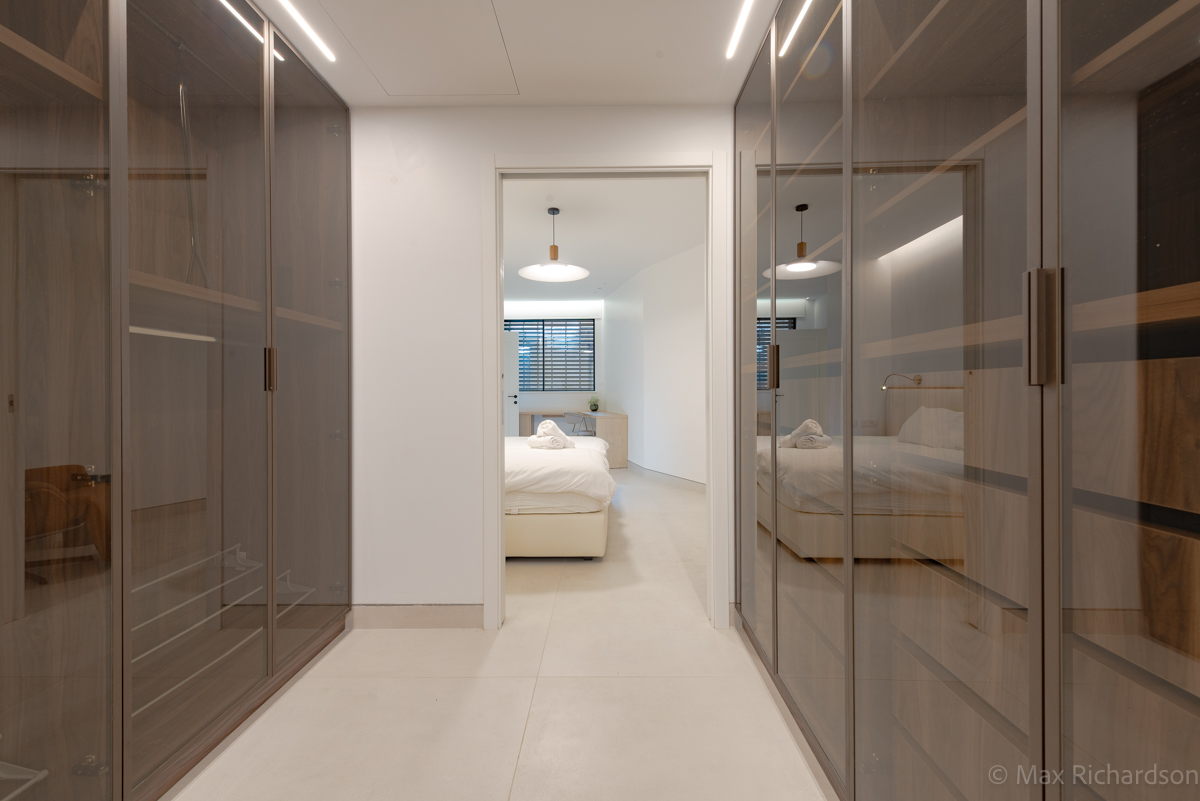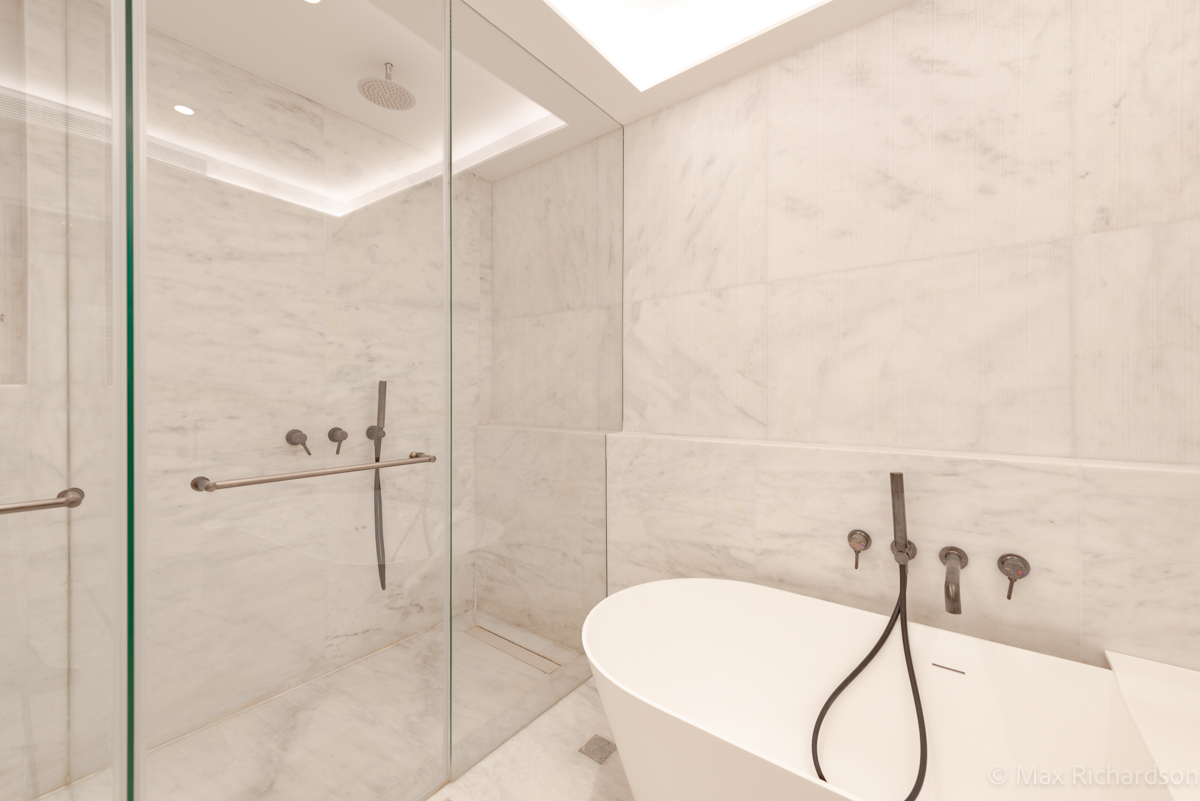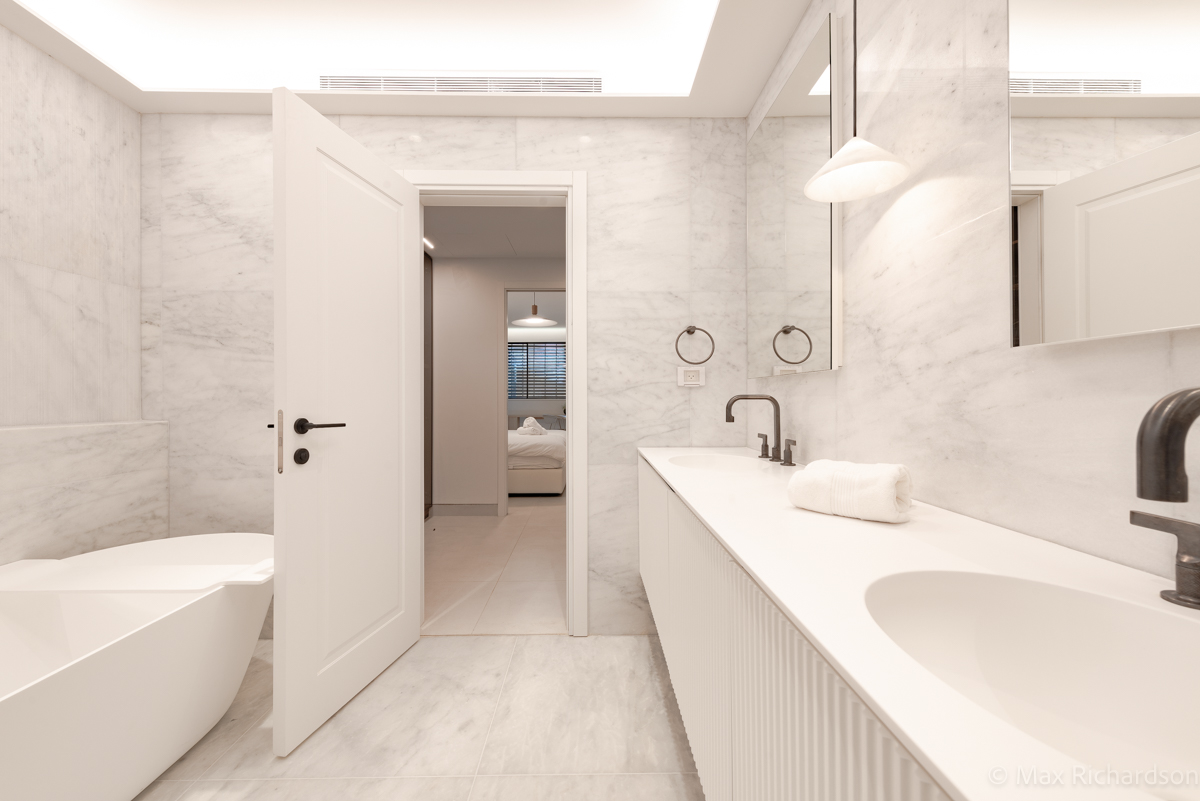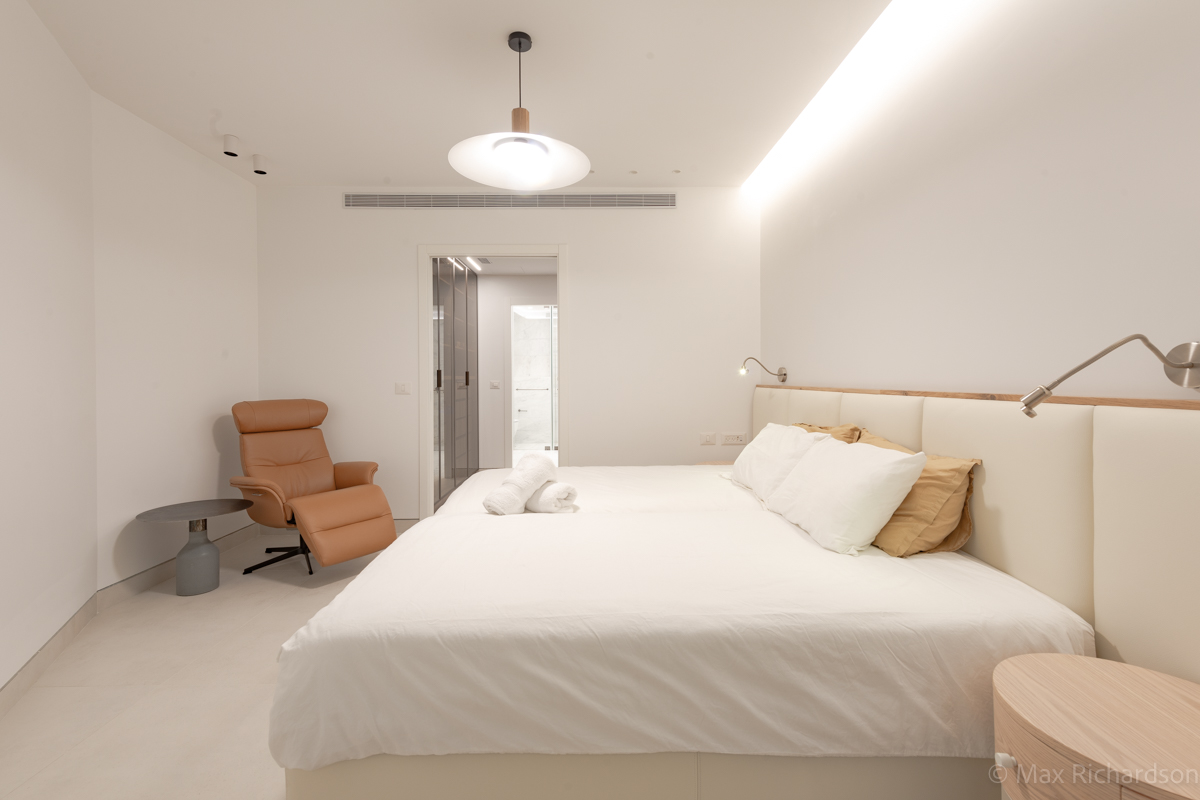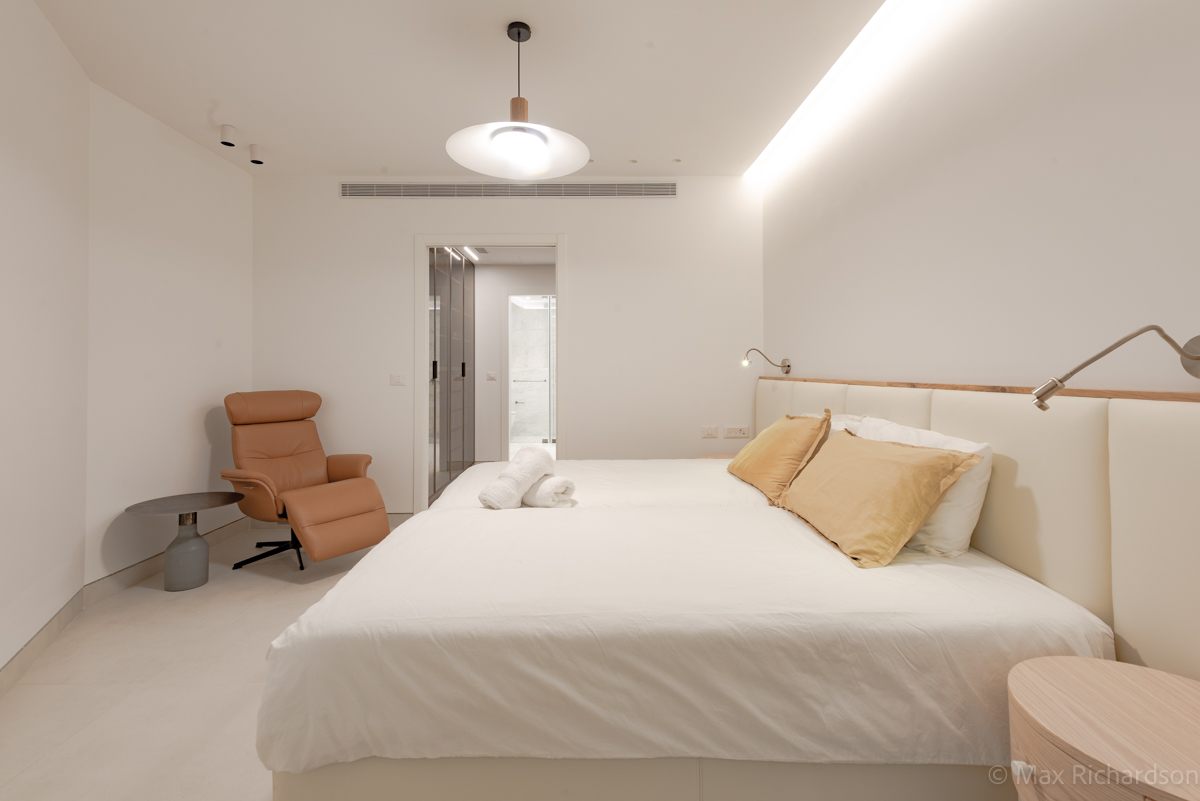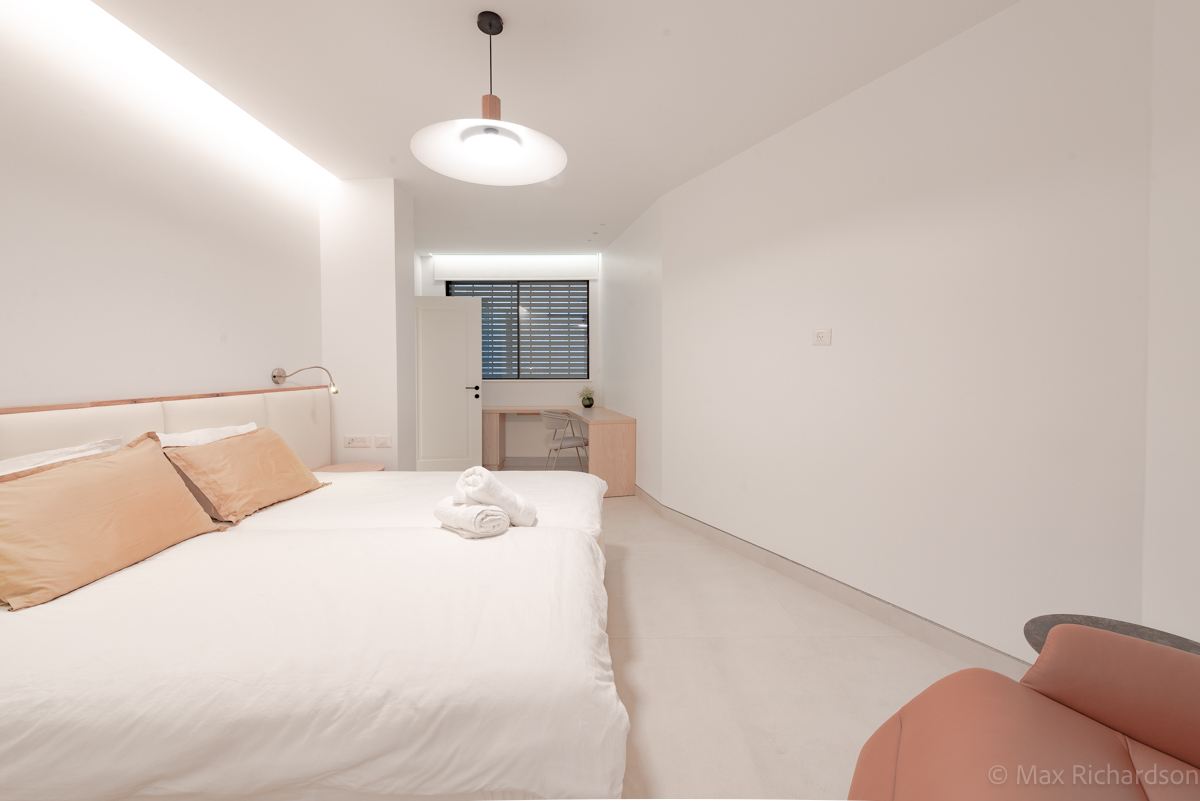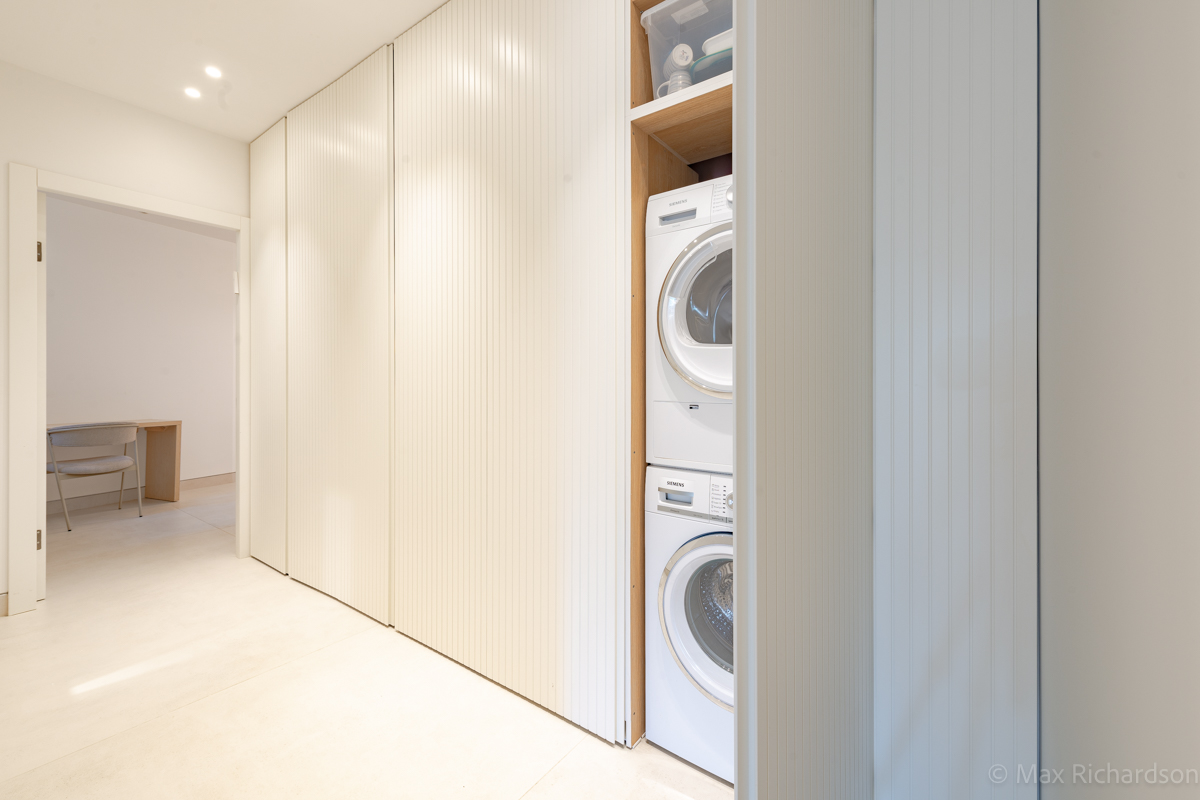 5.0

11

3

170 sq. m.

1 & Shabbos elevator
THIS UNIT HAS A 10-NIGHT MINIMUM RENTAL STAY. This fabulous 5 Bedroom Wolfson Villa is a great choice for your next trip to Yerushalayim! The Villa was recently completely renovated and redesigned with high end furnishing and finishes. The Kitchen is open and gourmet and features double sinks and separate cooking spaces as well as a center stage bar area with seating for 4 people. The open concept Dining room and living room area has glass doors that lead out to a beautiful open porch area with Sukkah. The Villa is located in the Wolfson Towers which is built on a hill so the views of the city are incredible and the location in Shaarei Chessed is superb! It is also located right near a childrens park, many local minyanim and food. The apartment also has brand new beds with built in night lights, closets and gorgeous new bathrooms! Parking spot is equipped in this apartment as well. Don't wait, book this apartment today!
Bedroom 1
2 Twin Sized Beds The first bedroom is the master en-suite bedroom with two twin sized beds and closet space.
Bedroom 2
2 Twin Sized Beds, Pull Out Couch Bed The second bedroom has two twin sized beds and a pull-out couch as well as closet space and a desk area.
Bedroom 3
2 Twin Sized Beds The third bedroom has two twin sized beds and closet space.
Bedroom 4
2 Twin Sized Beds The fourth bedroom has two twin sized beds, closet space, and a desk area.
Bedroom 5
2 Twin Sized Beds The fifth bedroom has two twin sized beds, closet space, and a desk area.
Bathroom 1
The first bathroom is the master en-suite bathroom with a bathtub-shower combination, sink, and toilet.
Bathroom 2
The second bathroom has a walk-in shower, sink, and toilet.
Bathroom 3
The third bathroom has a walk-in shower, bathtub, sink, and toilet.
Fridge and Freezer
2 Sinks
2 Ovens
Gas Cook top
Electric Cook top
Dairy Pots, Pans, and Dishes Available
Meat Pots, Pans, and Dishes Available
*
**
***
* There is 1 flight of steps from the landing to the Apt Entrance.
** Parking Spot is narrow for compact car
*** Wolfson Villas have a complicated Entry Ask Your Sales Rep for Details
Free unlimited wireless Internet access
You will be personally met at the apartment (during normal business hours of 8 AM - 6PM) and showed around by friendly English speaking managers
Self entry will be provided and the English speaking managers will be available to help you with any questions, problems or concerns
Detailed guide of the apartment is available upon request, it includes how to use the appliances, how to find your way around the kitchen, etc.
Detailed guide of the area with helpful names and phone numbers for dry cleaning, restaurants, Shuls, Shabbos take out, Shaitel wash, etc.
Fresh and clean beds will be prepared for you with high quality American style blankets, pillows and towels upon arrival.
A cleaning service will clean the apartment and restore it to its original state when you leave to ease your departure from the apartment.
Free starter supply of toilet paper, dishsoap, and garbage bags.
Hot Water Urn
Crock Pot
Hot Plate
Kiddush Cup
Challah Board
Candle Sticks
Siddurim and Sefarim
Table Cloth
Havdala Set
Large Sukkah Porch
The apartment will be fully kashered for Pesach with pots and pans available.
Please note: There is 1 flight of steps from the landing to the Apt Entrance / Wolfson Villas have a complicated Entry Ask Your Sales Rep for Details.
REVIEWS
Hear from many of our happy tenants who have stayed in this apartment! References are available to call or email! Please contact us for details.
Our family recently stayed at this location for a long weekend. We are a party of 9 and were more than comfortable in this apartment. The apartment is spacious and well maintained. The owners of the apartment were lovely and readily available to assist in any of our questions or concerns. The villa is centrally located in Jerusalem and is just a few steps from a supermarket, many shuls and delicious restaurants. We had a great stay and would definitely rent here again in the future.
Apr 2014
The apartment was clean and comfortable, had a great kitchen, very large living room and dining room, was in a fantastic location and had its own parking spot. There is a washer dryer, 4 bathrooms, 3 with showers, and the landlord could not have been nicer. We had a few mishaps during our stay but the landlord was extremely accessible as they answered the phone and came immediately when called to take care of the problem and did so with a smile. For our purposes it was wonderful. We made a wedding in Yerushalayim, and all our siblings, kids and grandkids, nieces and nephews, came to the apartment on a regular basis. We had our make-up done in the apartment and eventhough there were many people in the apartment at the same time, there was plenty of room for everybody. We enjoyed it very much.
Jul 2014
The apartment we rented was spacious and perfect for us. The location was outstanding. Everyone at ROD was helpful and easy to work with. Thank you!
Aug 2014
Very nice apartment, we were very happy with it. Your staff was wonderful and did a great job.
Sep 2014
Again i would like to say that the Wolfson Villa we rented was great,and we would definitely recommend it. Thank you so much. There was everything we needed and the main reason we liked it was that it was very spacious and that your service to accommodate us in every single way with so much care was outstanding!! The owners are very friendly and helpful, and we would for sure consider this apartment again! Hope to come back next year iyh! Best regards, Rita Gluck
Nov 2014
I wanted to thank you and your staff for a great job well done. You took care of us from the beginning to the end. The experience of having your service was really great. The apartment was gorgeous. Your staff in Israel are very friendly and always available in case we need them. Thank you again for your great work.
Aug 2015
We were so pleased with the apartment! It was very large and spacious, and it fit us very well (family of nine plus one). Nir and his group were so gracious and accommodating, and we are so appreciative of their assistance in whatever we needed. We had an amazing stay and this apartment was a major factor in our happiness. It was terrific! I would highly recommend Rentals of Distinction to anyone. thank you for everything!
Aug 2016
Wolfson Villa II is perfectly located in the heart of Shaarei Chessed, with access to all the best stores and Shuls. The apartment is spacious and beautiful, with a huge Sukka enabling us to entertain many dozens of guests over yom tov. The apartment manager Nir was always available and jumped to satisfy any need, including cleaning help for a few hours each day of yom tov. Good air conditioning, modern appliances, comfortable beds and well decorated space made us feel like yom tov at home. Thanks for an amazing yom tov and vacation!
Oct 2016
Thank you so much. We had an amazing experience, the apartment was very spacious. The staff were very helpful with all our needs!
May 2018
The apartment was great and very spacious
May 2018
We had a wonderful stay at the apartment in Wolfson. While there were a few issues initially with the cleanliness of the apartment - they were all addressed immediately and professionally and we greatly appreciate it. The Villa is very spacious and comfortable, and centrally located. Unless you plan on renting a very small car - the parking spot is not really usable. All in all, it was an amazing trip and having such a wonderful place to stay was extremely helpful. Special thanks to everyone at ROD who were so responsive and helpful throughout the process - we would most definitely use them again.
Aug 2018
We can't thank the "Rentals of Distinction" Team enough for the wonderful stay we had at the Wolfson and Diskin Villas. Having the space for over 20 family members to stay comfortably, enjoy a shabbos meal all together, be able to wash our clothes, and within walking distance to all the major Jerusalem sights was beyond amazing. We were treated to clean and spacious facilities, with everything we could possibly need for our week's stay for my nephew's bar mitzvah. This was our second time staying at a "Rentals of Distinction" villa and it continued to exceed expectations. We look forward to our next trip and working with this fabulous company! Thank you, thank you, thank you! Yours, The Israel, Woller, Chapman and Genovesi Families
Dec 2018
We had a great stay. The apartment was spacious and very nice. Very comfortable.
Sep 2019
The apartment was clean, well supplied and expansive. Management was responsive and prompt. Well done.
Jan 2020
It was a lovely apartment, and everything worked out very nicely. We referred other families to you for their future trips to Israel. Thank you for everything!
Dec 2023