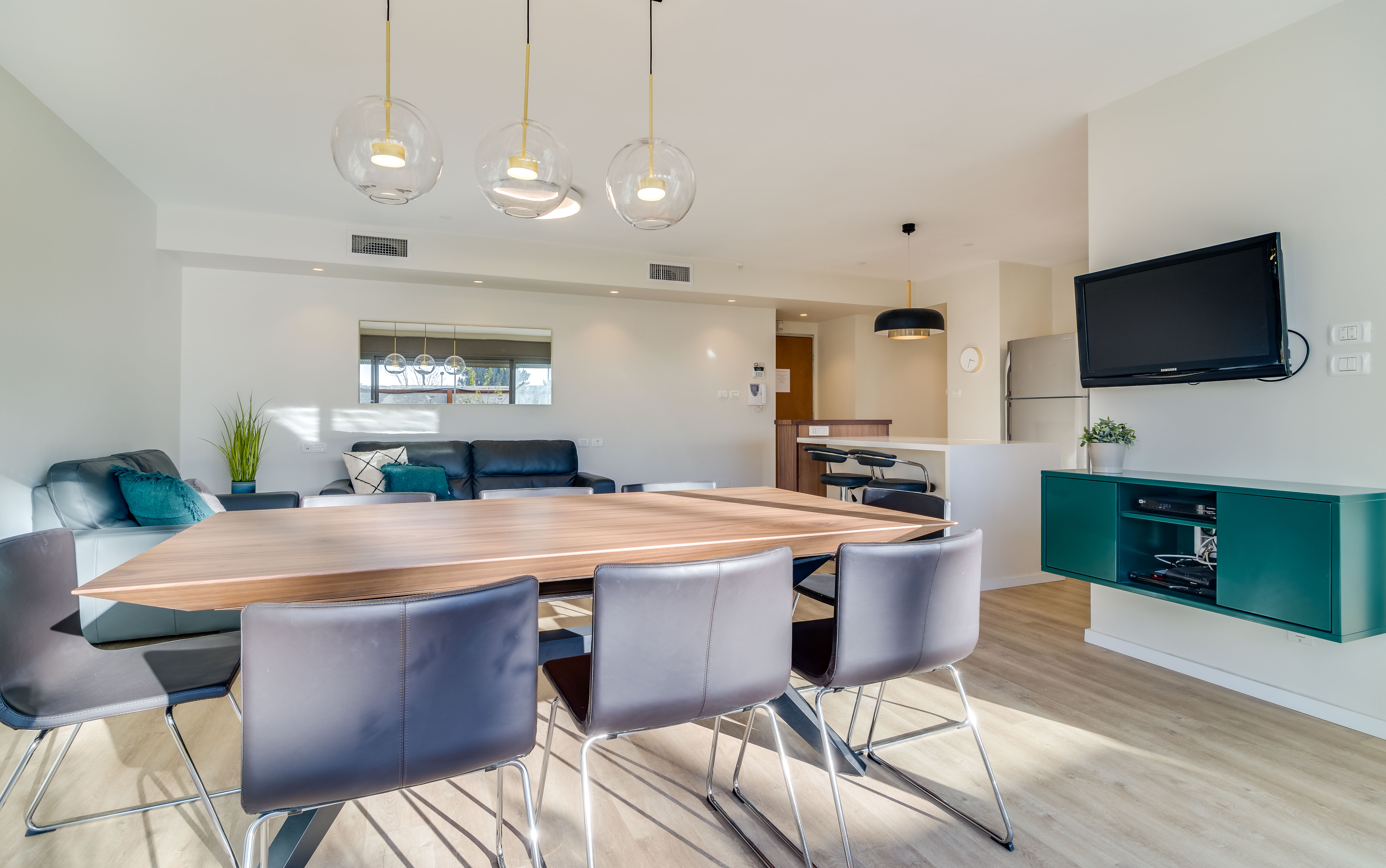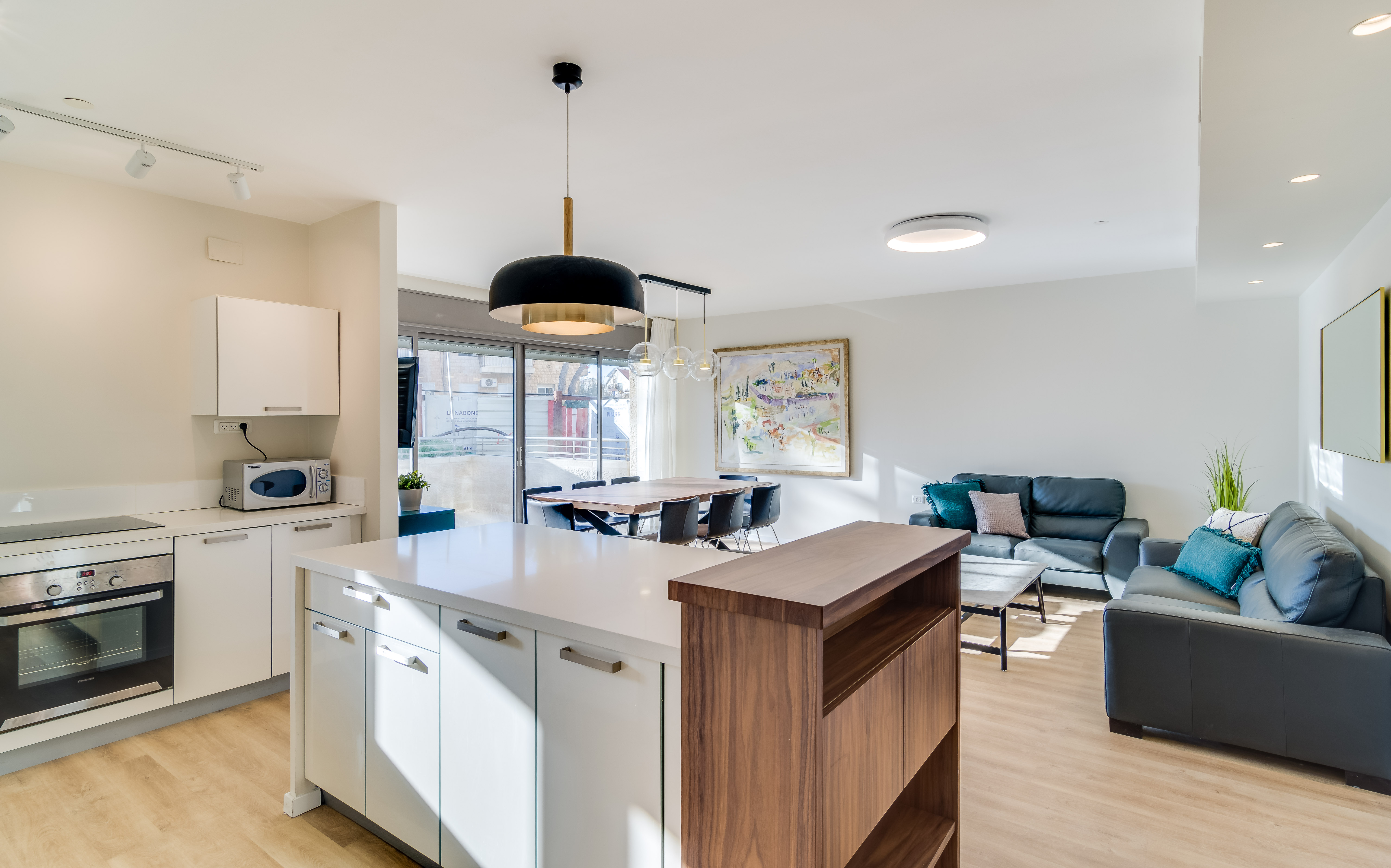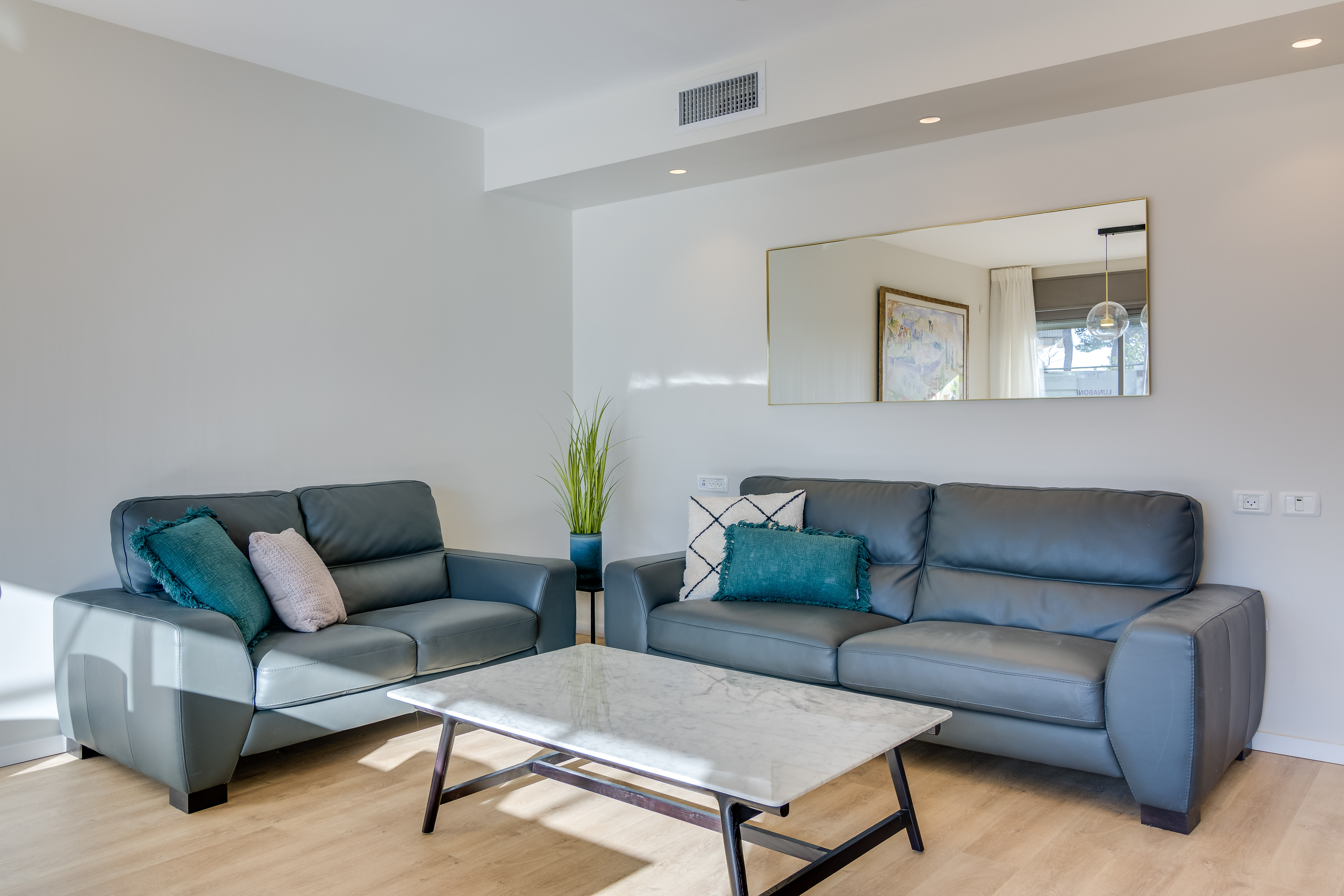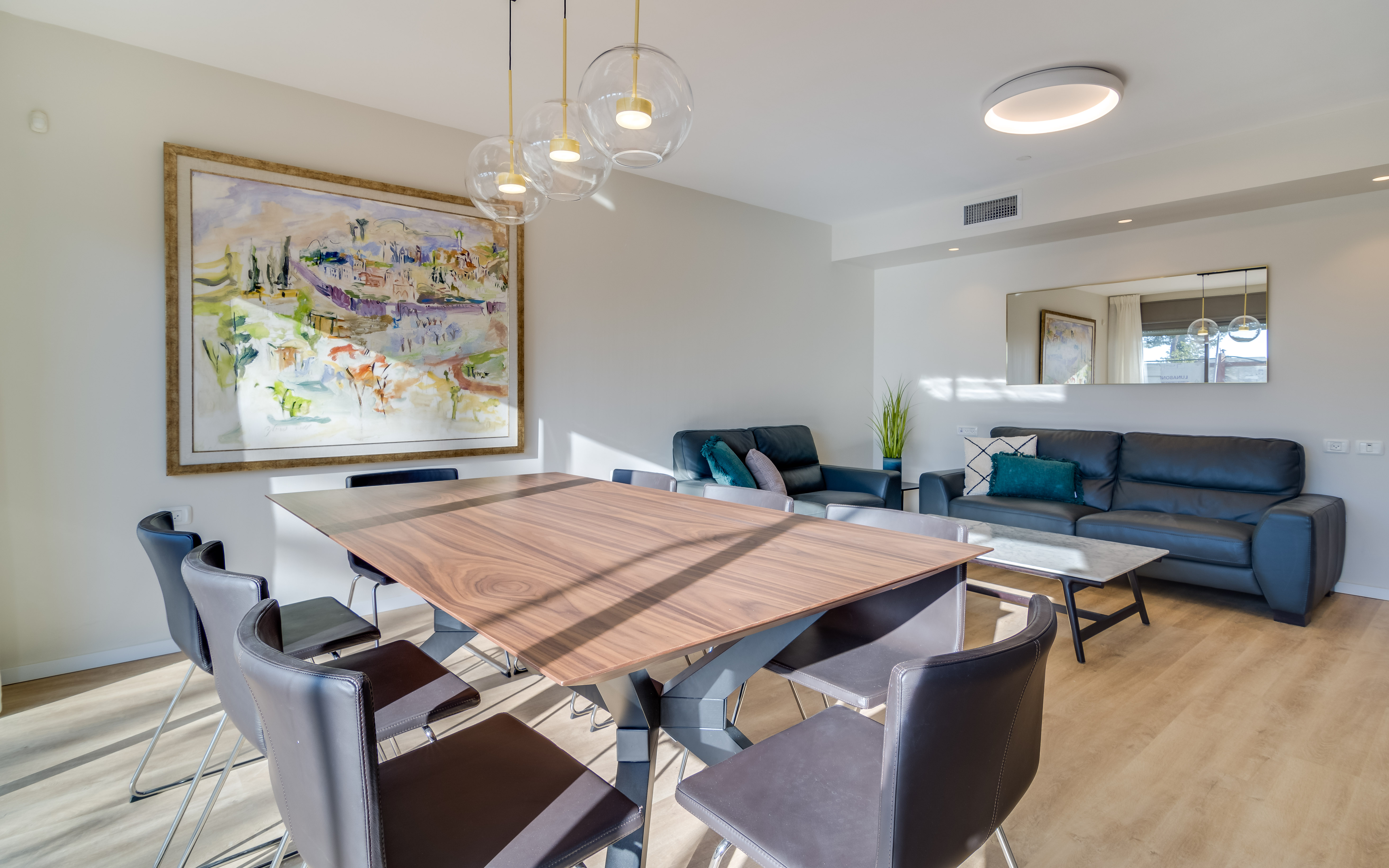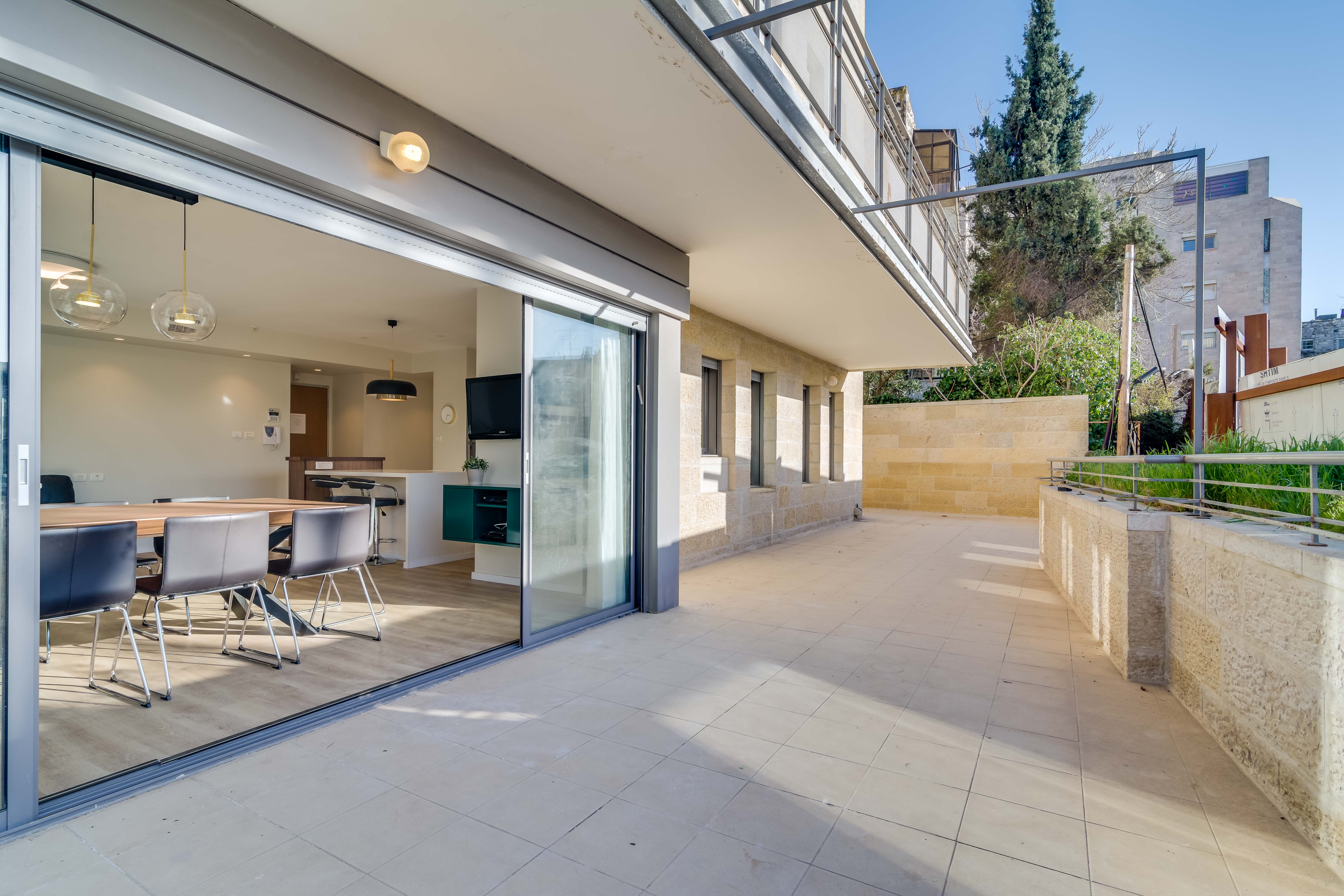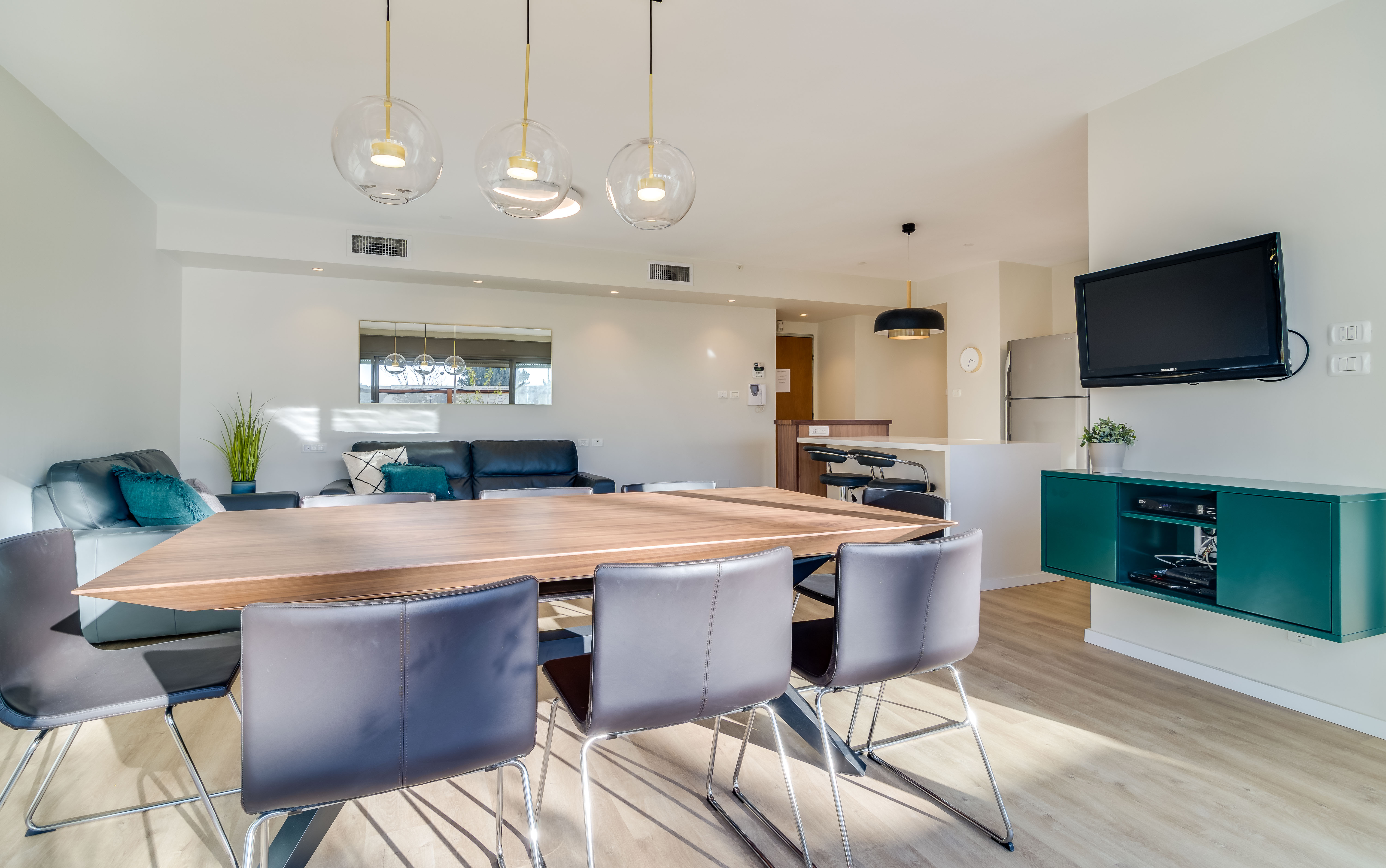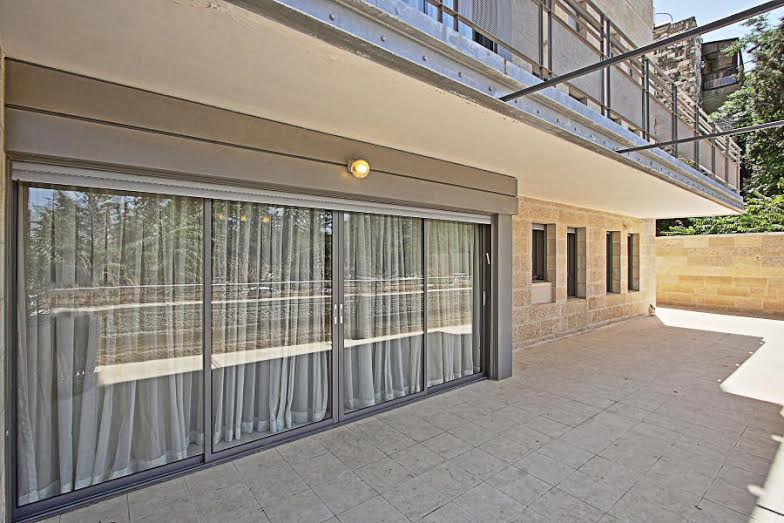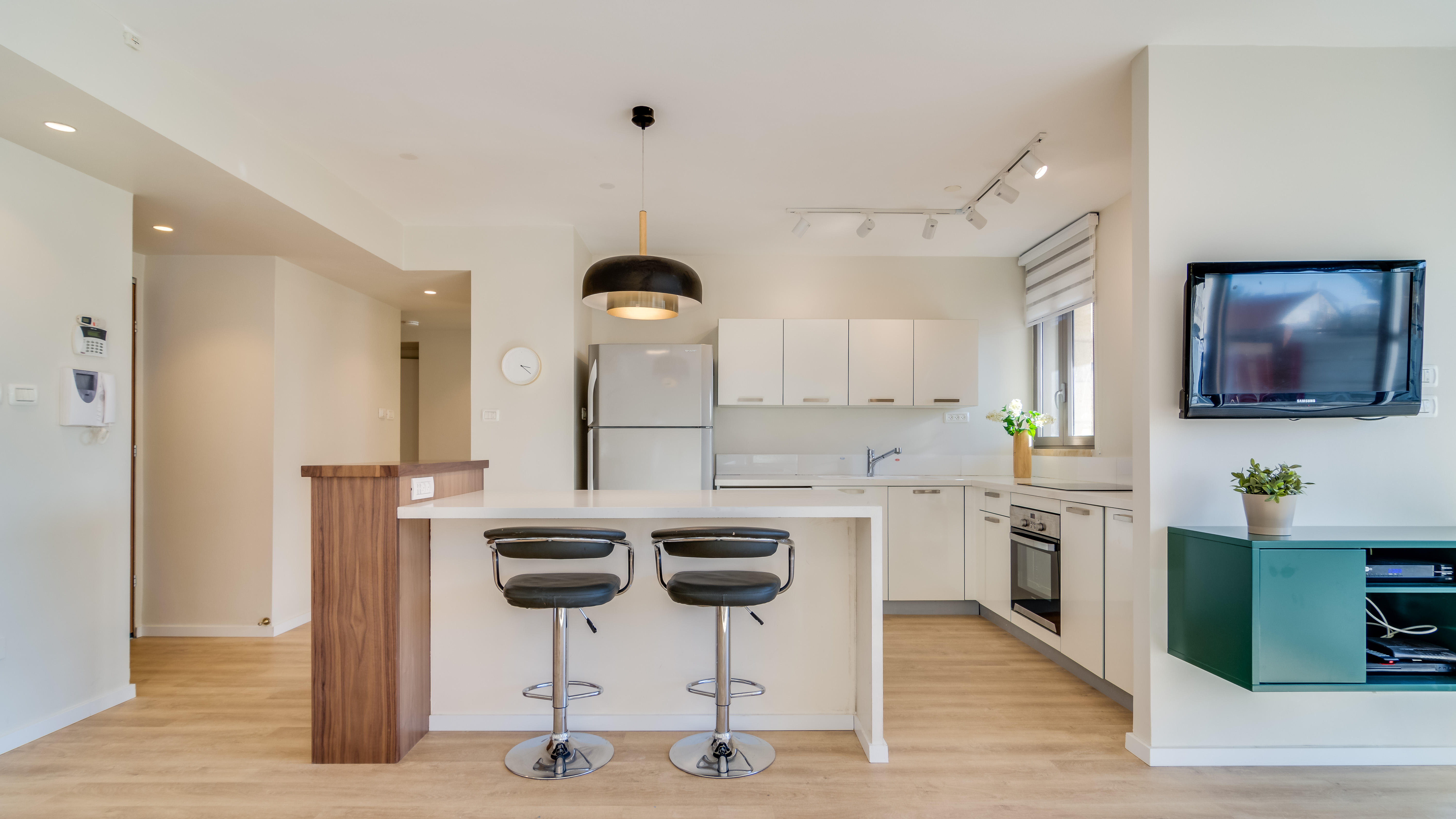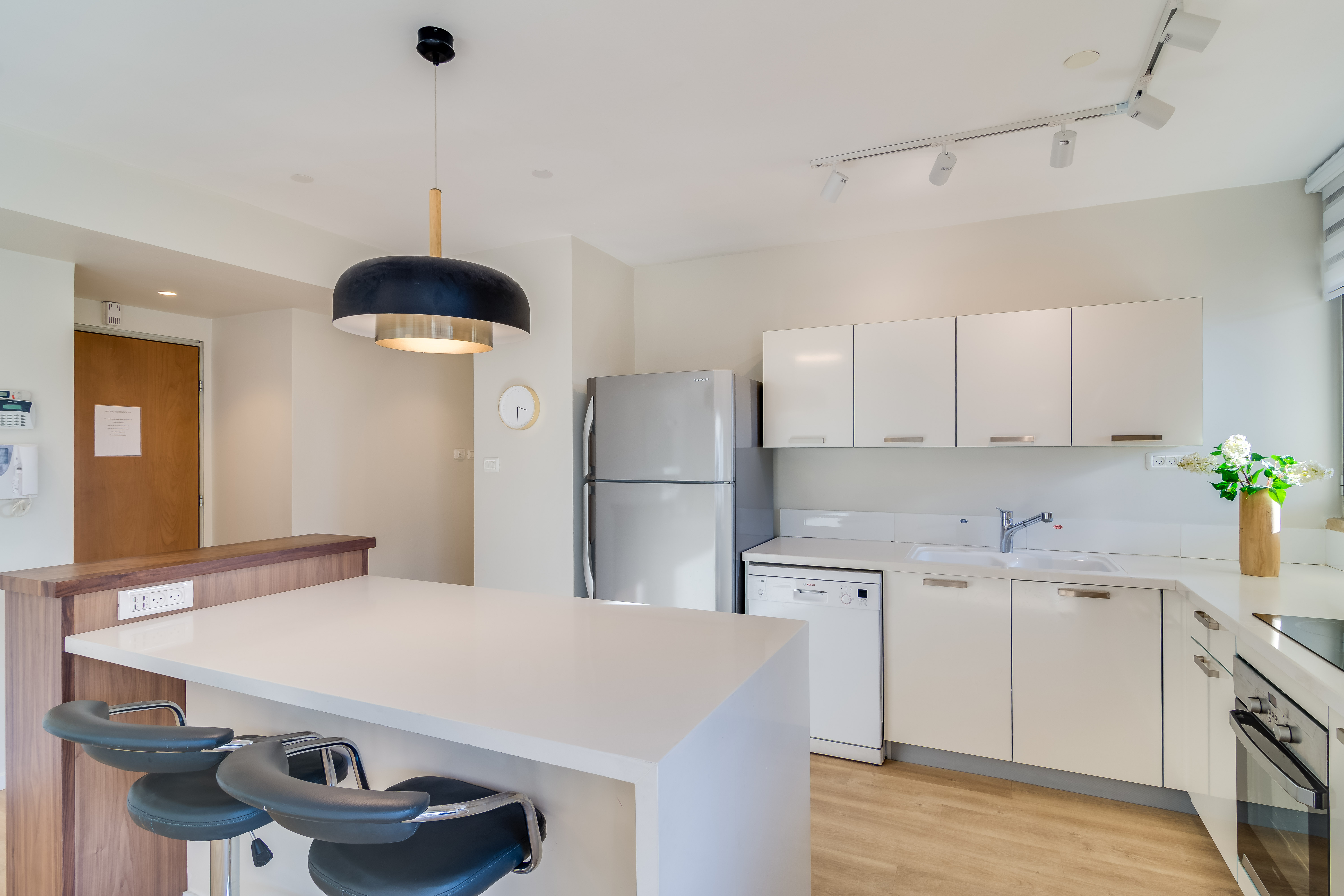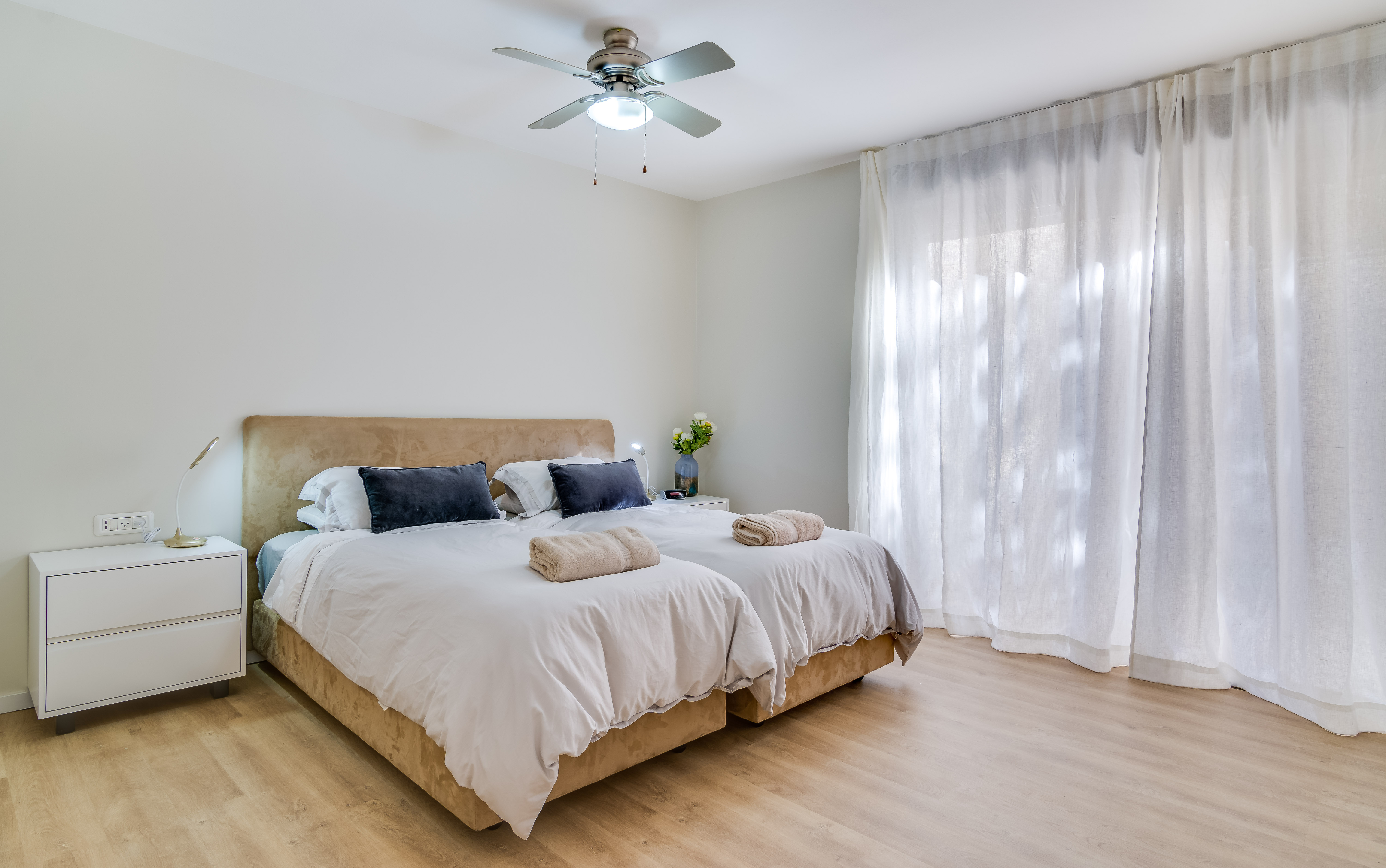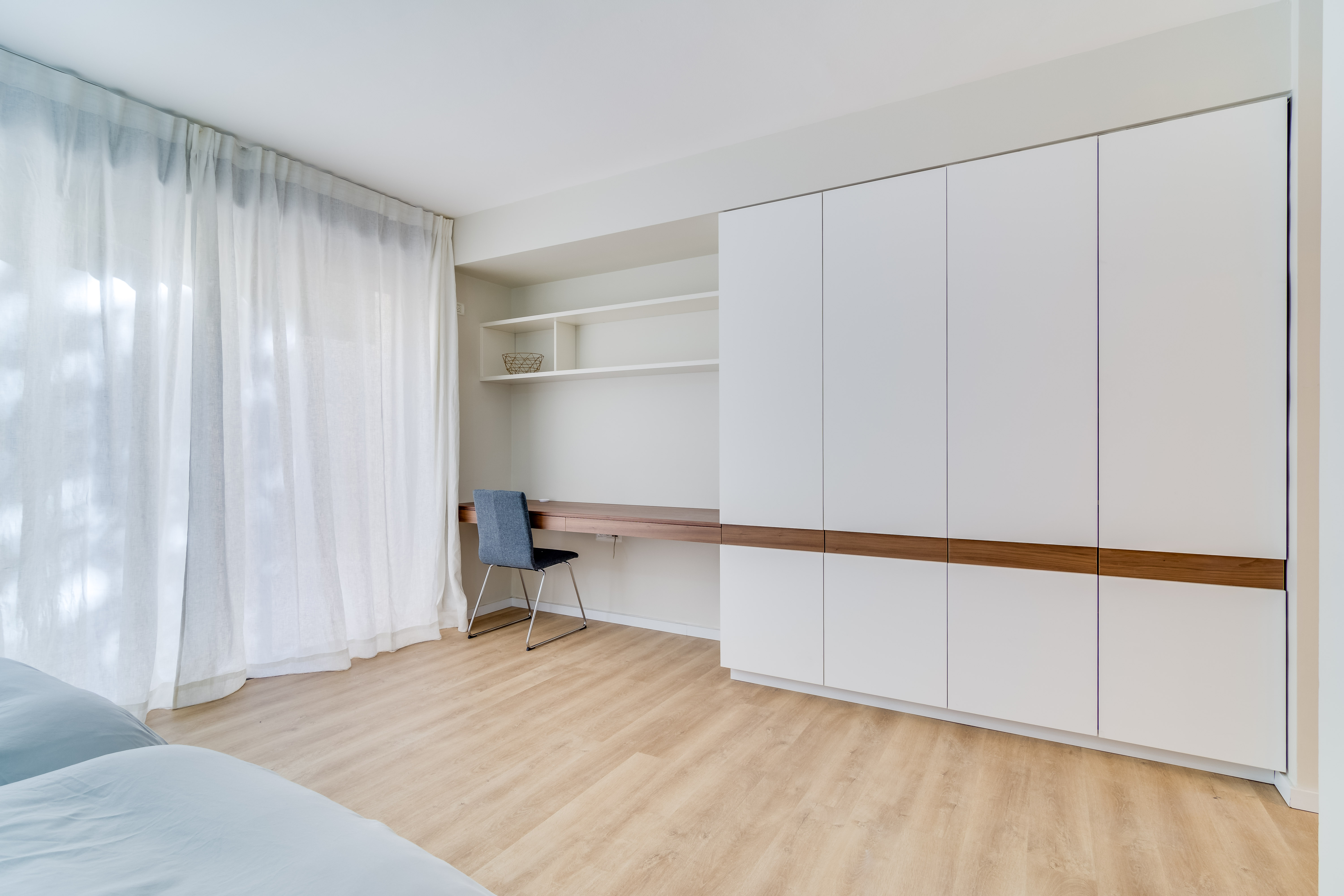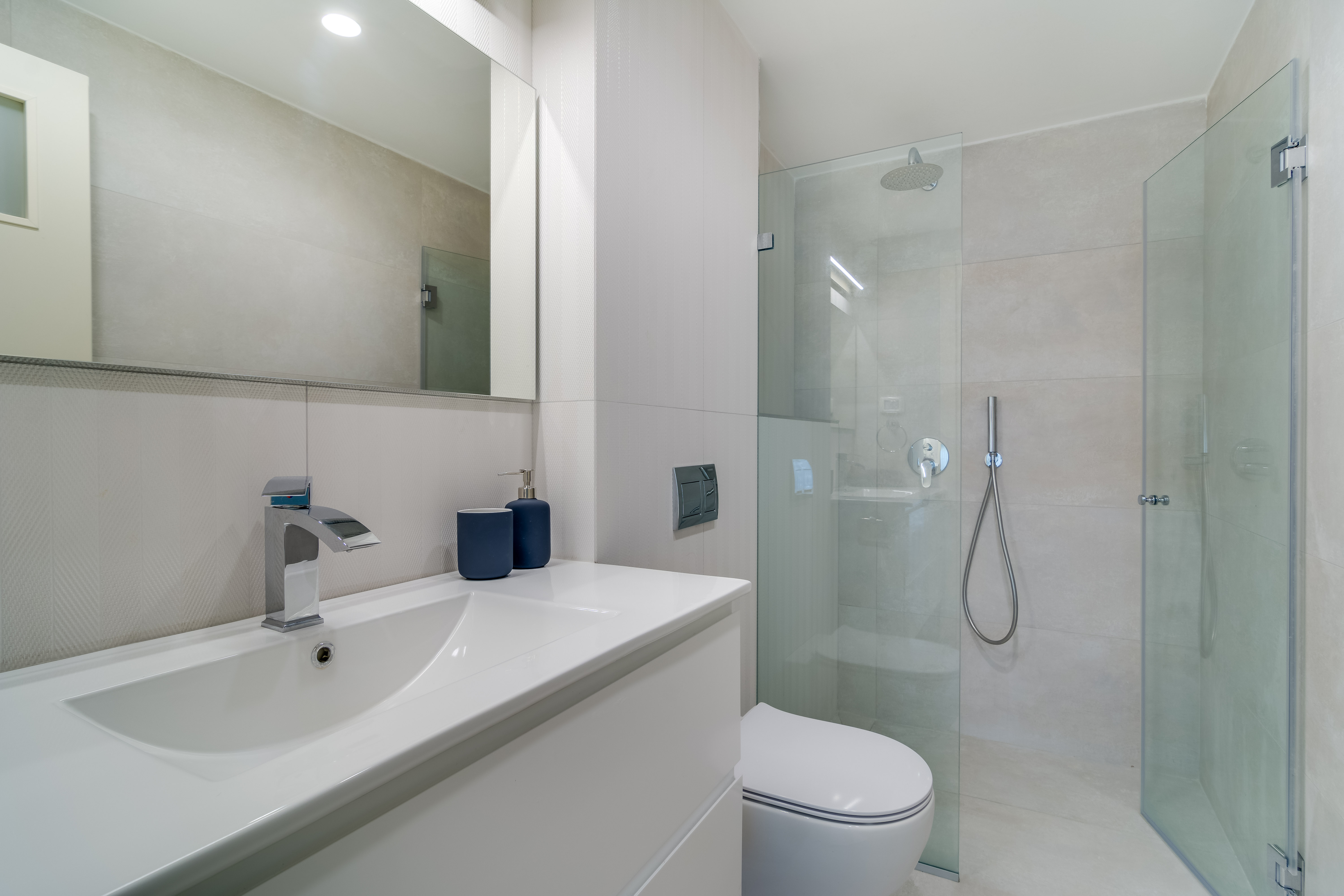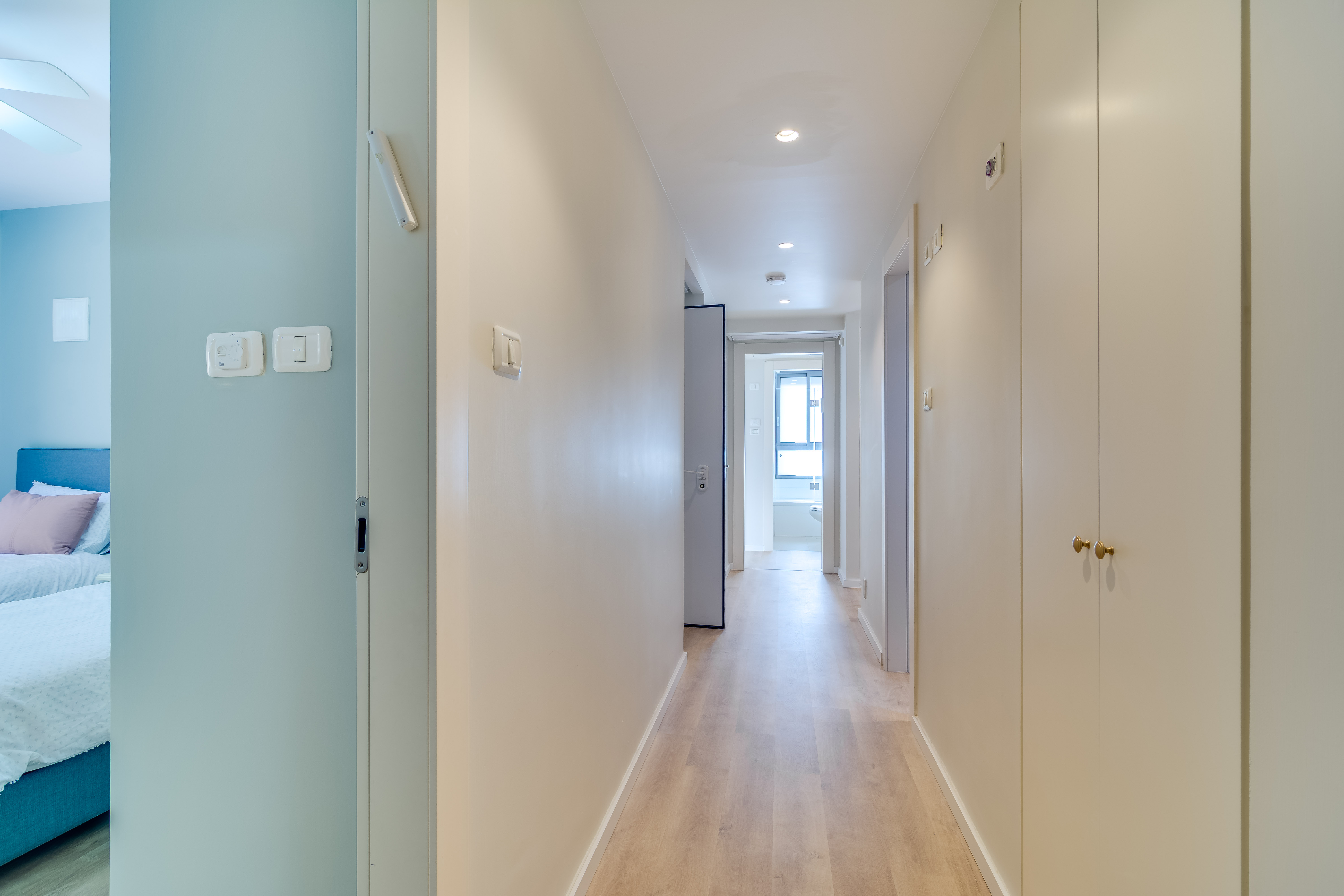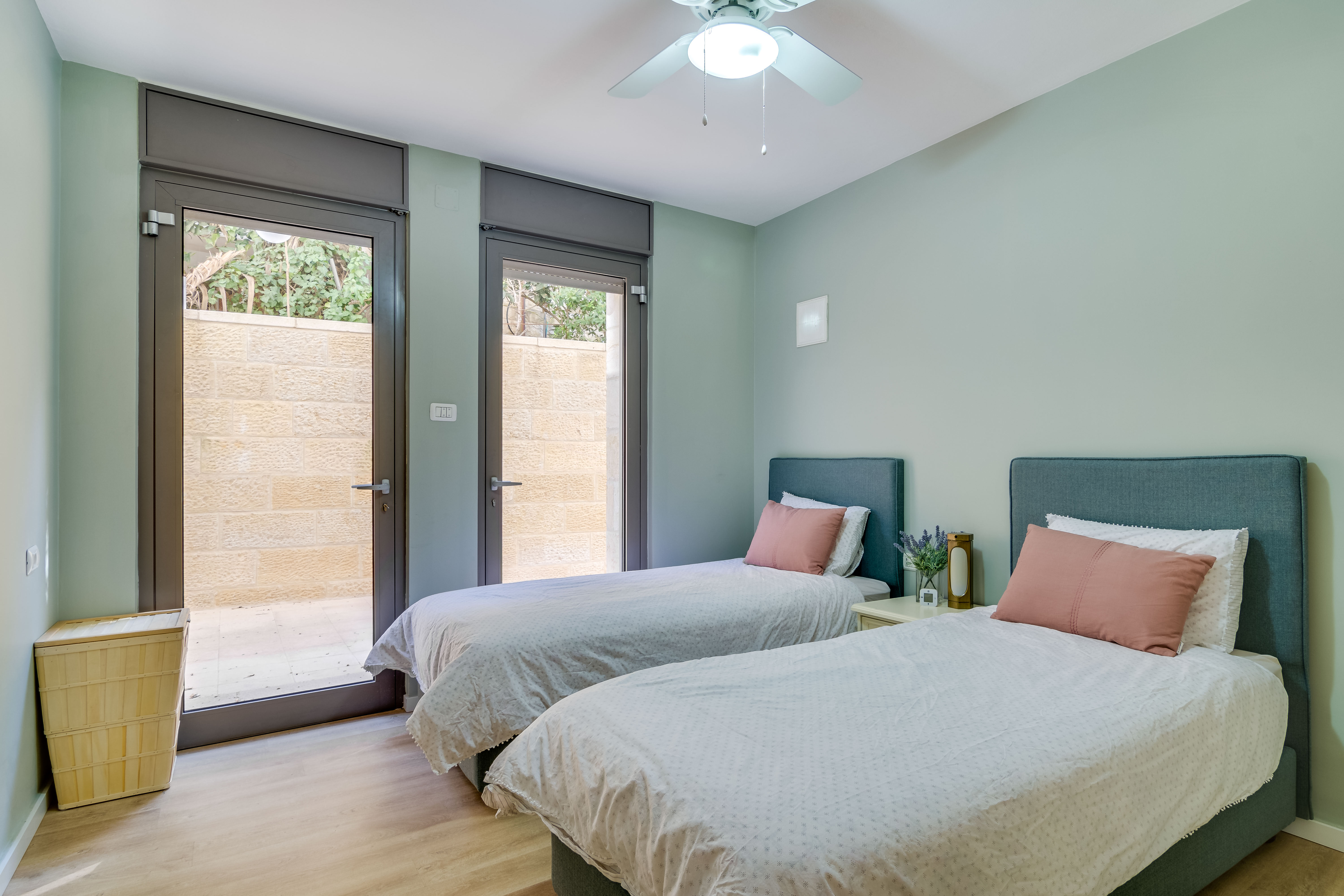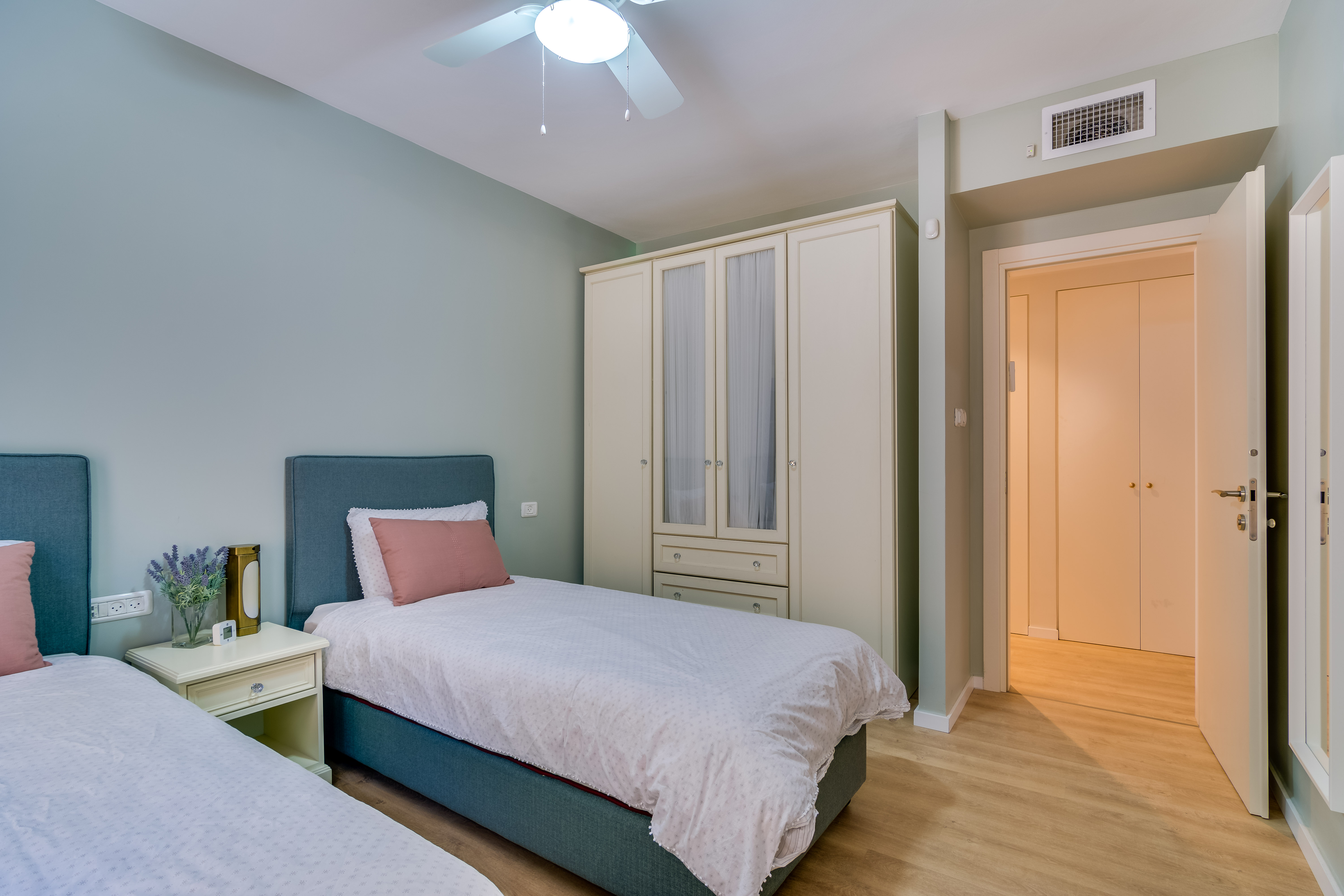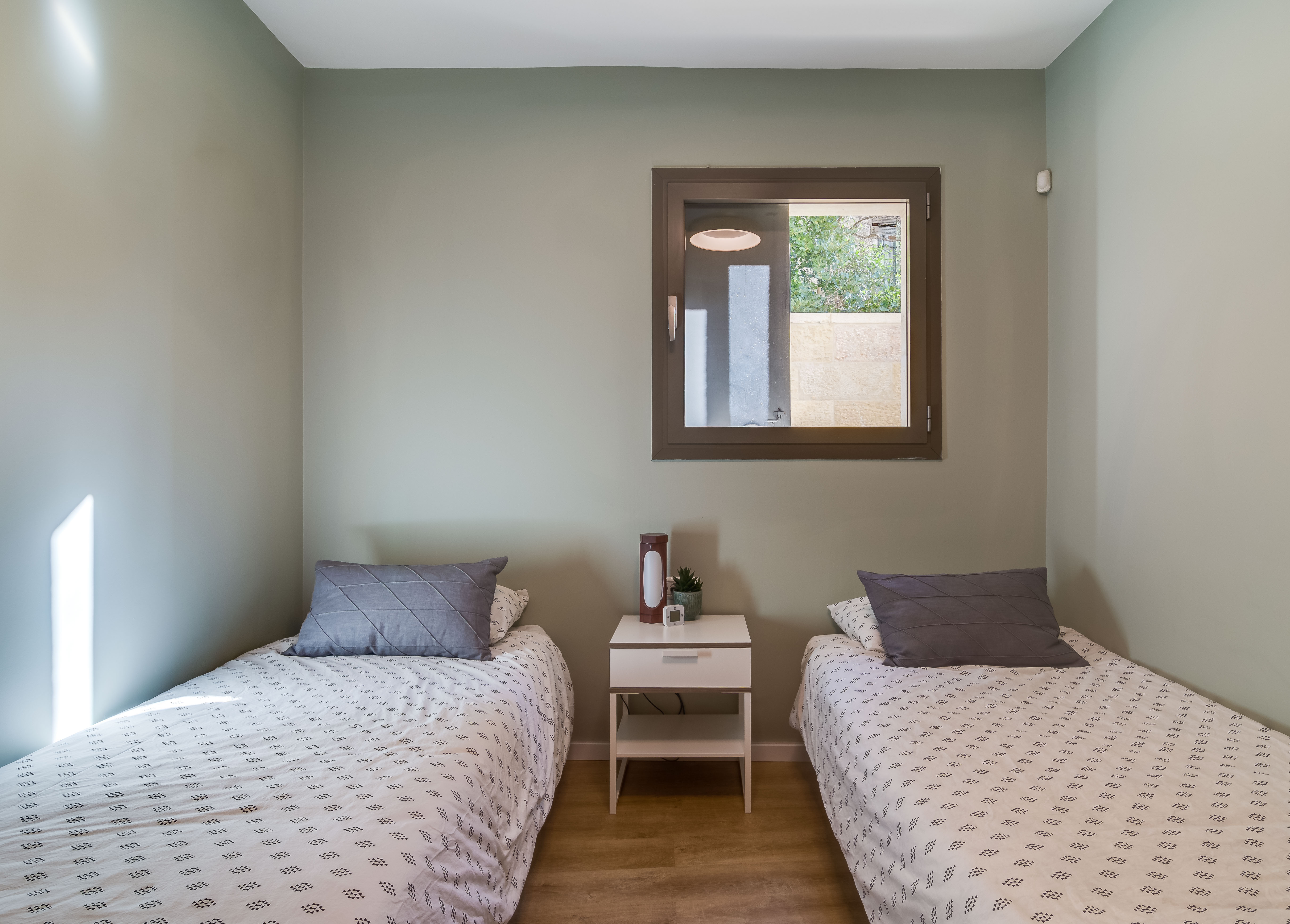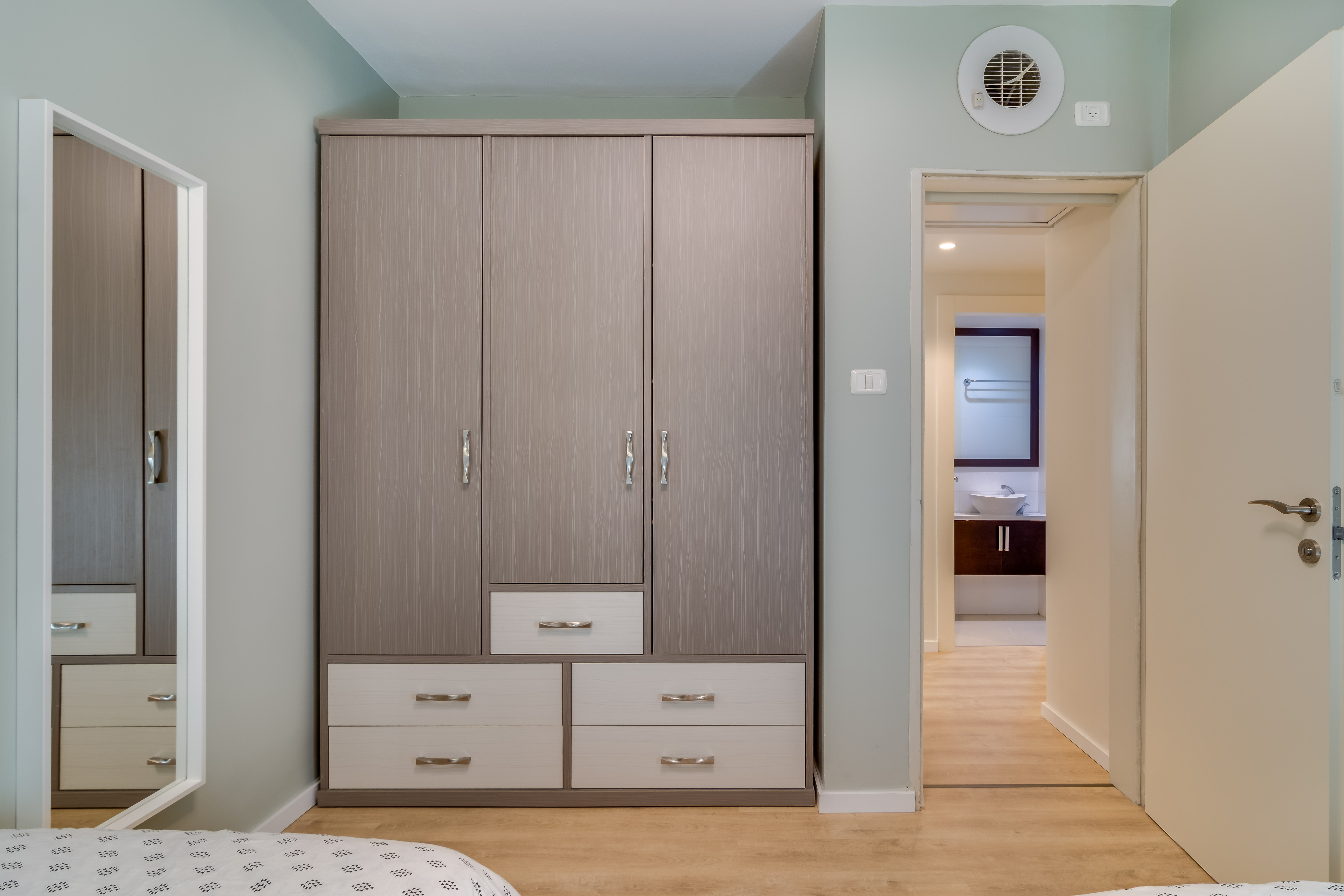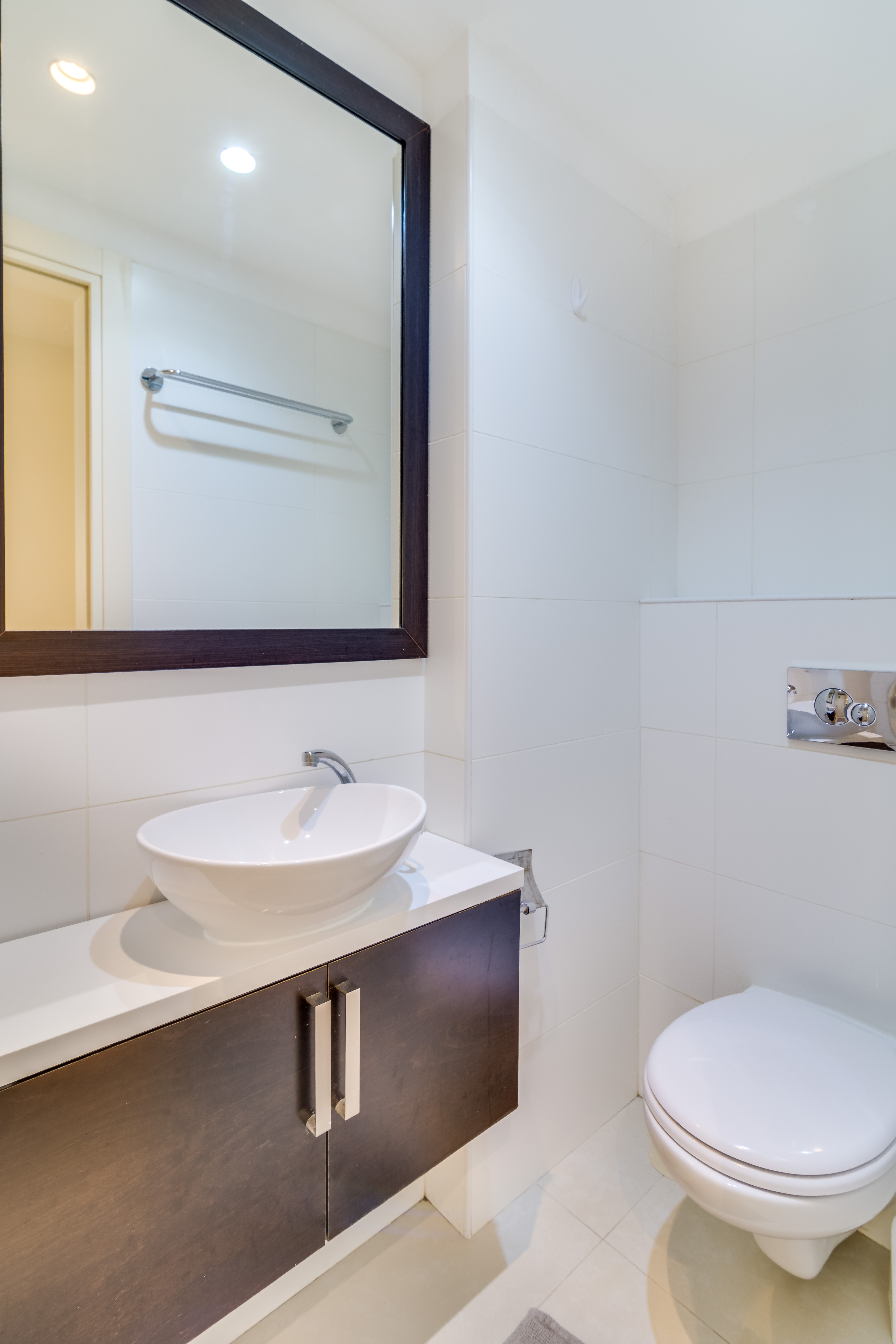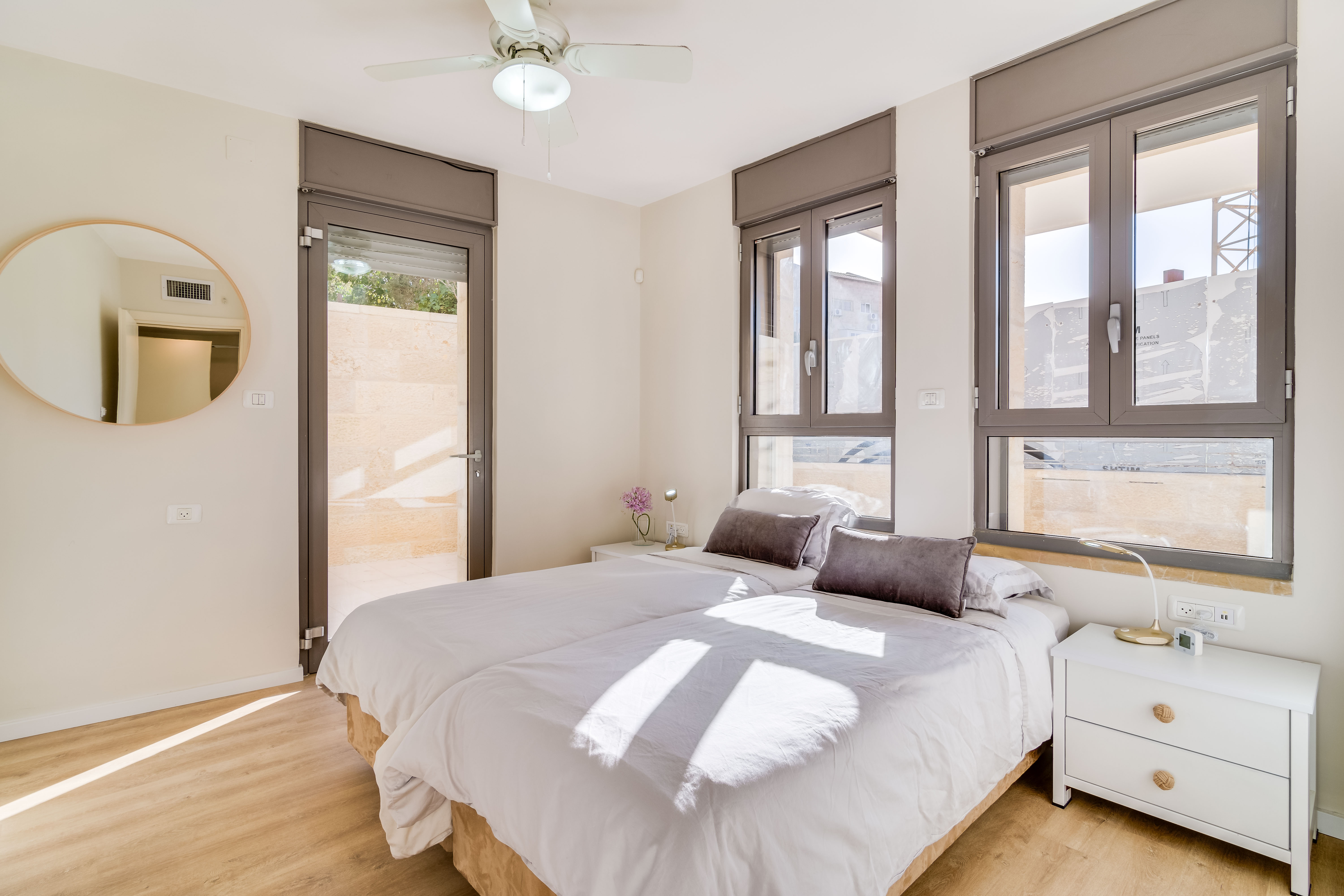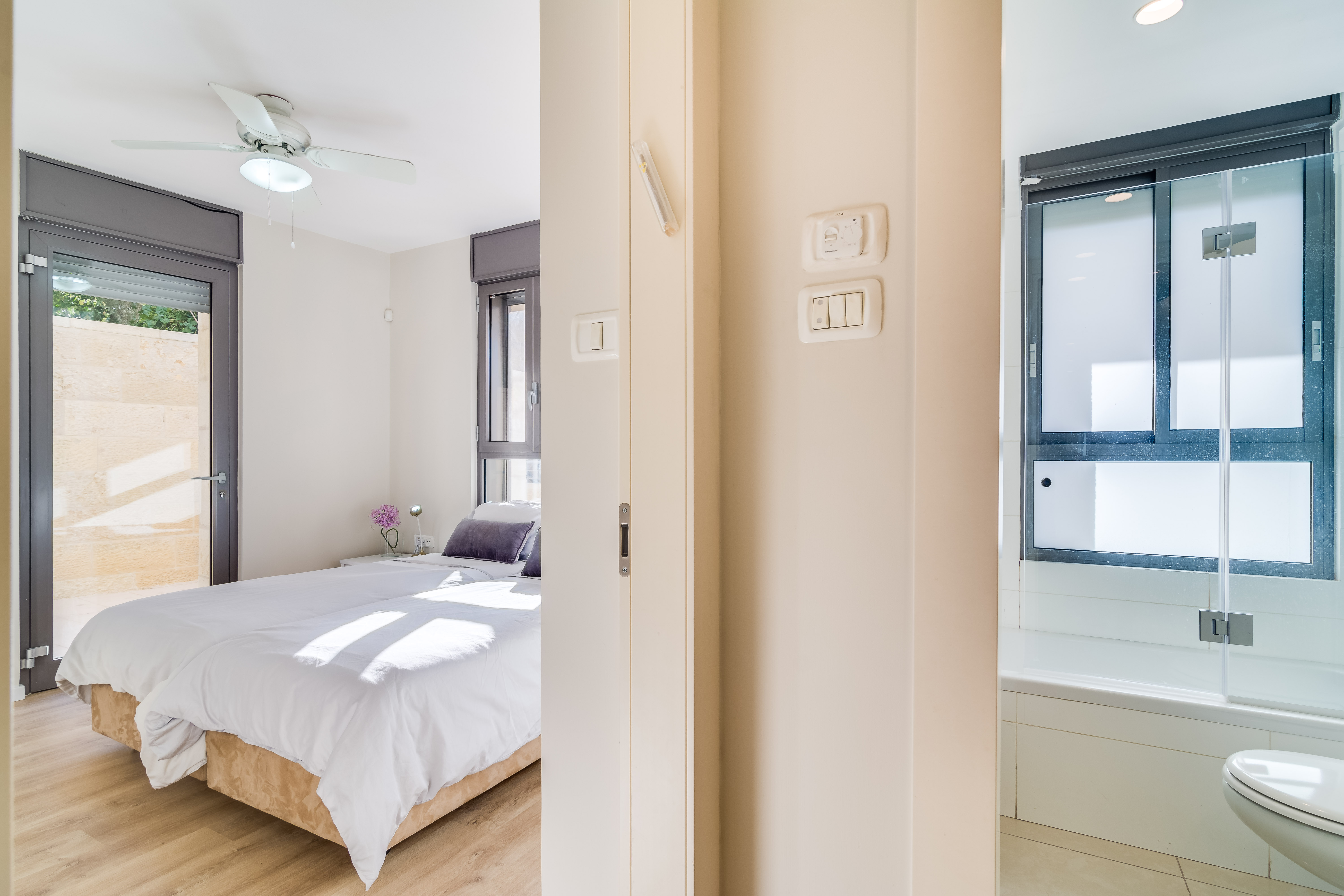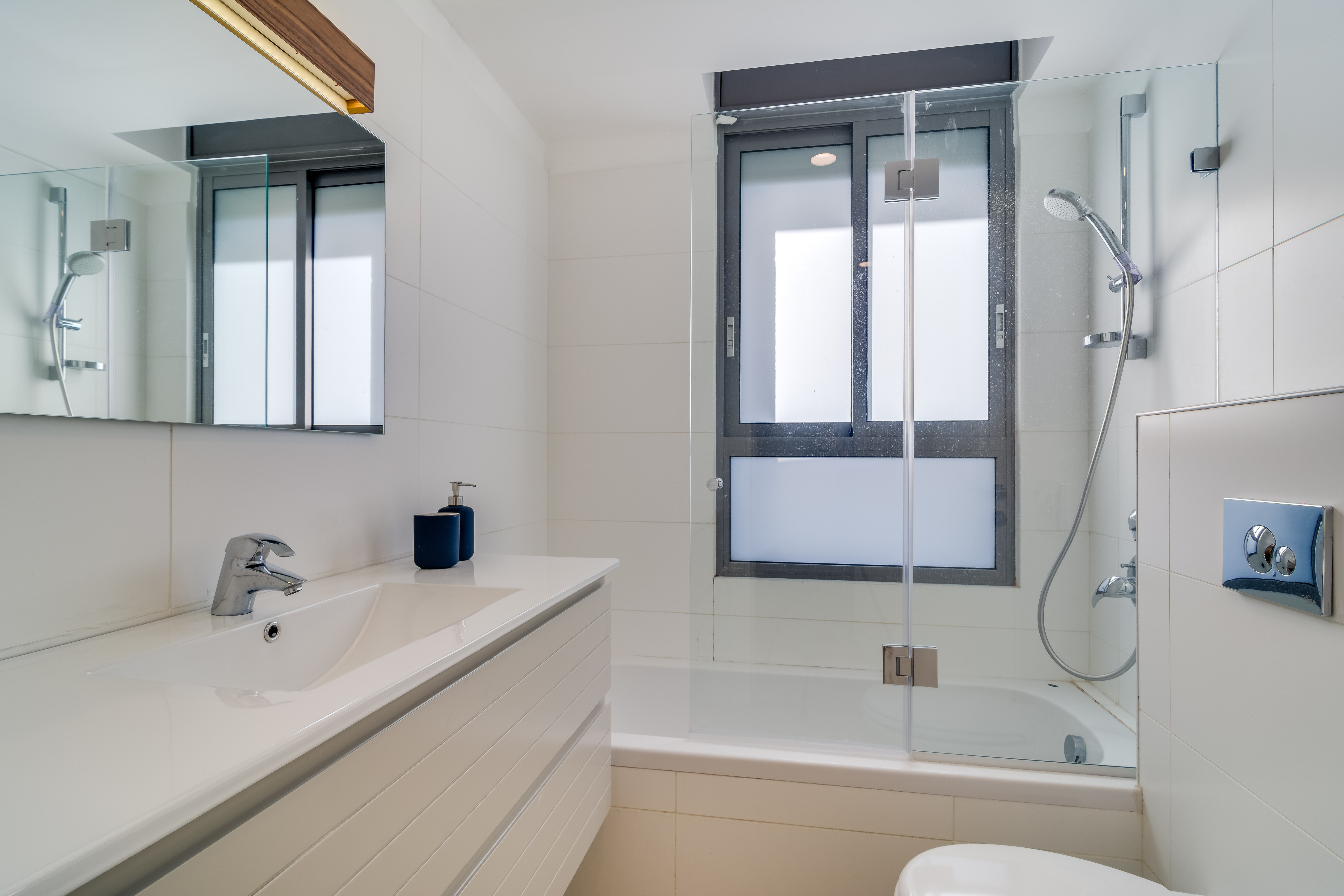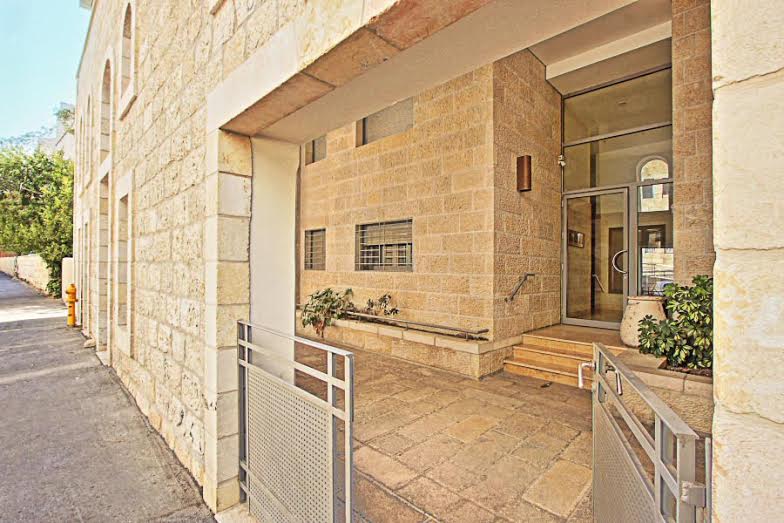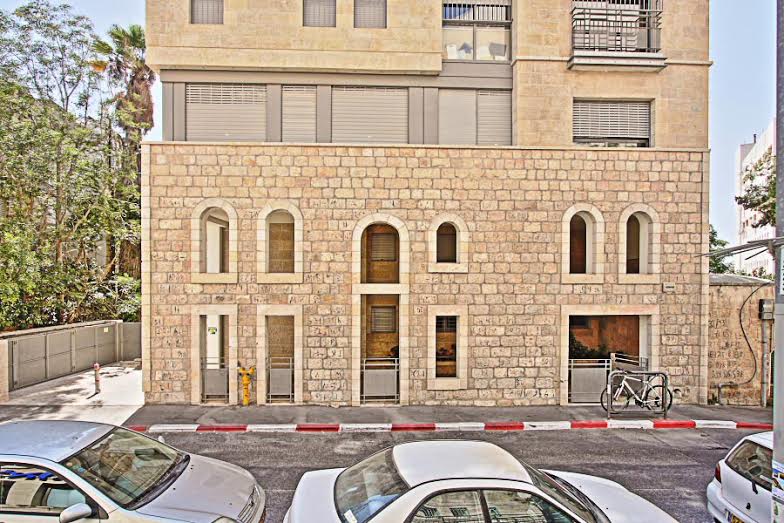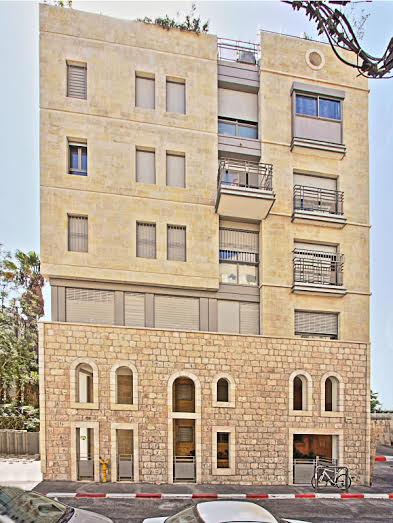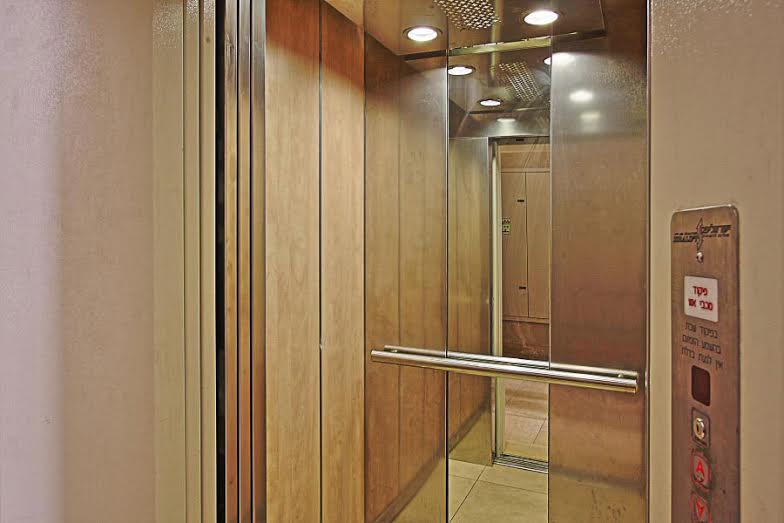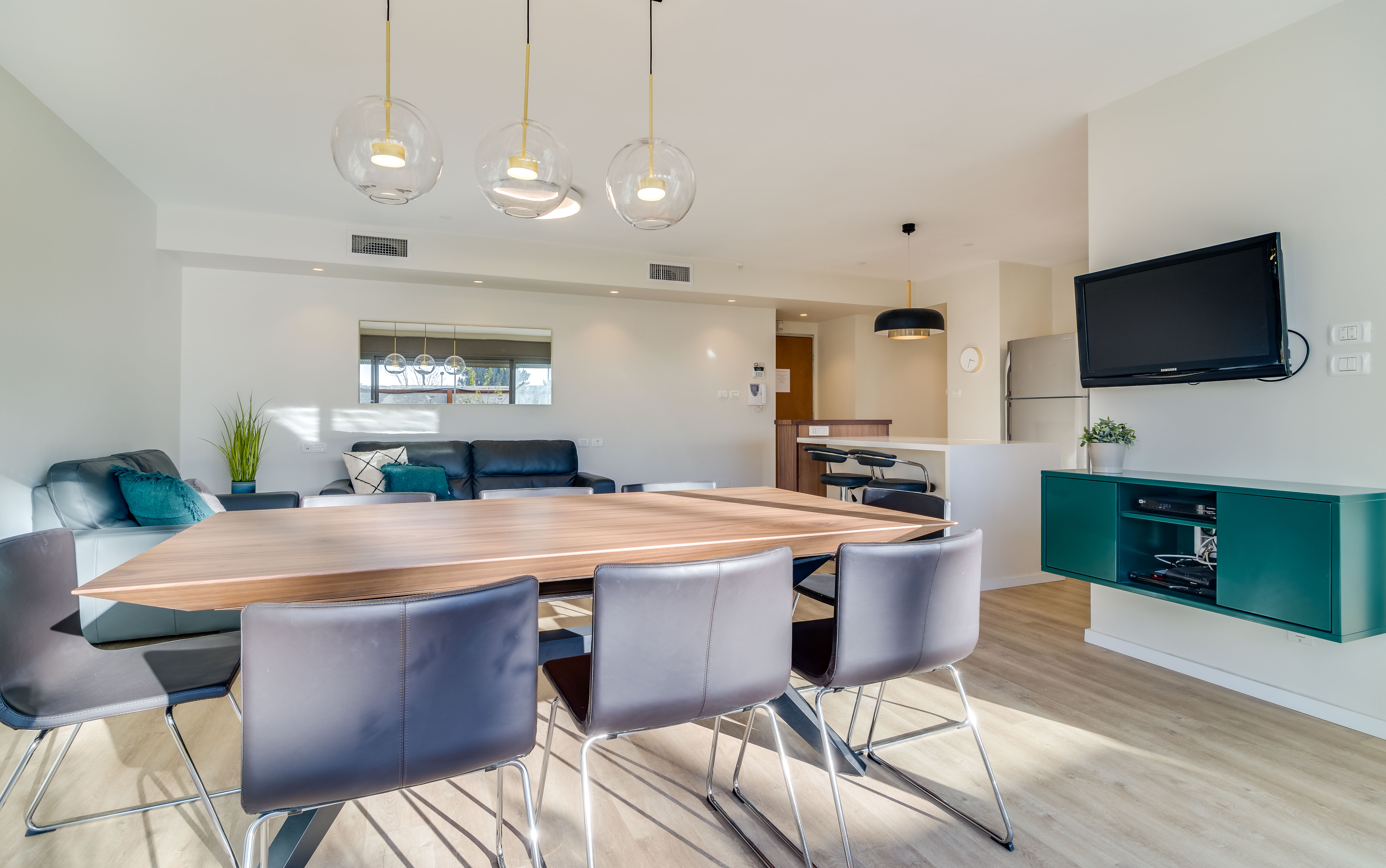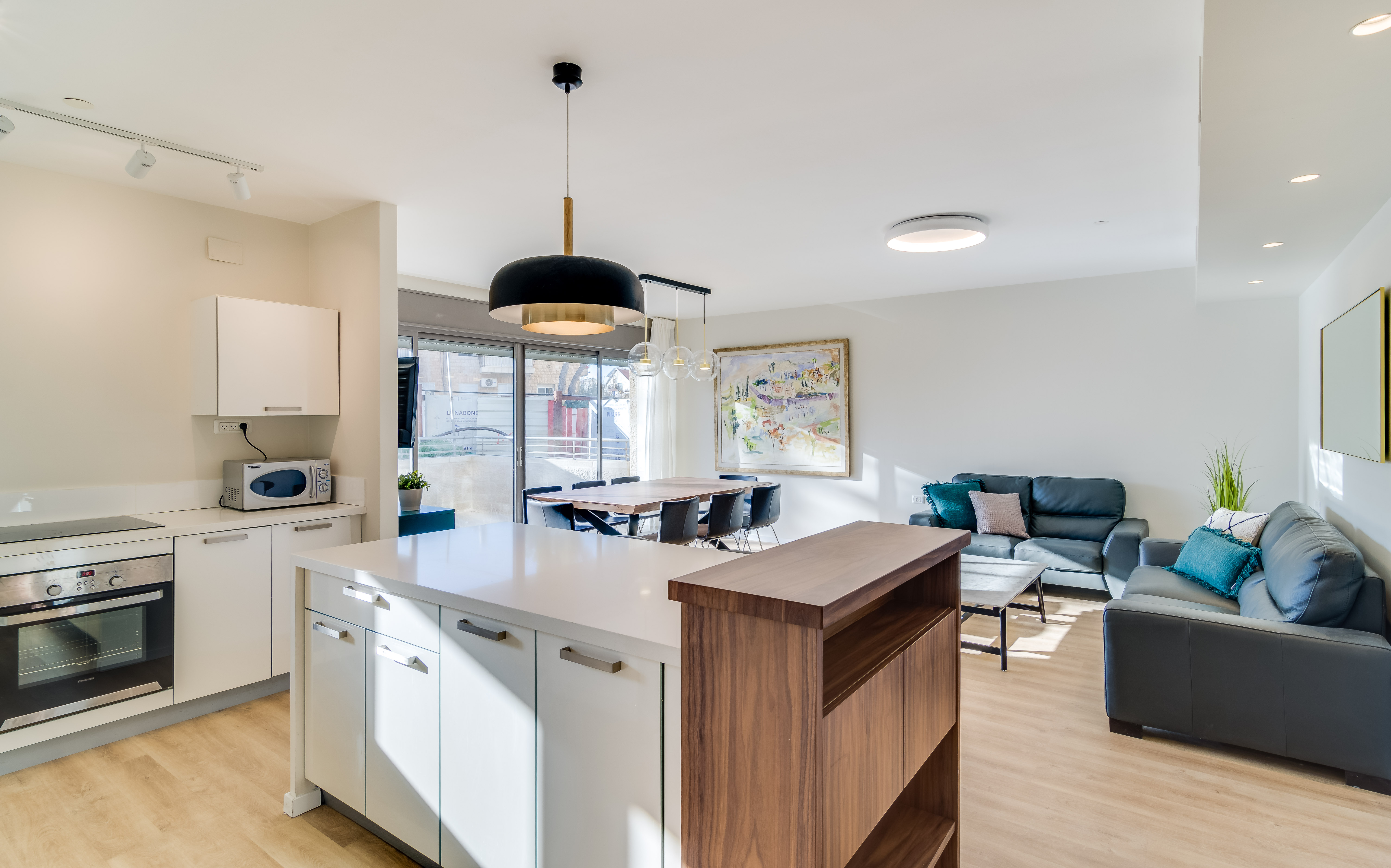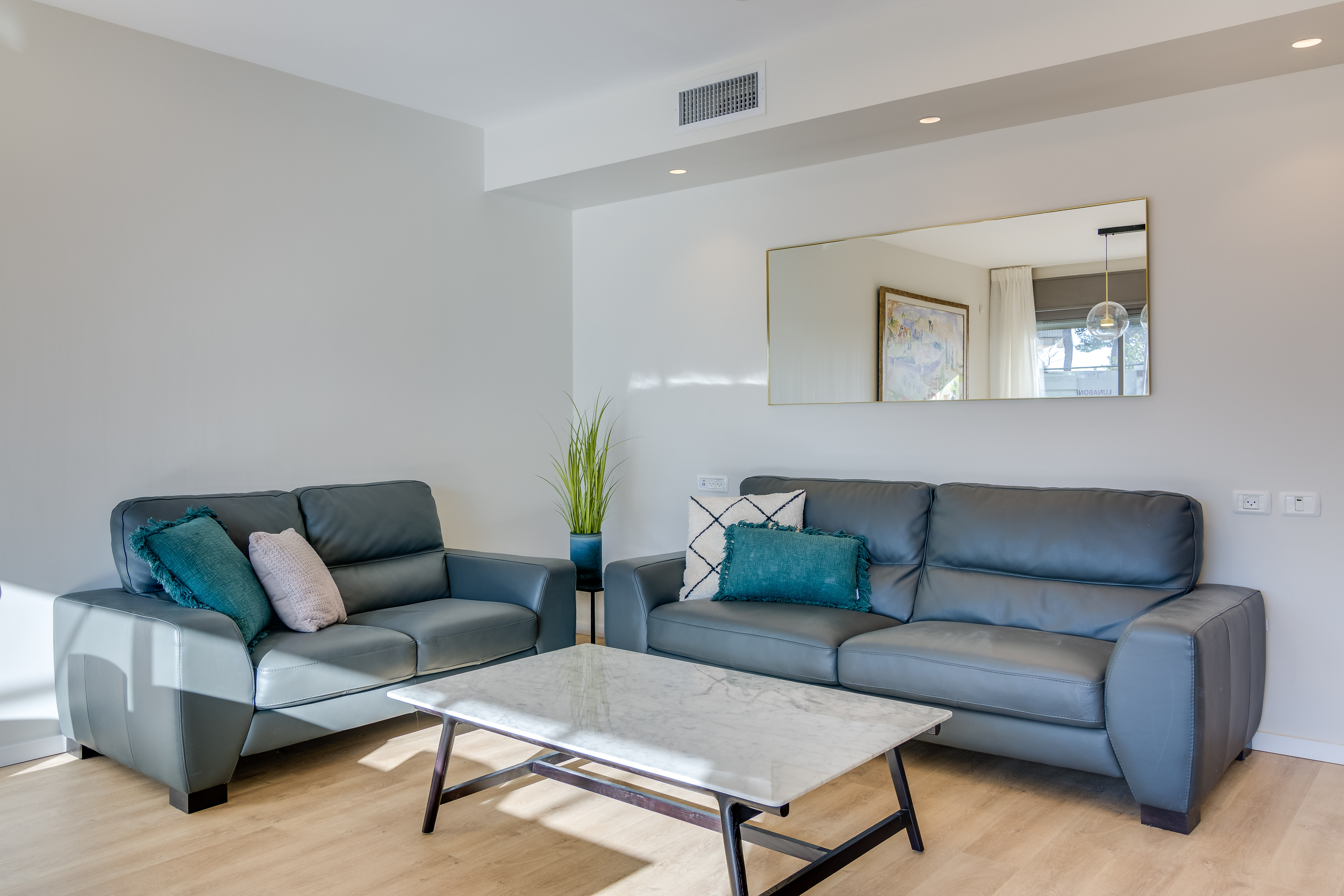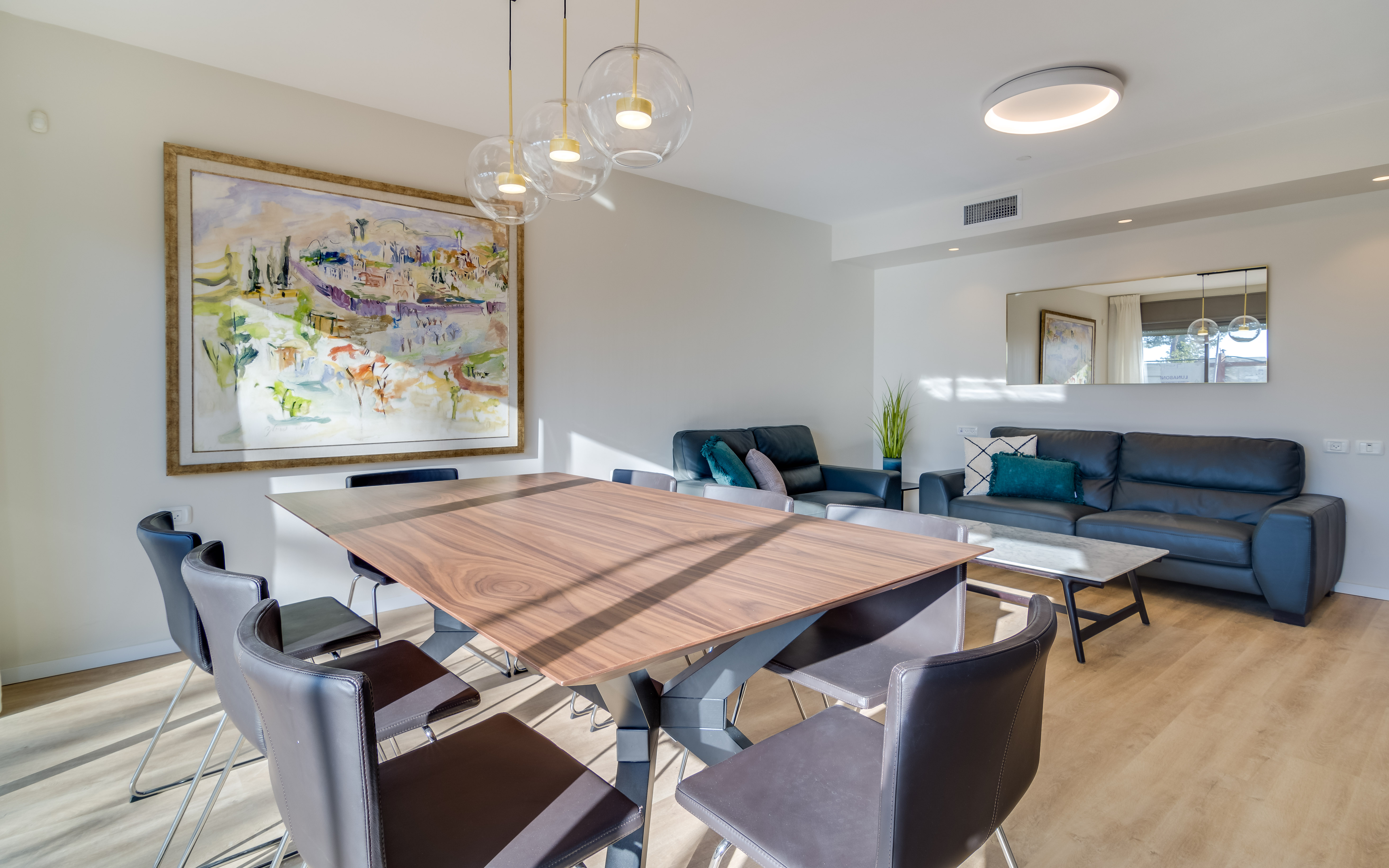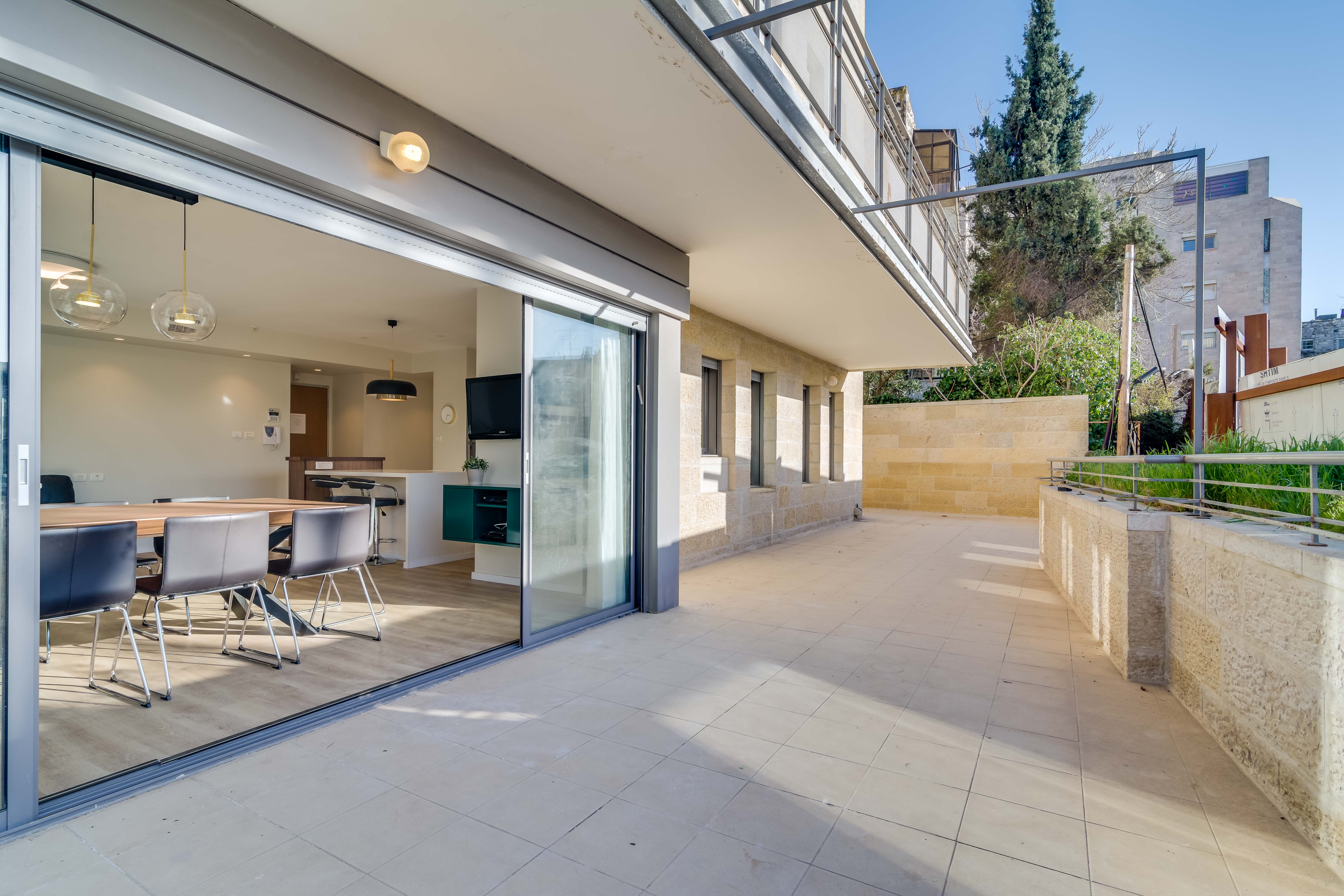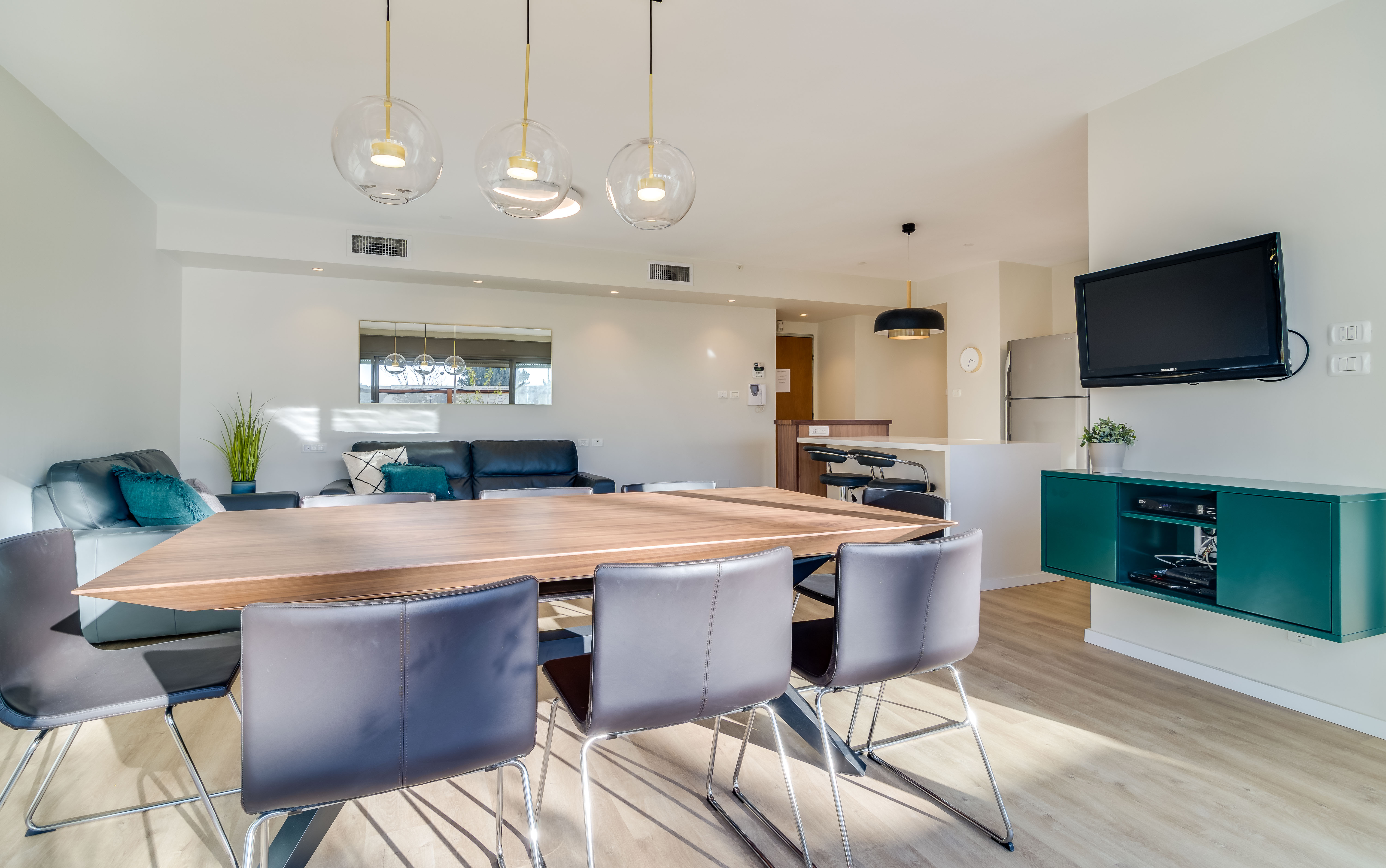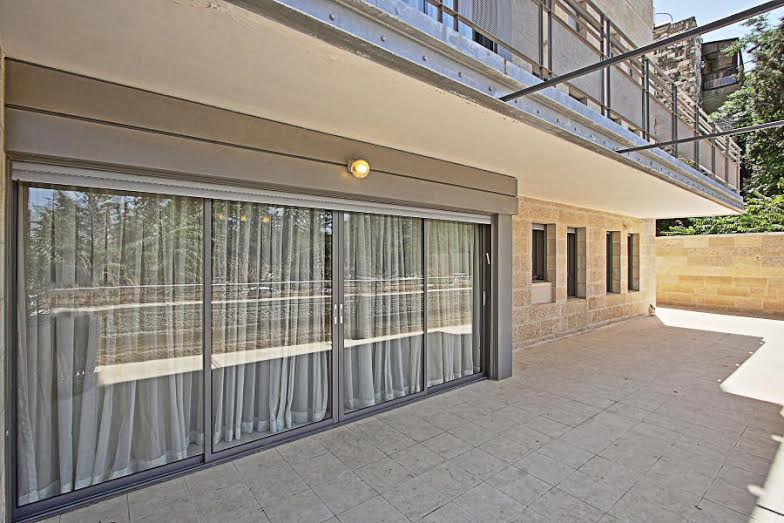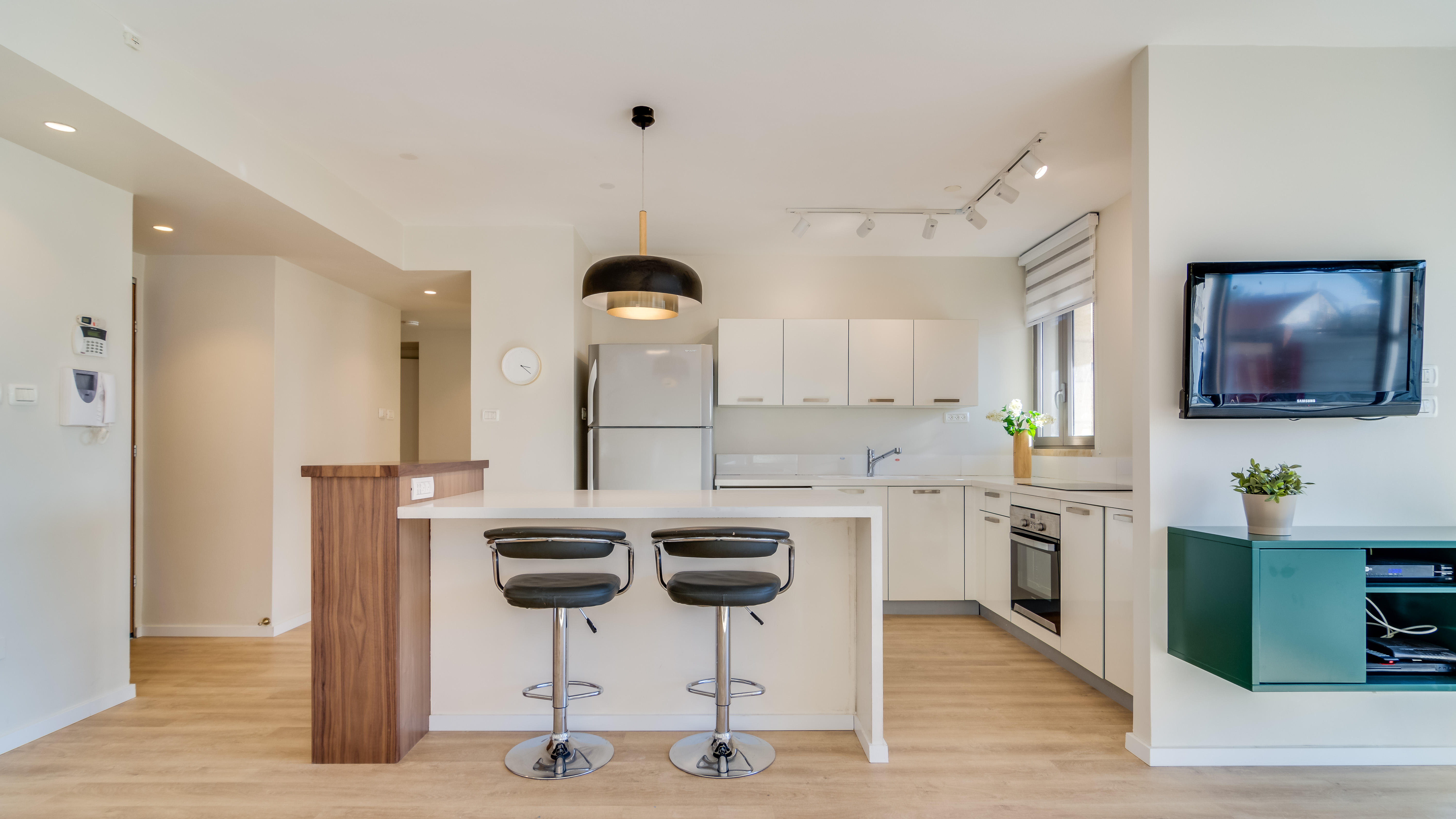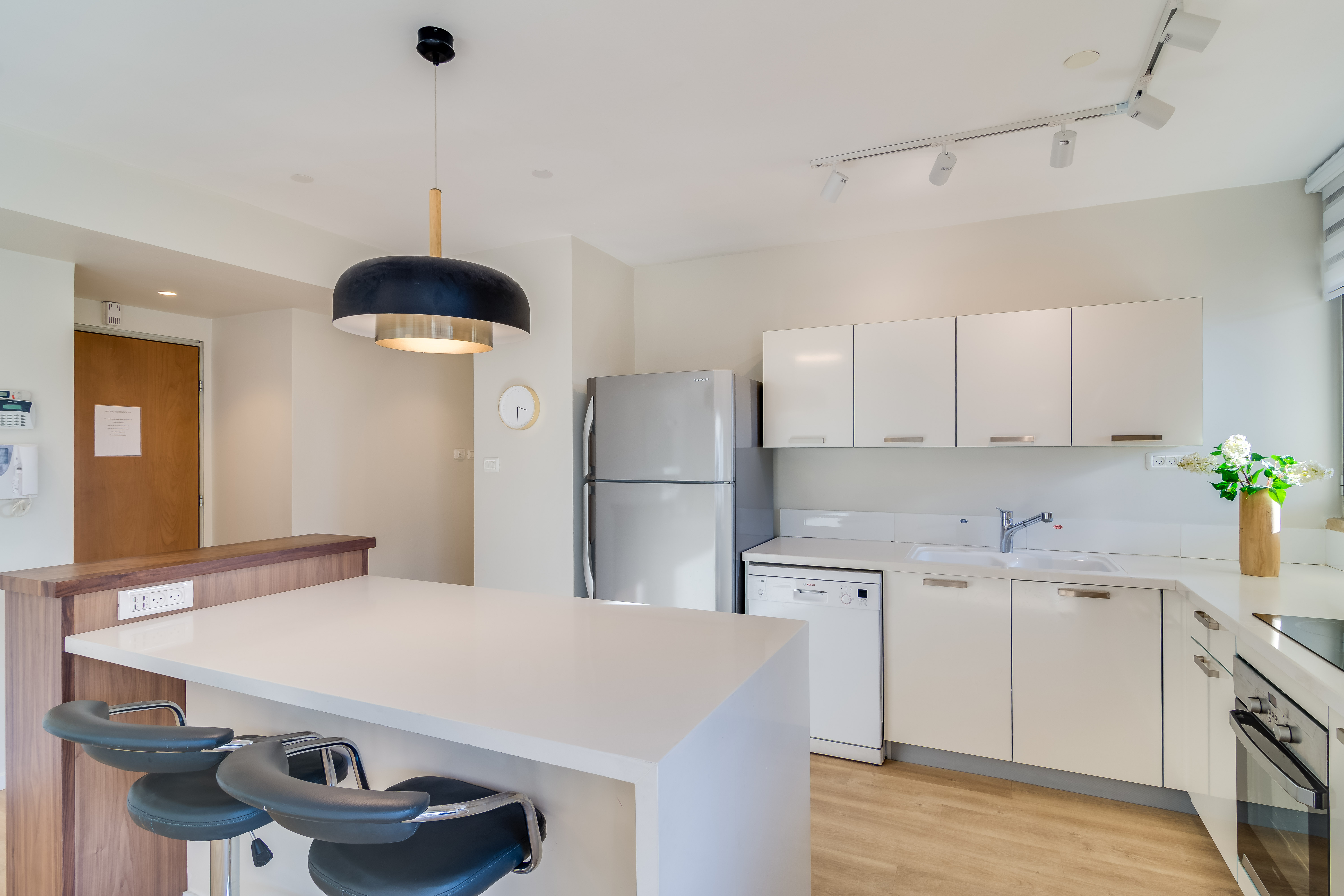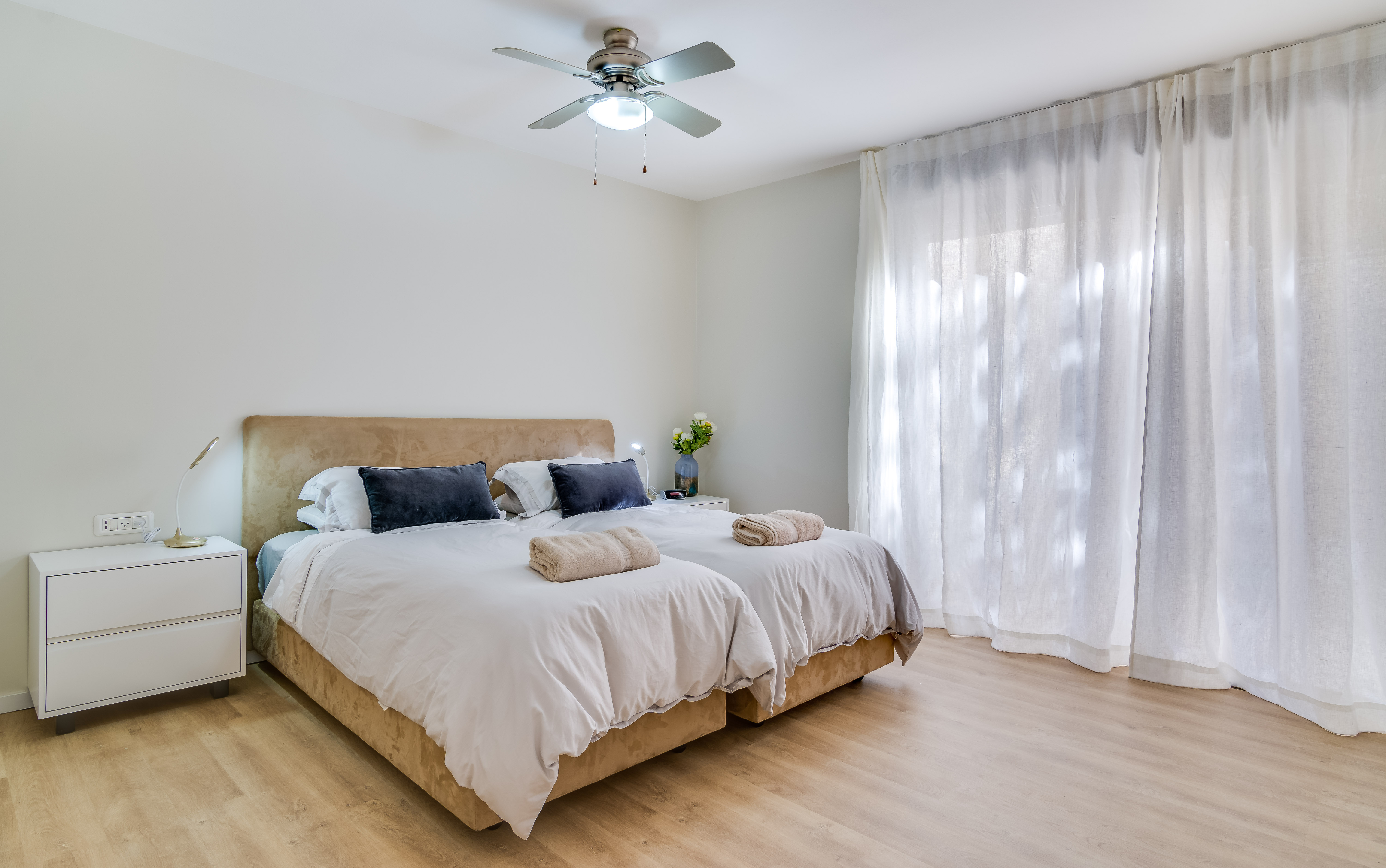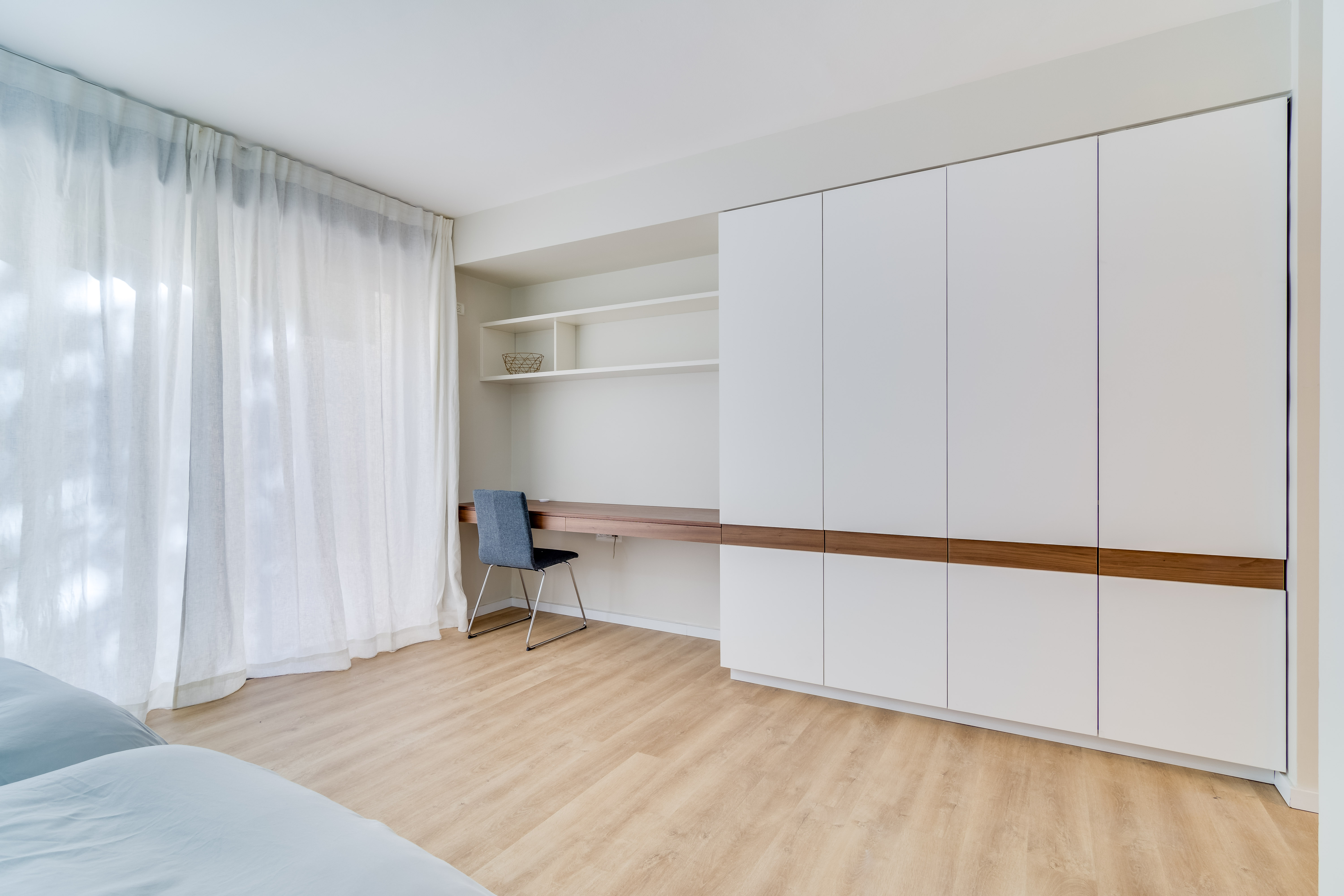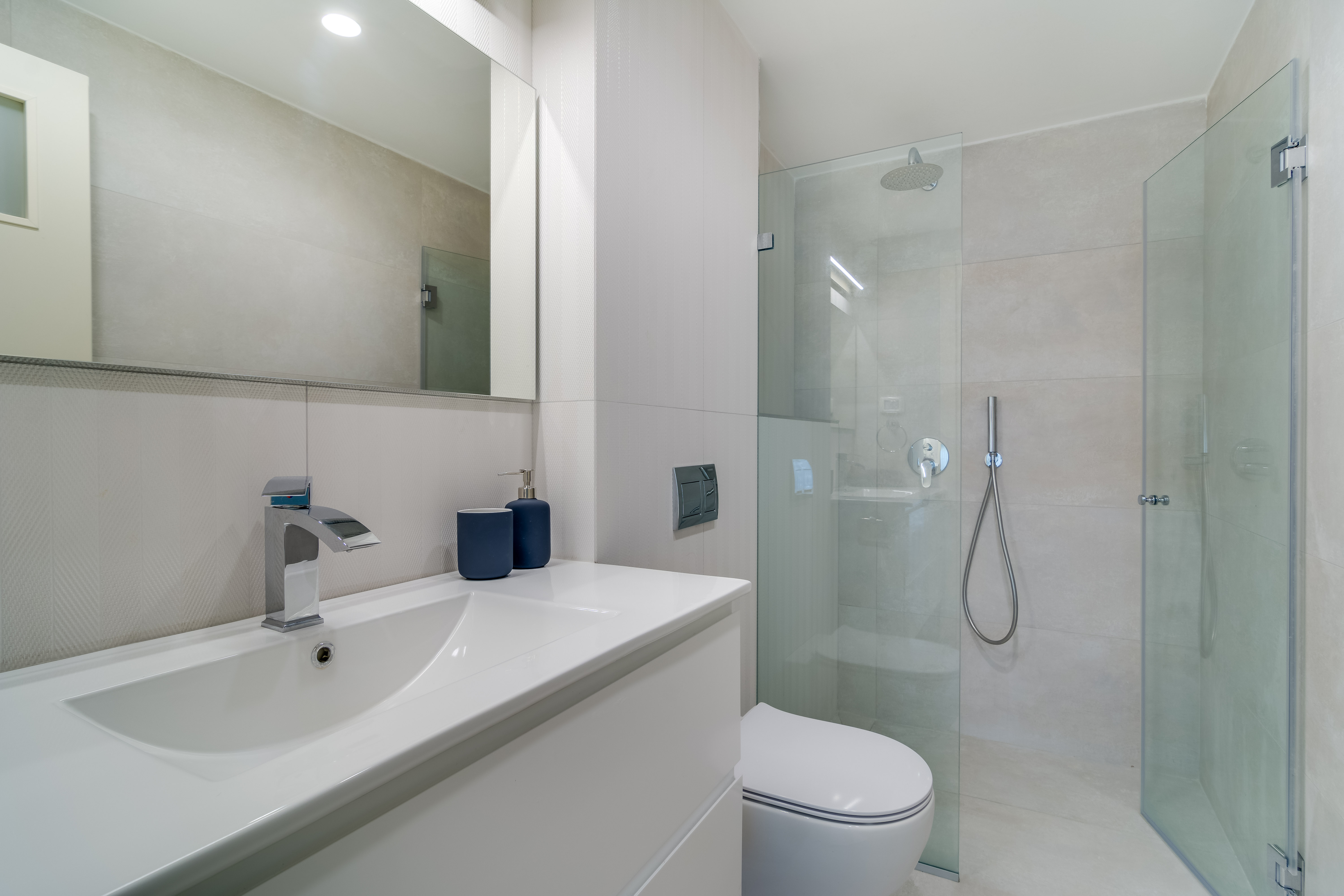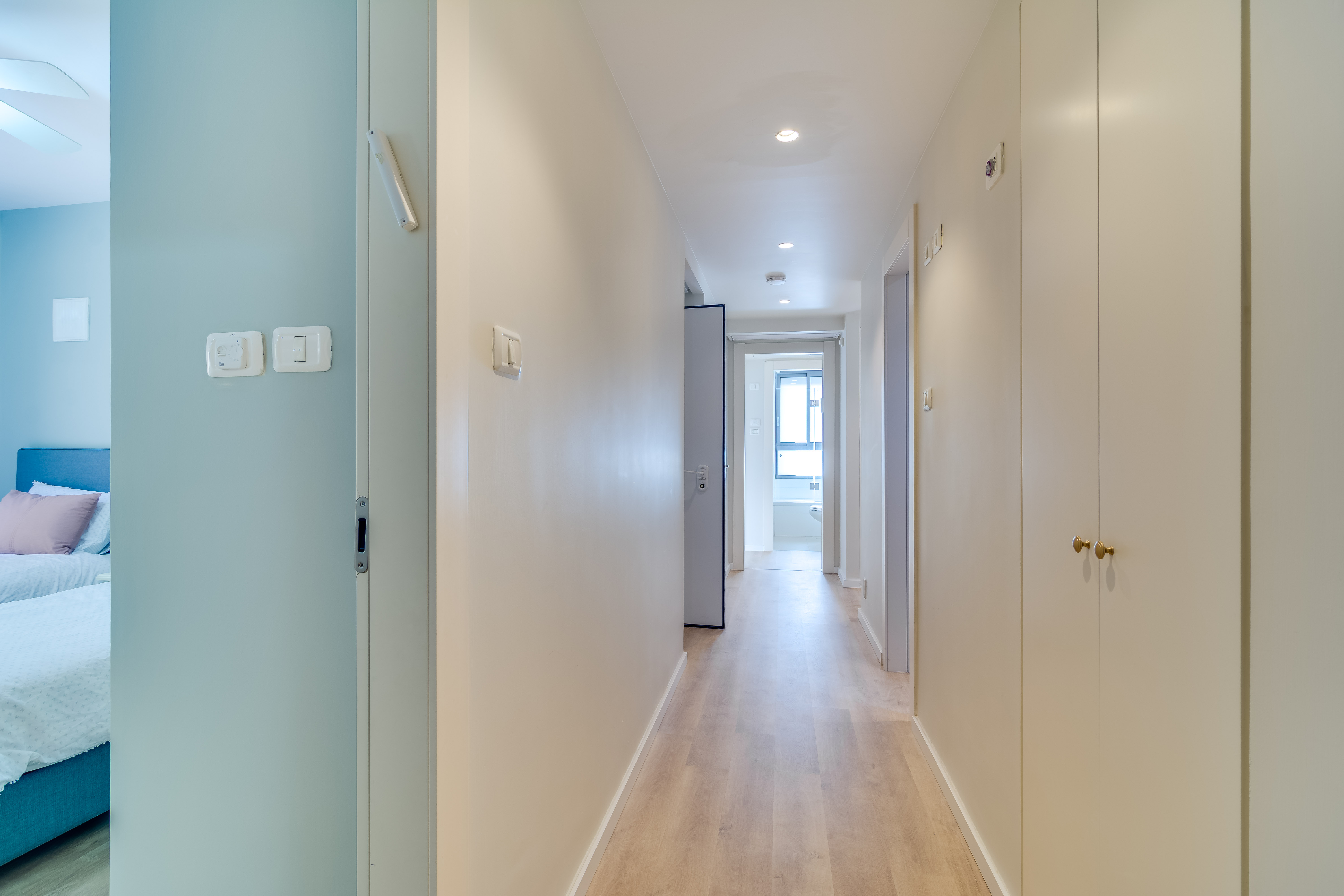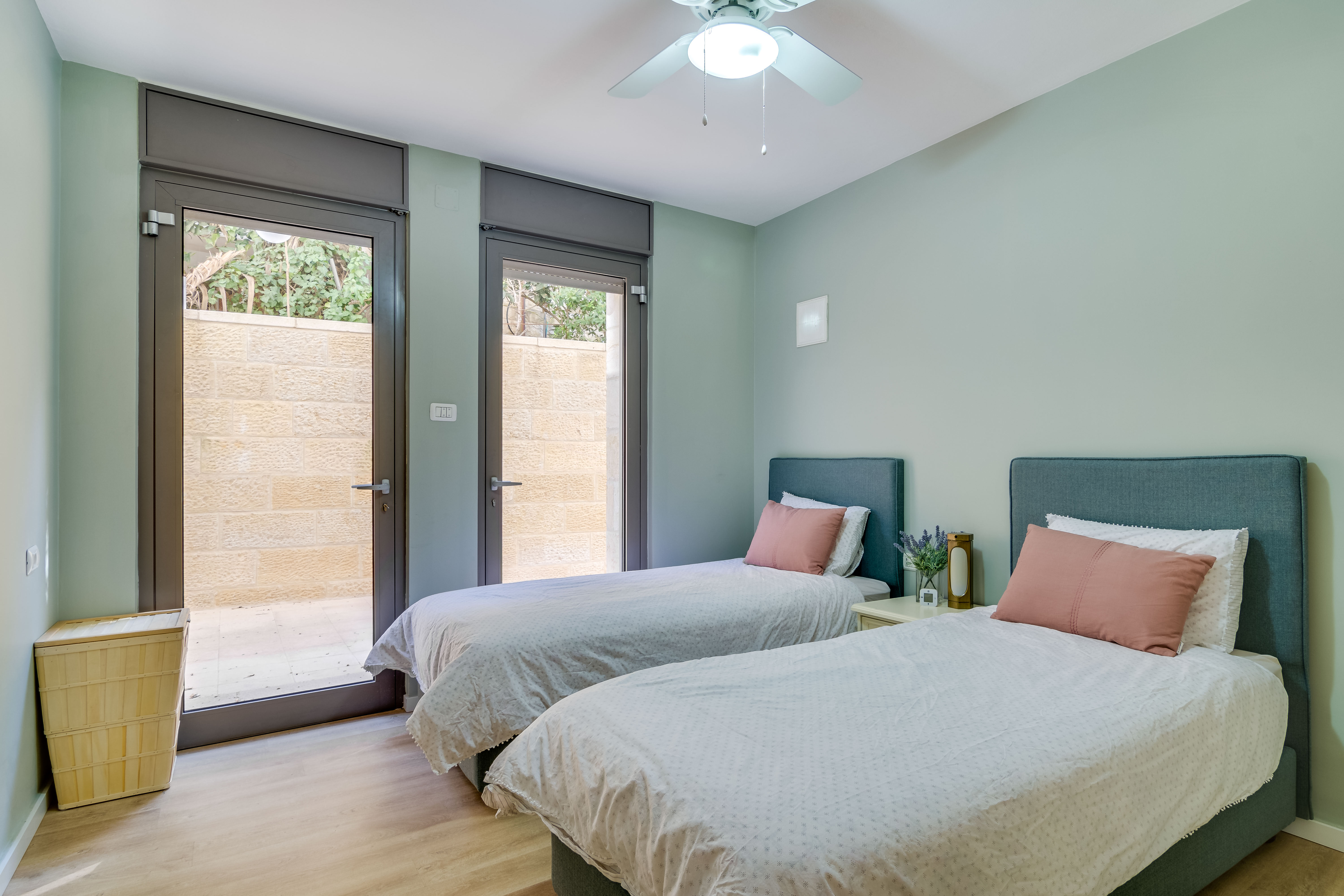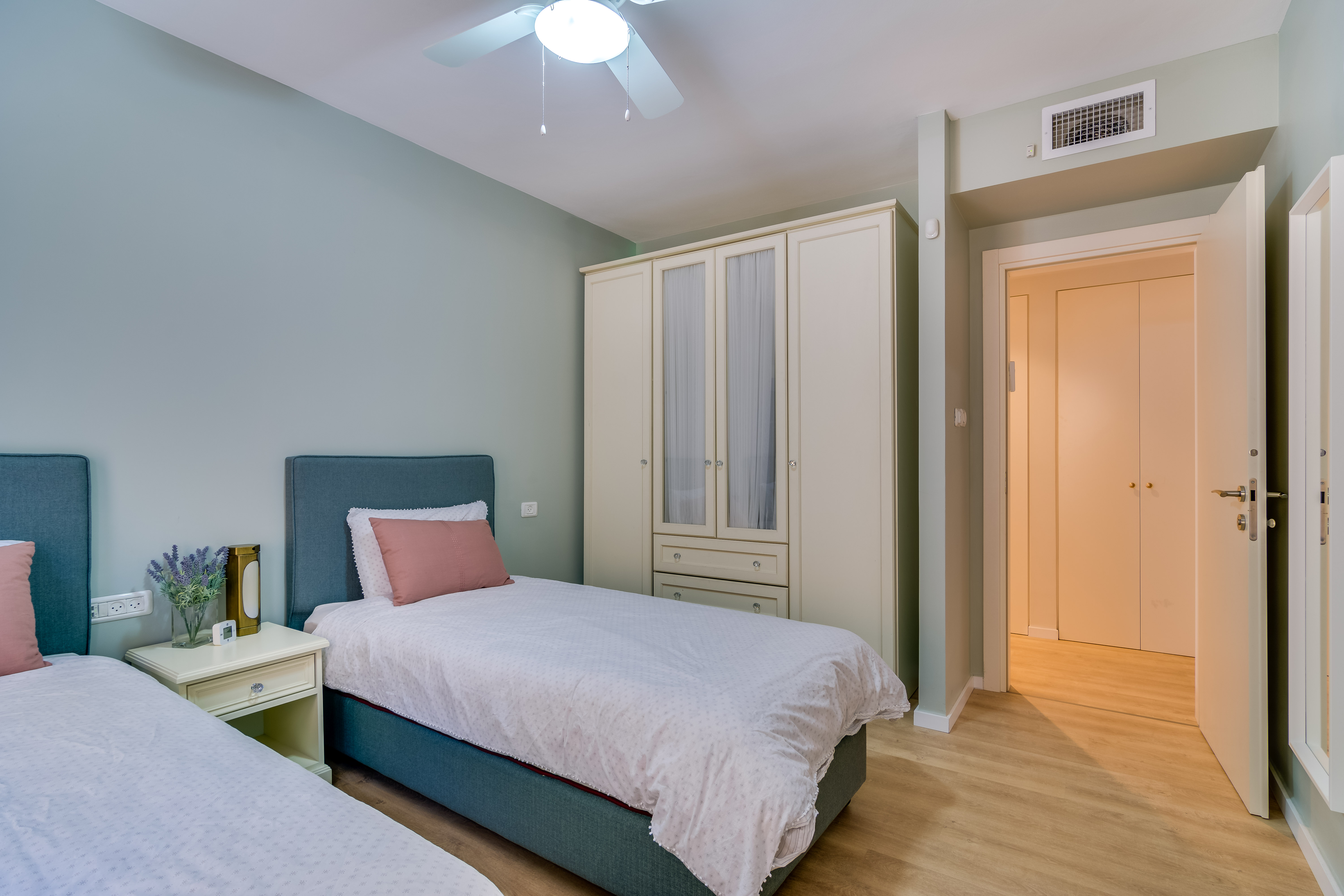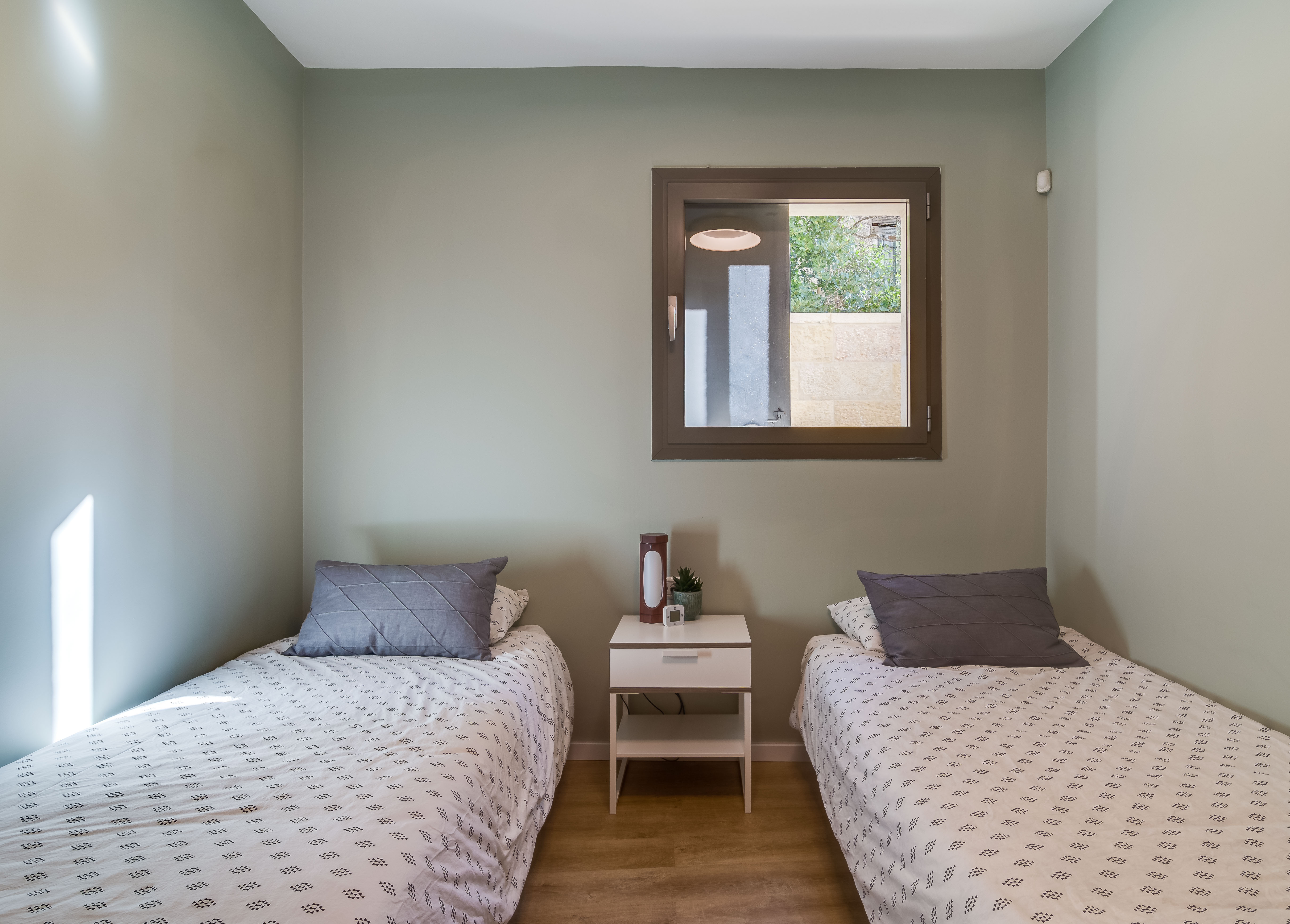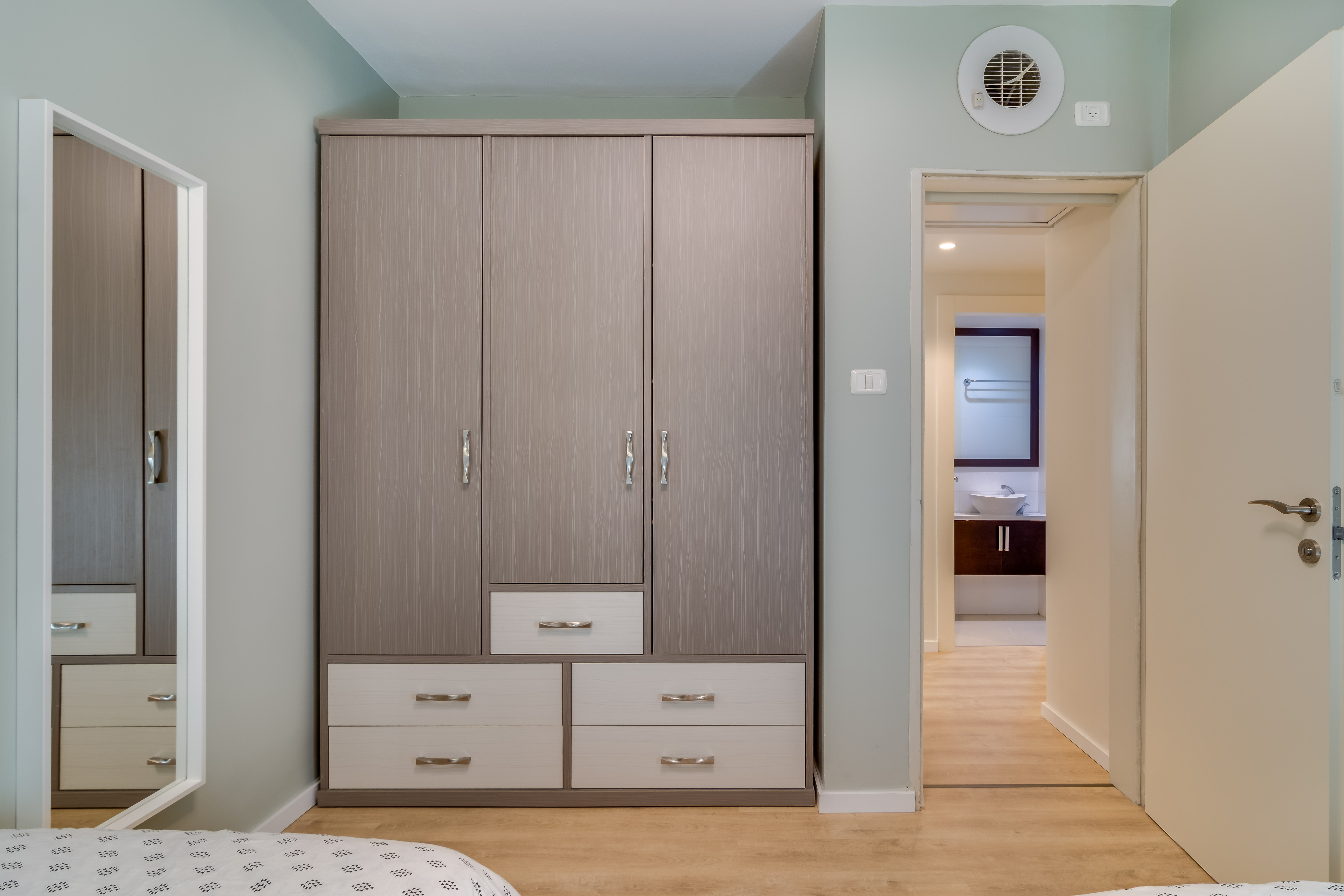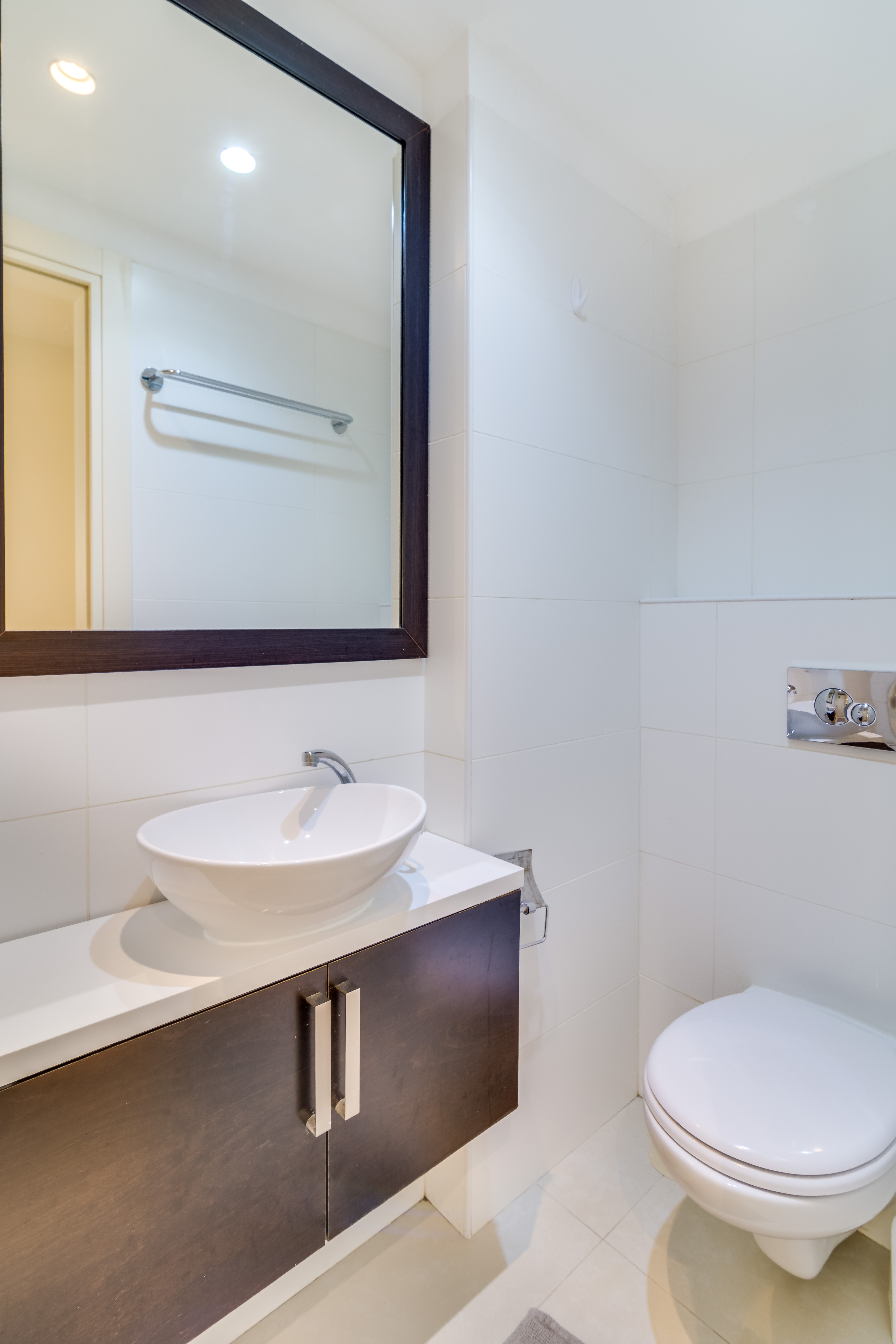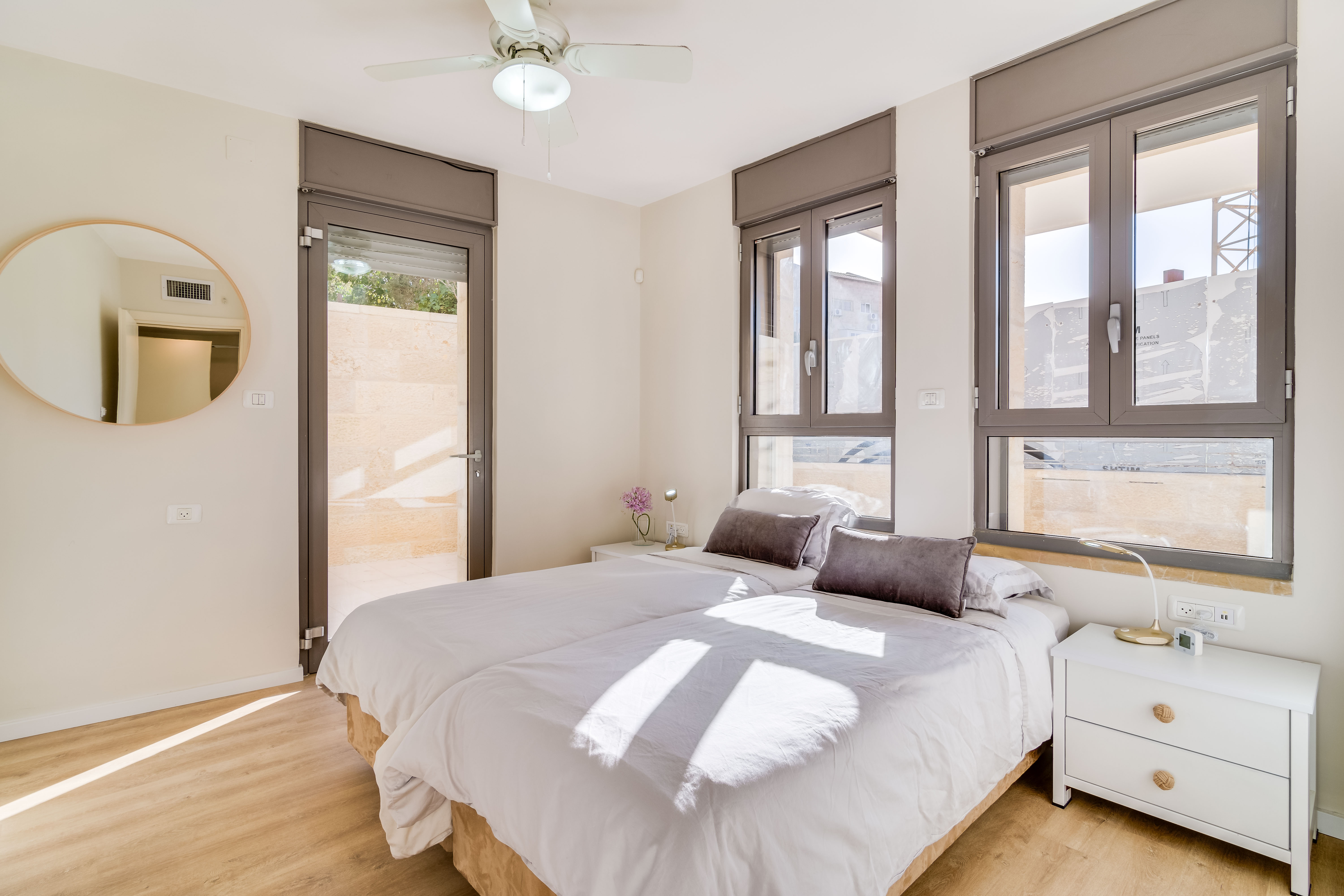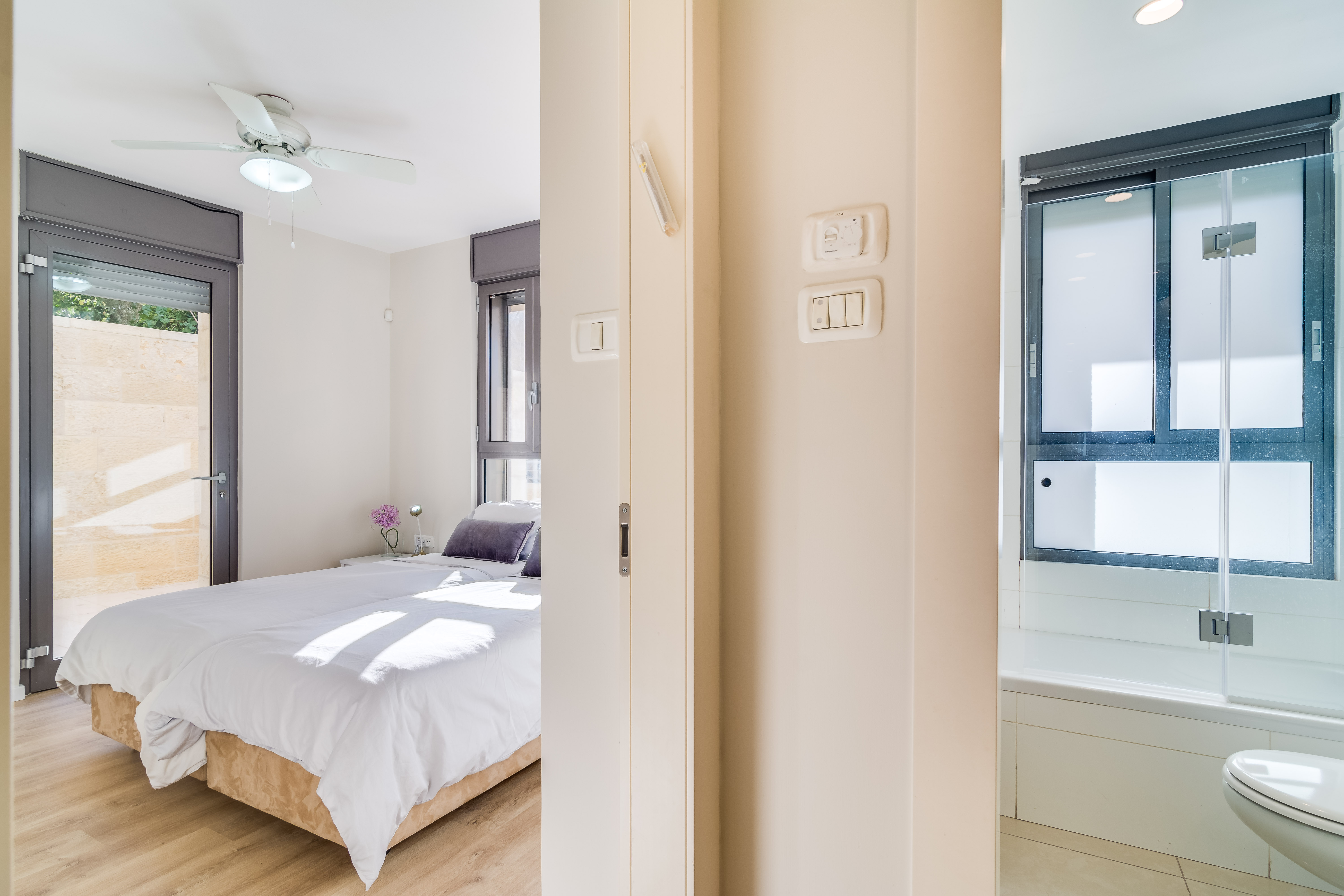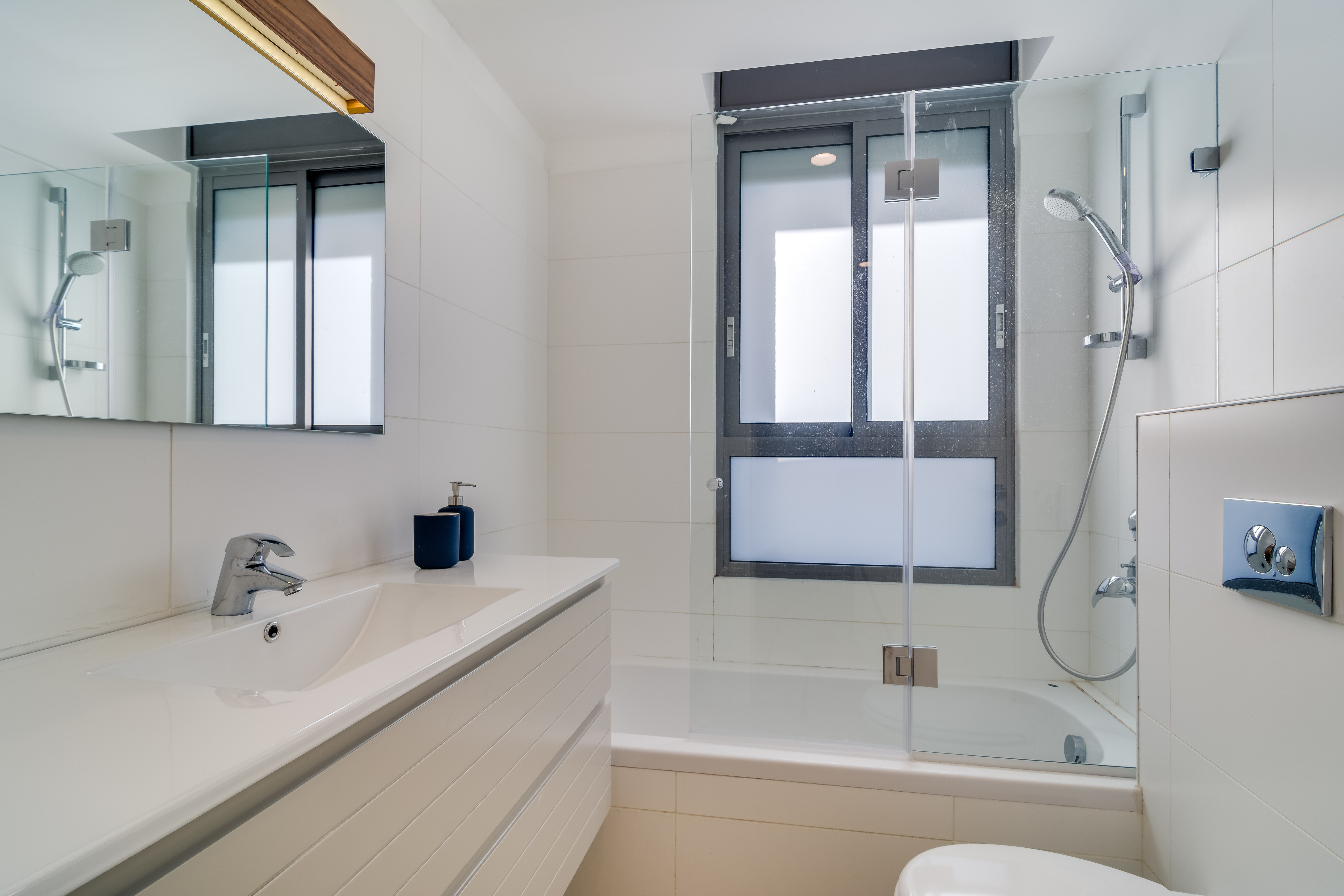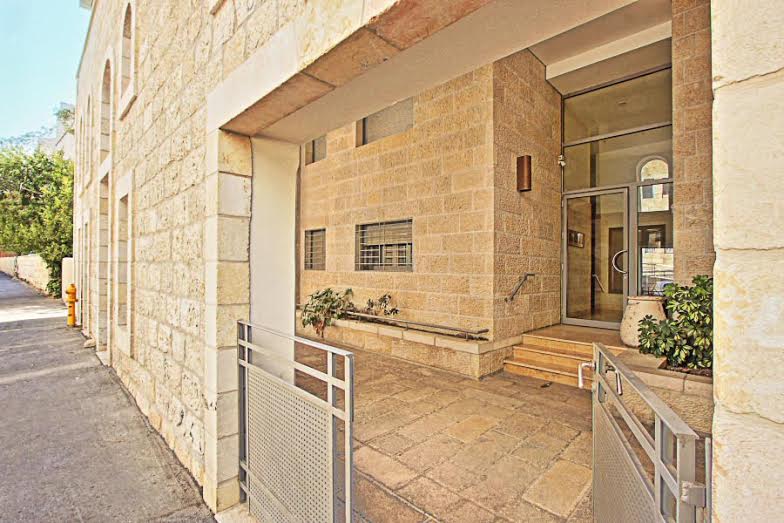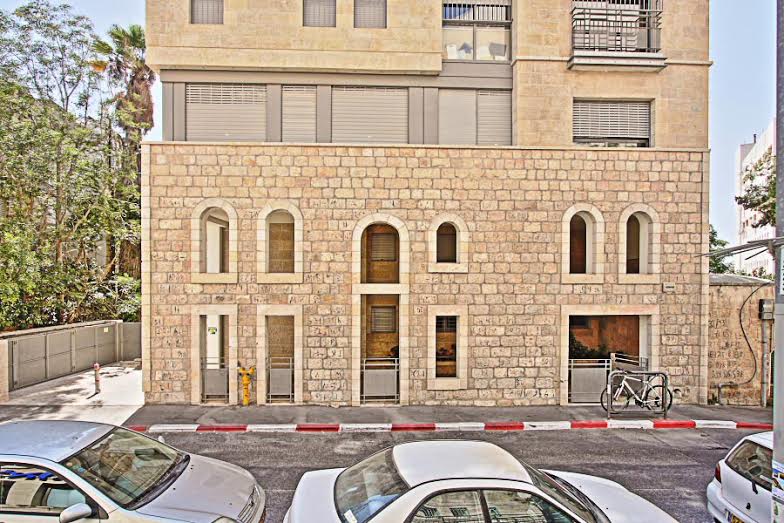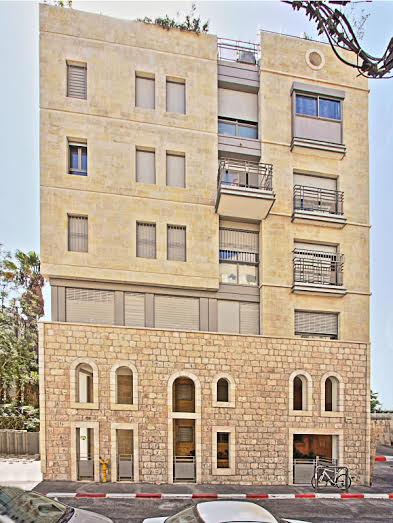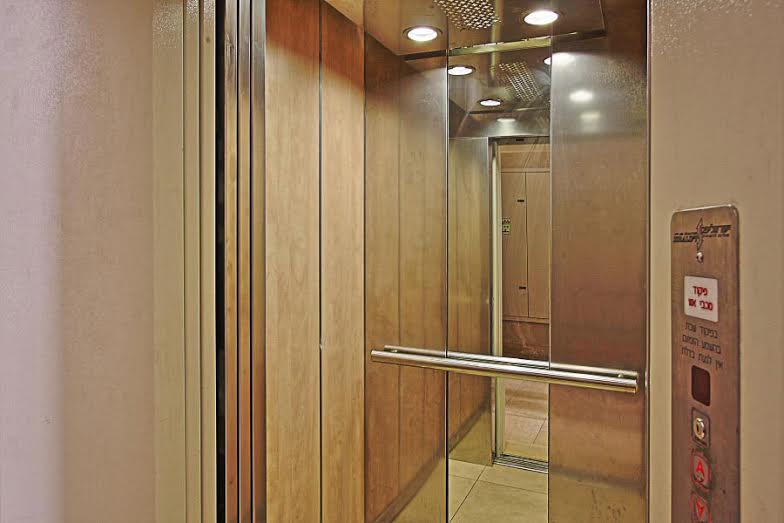 4.0

8

3

1150 sq. ft.

-1 & Shabbos elevator
Step into this modern and bright 4 bedroom apartment on the ground floor with wrap around garden in the heart of Jerusalem and you will know you picked the perfect home for your stay in Jerusalem. This apartment has modern furniture with 2 master bedroom suites which makes this a great choice for couples traveling together. The kitchen is open and is a nice size, Glatt Kosher and fully equipped. The main living area has more of an open floor plan feel with great sunlight from the outdoors and can also be blocked out with the modern curtains when you are looking for privacy or shade. The wraparound garden area is accessible from most of the rooms in this home and also make a unique feature for this location and size. There is plenty of comfortable space to sit outside which is private and enjoyable. The apartment has full modern amenities like cable TV, WIFI and high quality furnishings. Parking included! You will not be disappointed, book this apartment today!
Bedroom 1
2 Twin Sized Beds The first bedroom is the en-suite master bedroom with two twin sized beds and closet space.
Bedroom 2
2 Twin Sized Beds The second bedroom is another en-suite master bedroom with two twin sized beds, closet space, and porch access.
Bedroom 3
2 Twin Sized Beds The third bedroom has two twin sized beds and closet space.
Bedroom 4
2 Twin Sized Beds The fourth bedroom has two twin sized beds, closet space, and porch access.
Bathroom 1
The first bathroom is en-suite to the first master bedroom and has a walk-in shower, sink, and toilet.
Bathroom 2
The second bathroom is en-suite to the second master bedroom and has a bathtub-shower combination, sink, and toilet.
Bathroom 3
The third bathroom is a full guest bathroom located off the main hallway and has a walk-in shower, sink, and toilet.
Beautiful open Glatt Kosher Kitchen
1 sink with separate sides for meat and dairy
Large Top/Bottom Fridge-freezer combination
4 burner electric cooktop
1 European sized meat oven
1 meat dishwasher
1 microwave
Dairy and Meat pots and pans
Dairy dishes service for 6
Meat dishes service for 12
Electric hot water urn
*1
*2
*3
*4
*5
*6
*7
*1 Central Vacuum System and Heat as well as ceiling fans in 3 of the 4 bedrooms
*2 American phone with free ingoing and outgoing calls to the United States
*3 Iron and Iron Board Available
*4 2 Master Bedrooms
*5 In 3 of the 4 Bedrooms
*6 One Pack and Play Upon Request
*7 Corona Clause for Full Refund (Ask for Details)
Free unlimited wireless Internet access and Cable TV
You will be personally met at the apartment (during normal business hours of 8 AM - 6PM) and showed around by friendly English speaking managers
Self entry will be provided and the English speaking managers will be available to help you with any questions, problems or concerns
Fresh and clean beds will be prepared for you with high quality American style blankets, pillows and towels upon arrival.
Free starter supply of toilet paper, dishsoap, and garbage bags.
Hot plate
Hot water urn
Kiddush cup
Challah board
Crock pot
Candle sticks
Havdalah set
Tablecloths
Alarm Clocks in all Bedrooms
Shabbos Lamps in all Bedrooms
Havdallah set
8 Dining Chairs, Extendable dining table seats 6-8 and when extended seats 10-12
Additional chairs available upon request
Sukkah will be built for you in on the large porch, right outside the apartment.
REVIEWS
Hear from many of our happy tenants who have stayed in this apartment! References are available to call or email! Please contact us for details.
Rentals of Distinction delivered for us again! Great location, roomy, and comfortable apartment for our comfortable stay in Yerushalayim. Greater flexibility than hoteling, and much better managed than an AirBNB or VRBO experience would be. Thanks Rafi!
Jun 2017
We were very pleased with the level of service and attention to detail Rentals of Distinction provided our family on our recent trip to Jerusalem. We highly recommend this company to anyone contemplating their services.
Jan 2014
Beautiful Apartment, Management was super nice to deal with Thanks
May 2014
Everything about #6 Trumpeldor, apartment 1, is class. The management met us at the apartment and explained everything and we had no problems. The apartment is clean, contemporary and well furnished. The beds are comfortable and the shower is terrific (not a given), the linens are ample and quality and they even have left soap and shampoo (rarely happens with apartment rentals). There is a huge terrace, good light and as an added bonus, there is subterranean heating (really nice when getting up in the morning). But as good as the apartment is, the location is even better. It is steps away from fantastic restaurants (try Nocturno and Trumpeldor caf literally across the street). It is only a few minute walk to Ben Yehuda, Machne Yehuda (the big open air market) and to the Great Synagogue. There are places to pray on almost every corner. And it is an easy walk to the Old City. I cannot imagine a more central location. I have no reservations at all recommending this apartment as a rental. The owners and management have gone the extra mile to make it incredibly comfortable. Highest marks.
Feb 2015
We arrived after a 24 hour flight to a beautiful, spacious clean apartment with all the necessary conveniences right in the heart of Jerusalem. Instructions to enter the building and the apartment were clear. great start to a wonderful holiday
Apr 2015
We felt we were in great hands with ROD. The staff was extremely helpful in assisting us to navigate the particulars. Dovid met us upon our arrival (at quite a late hour), with a pleasant demeanor and eager to explain all pertinencies of the apartment. Throughout our stay Dovid was accommodating and responsive to our inquiries. The apartment in particular was clean and well appointed with everything we needed for our enjoyable stay. We especially appreciated the light and bright spaces and large balcony. A perfect location for many great Shabbos davening options as well as during the week restaurants!
Aug 2017
Thank you so very much for everything you did to assist us in renting the Trumpeldor apartment in Jerusalem. It worked out extremely well - location was perfect, apartment was perfect, and we really enjoyed staying there. It fit our requirements perfectly. We had a wonderful time and again, you were so very helpful in every way. If we go back in the near future we will be in contact and I am referring you to people who are thinking of going to Israel. Thank you again for everything! You have been so helpful and we really appreciate it.
Feb 2018
Trip was amazing. Apartment was worked out well, the location was fantastic. There were a few minor issues but the managers were responsive. Otherwise all was great.
Feb 2019
For the second time, we have enjoyed the spacious 6 Trumpeldor apartment 1. With 4 bedrooms and 3 baths (2 bedrooms with master baths), this space easily fits 8 people plus a baby. Large living room, dining room, large marpeset, and up to date kosher kitchen all make the space very livable. The staff of Rentals of Distinction have the apartment really ready including starting for all basic toiletry needs. And great location to the Kotel, Shaarei Chesed, Ben Yehuda, Geula, and Machane Yehuda. Hope to use it again on a future visit.
May 2018
Thank you! Beds were quite comfortable with the bedrooms having great storage. The master bedroom was exceptionally roomy. The dining room /living room area was a nice size and the extra chairs & folding table were much appreciated. The fridge/freezer was great, the floors were pretty and easy to clean, and there was plentiful hot water and towels. The broom, mop, and washer/dryer were very useful and the washing machine worked well. Soaps, sponges & detergents provided were appreciated. The couches were comfortable and it had a humongous and nice porch area. The apartment was a comfortable size with 3 full bathrooms. Central air was appreciated. There was easy access to the apartment, it was a beautiful building, and the location was excellent.
Jun 2018
We had a wonderful stay! The apartment was cleaned and kashered for Pesach - oven, sinks, and countertops. There were kosher l'pesach dishes, pots, and silverware, as well as an urn, hotplate, and crockpot. Well managed and equipped. The apartment was spacious and comfortable!
May 2019
The apartment was beautiful and it's a perfect location
Aug 2019
We were very impressed with the apartment. Building is newer and unit is very spacious and bright. It is the only unit on the floor so it is very private. We were met when we arrived from the airport and shown around. very positive experience.
Nov 2019
This wonderful apartment located in a very convenient and centralized location to the Kotel and Old City, Ben Yehuda Mall, Machane Yehuda and many other Yerushalaym locations is great for a larger family. This is the third time we rented this apartment and recent upgrades to the aesthetic of the apartment make it even nicer. We have met the owners and they are gracious as well. Highly recommended!
Jan 2020
We had an amazing stay at 6 Trumpledor! Beautiful and spacious apartment in a great location! We would definitely stay here again!
Jan 2020
"Every aspect of our stay was addressed immediately. The apartment was just as the pictures showed, spacious, clean, moderate and comfortable for our family!!! David was a wonderful manager and it was a pleasure working with Rentals Of Distinction. I Highly recommend your apartments and services."
Jan 2022
Rentals of distinction was amazing! They made our last minute trip so easy. They were a pleasure to deal with and were extremely responsive to all of our requests. David, the manager in Israel was absolutely wonderful and super helpful throughout our stay. The apartment was spacious, private, and was in a great, centralized location. Thank you so much Rentals of Distinction!!
Feb 2022
Our family recently stayed at 6 yosef trumpeldor street. What a fantastic experience! The location was perfect- a few blocks from Ben Yehuda Street and the shuk at Mahane Yehuda. The staff at rentals of distinction along with the manager of the property were so kind and accommodating throughout. The apartment itself is also wonderful. It came very clean. It has 2 master bedrooms and bathrooms so was very comfortable to have our parents along with us. There's a spacious private outdoor area to sit as well.
May 2022
Tzila, Dina and their team were a pleasure to deal with. They found us an amazing location and it was perfect for our needs. Clean and updated. Would definitely use again on our next trip hopefully soon!
Aug 2022
This was our second experience renting from ROD and once again we had a great experience! Apartment was clean, modern and caters to the needs of a frum family. We would definitely rent again.
Sep 2022
I went with my family of 7 to israel for two weeks. The apartment exceeded our expectations. It was beautiful and suited our needs. The rental agency was a pleasure to deal with. I would absolutely use them again and recommend them to all my friends.
Jul 2023
The apartment was perfect for our needs - 2 adults and 4 kids. Clean, lots of light, and a lot of closet space. The location was great and we were able to walk everywhere, including the shuk, ben yehuda, and the old city. We really enjoyed our stay and would come again.
Aug 2023