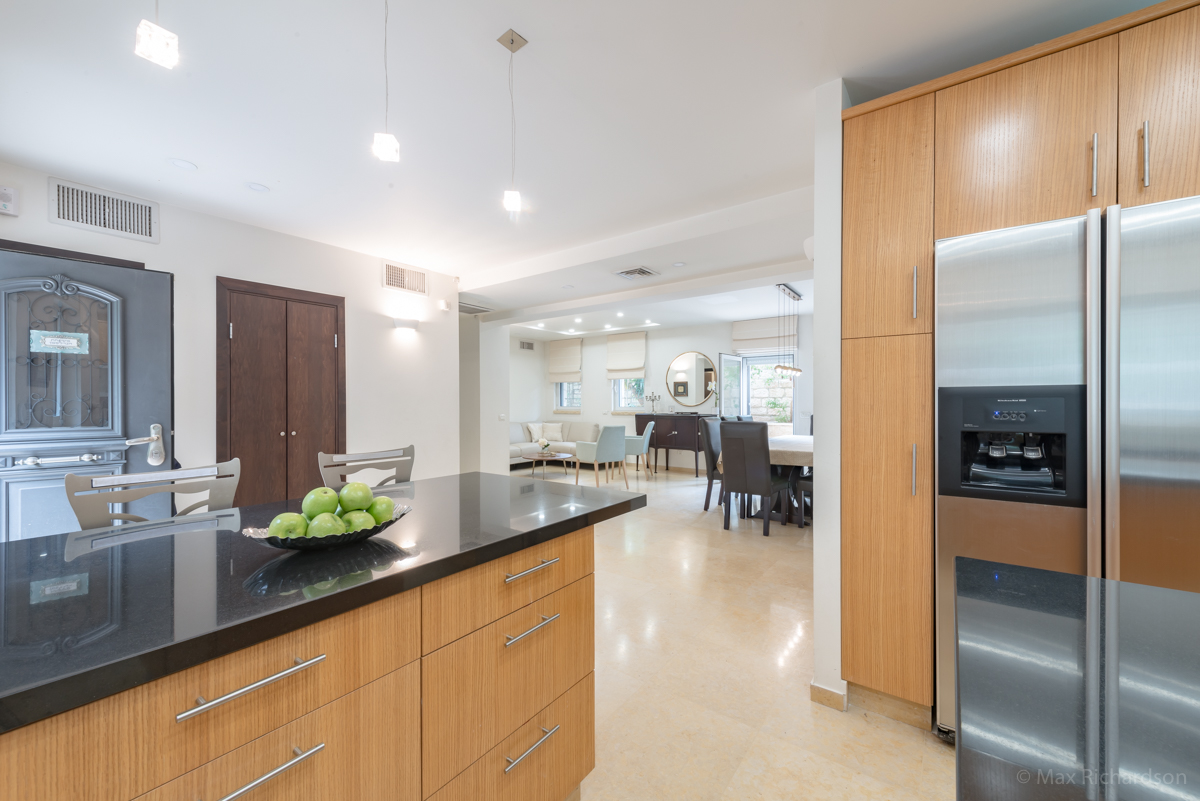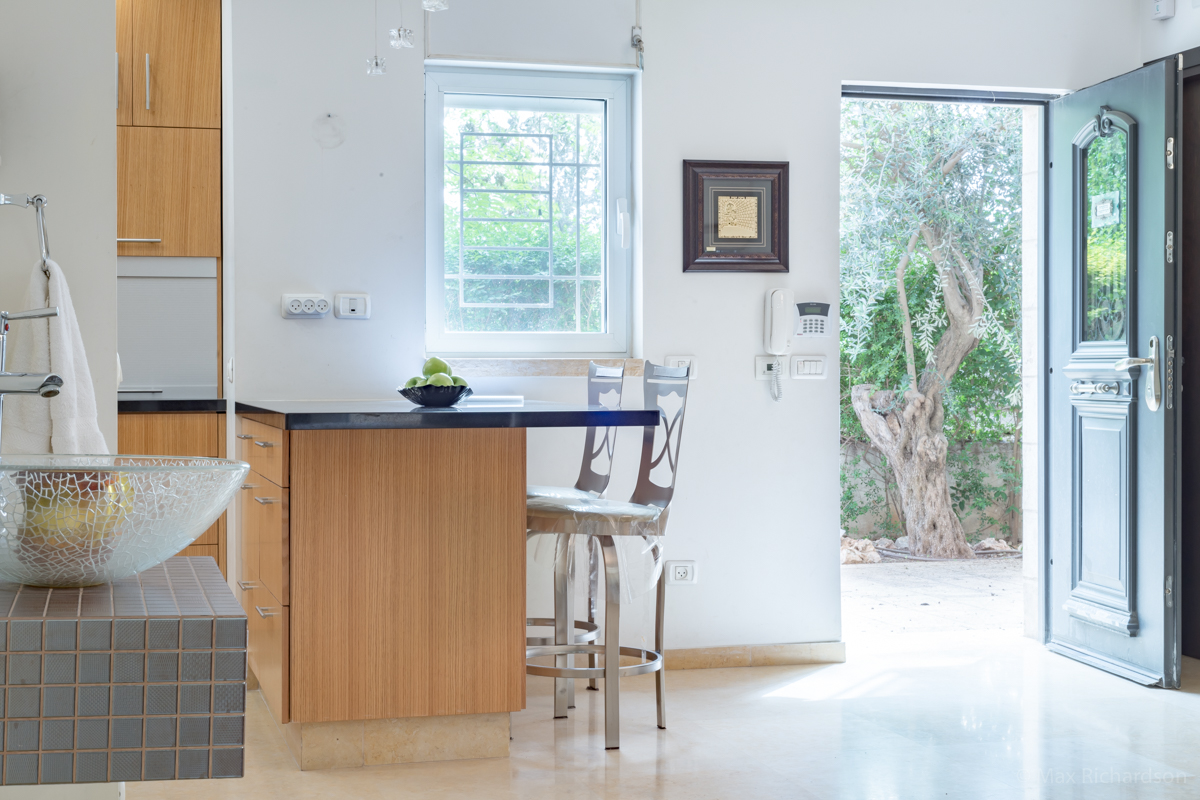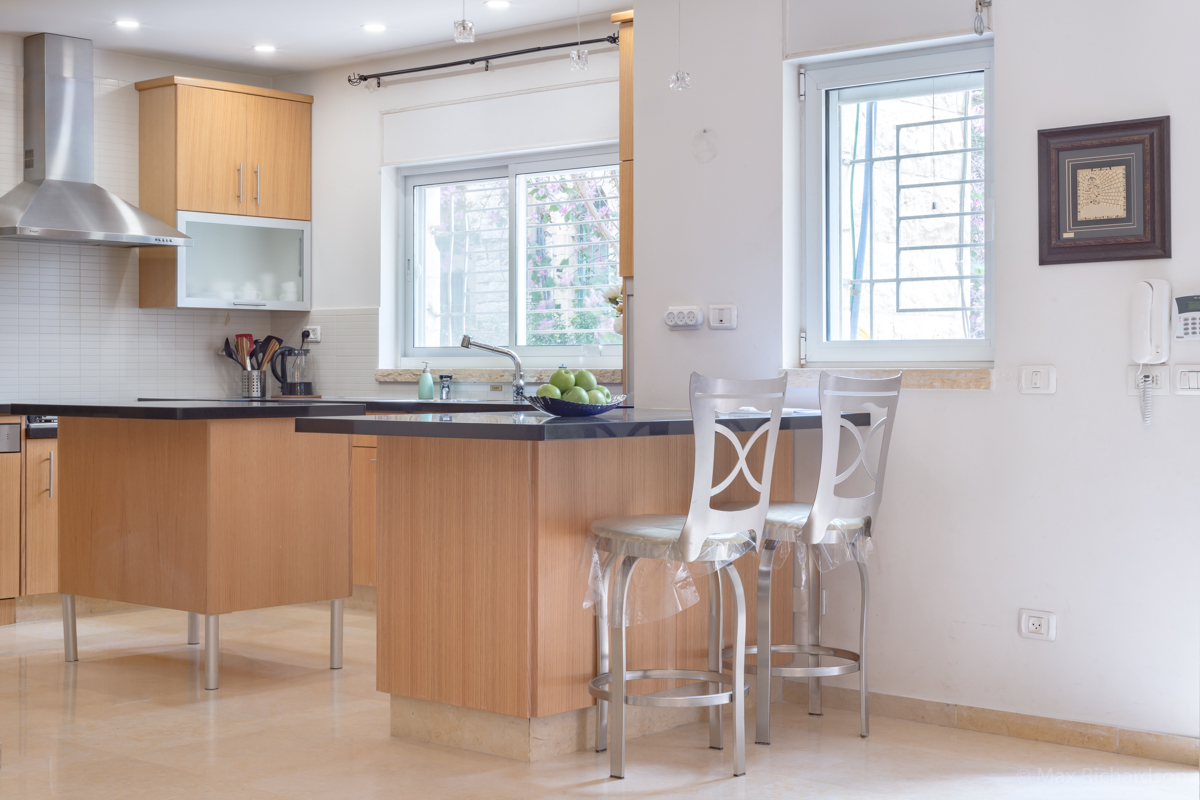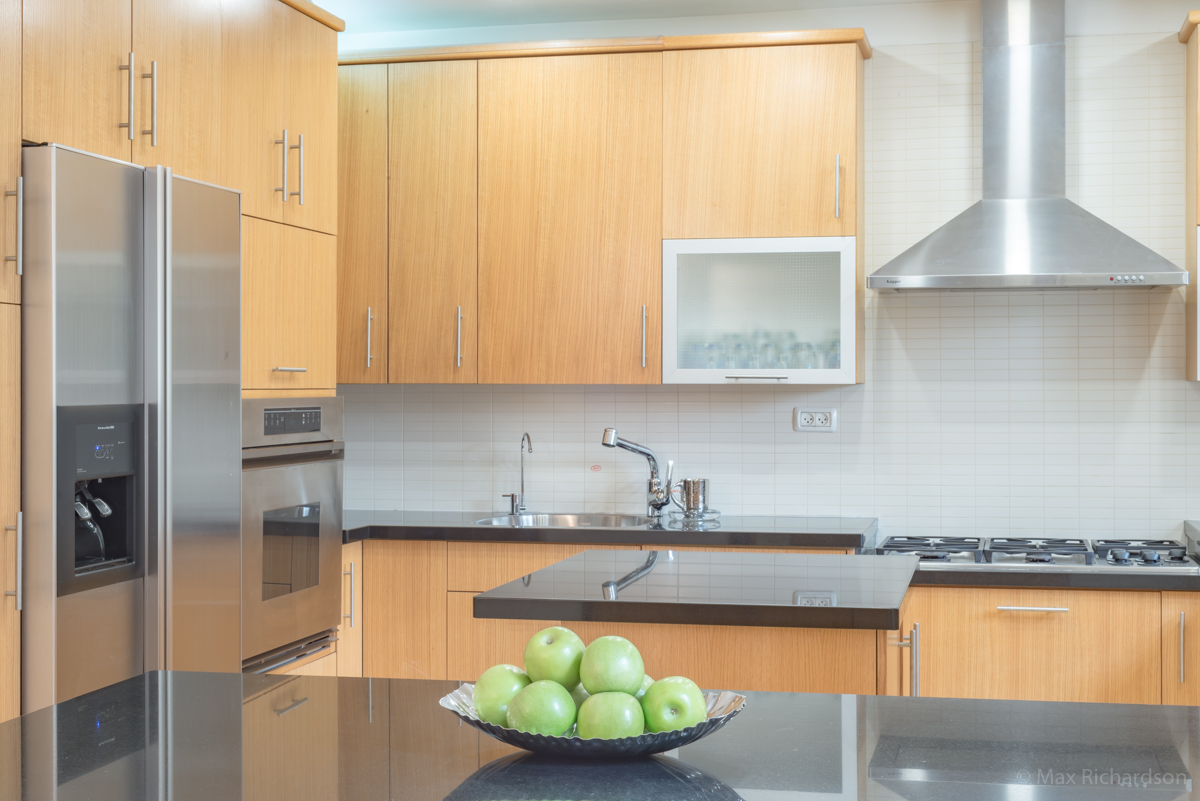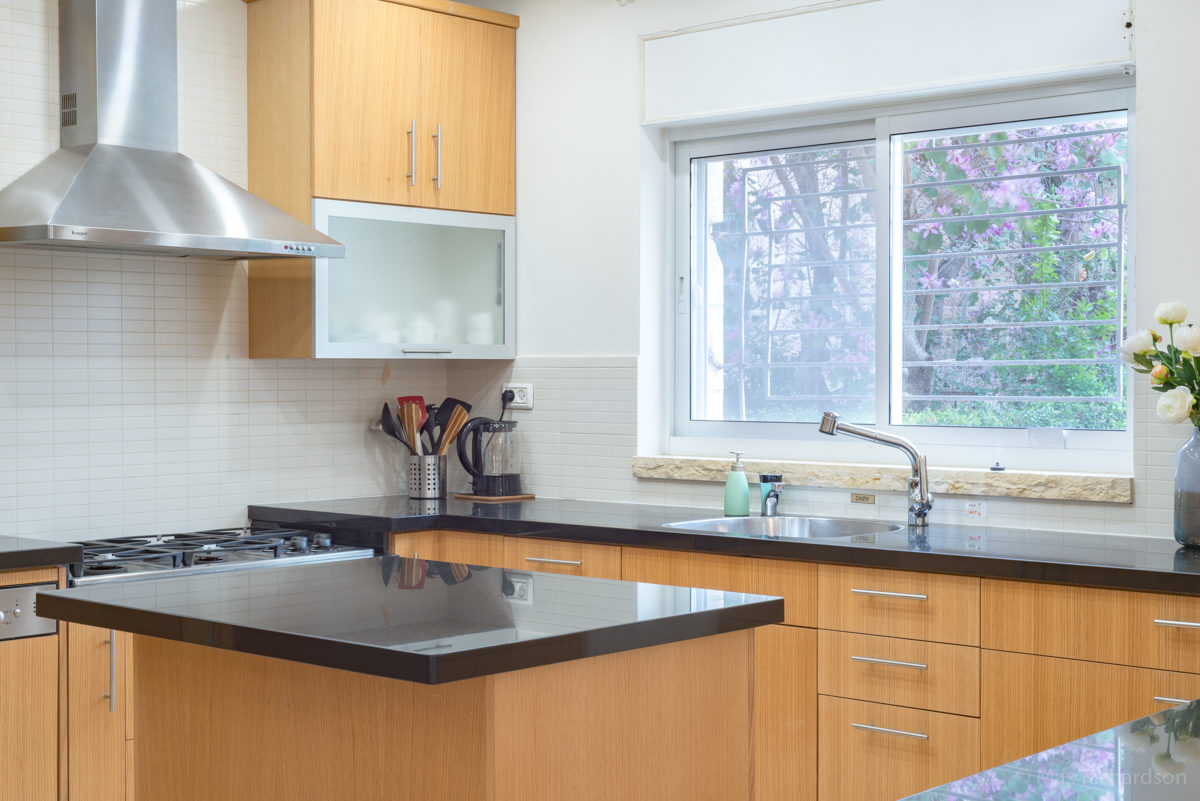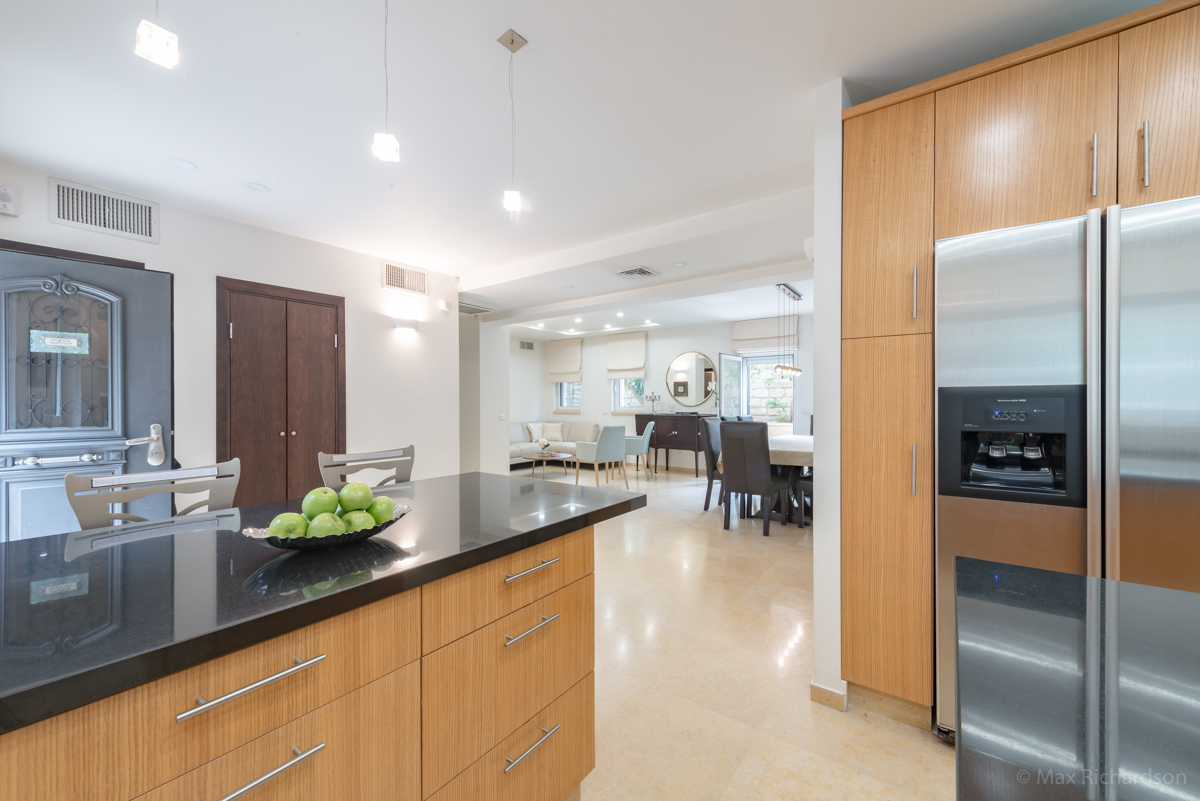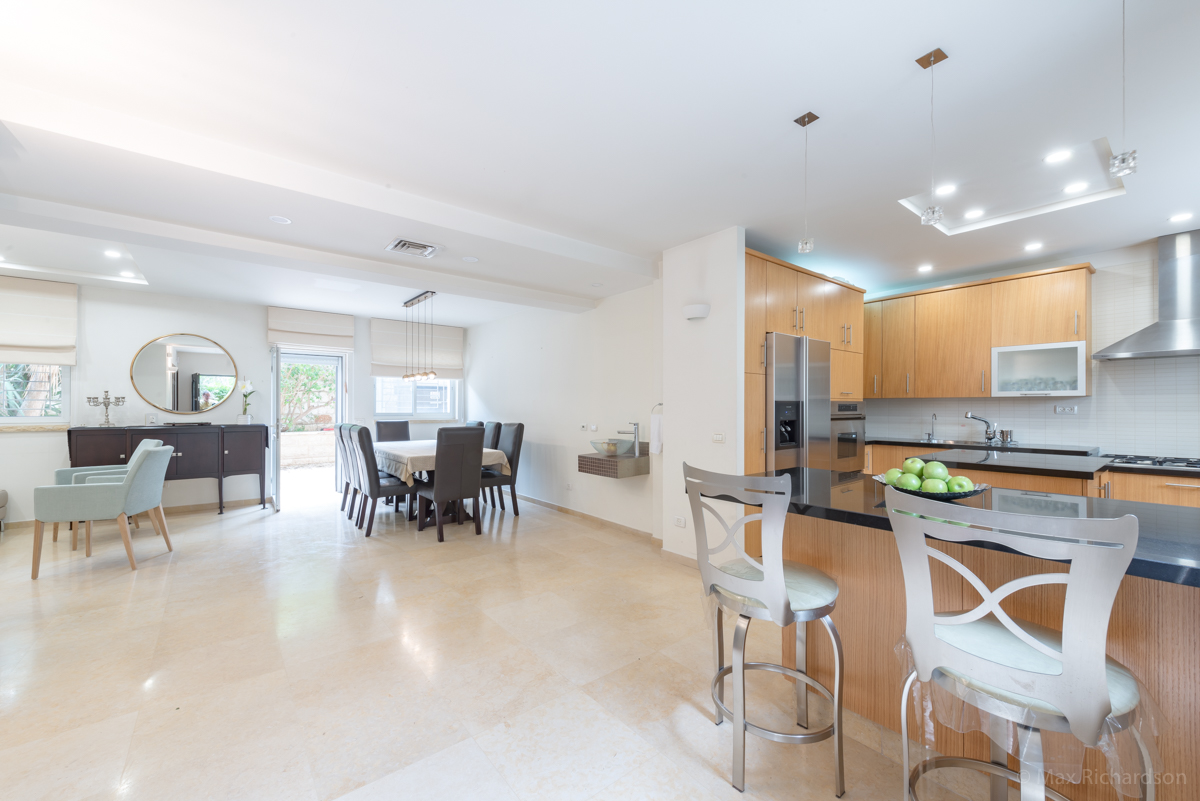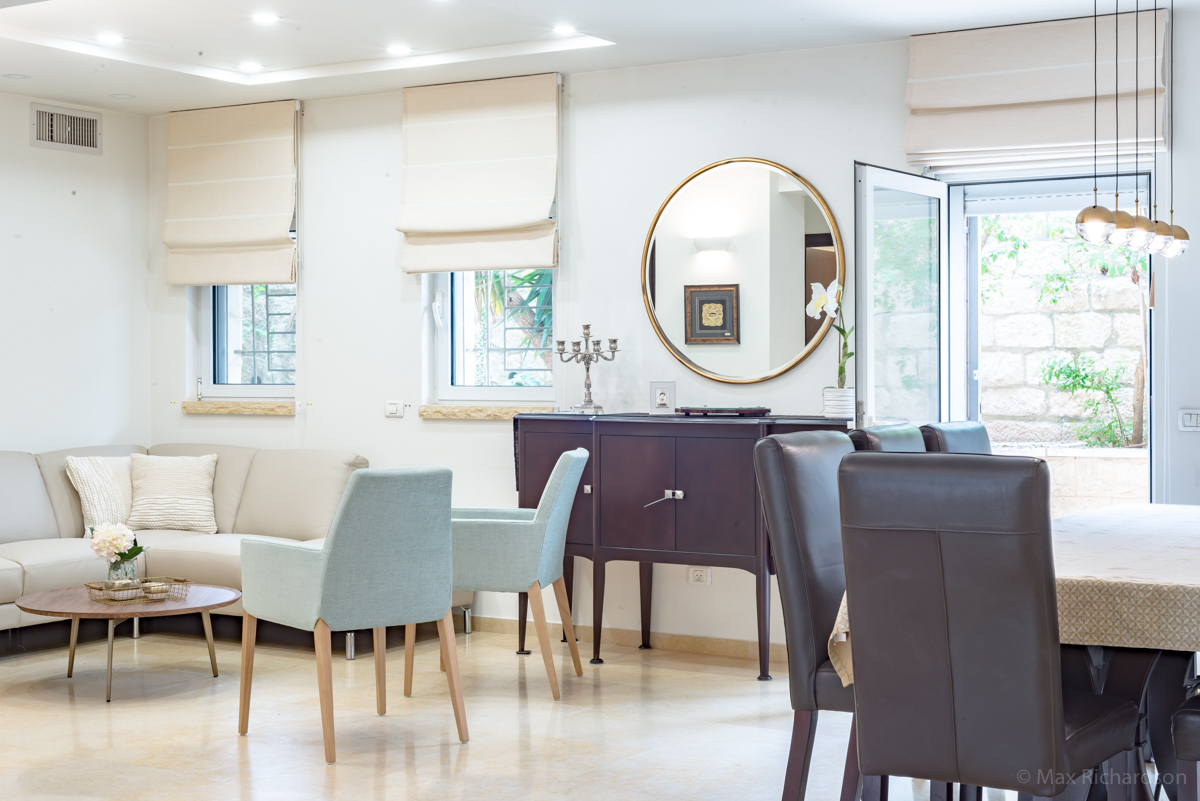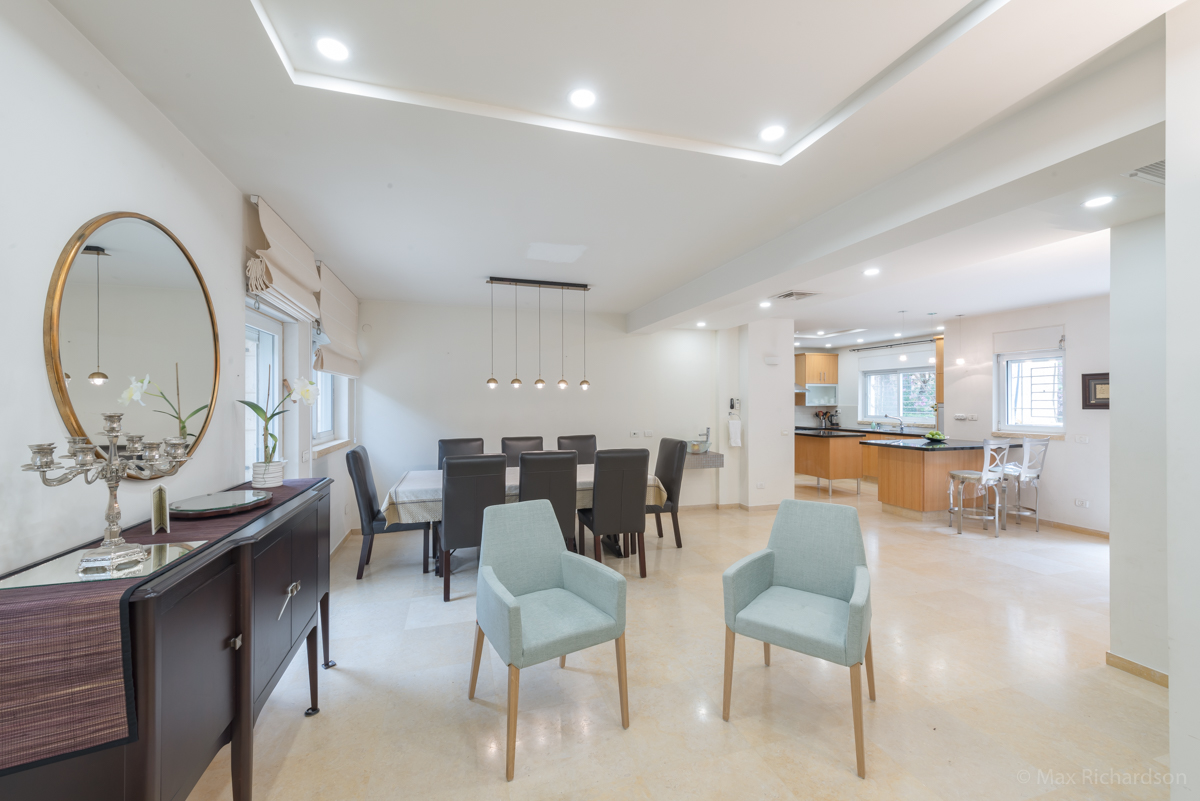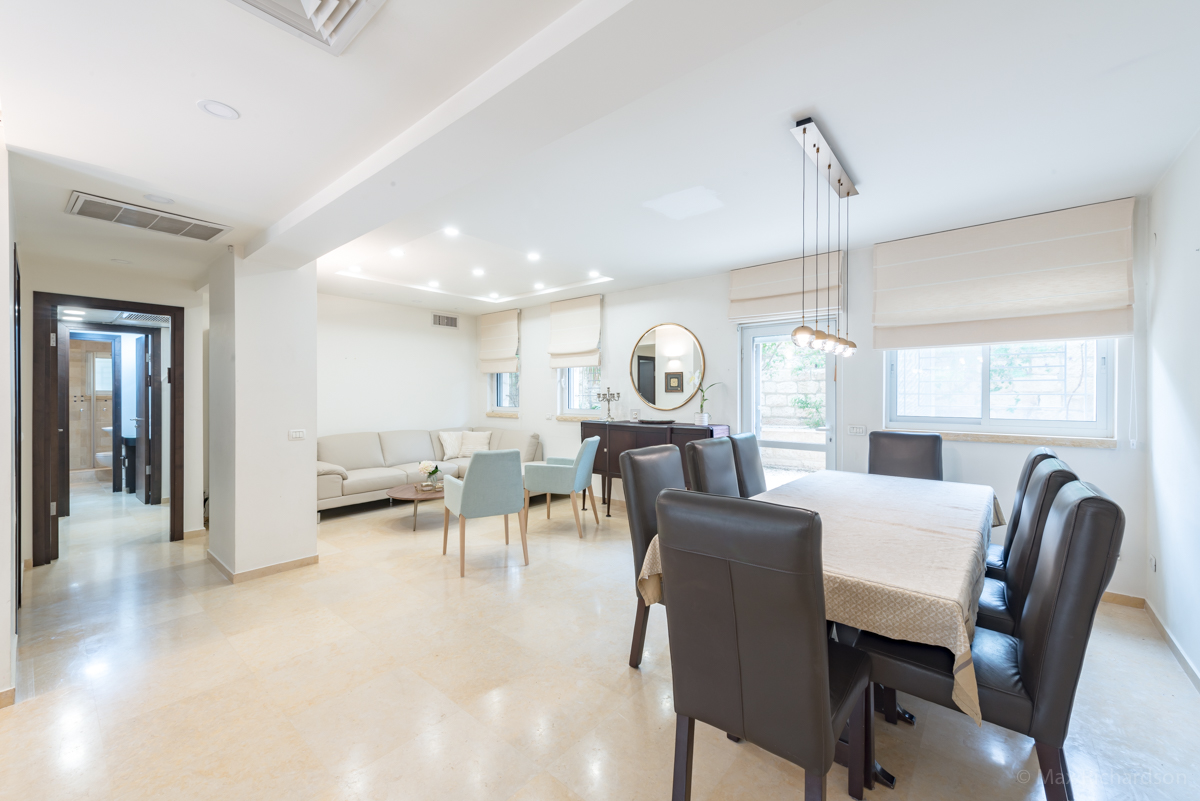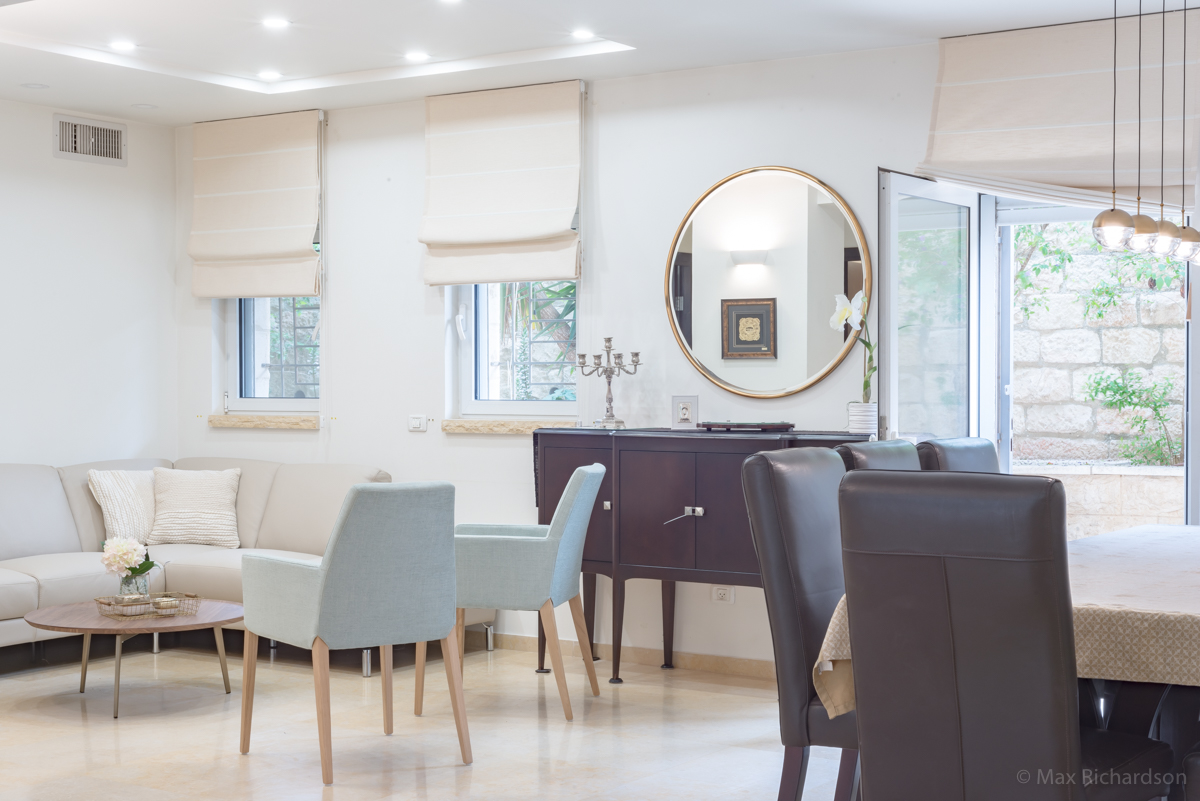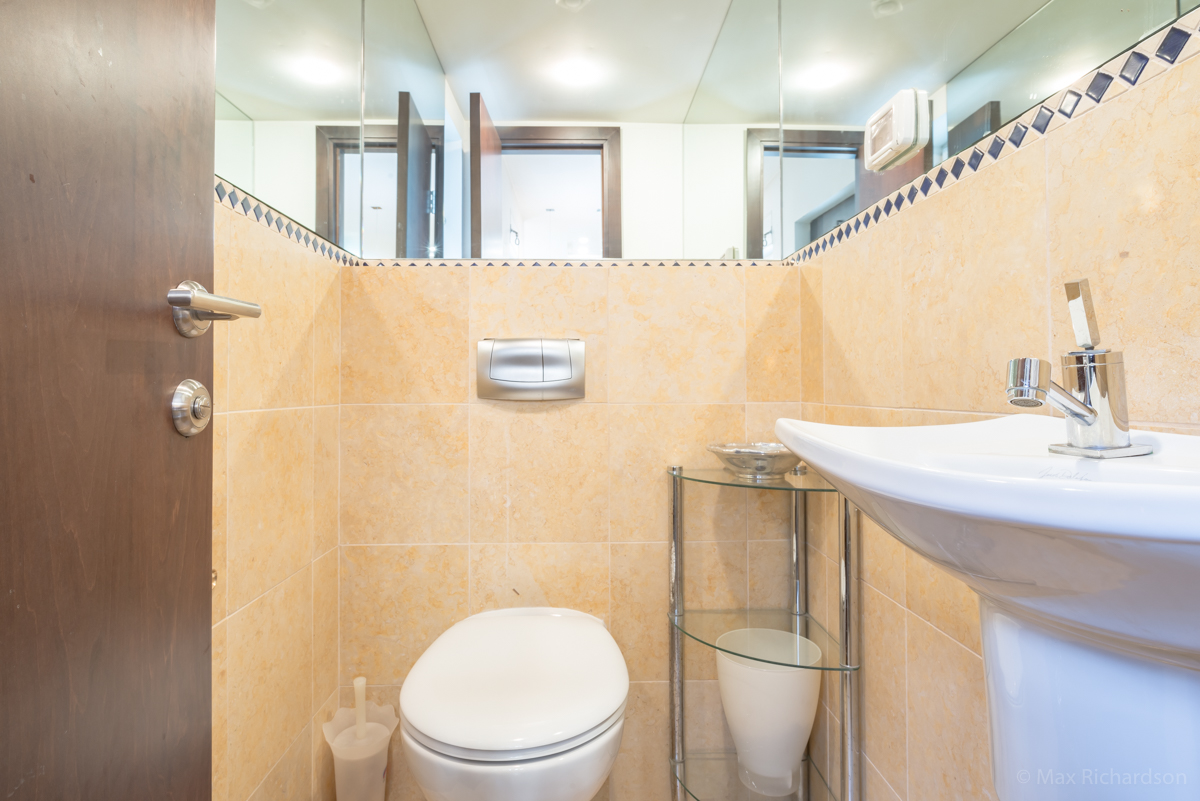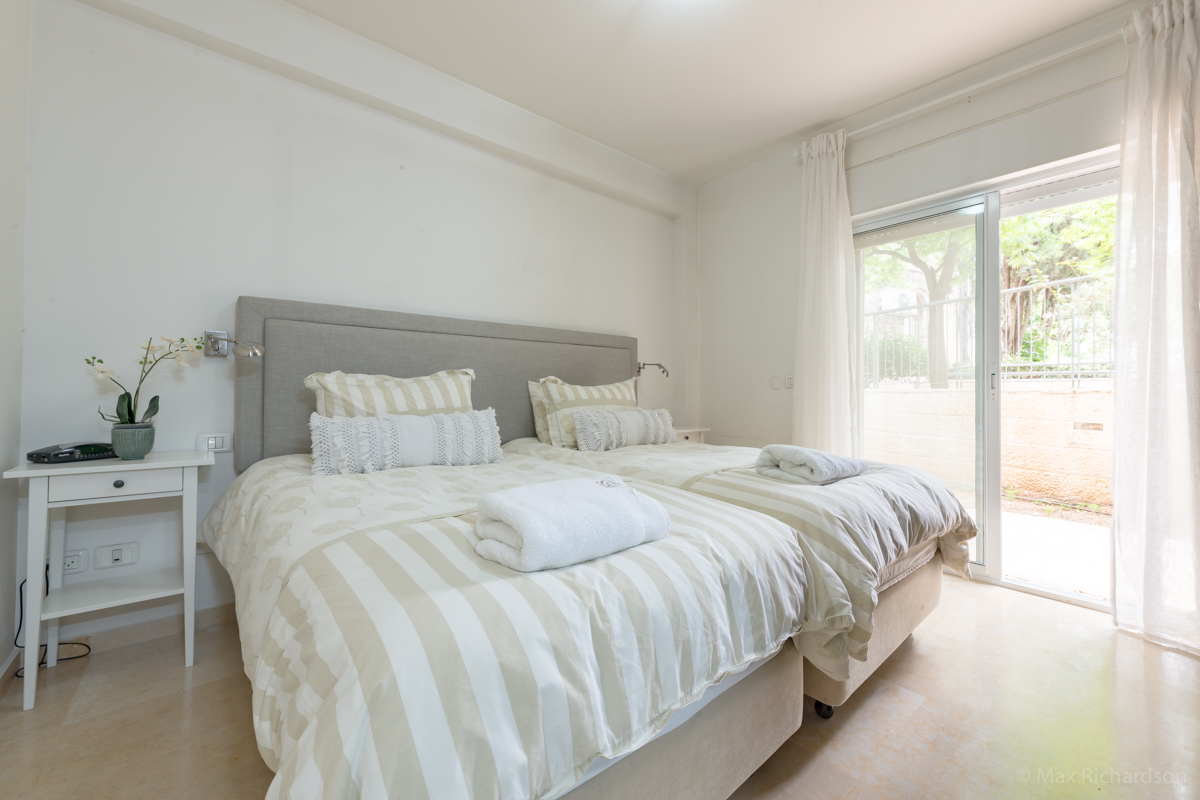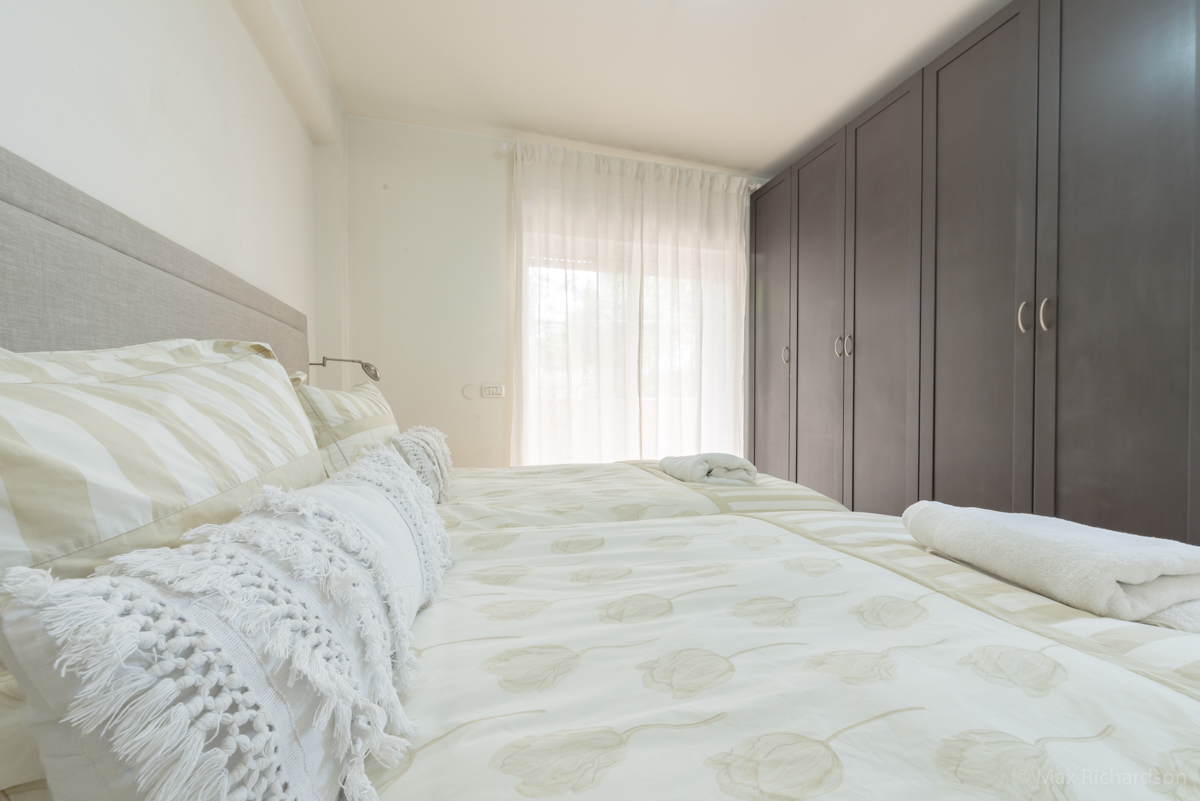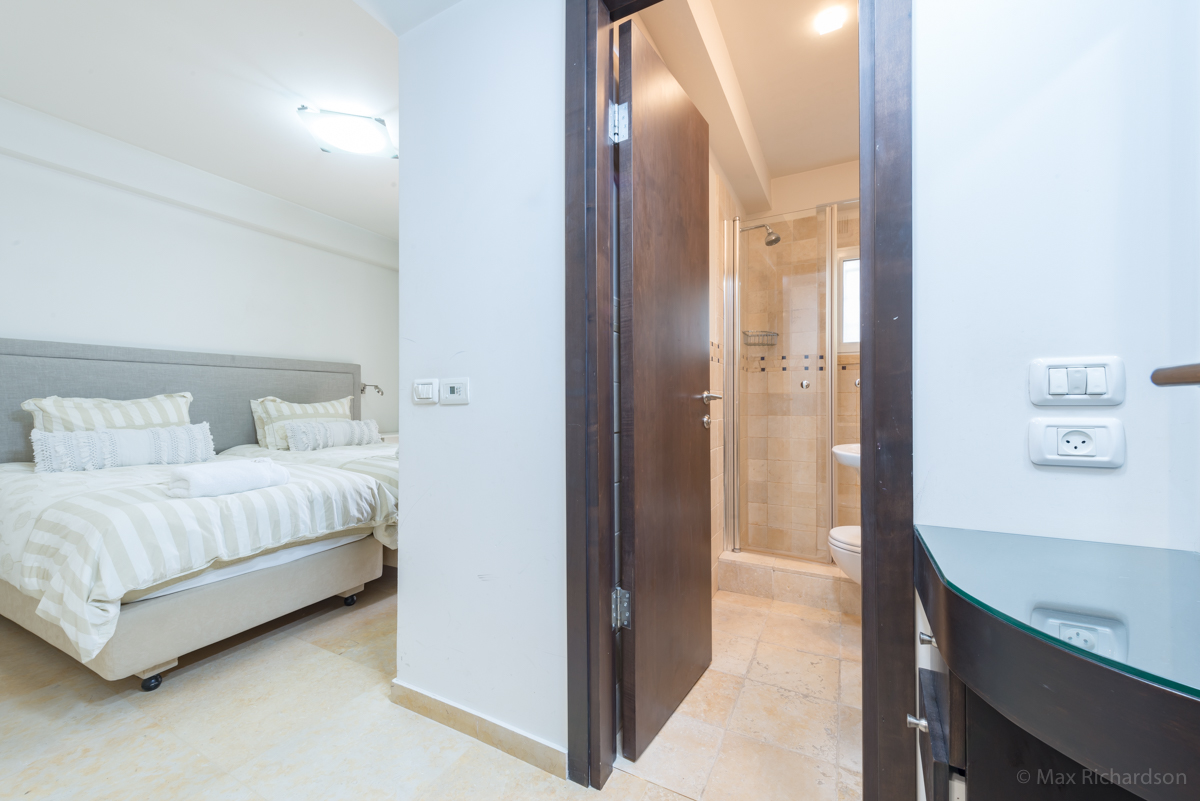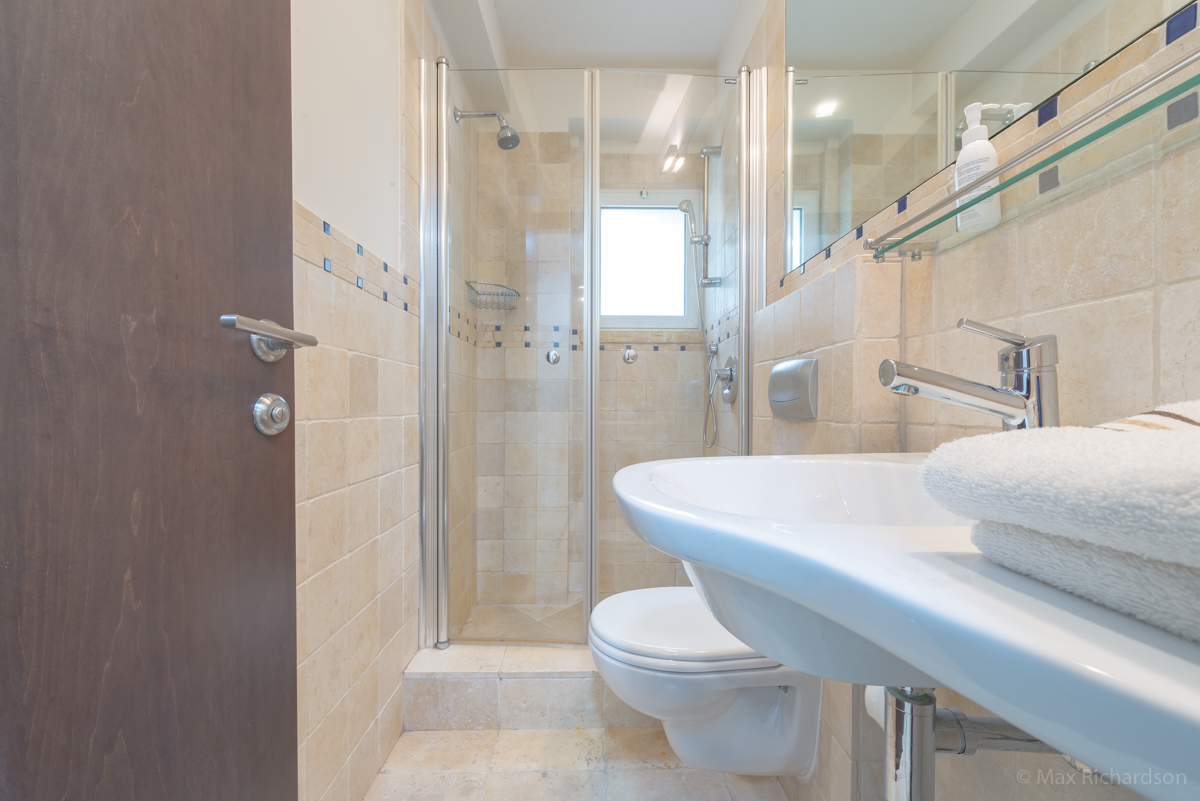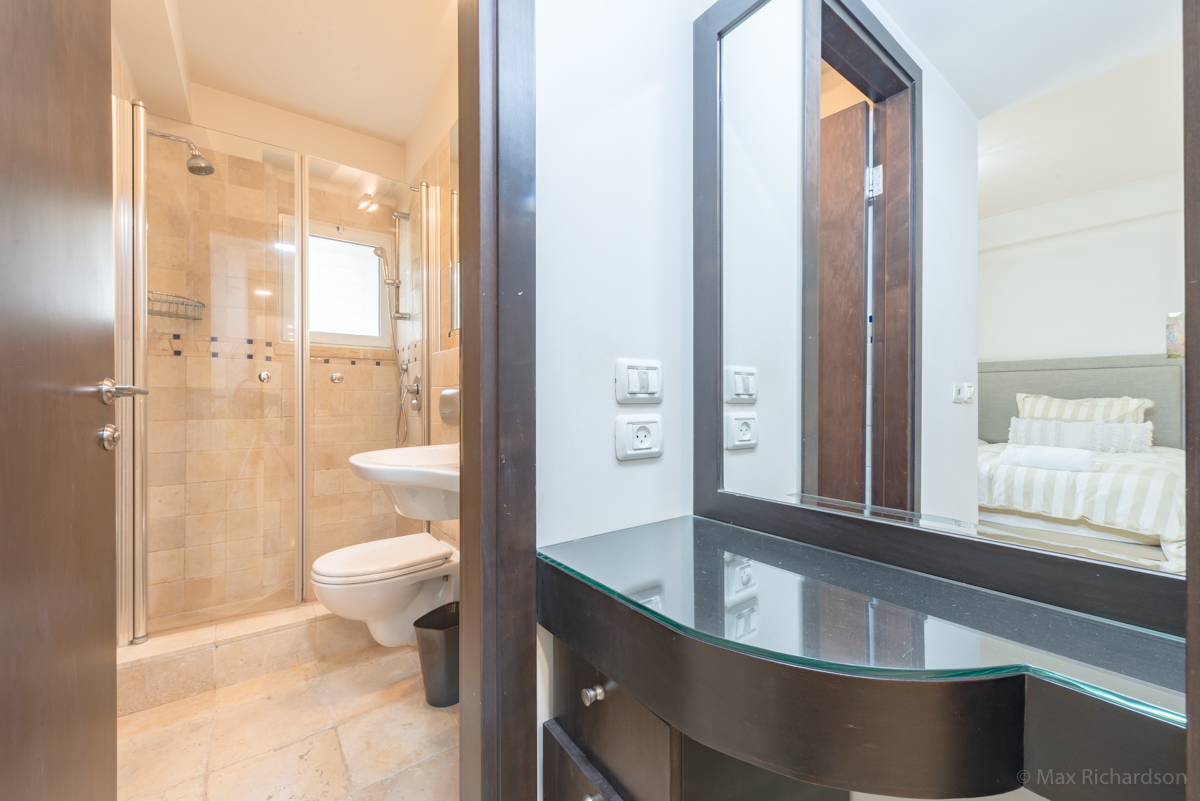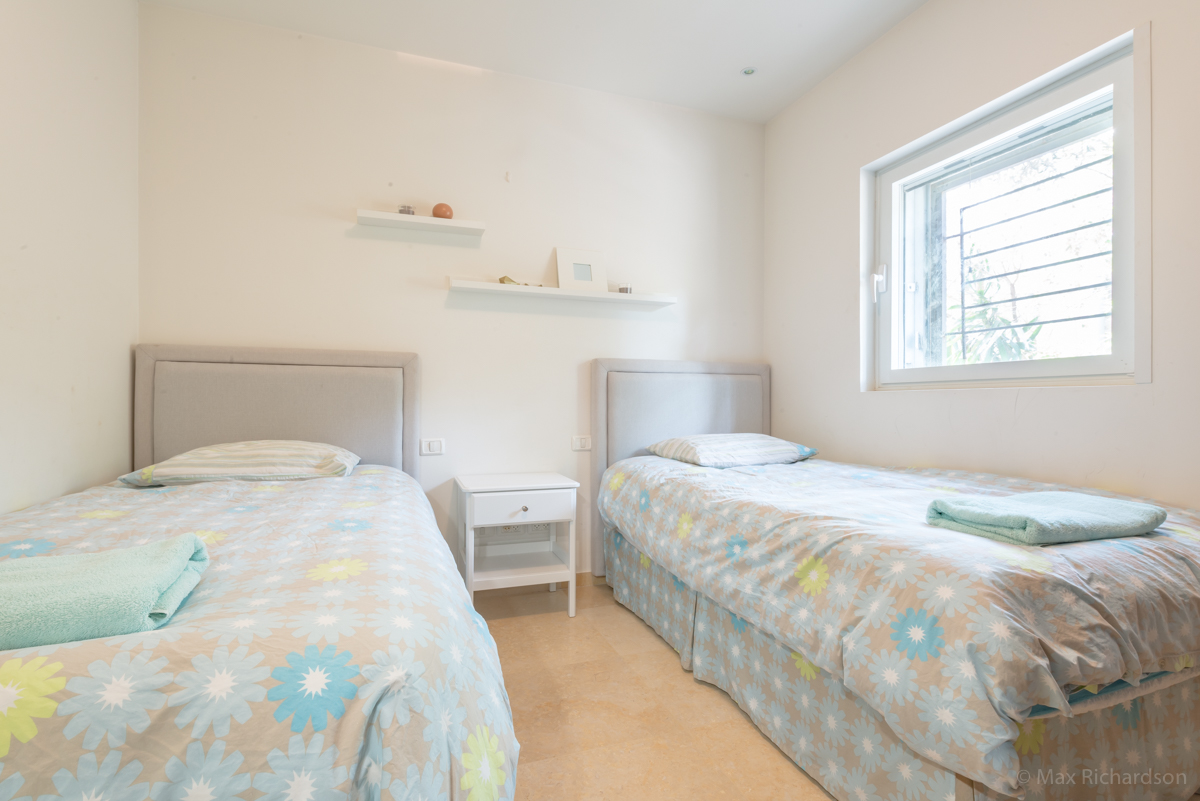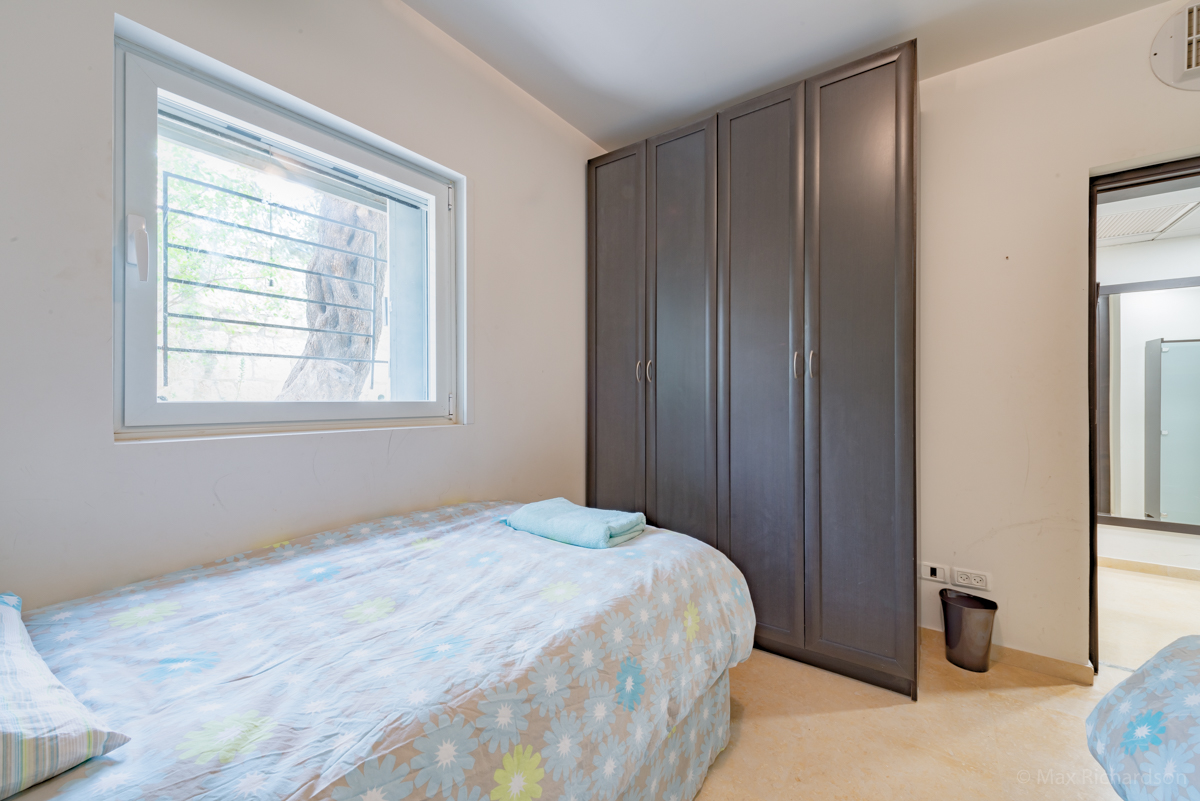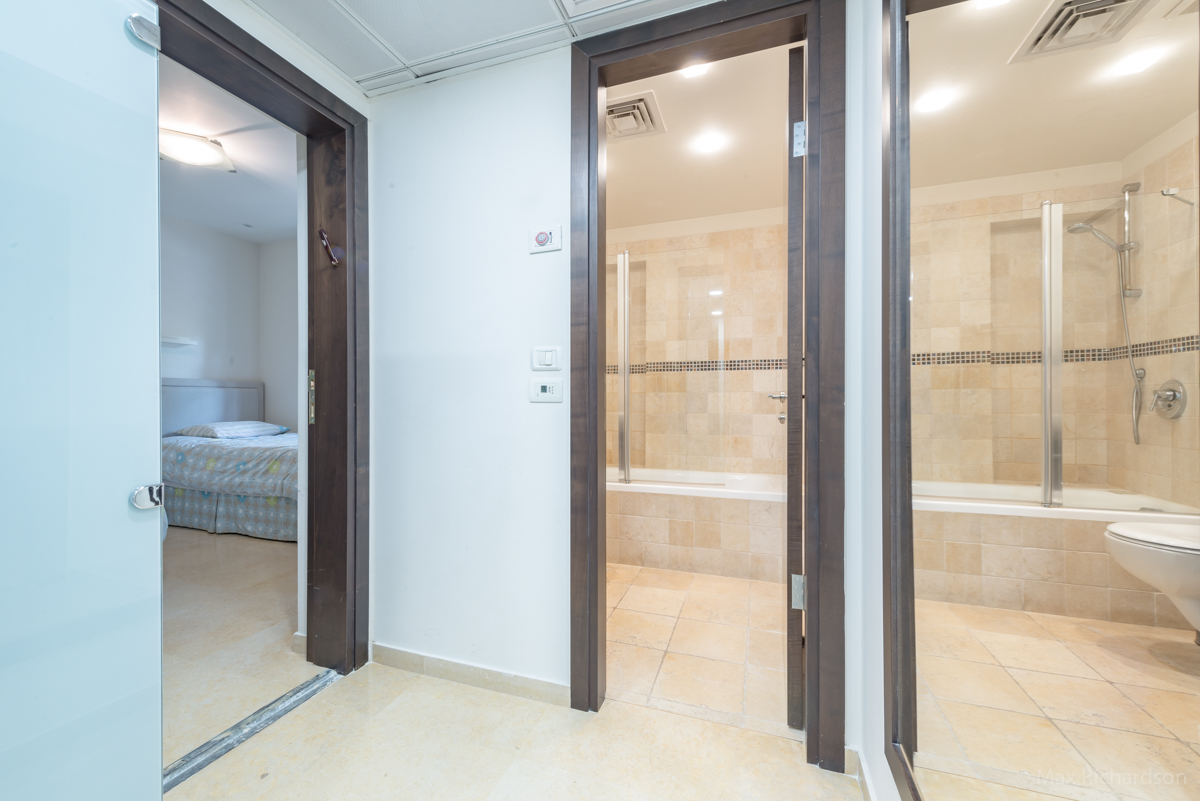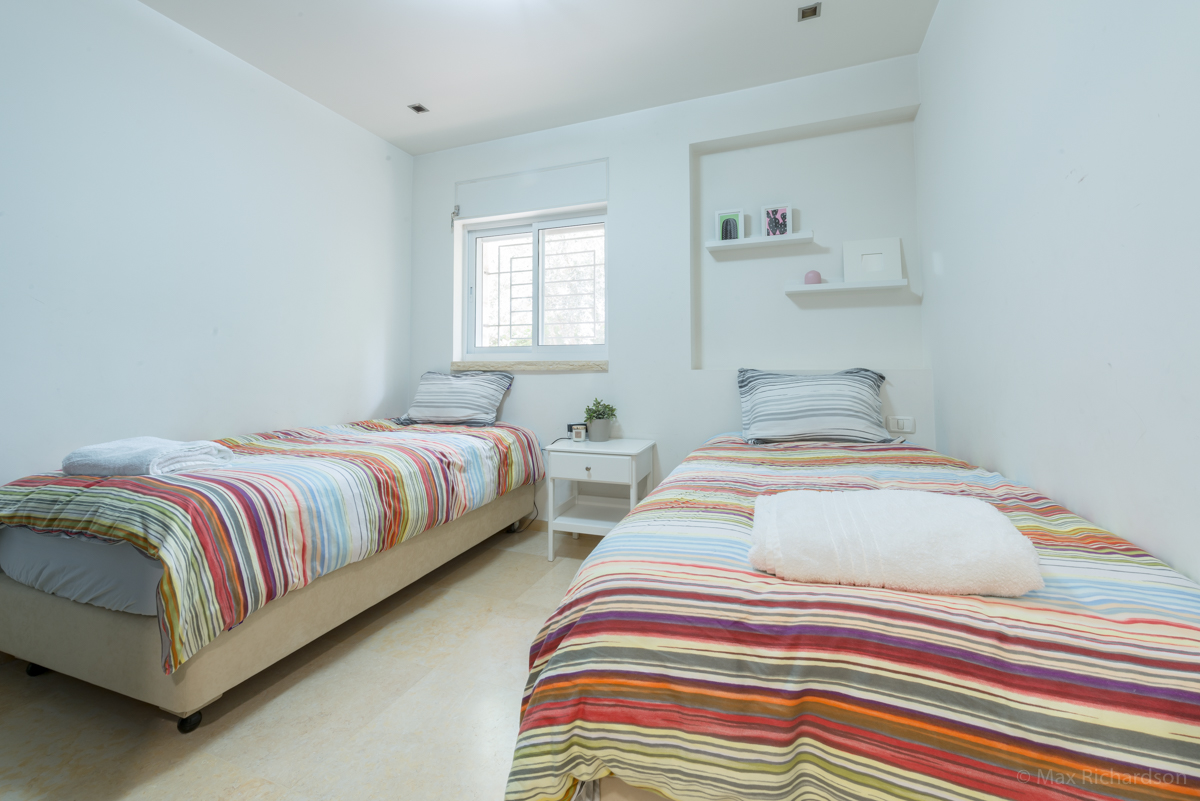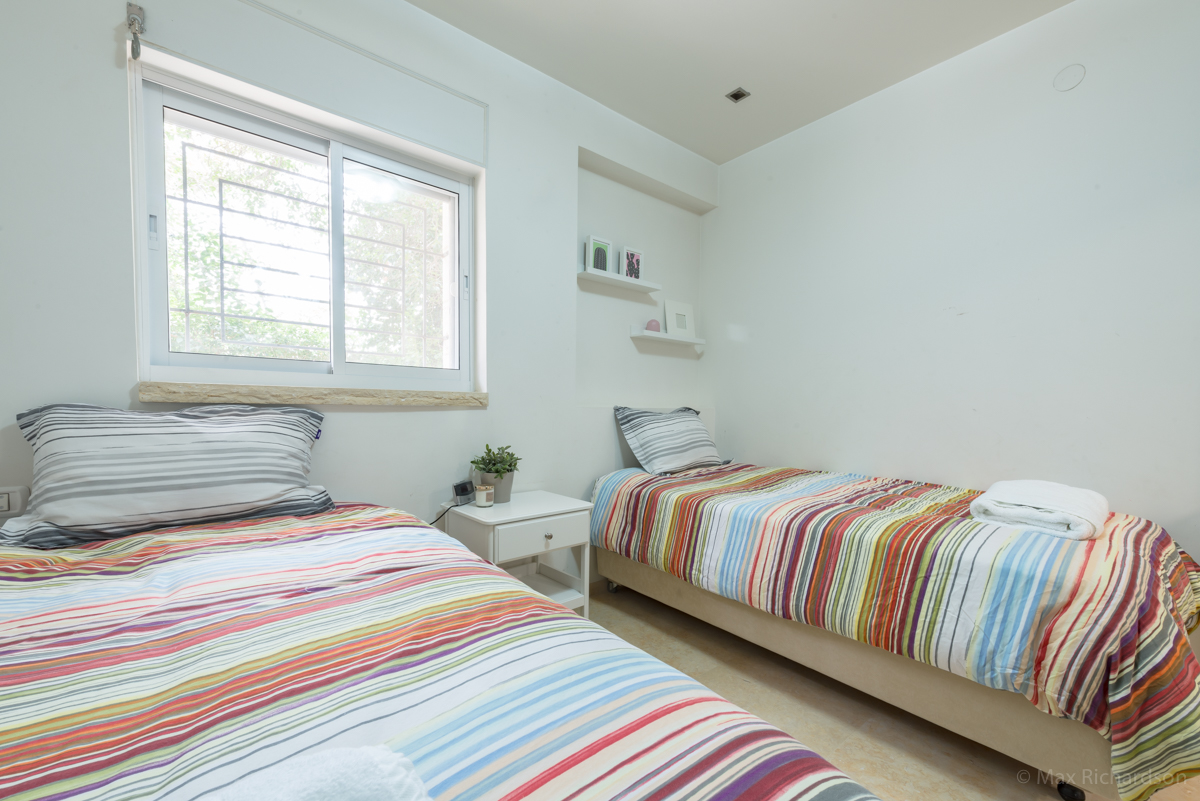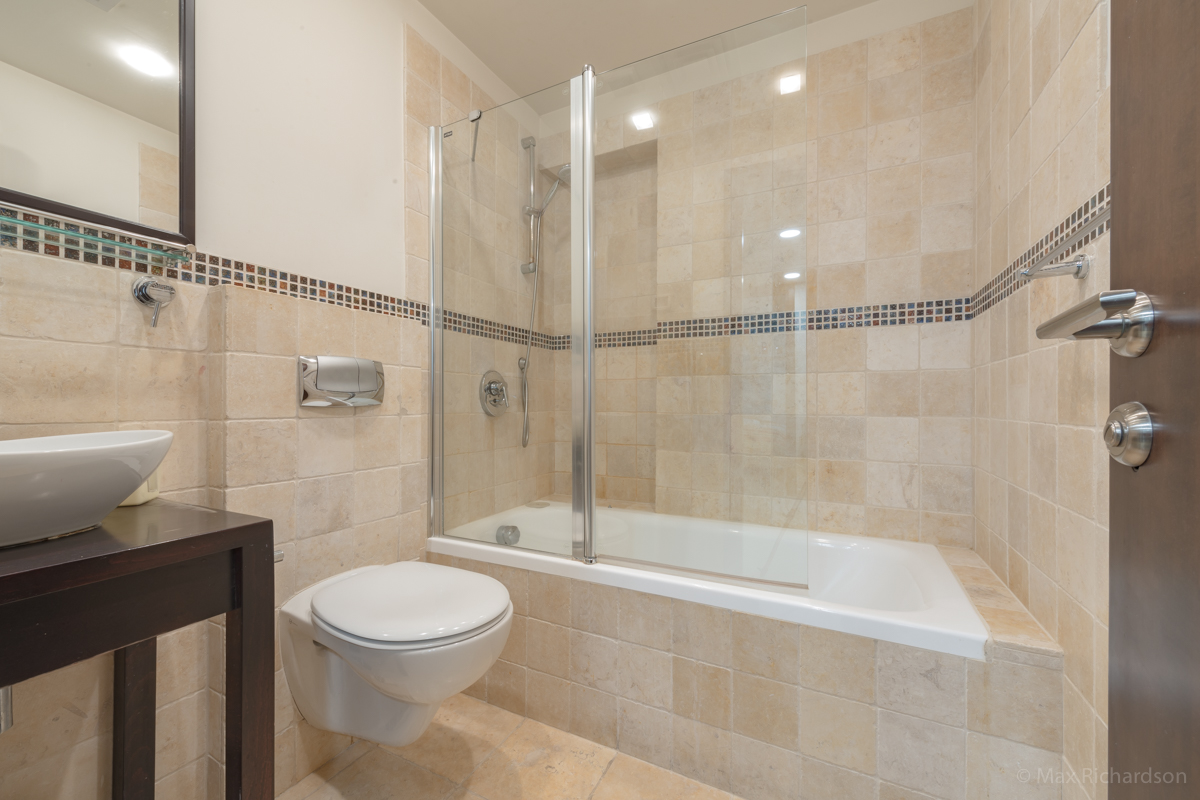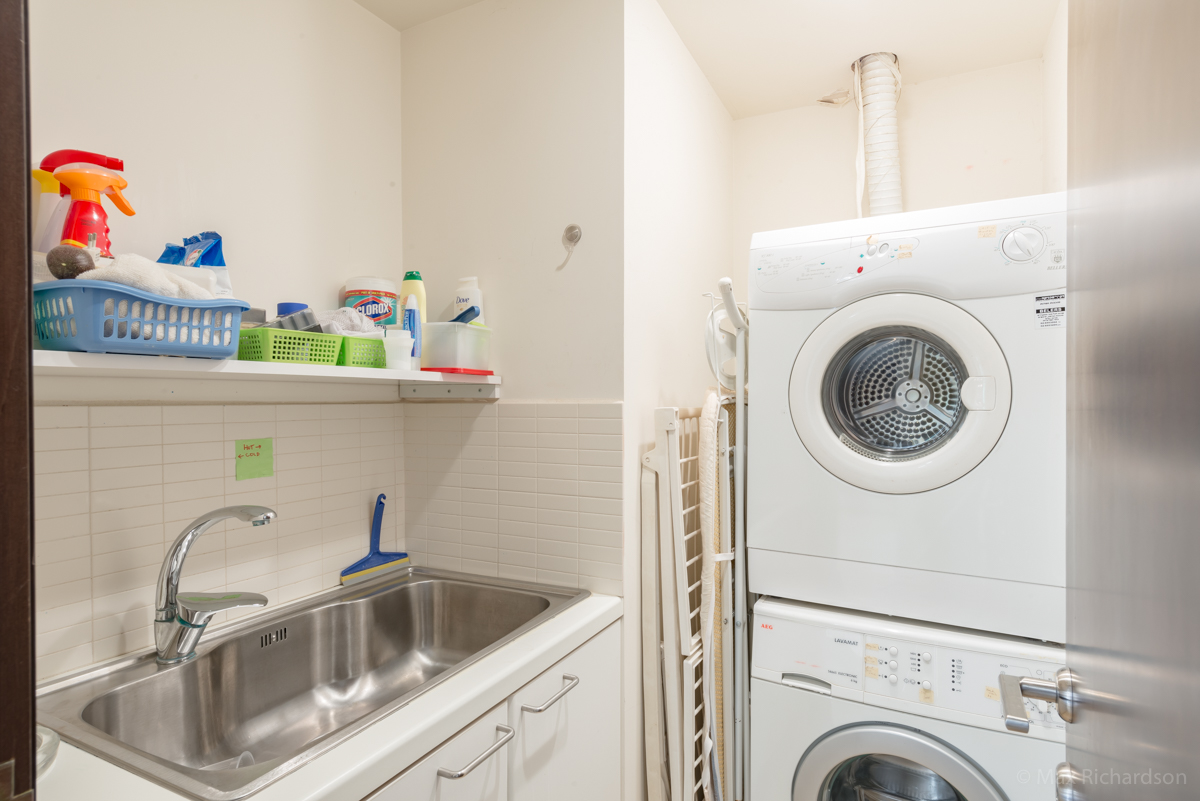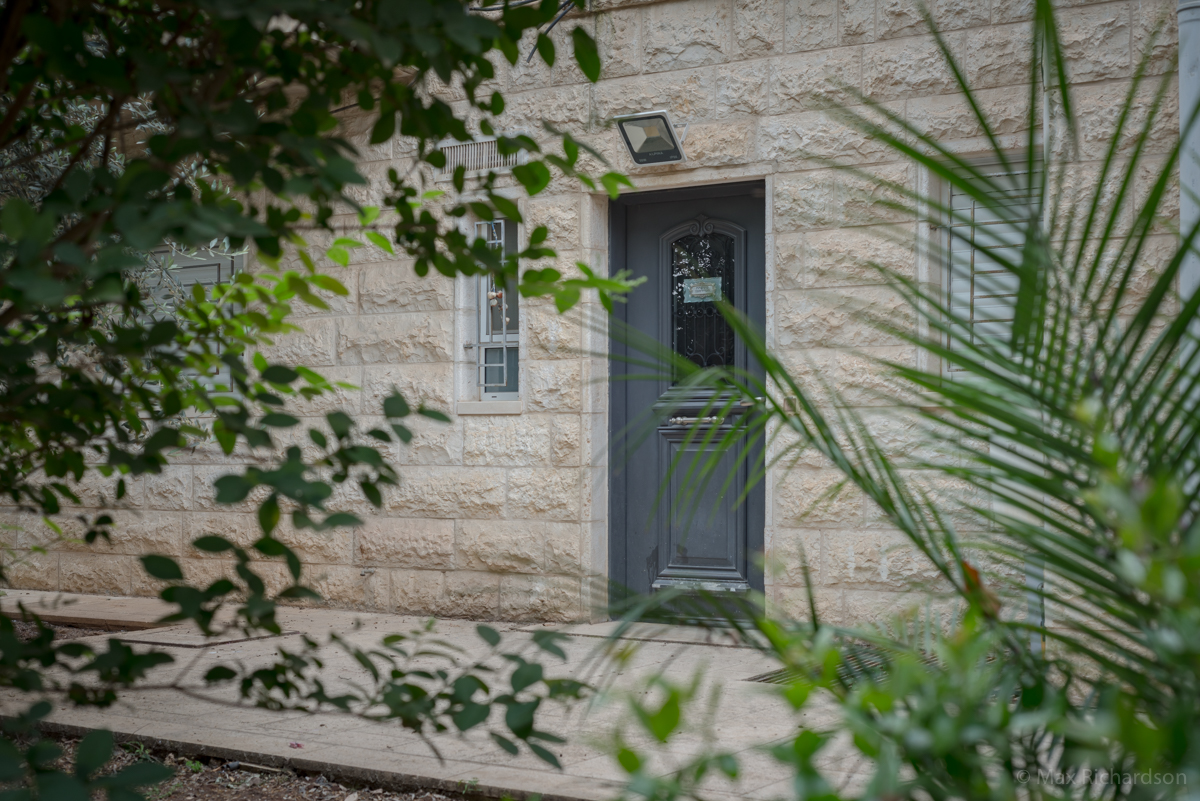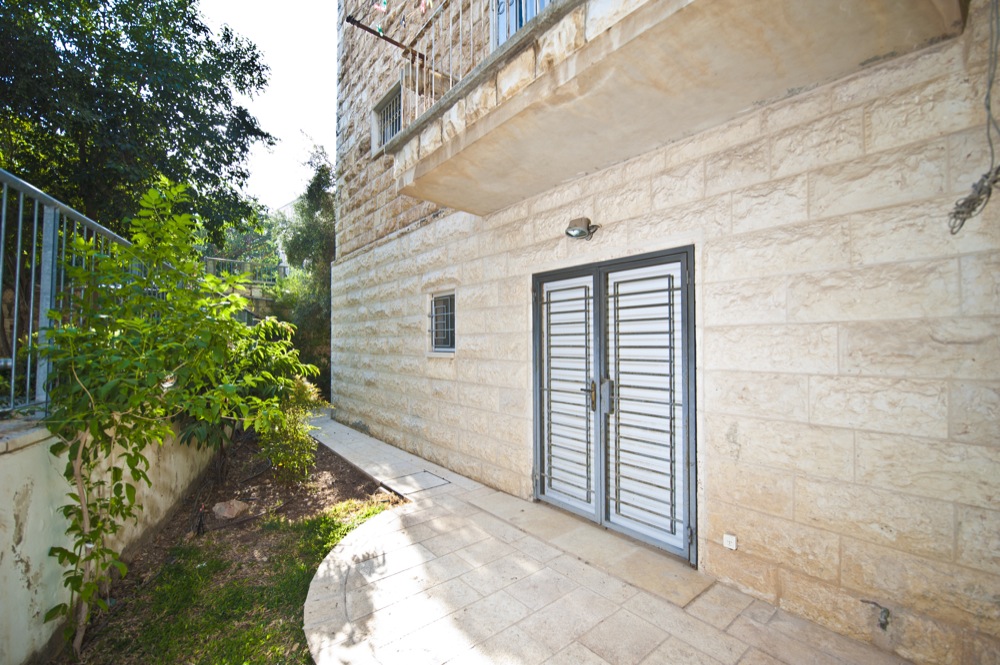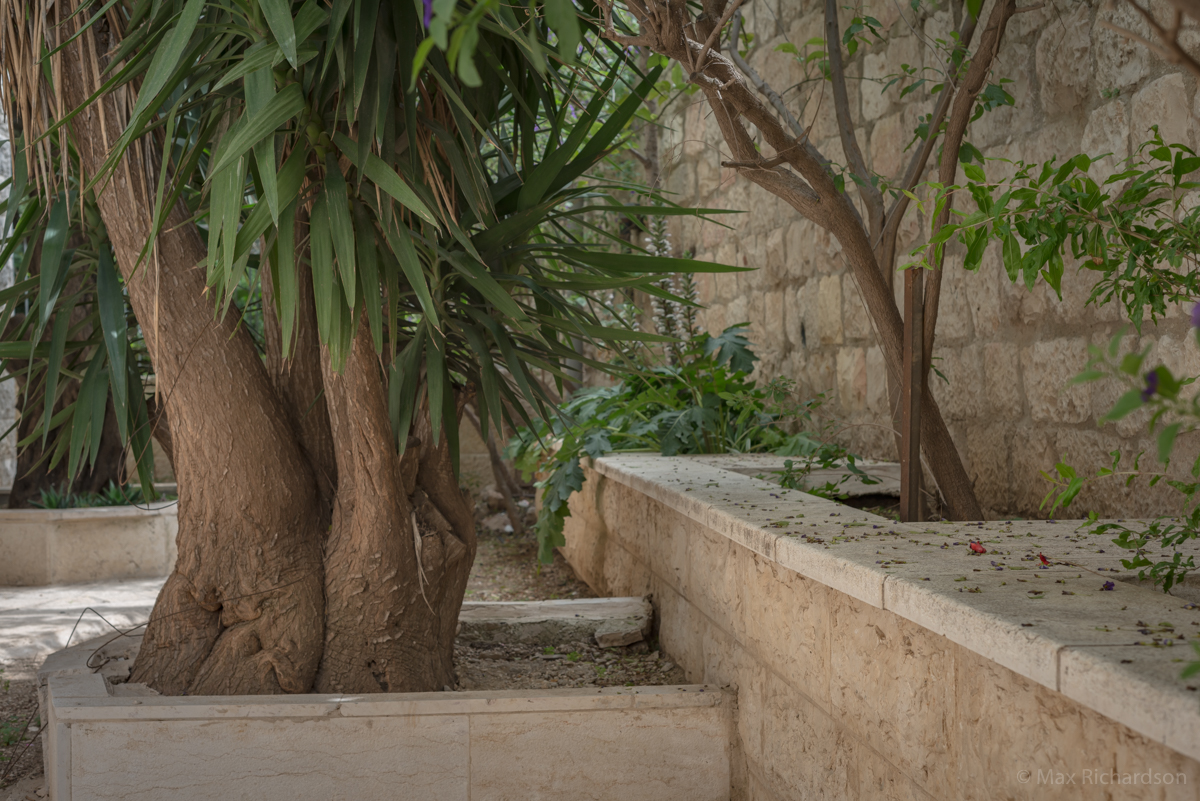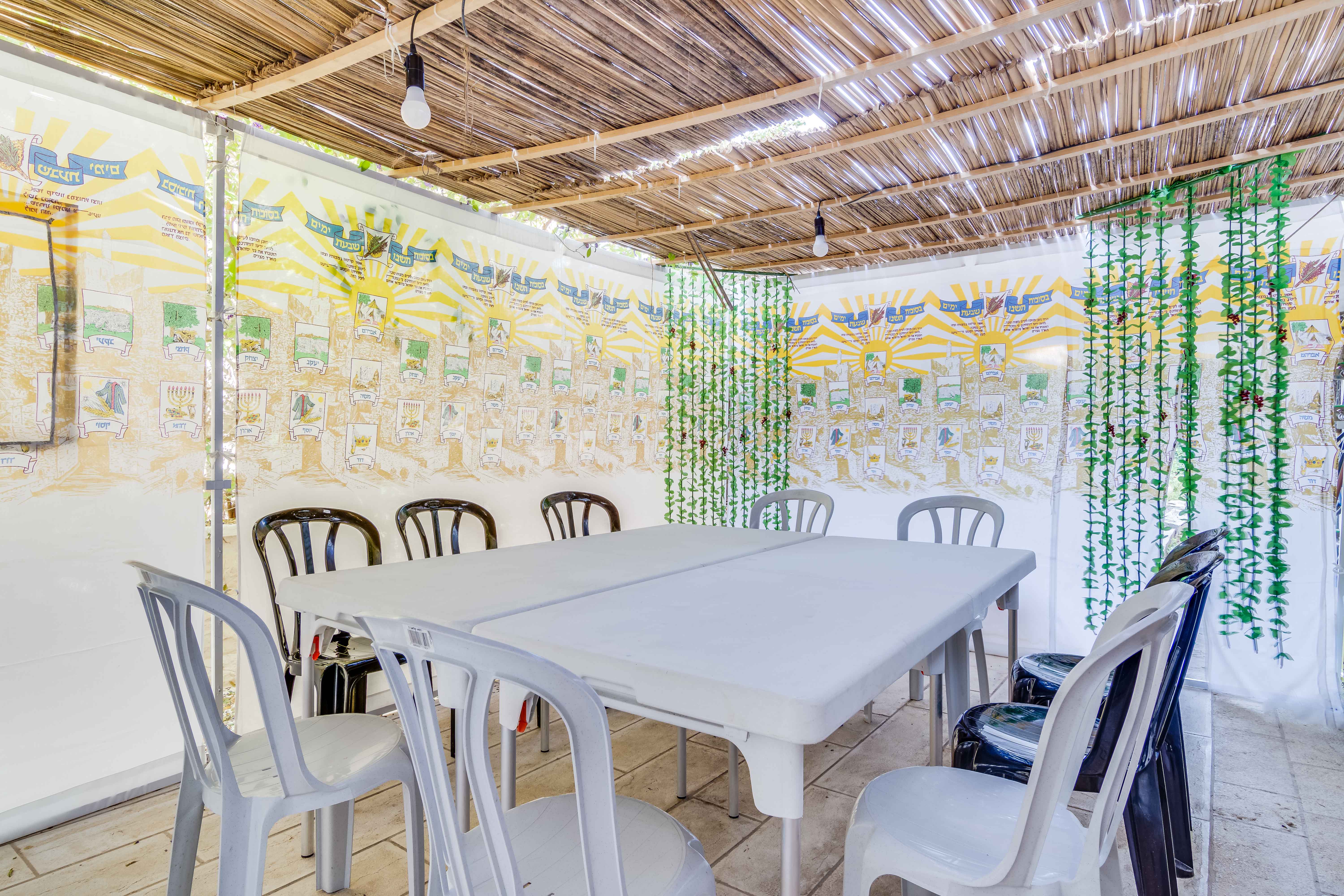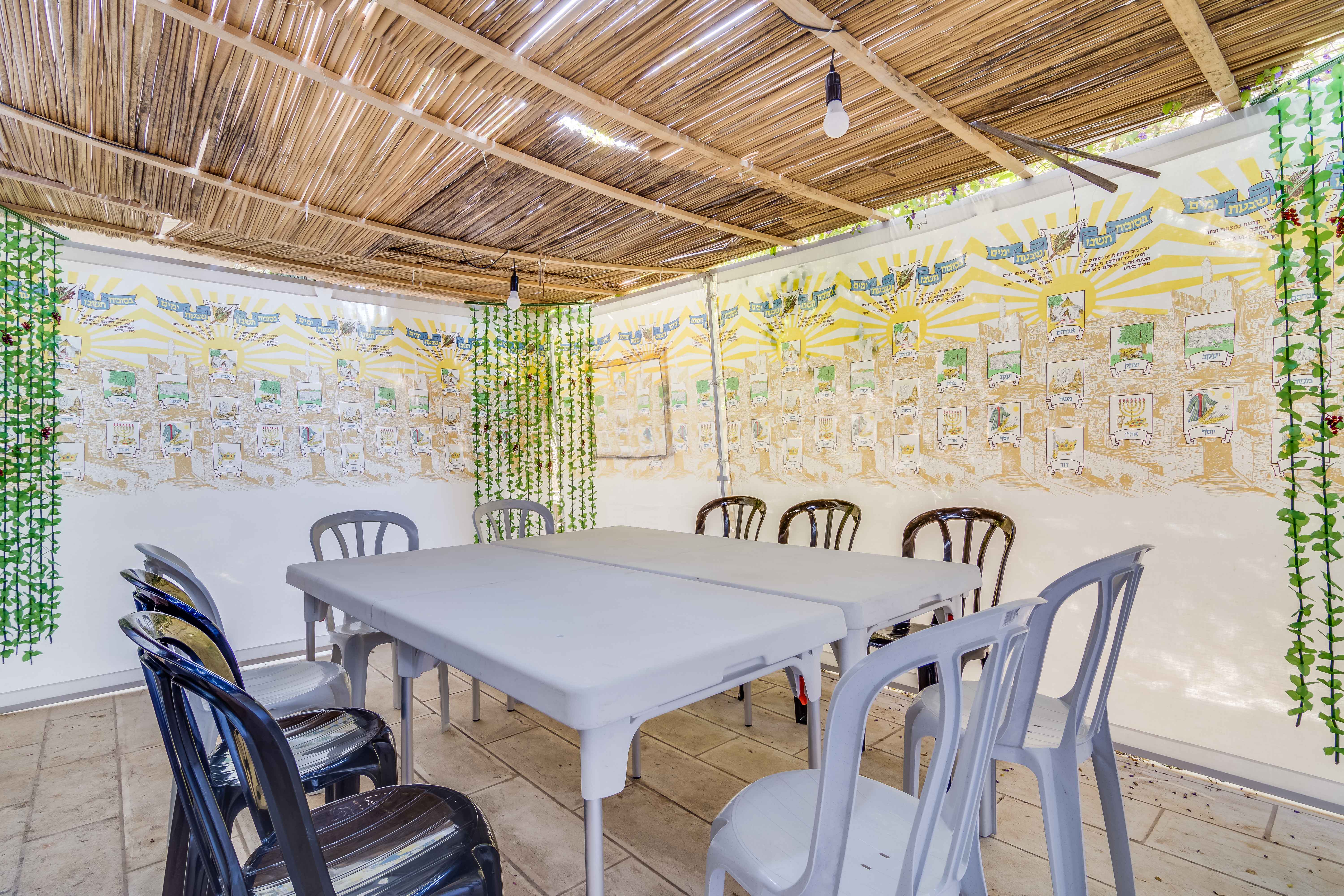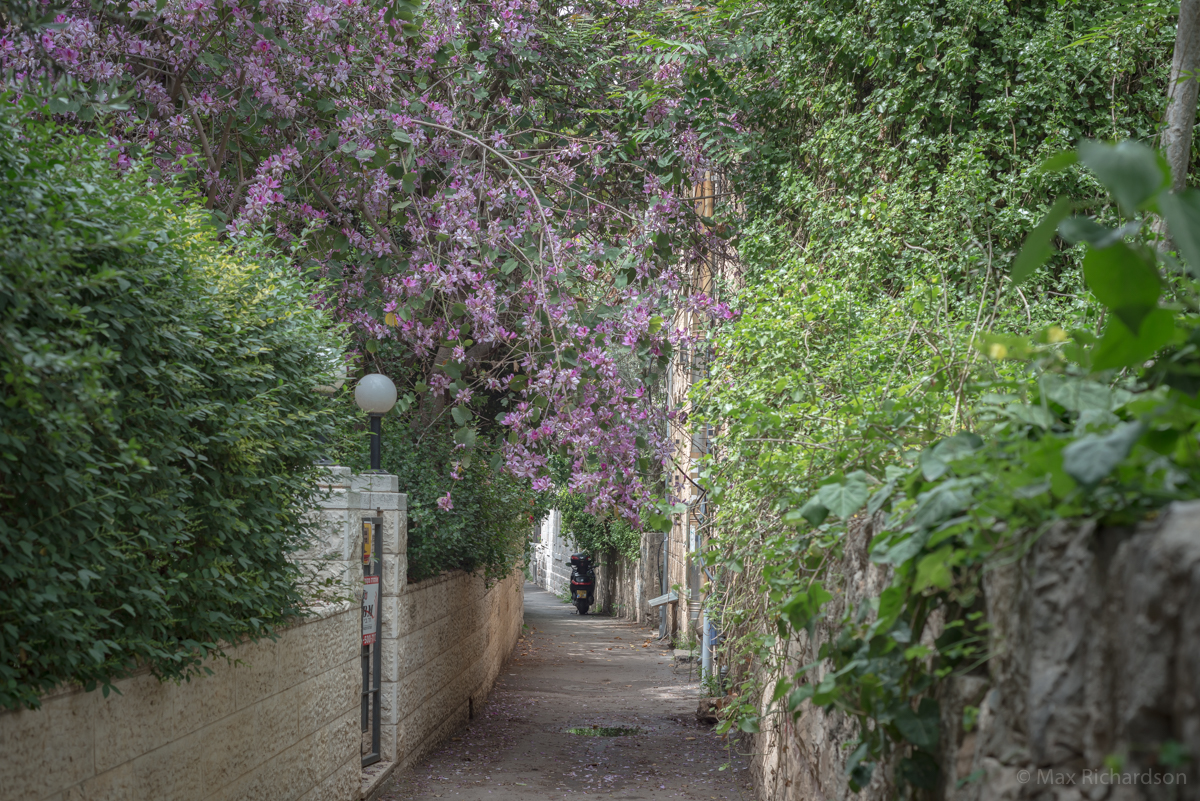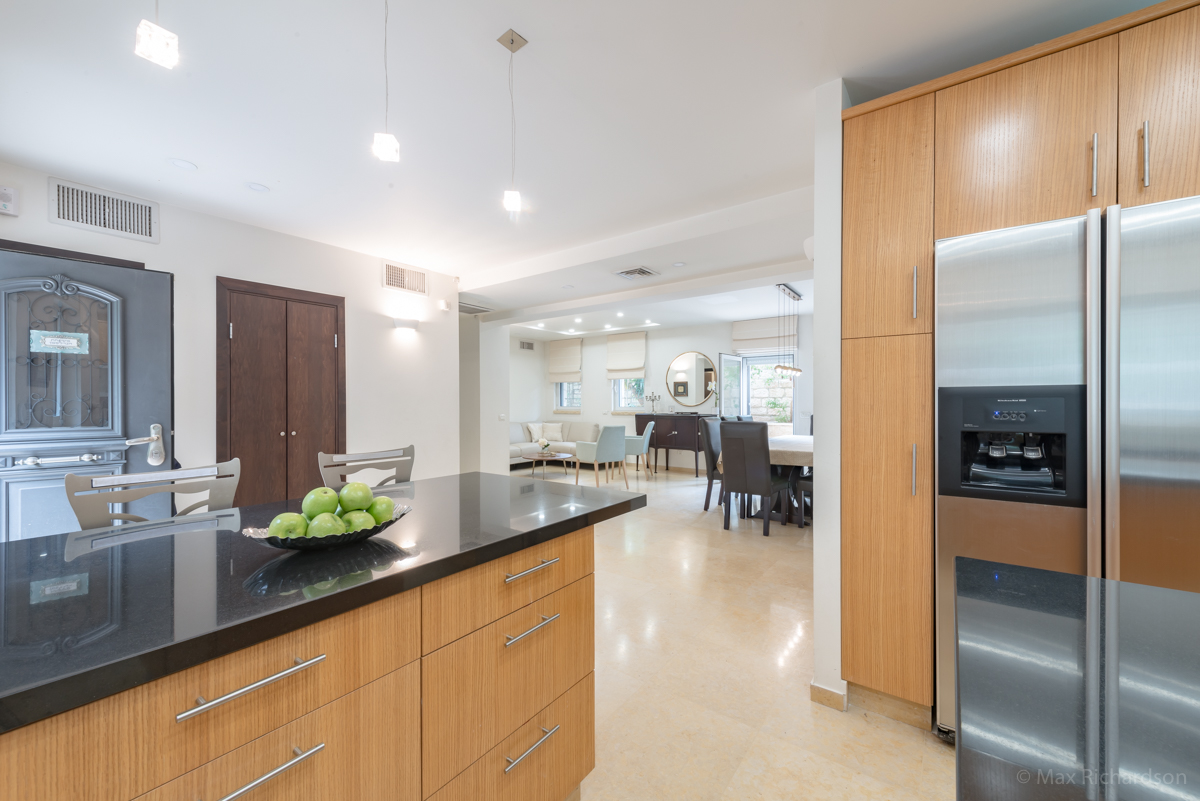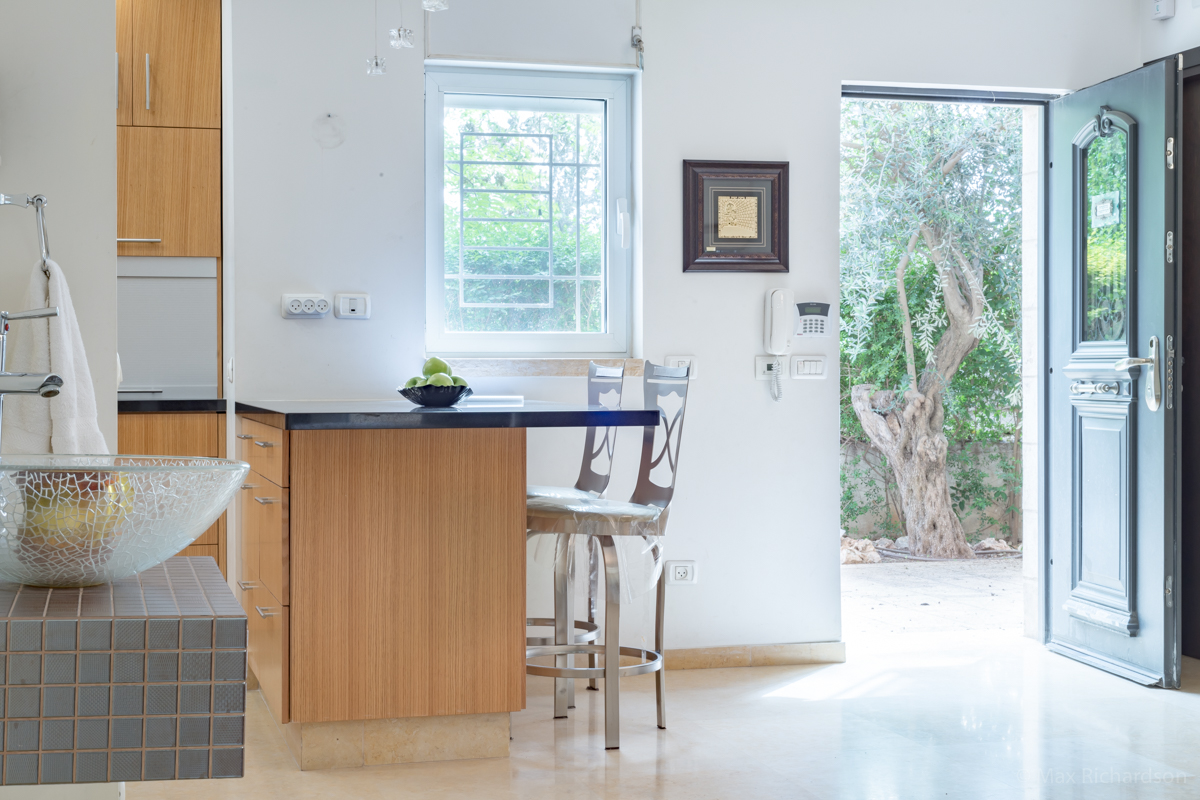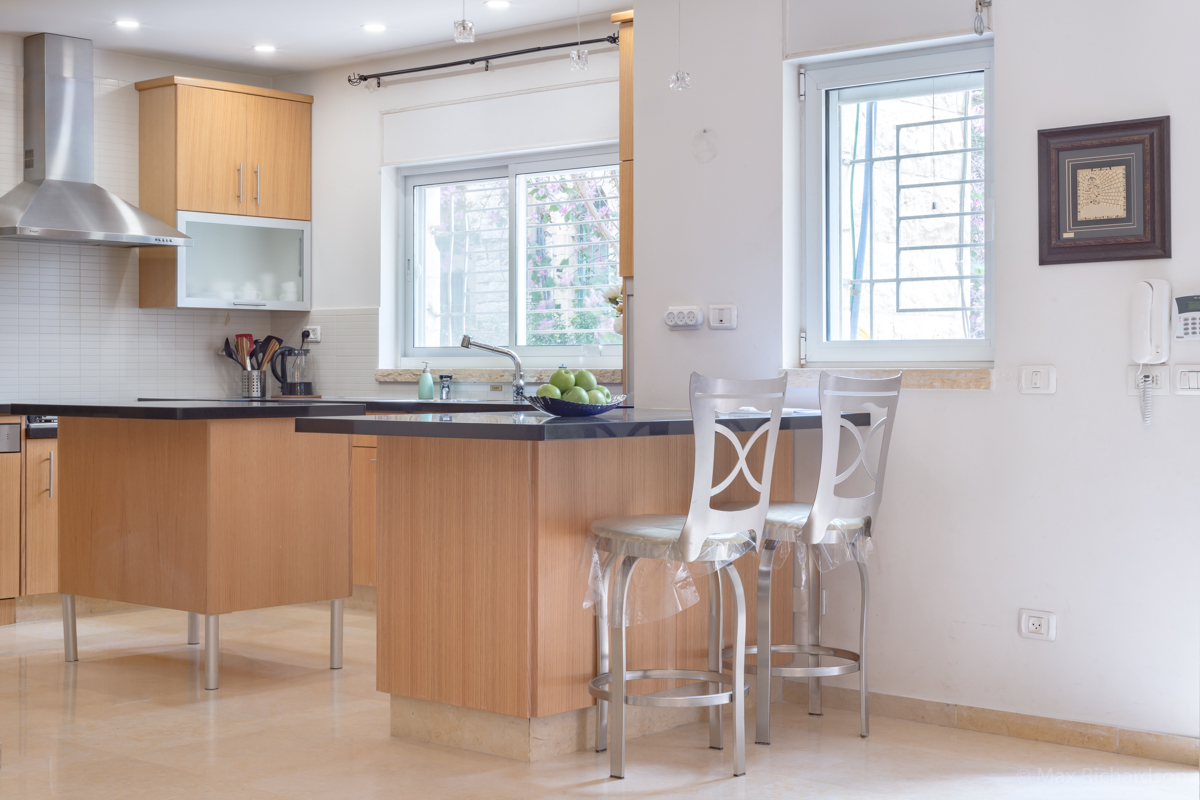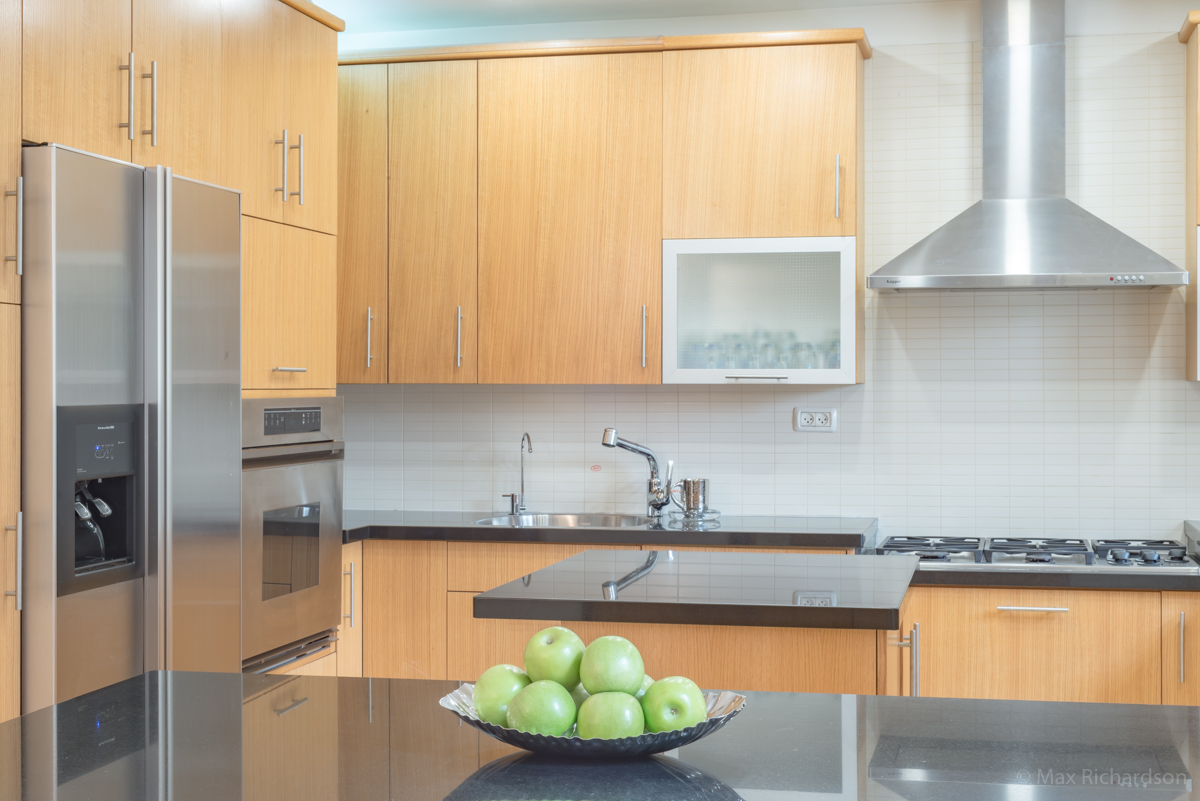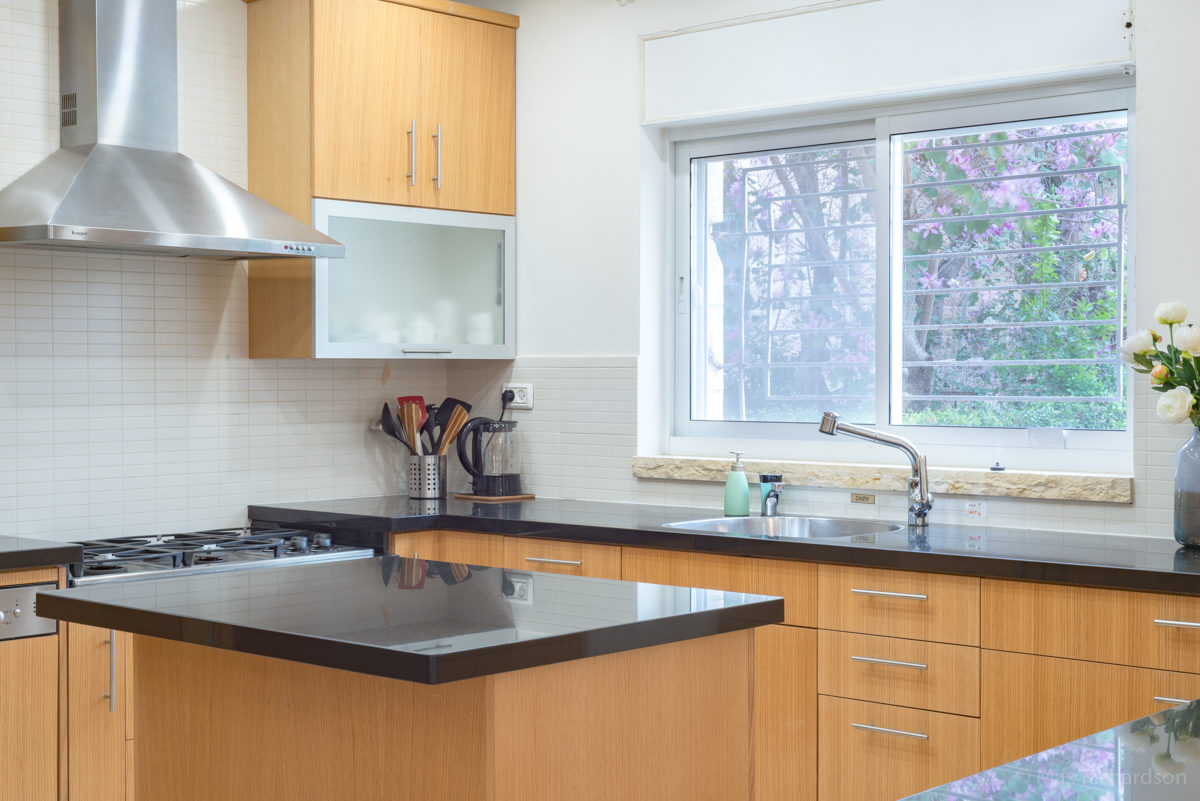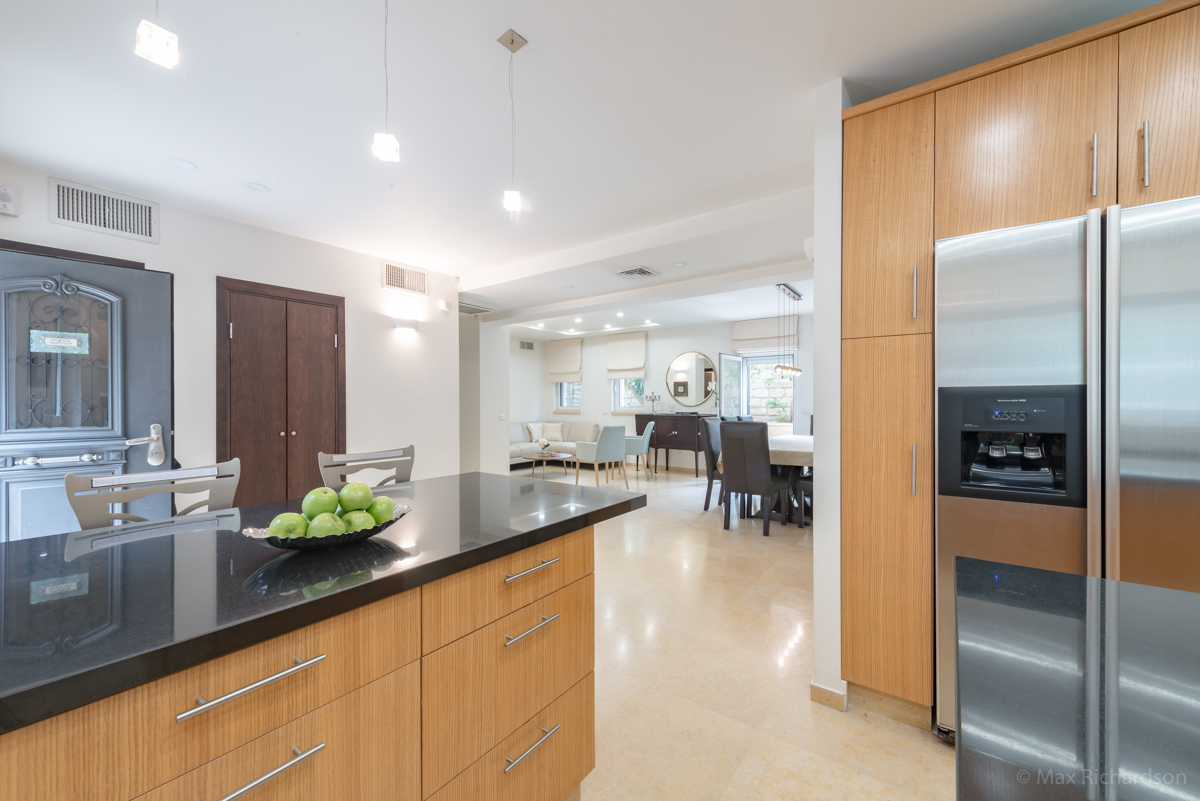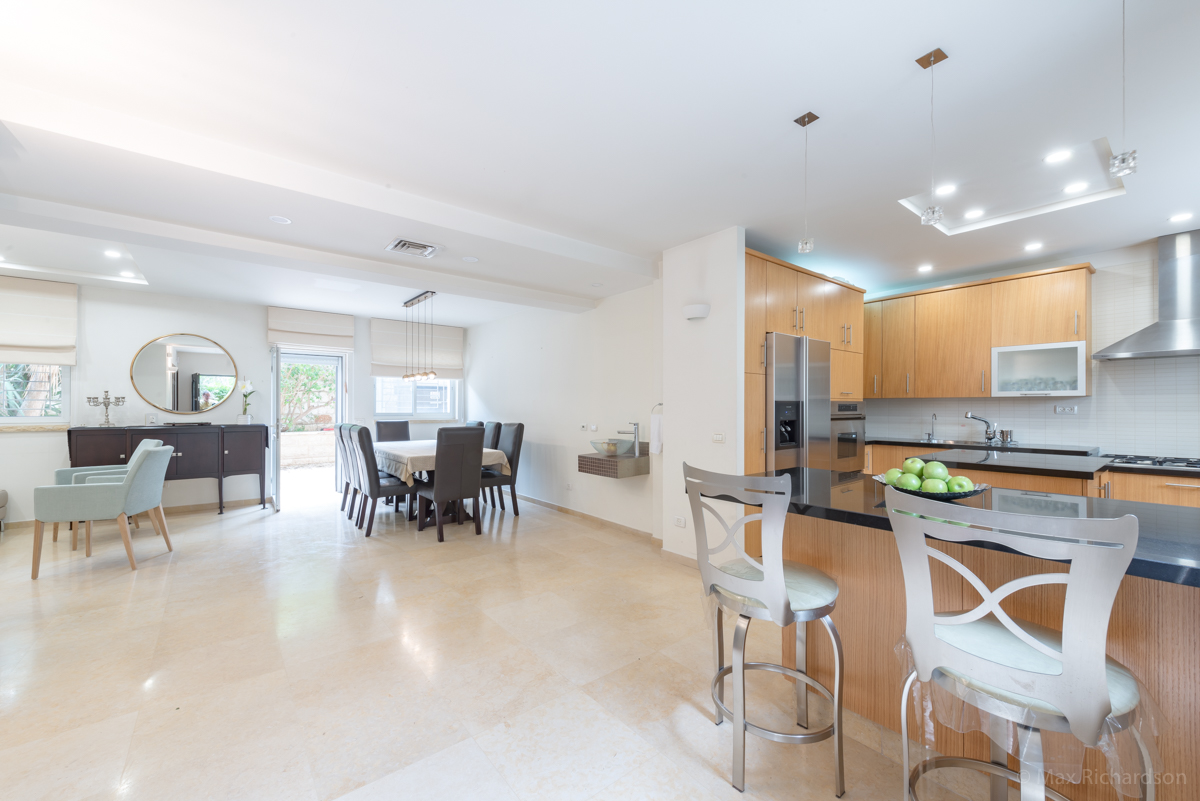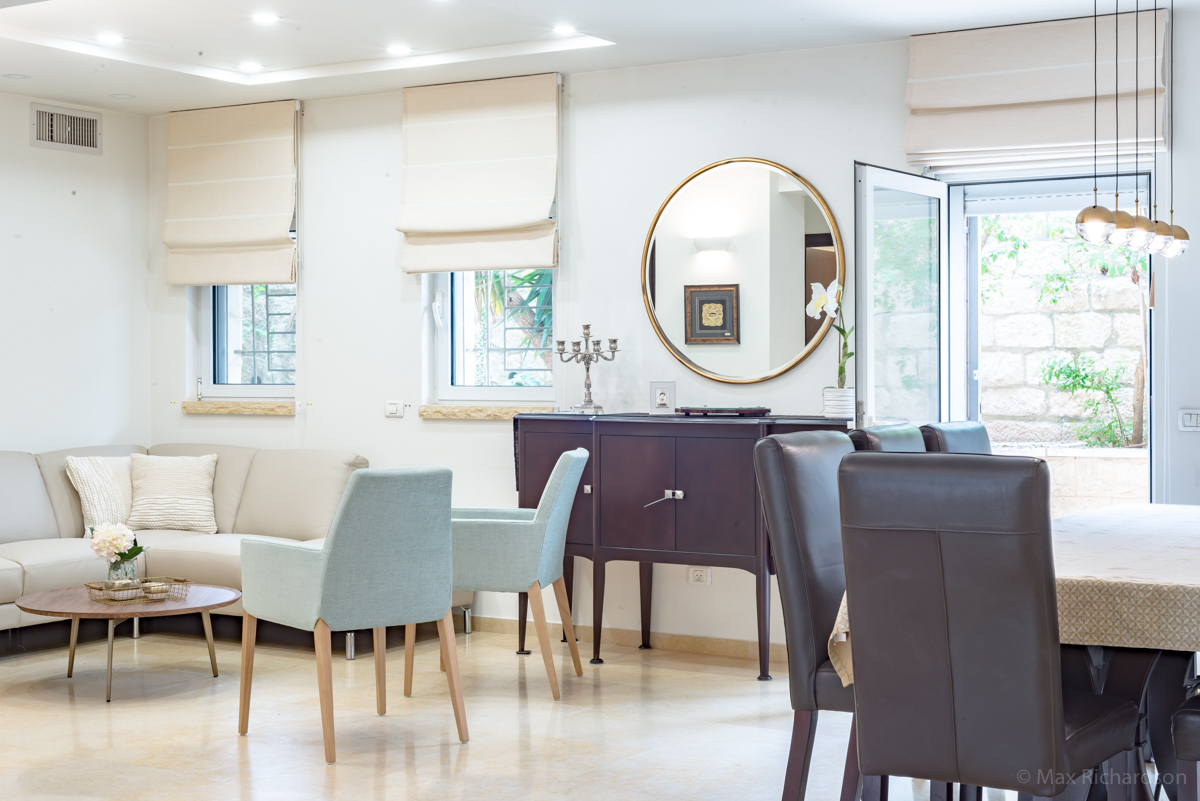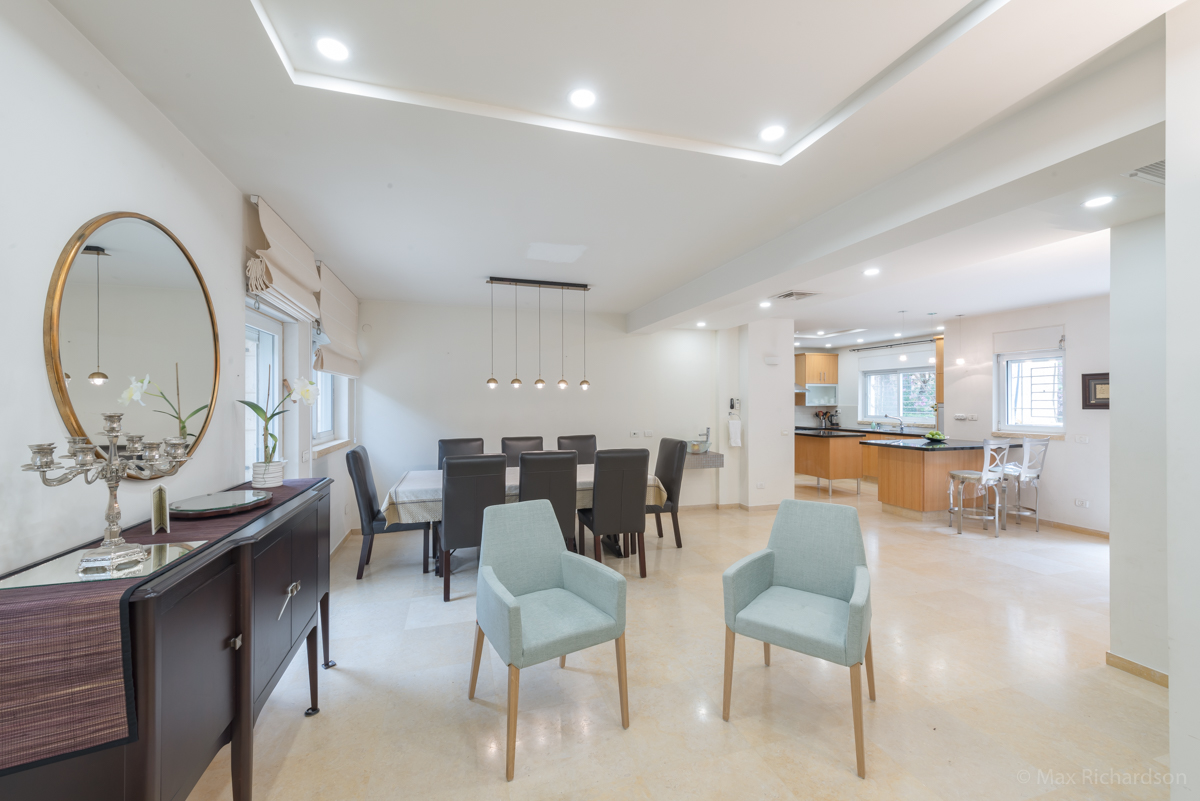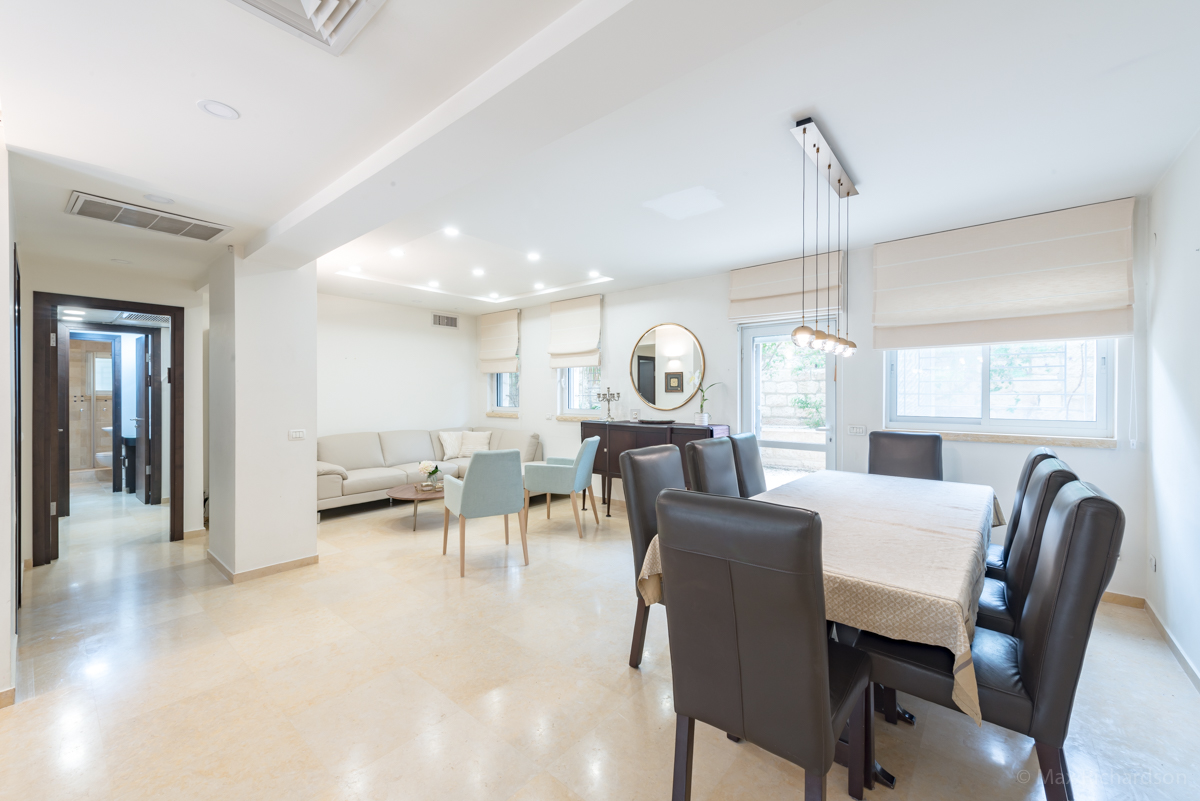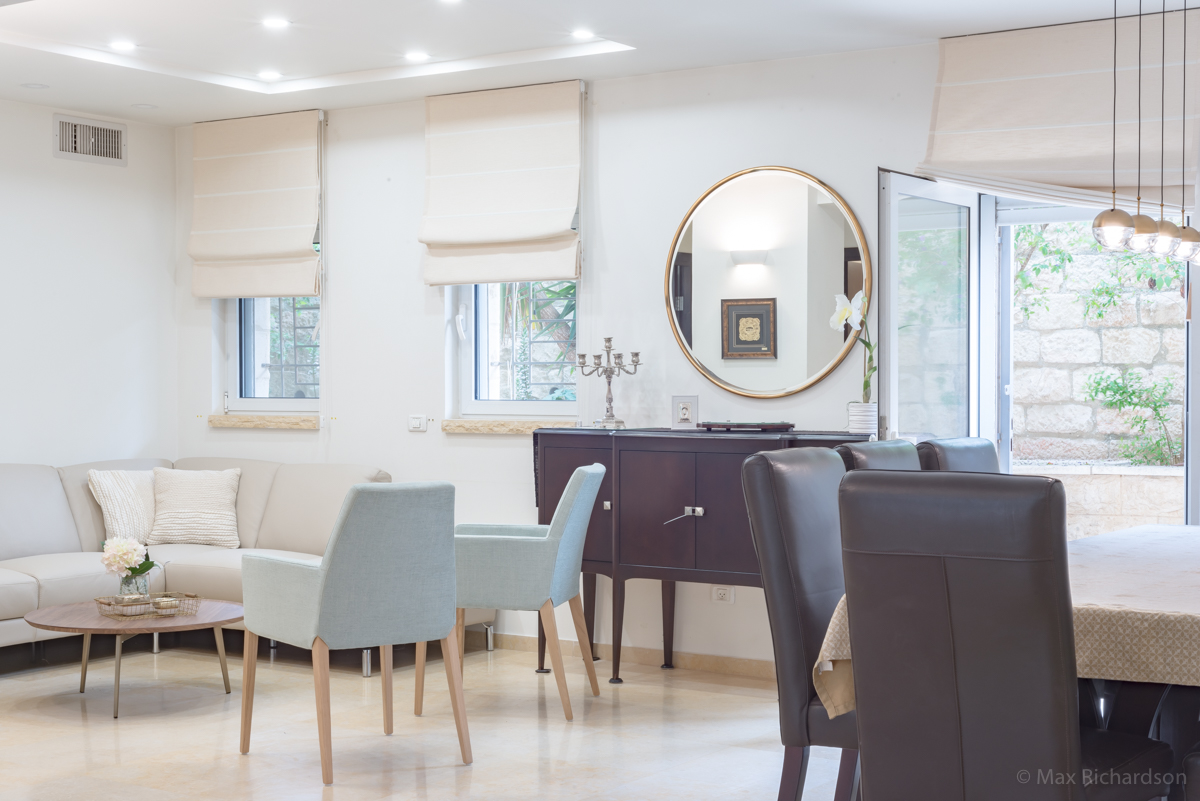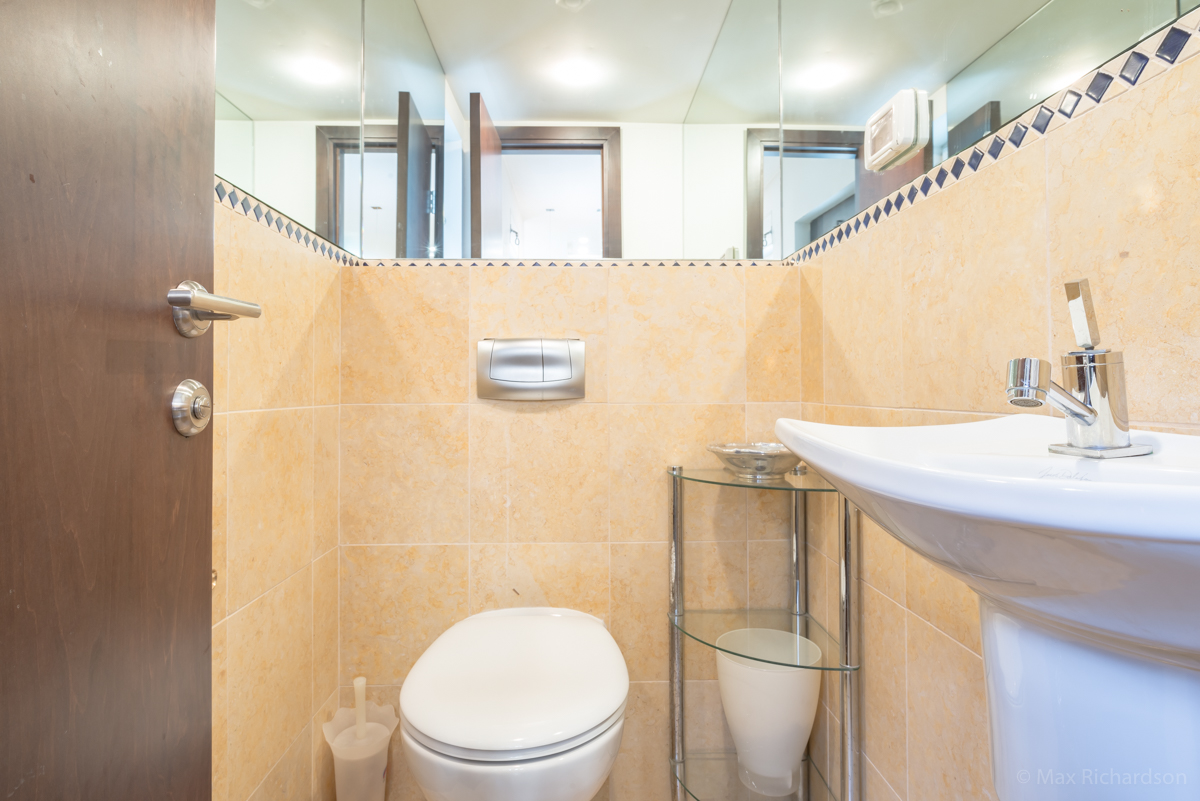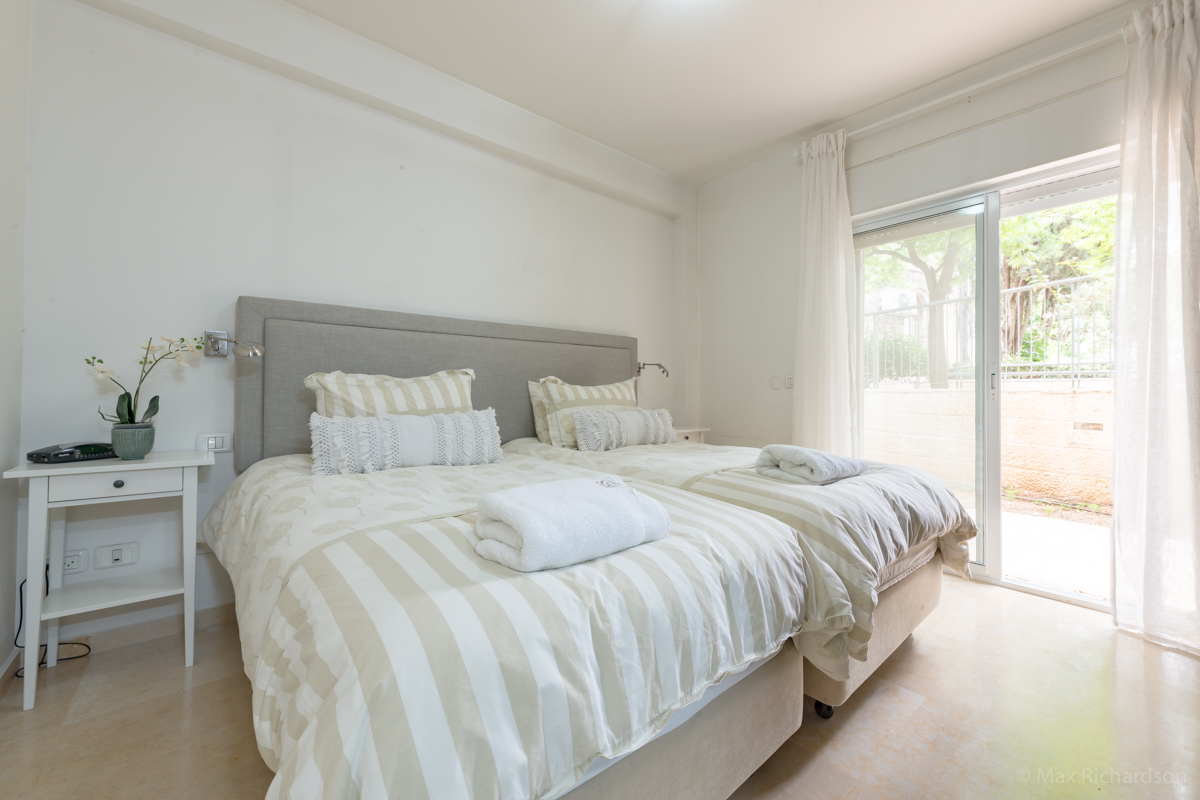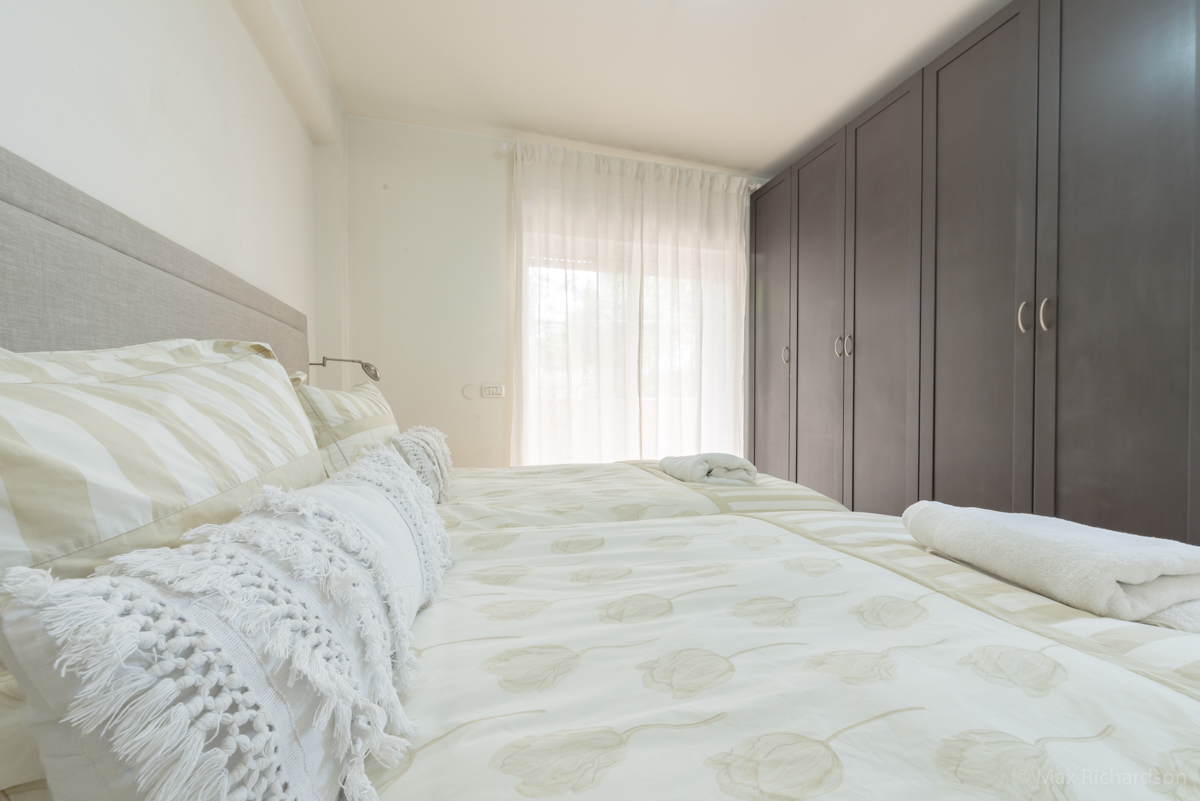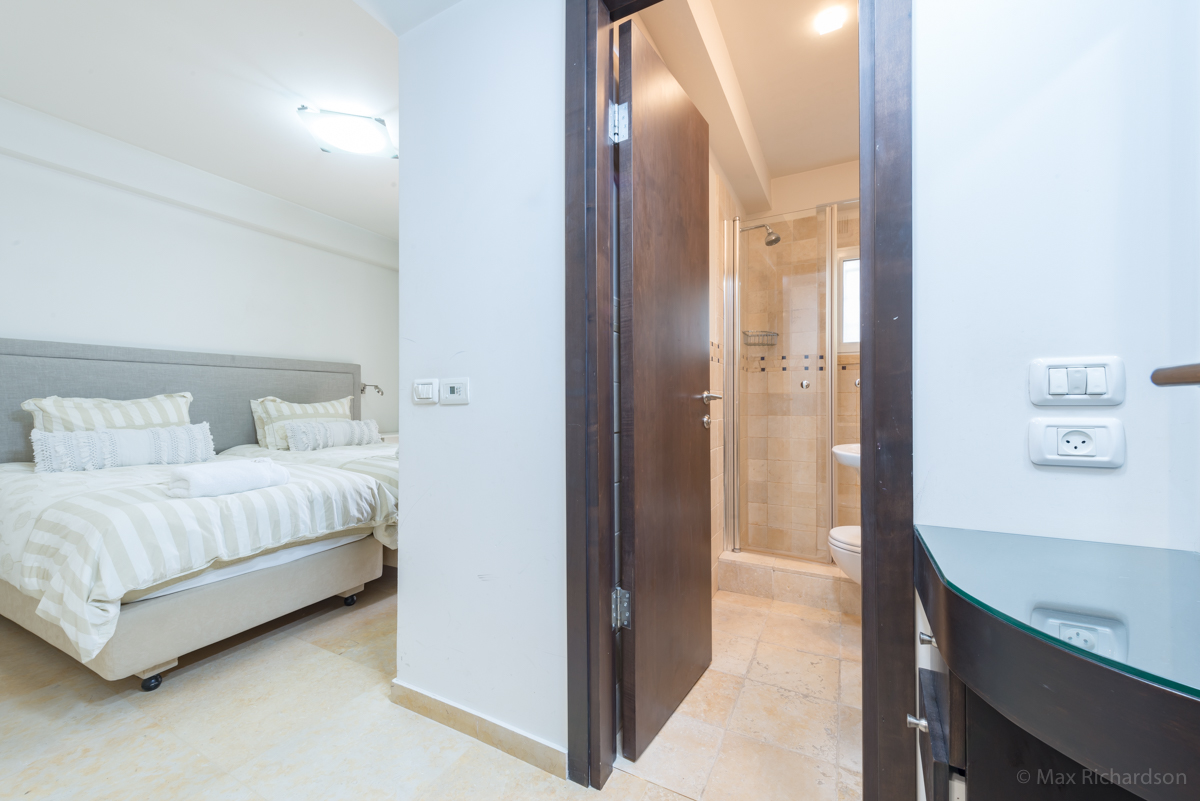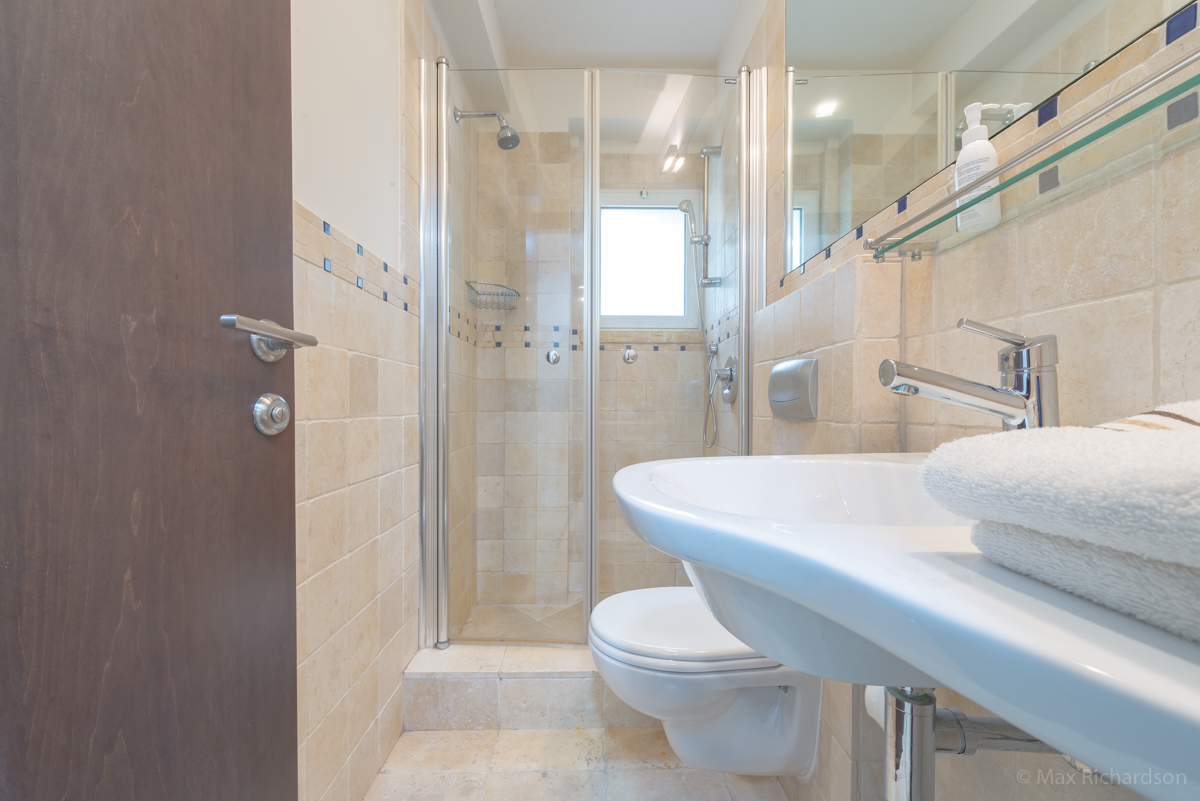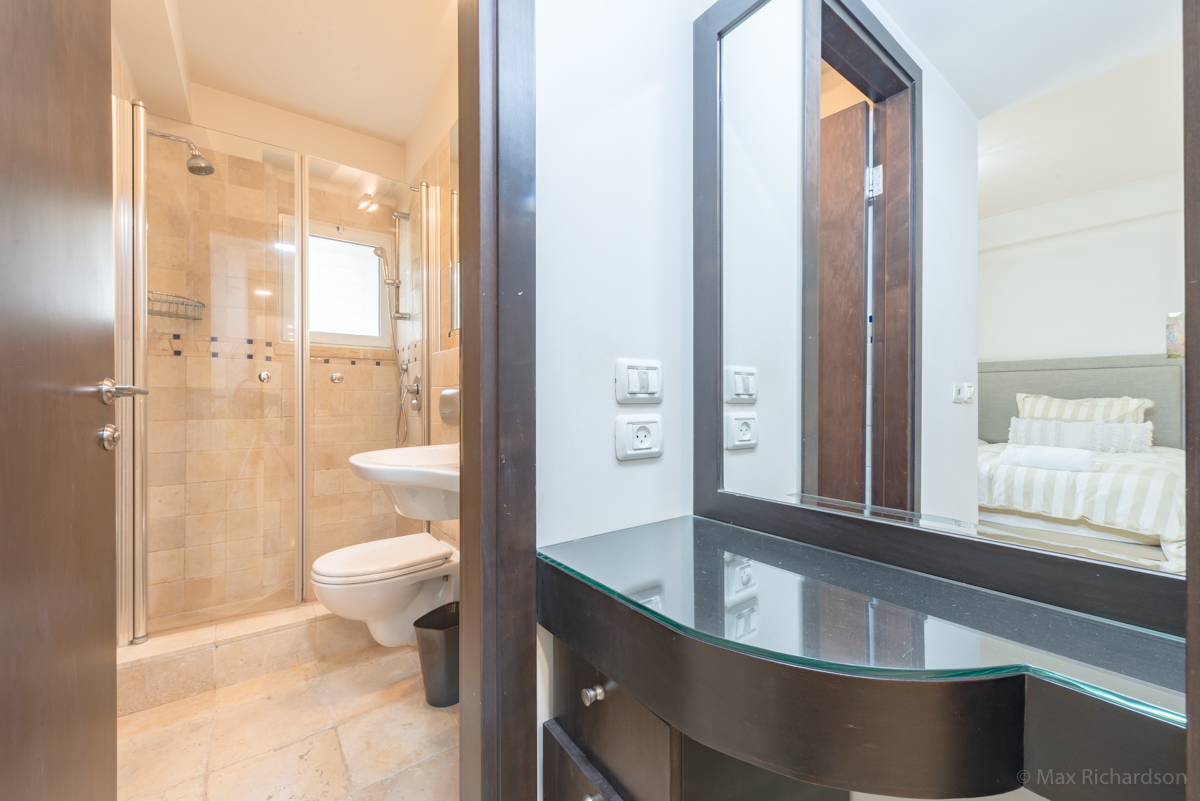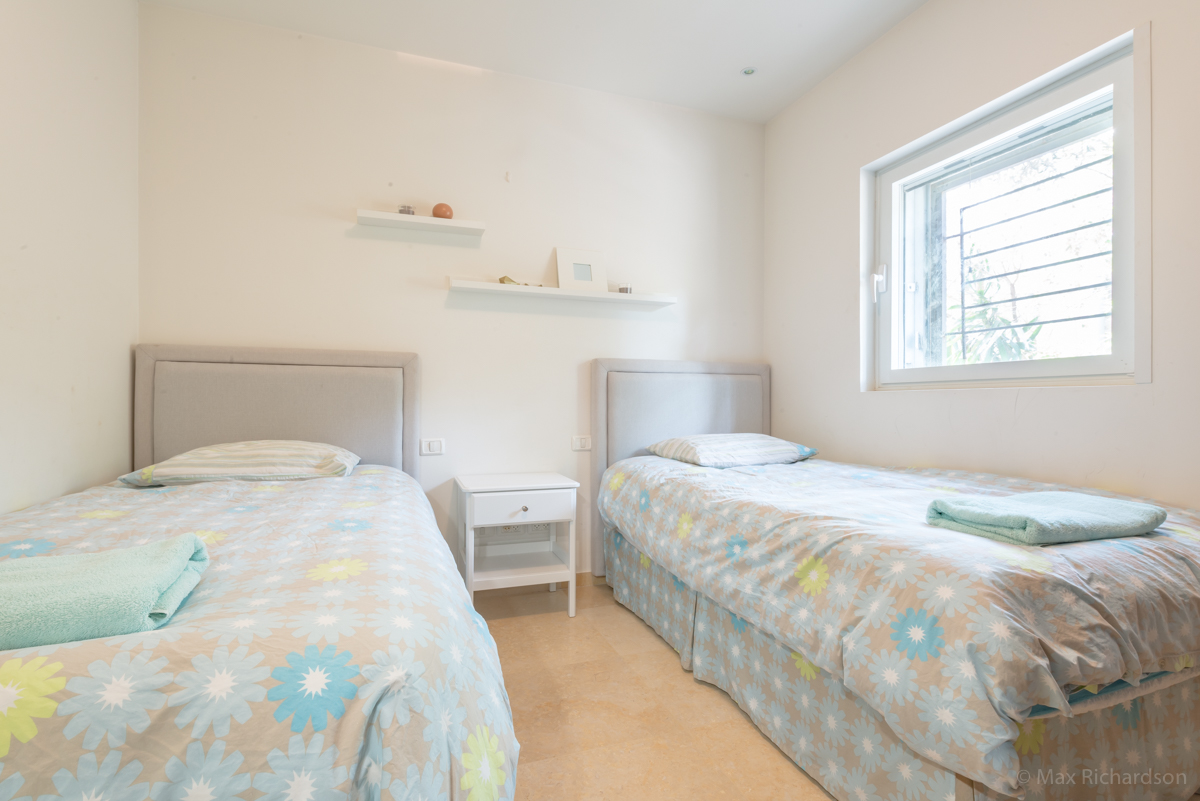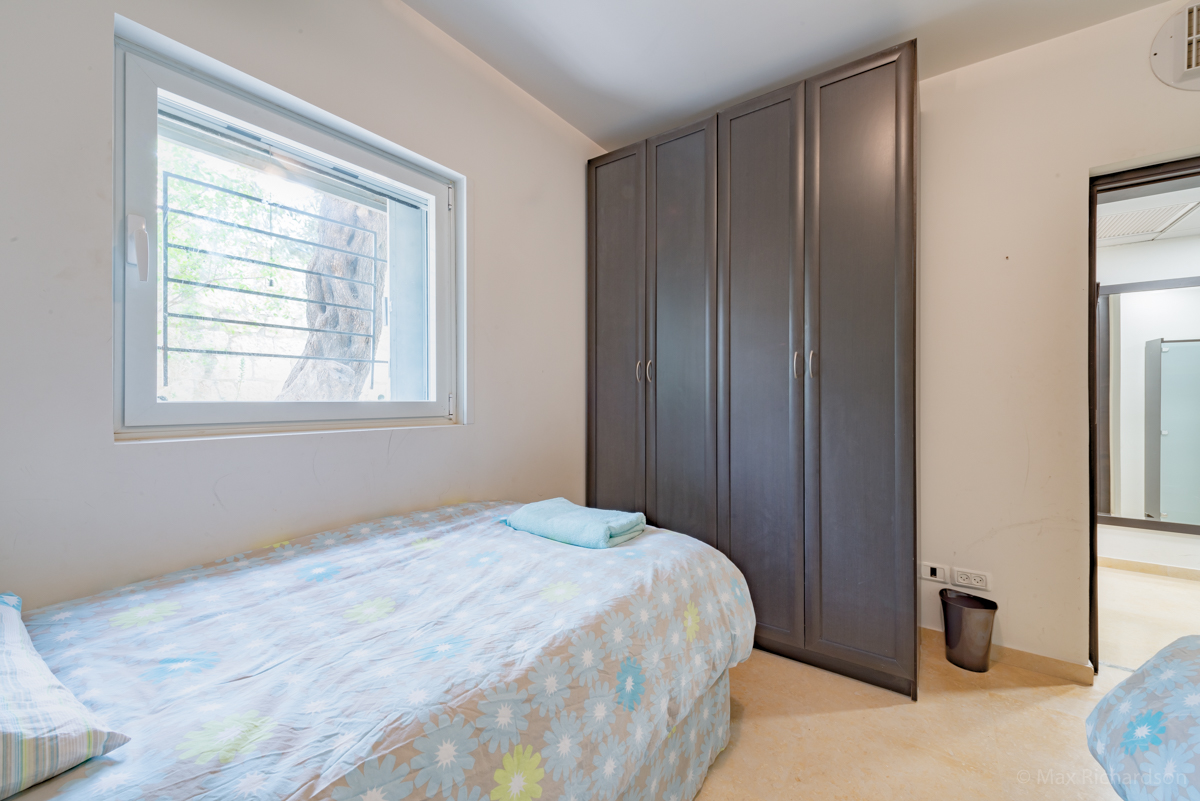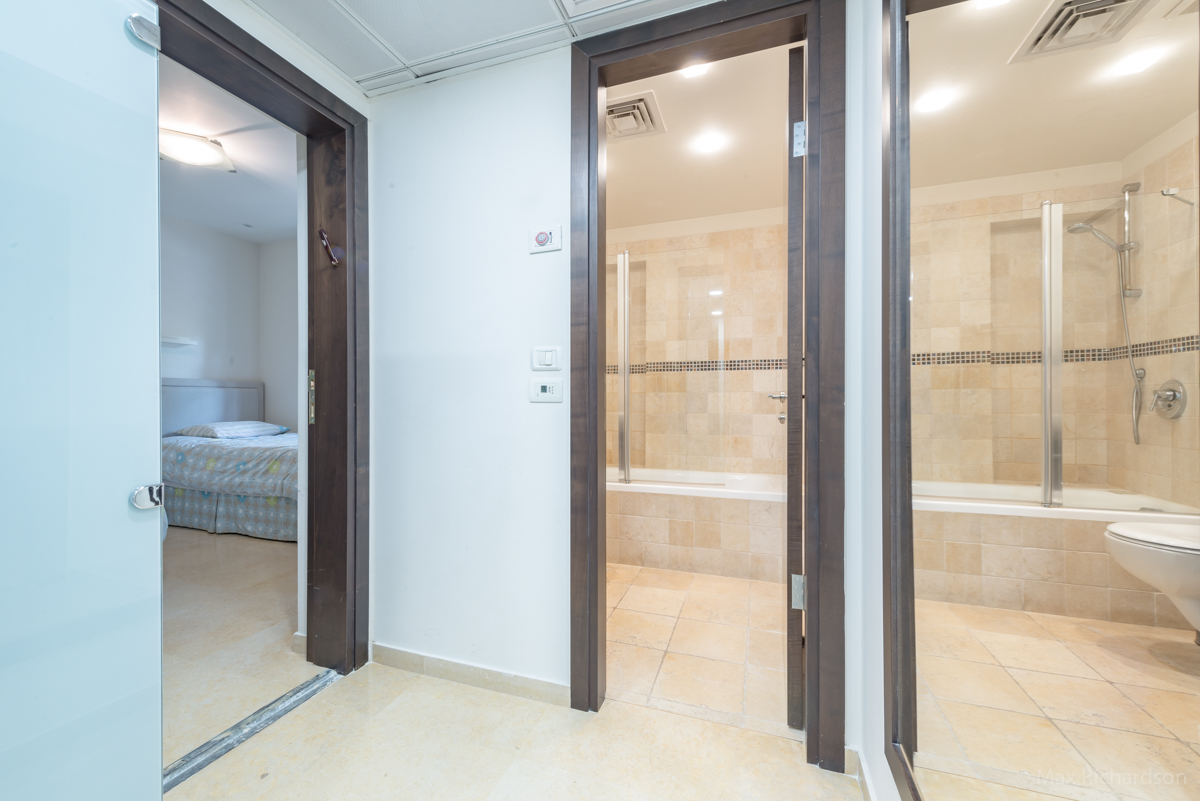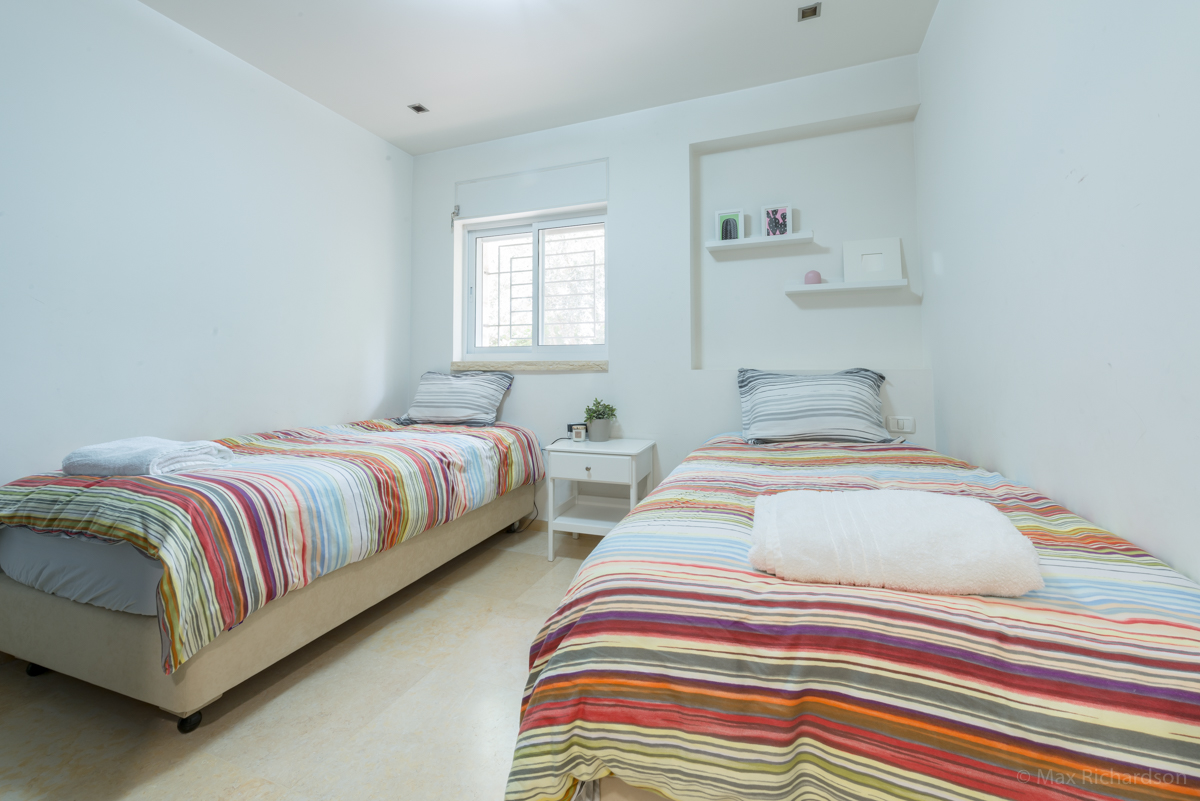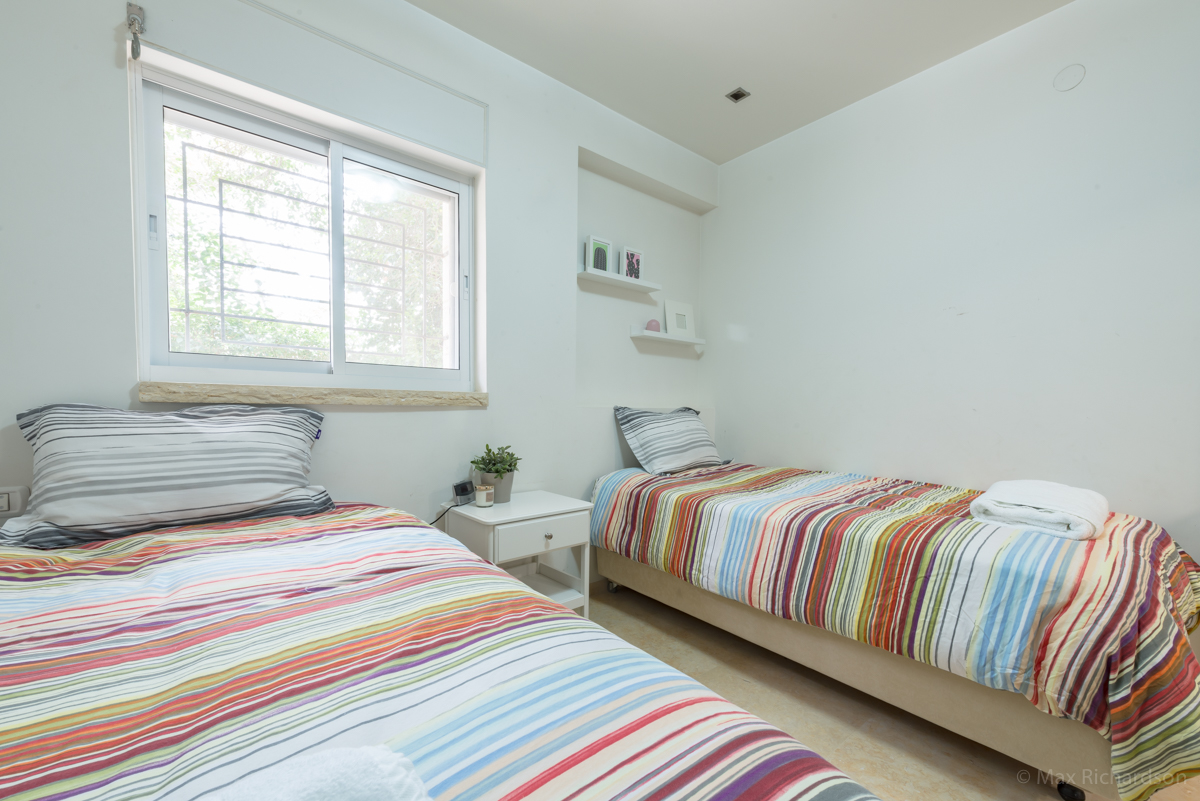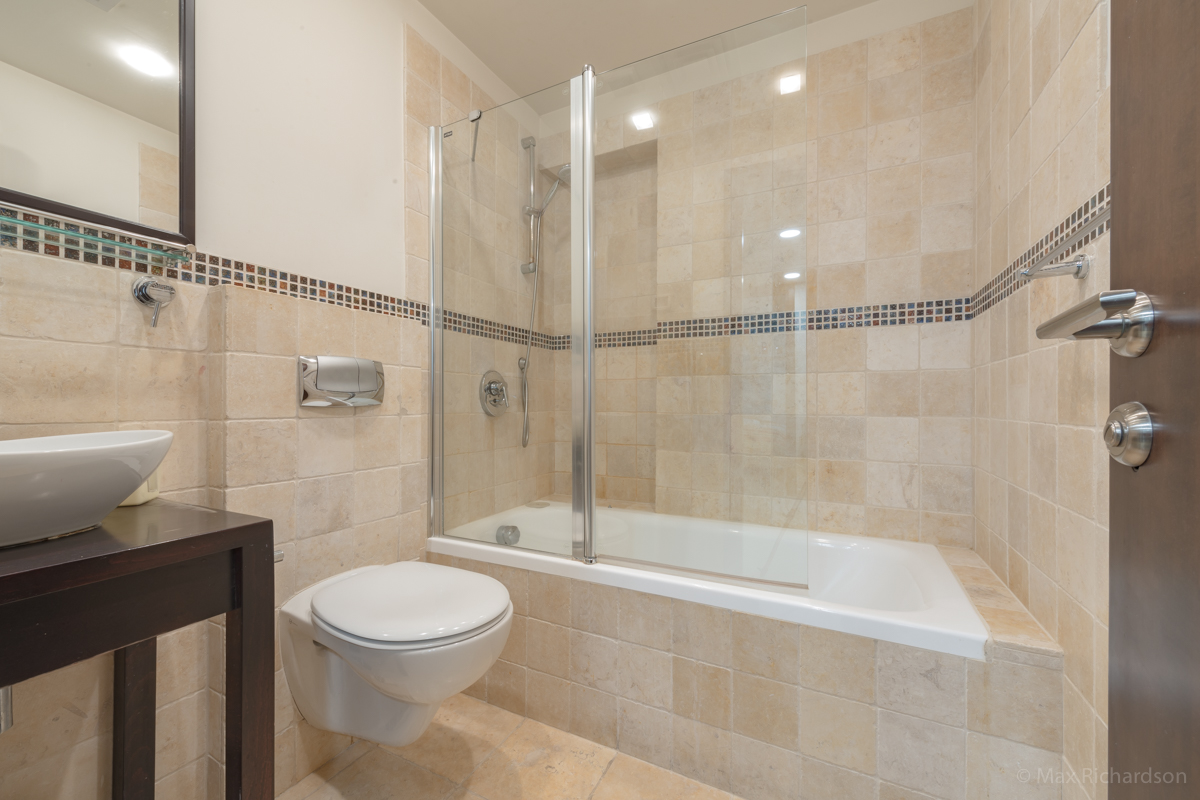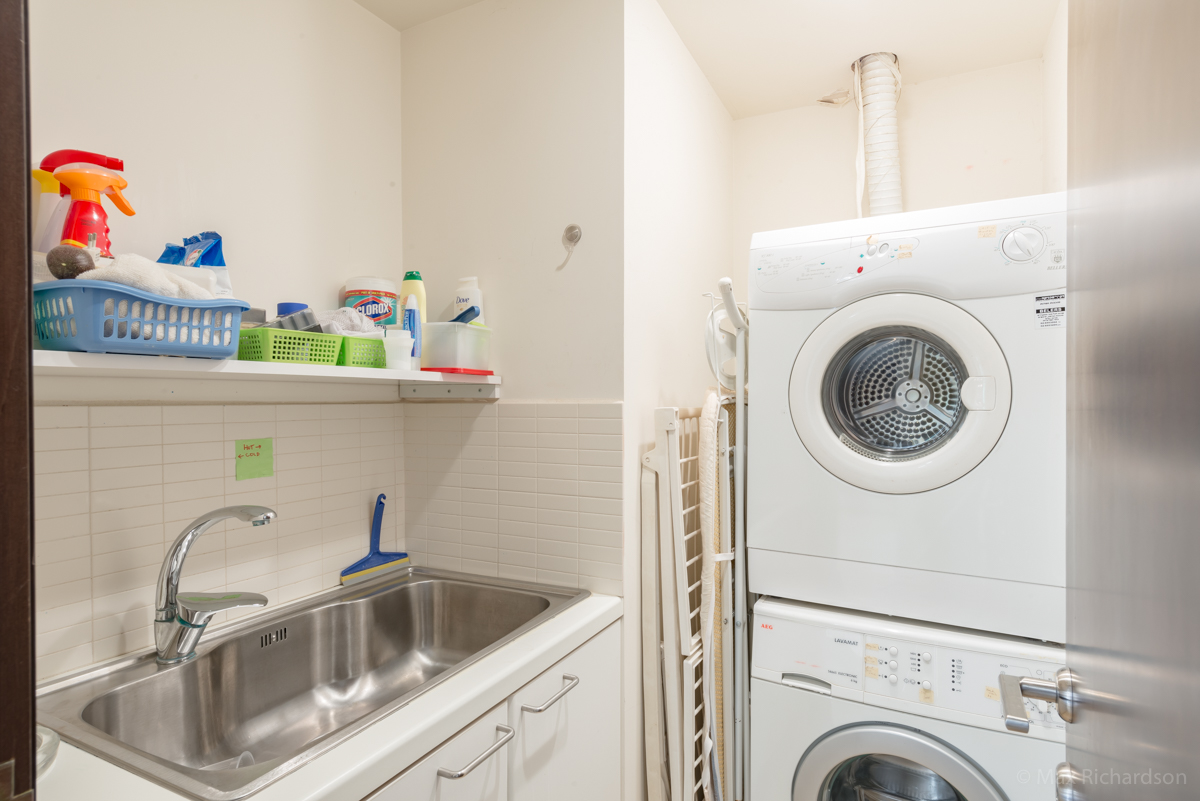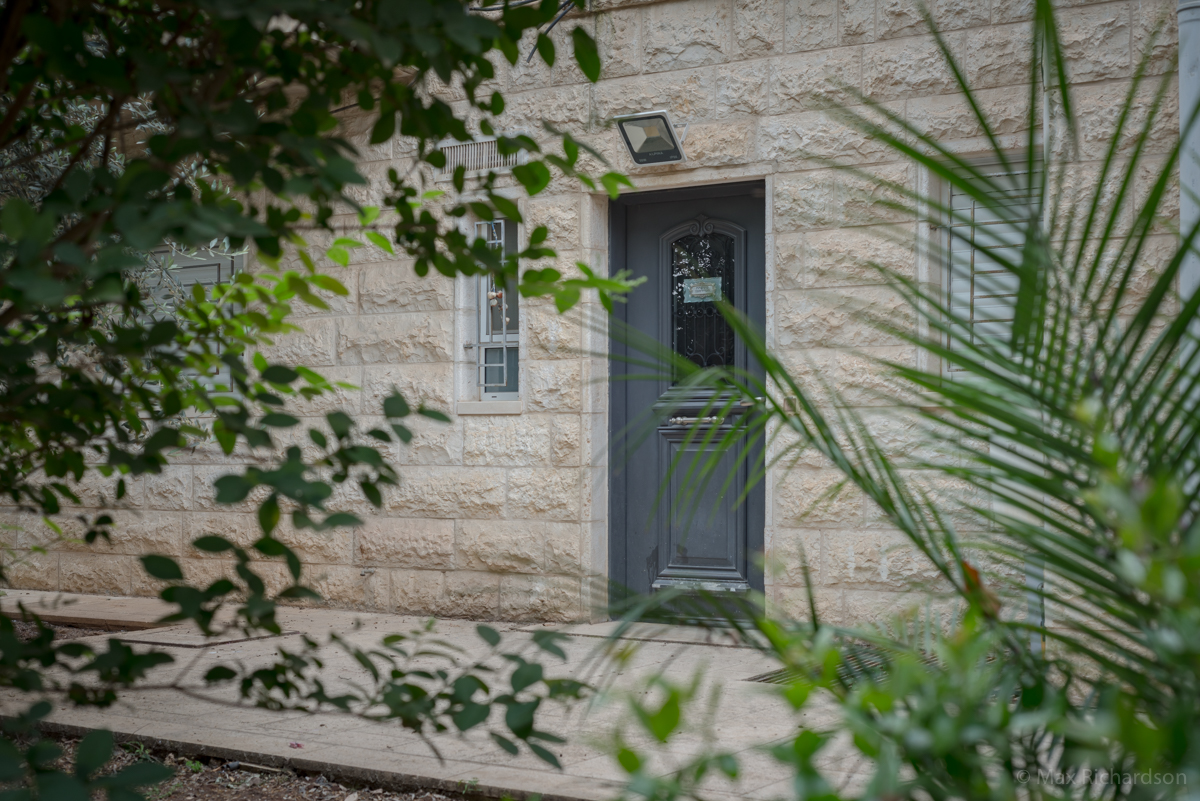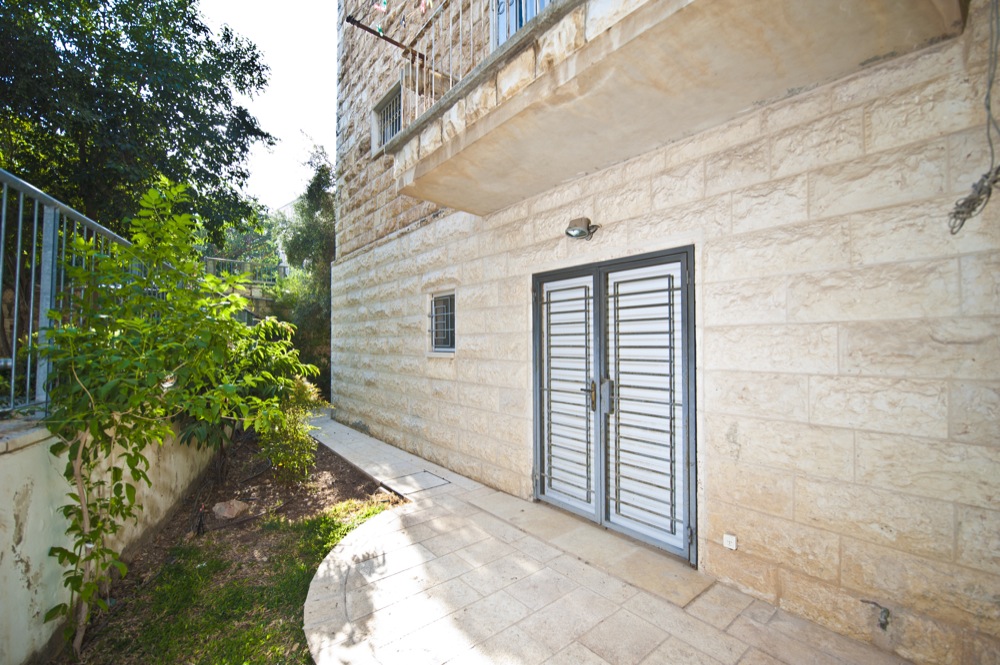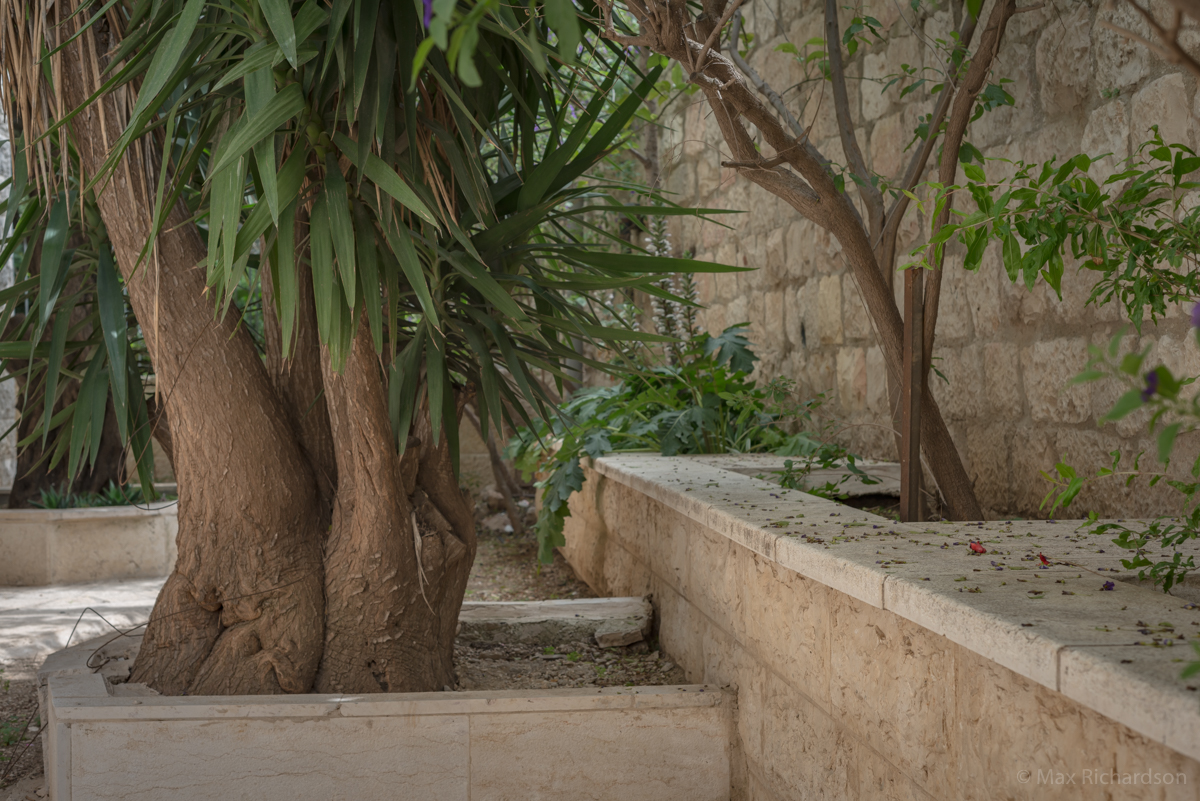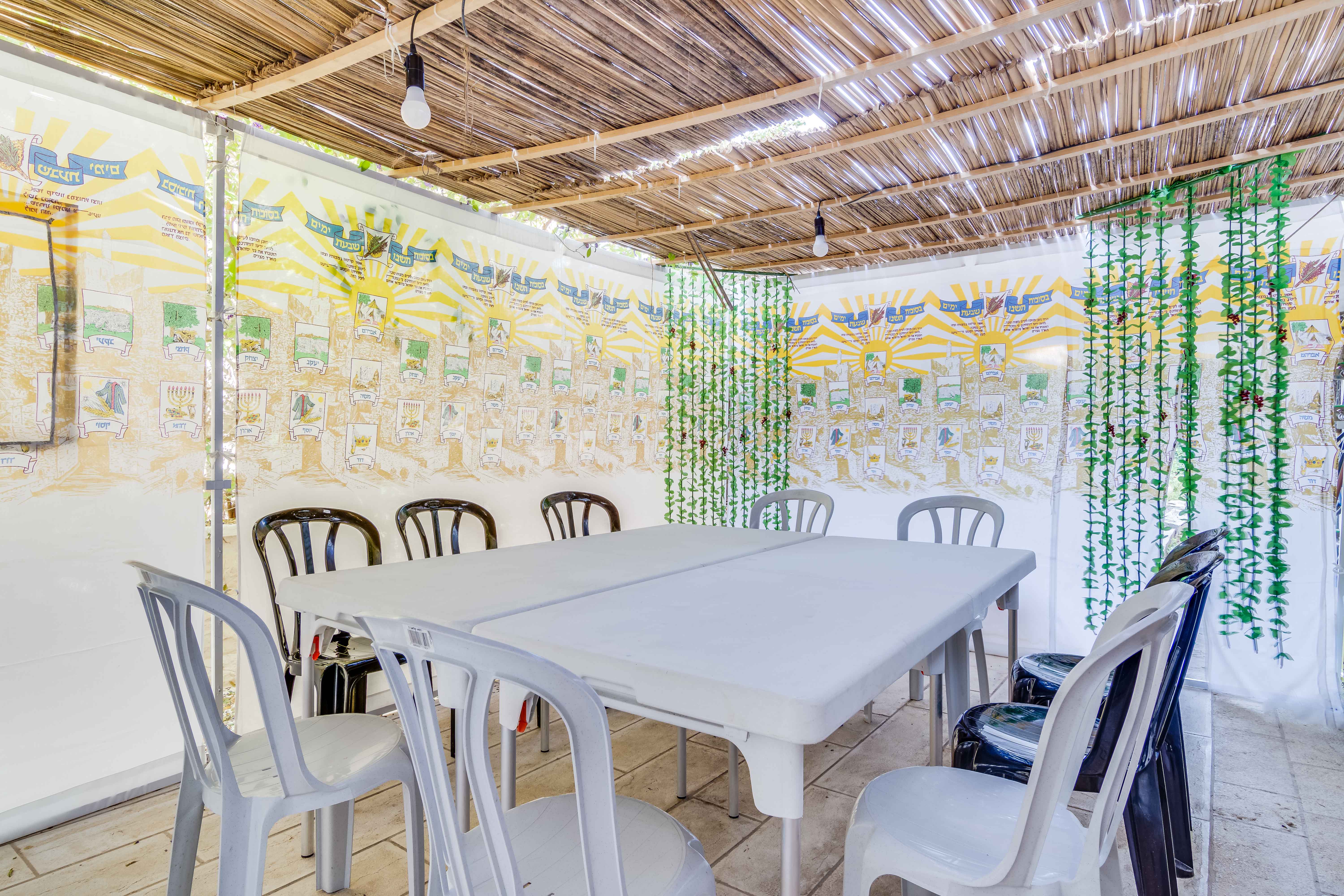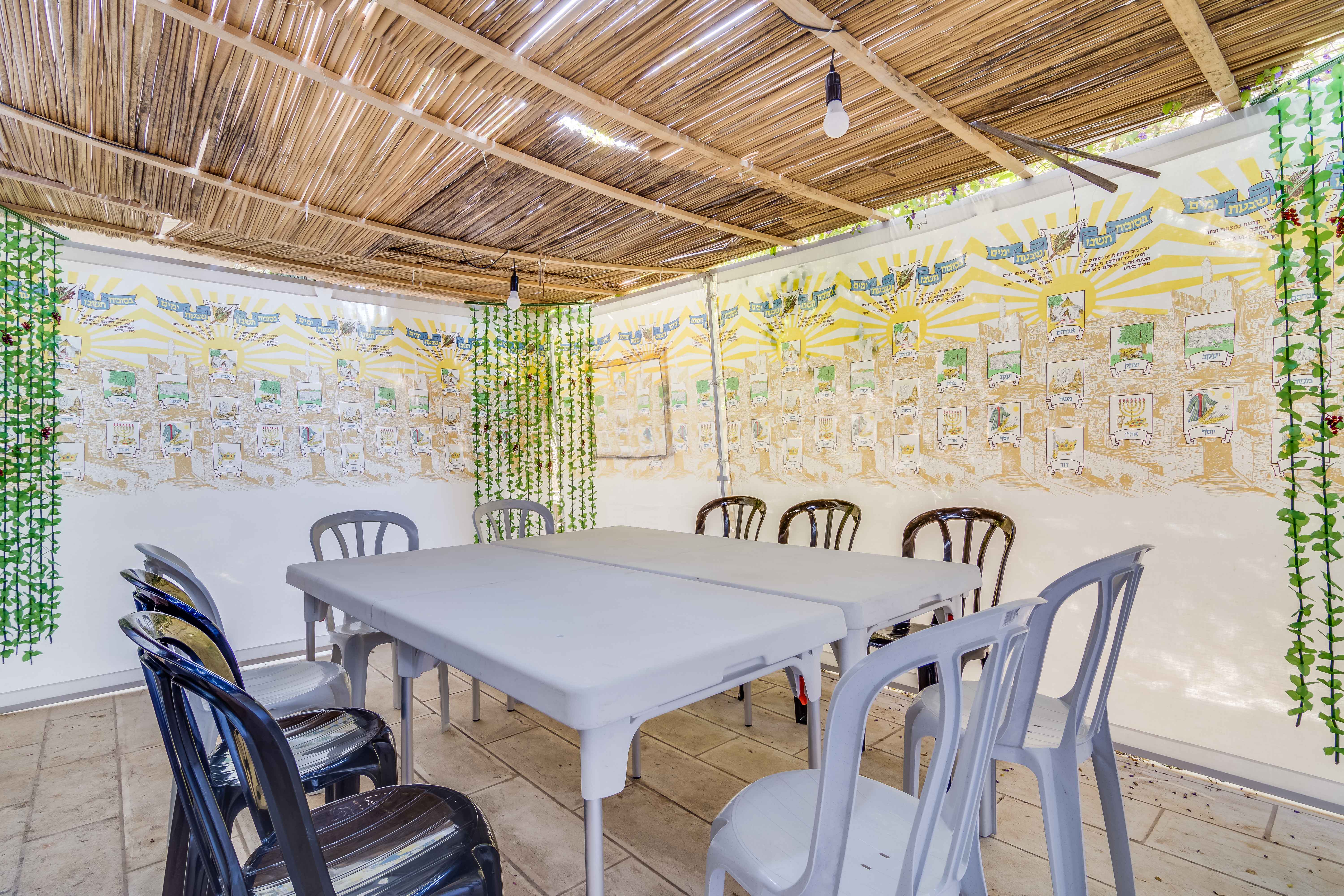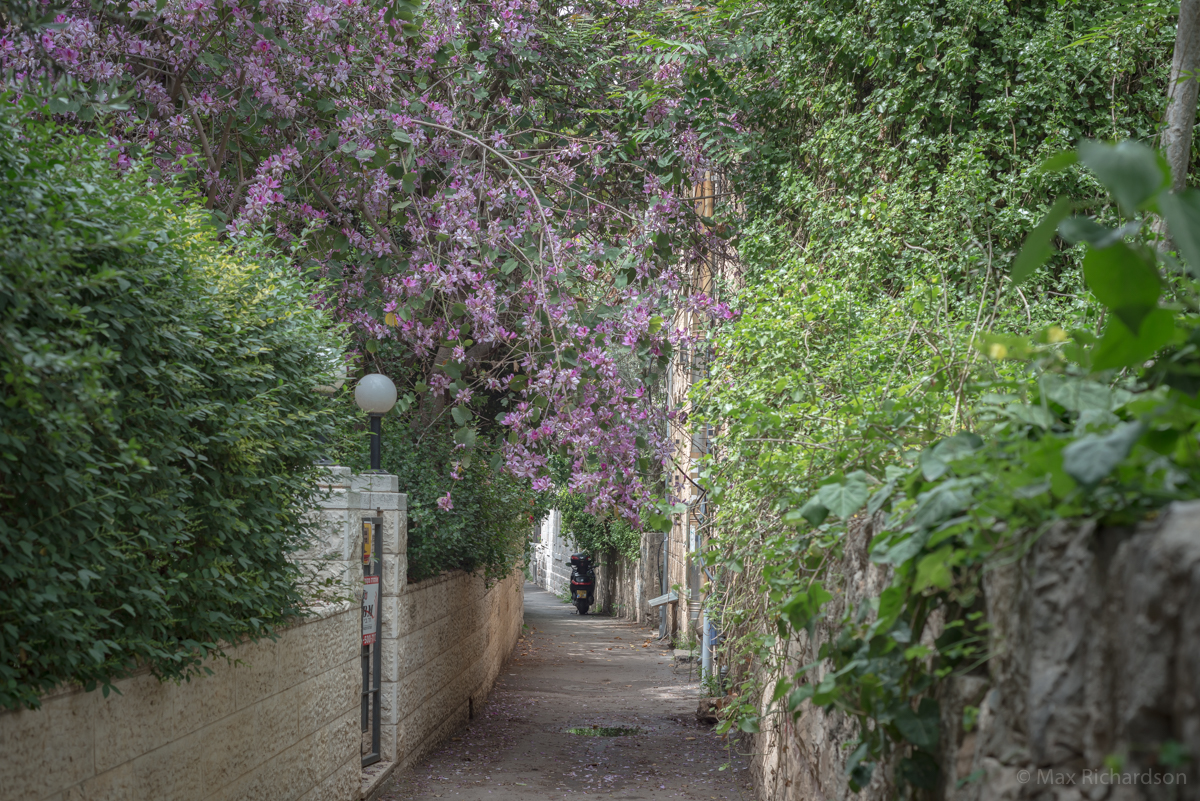 3.0

6

3

150 sq. m.

Ground & No Elevator
This exquisite newly renovated/updated apartment is unique of its kind with 3 bedrooms and a large living area, right in the center of town! Ground floor entrance with plenty of outdoor space. The sunlight soars through in this bright and spacious home! Brand new modern living room furniture adds a new comfortable space to sit and relax with family and friends. A unique and large Gourmet kitchen awaits you on your next trip to Israel! Why wait? Book this fabulous unit today!
Bedroom 1
2 Full sized Beds The first bedroom is the master en-suite bedroom. It has two full-sized beds with plenty of closet space. There is a separate vanity area right outside the bedroom.
Bedroom 2
2 Twin Sized Beds The second bedroom has two twin sized beds and closet space.
Bedroom 3
2 Twin Sized Beds The third bedroom has two twin sized beds and closet space.
Bathroom 1
The first bathroom is a powder room with a sink and toilet.
Bathroom 2
The second bathroom is the en-suite master bathroom. It has a walk-in shower, sink, and toilet.
Bathroom 3
The third bathroom has a bathtub/ shower combination, sink, and toilet.
Glatt Kosher kitchen
Separate sides and sinks for Dairy/ Meat
Side by side stainless steel large American fridge/ freezer
Dairy stainless steel oven and Meat stainless steel oven
1 stainless steel dishwasher for meat
Large 5 burner stainless steel cooktop
Dairy and Meat Pots/ pans
Full set of Dairy and Meat dishes and cutlery
Multiple pantry areas
Dairy and Meat Microwaves
Toaster oven
*1
*2
*4
*1 There are 3-4 steps to get into the Courtyard
*2 Metered Parking is on a "as available" basis.
*4 Corona Clause for Full Refund (Ask for Details)
Free unlimited wireless Internet access
You will be personally met at the apartment (during normal business hours of 8 AM - 6PM) and showed around by friendly English speaking managers
Self entry will be provided and the English speaking managers will be available to help you with any questions, problems or concerns
Detailed guide of the apartment is available upon request, it includes how to use the appliances, how to find your way around the kitchen, etc.
Detailed guide of the area with helpful names and phone numbers for dry cleaning, restaurants, Shuls, Shabbos take out, Shaitel wash, etc.
Fresh and clean beds will be prepared for you with high quality American style blankets, pillows and towels upon arrival.
A cleaning service will clean the apartment and restore it to its original state when you leave to ease your departure from the apartment.
Free starter supply of toilet paper, dishsoap, and garbage bags.
Crock pot
Plata
Hot water urn
Table Cloth
Challah board
Becher
Challah Knife
Havdalah Set
Large Sukka porch off of the Kitchen in the garden with space to seat 18-20 people.
The Sukka will be built for you upon arrival, tables, chairs and lighting will be provided
PESACH DETAILS: The apartment will be cleaned all of all Chometz but will not be Koshered for Pesach. Oven, counter-tops and Utensils will all remain Not Kosher for Pesach.
REVIEWS
Hear from many of our happy tenants who have stayed in this apartment! References are available to call or email! Please contact us for details.
We really enjoyed the beautiful apartment and most of all enjoyed the impeccable customer service. Responding to every request promptly. Thank you M.O.
Oct 2015
We spent four nights at Hanagid in April 2015. The location was fantastic. We also liked the garden entrance. The beds are very comfortable. Any small issues (needed extra key, etc) were addressed promptly. And as always, dealing with the professionals at Rentals of Distinction was a pleasure. We would definitely stay at this apartment again and Rentals will be our go-to rental brokers for future trips!
Apr 2015
The apartment was beautiful, the location was perfect, and the service was wonderful. We could not have expected more. We will make sure to contact Rentals of Distinction the next time we plan a trip to Israel.
Sep 2014
We have stayed in the apartment a number of times. We like it and have recommended it to our friends.
Feb 2014
Very nice apartment really great location !
Nov 2013
We were steps away from Ben Yehuda and a morning pastry with coffee ( which we had every day). The apartment is super organized and it was easy to get around the kitchen. Having a washer and dryer was a big plus ( also extremely well labeled). The Old City is a walk but a quick cab ride depending in traffic. Overall, we really loved staying on Hanagid and enjoyed being in a garden apartment. And there is a great restaurant around the corner. We highly recommend it too.
Jun 2013
Our stay in Jerusalem was great. The apartment was beautiful and spacious. we were met promptly when we arrived and shown around. the apartment was clean and well equipped with all our needs and the instruction sheet you e mailed was very helpful. we were able to have guests for shabbos and everyone was impressed. we highly recommend this apartment and it was a pleasure doing business with rentals of distinction Thanks Again Shabsi
Nov 2012
We just came back from Eretz Yisroel. We LoVED our apt!!It felt like we were at home. We had everything we needed and if there was any problem the manager came right over. It was a pleasure dealing with Akiva. Thanks so much! The Teplers
Jan 2012
We cant thank you enough for the fabulous yomtov we had this past Shavuos! The accommodations were exactly as pictured & described (probably better.) The quality of service you provided before & during our stay was not typical of todays day & age! Your professionalism & sensitivity to all our needs--no matter how mundane--was superb! What a privilege to get to know you all and. You bet well be back IYH!!!
Oct 2013
The apartment itself was very modern & comfortable, with luxury updates not normally found in the typical apartment. Akivas associates in Jerusalem made sure that our Sukkot experience > was perfect in every way- the apartments Sukkah was convenient & spacious, extra Sukkah chairs & even Sukkah decorations were very thoughtful touches. I look forward to contacting Akiva for our next Jerusalem rental.
Oct 2011
From the first phone call until the day we left we were treated unbelievably well by the Rentals of Distinction staff and the apartment manager. The apartment was even nicer than the photos and it was so well equipped that whatever we could have possible wanted or needed was already there. We can't wait to use this apartment again on our next trip!!
Jan 2014
We loved the location and the accommodations were excellent. When we arrived someone was waiting for us, and if we had any questions, we called the manager and he was extremely accommodating, the service your company provided was excellent. I would highly recommend Rentals of Distinction to all my friends.
Jan 2016
Just to let you know that the entire experience was very good. The apartment was lovely, in good condition and with a very nice Succah that was installed for us. Whatever we needed was in the apartment and for our use. The apartment was very clean and if I required help or assistance, it was readily there. The only thing that I and my husband were missing was a television, which I mentioned to the manager. Thank you again.
Oct 2018
We had a great time. The apartment suited our needs beautifully.
Feb 2019
Rentals of Distinction was incredibly organized from selection through stay. Rafi and Dina ensured everything was ready to go and when we checked in everything was clean, beautiful and clearly labeled. Nir was extremely helpful when we needed help along the way. We can't wait to stay with you again!
Apr 2019
Our stay at the apartment was better than expected. The apartment was beautiful and well kept. The apartment is centrally located and makes it easy to get to places. We had an issue with the blow dryer and it was quickly resolved and we received a new working blow dryer. I highly recommend using Rentals of Distinction and I would come back again.
Dec 2019
The apartment was clean, and exactly what we needed. Would definitely use rentals of distinction again in the future.
Jan 2020
We had an amazing stay in Jerusalem thanks to Rentals of Distinction. The professionalism of their operations is evident throughout the process. We felt that there was always someone available (both in the US before our trip and in Israel during our stay) that would go the extra mile for our family. Our beautiful apartment was very clean and nicely furnished—and was stocked with everything we needed (and even things we did not imagine we would need). From negotiating a parking spot to providing lists of eateries, taxi drivers and cell rentals—our trip was enhanced at every turn by the efforts of Rentals of Distinction.
Jun 2020
We loved the apartment! It had everything we needed. Ground level, comfortable beds and linens, phenomenal location. The closets were so comfortable and convenient.
Jun 2020
We have rented various apartments from ROD numerous times over the past number of years. We had a great time renting this property for the third time. As usual the apartment was clean, nice, comfortable and fully set up. The pack n play we asked for was there. It is very user friendly and we appreciate being able to rely on the owner's high standards of kashrus. The manager was very accessible but we didn't even need to meet him in person since we were already familiar with the apartment. It was easy in and easy out. The ROD staff (Tzila) was super helpful, flexible and accommodating, as usual. Even in these corona times, with our last minute and uncertain travel plans, Tzila was great.
Oct 2021
Our stay was very pleasant and comfortable. Everyone from ROD were very helpful along the way with any questions we had.
Mar 2022
The apartment was great. Modern and Spacious for our family of 5. Was accurately represented in the pictures, even a bit nicer. Manager was helpful, responsive when we had a AC issue which was quickly resolved. Great location. Quiet and secluded even as only a 30 second walk to King George.
Aug 2022
Thank you! Everything worked out well. The apartment was amazing and was in a convenient location! The apartment was as advertised and was very comfortable. The kitchen was the best! It was clearly labeled and was really nice and large. The bedrooms were a good nice size and the white linens were a great quality. It was so helpful to have the washer and dryer in the apartment. The Sukka was also great! Thank you!!
Oct 2022
The apartment is amazing and we had a great time! Best location!
Nov 2022
Every aspect of our recent stay at Hanagid 21 was excellent. From the booking arrangements to the personal greeting by the management upon our arrival we could not have been more pleased. This apartment is particularly well suited to religious clientele in terms of the labeling in the kitchen as well as the availability of everything needed for Shabbos. We would highly recommend this apt and the Rentals of Distinction organization. We would hope to be able to rent this apt on our next trip Thank you.
Feb 2023
Thanks for an amazing experience. From start to finish the service and attention to detail was excellent. The apartment and it's contents were all as described. The added plus was how well tagged and detailed the instructions were making it a seamless experience. Further we utilized the grocery service which was a big help. Finally, we had guests for the Friday night meal and the local manager was great - he arranged for some extra plastic chairs so we could seat everyone comfortably. Thank you for a first class experience. We'd definitely do it again.
Feb 2023
Hi. Just wanted to express my family's thanks to you for the beautiful apartment & wonderful trip we had on our last visit. The location was perfect, the apartment was clean, modern, spacious & fully equipped with all the amenities we needed. The staff who helped us out were all extremely helpful & professional. We can't wait to come again!
Apr 2023
Excellent apartment, location and service from the team! Highly recommend!
Jul 2023