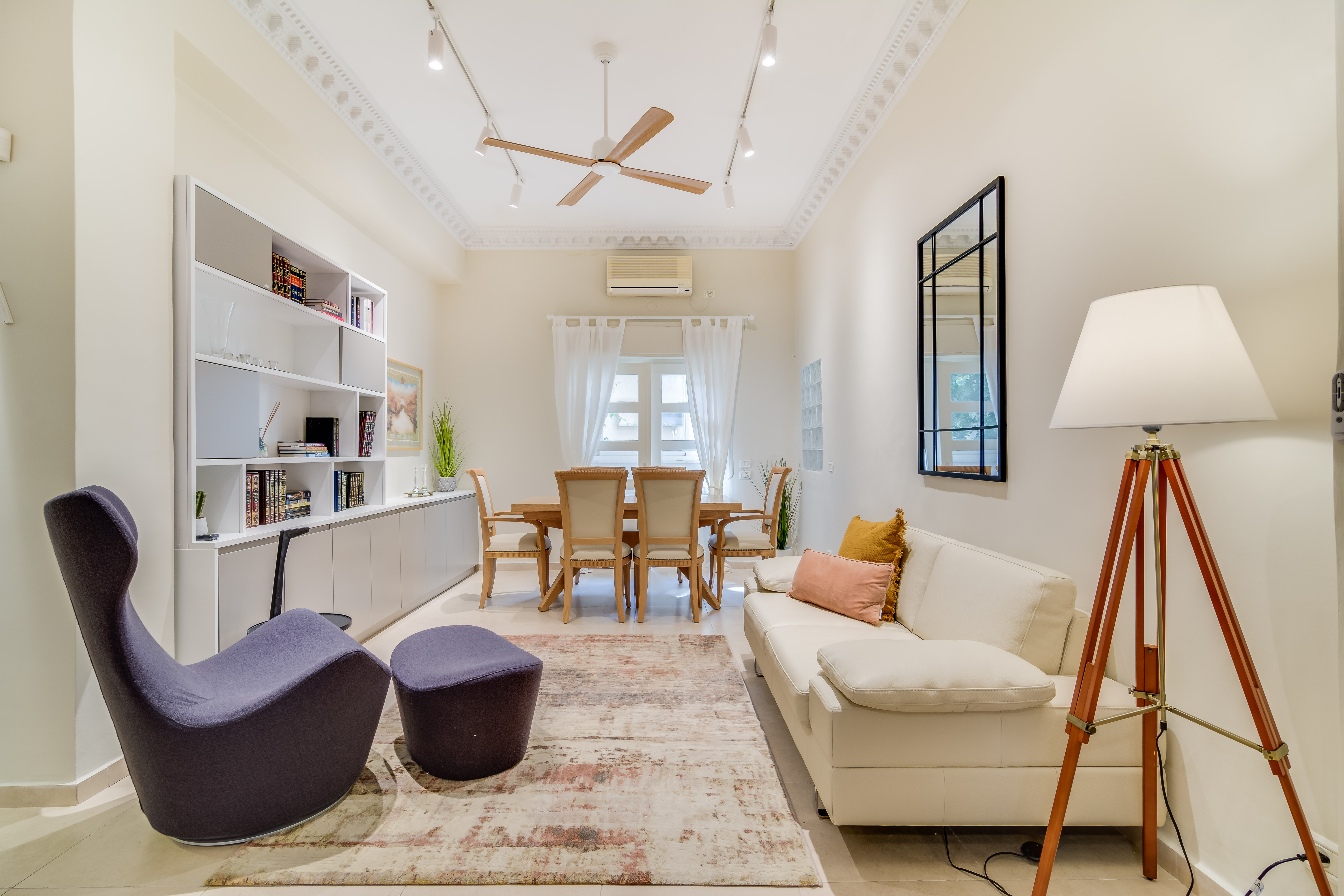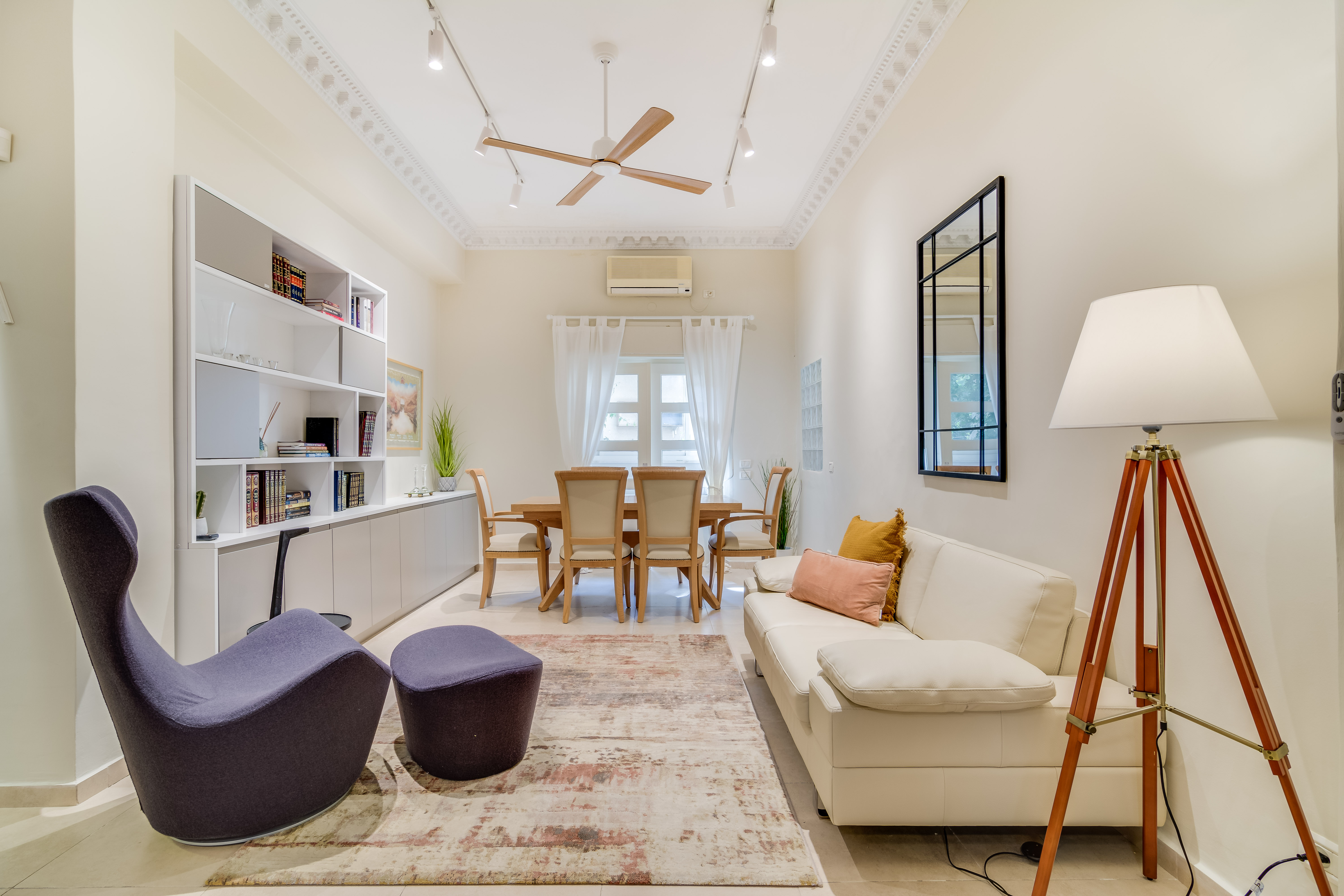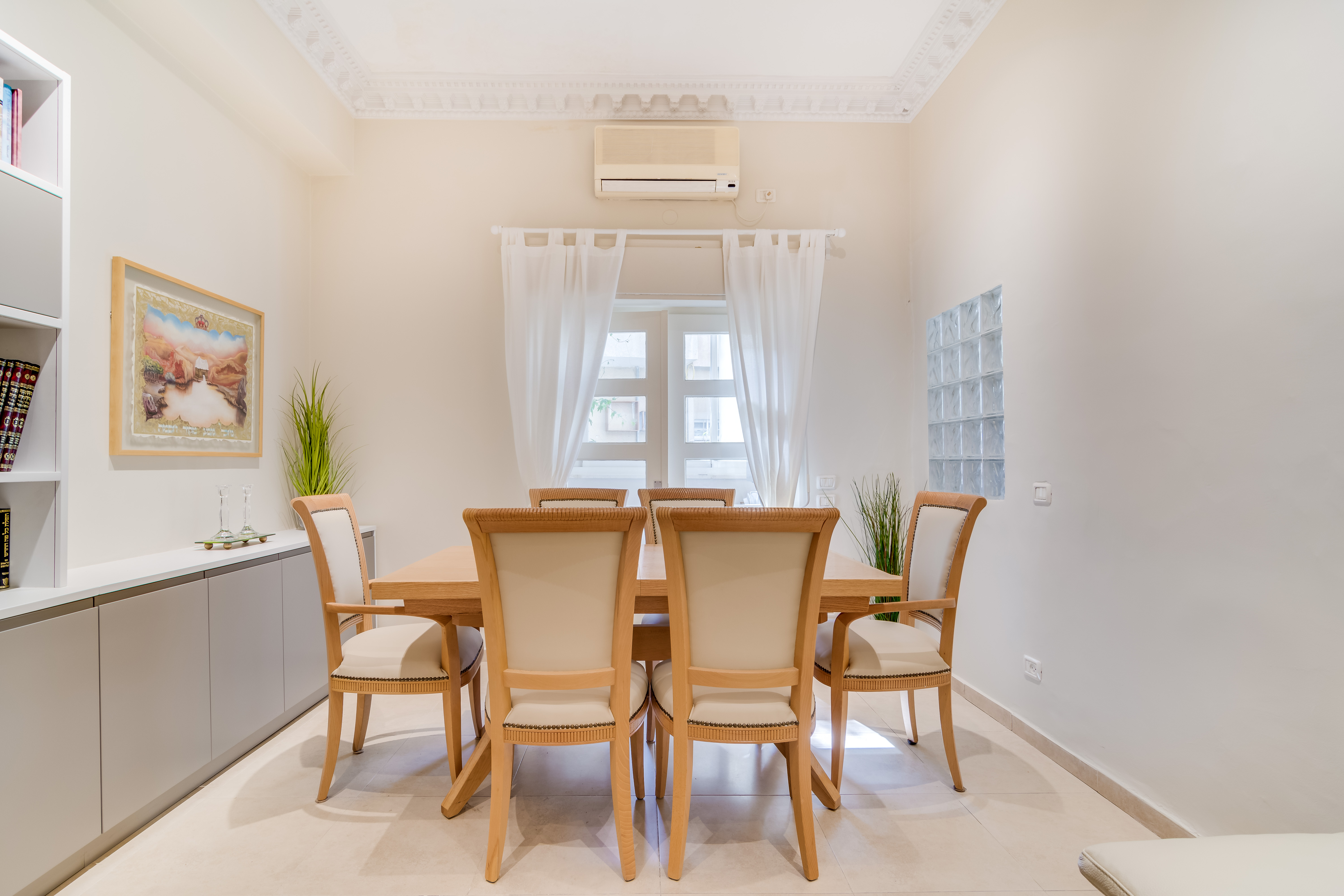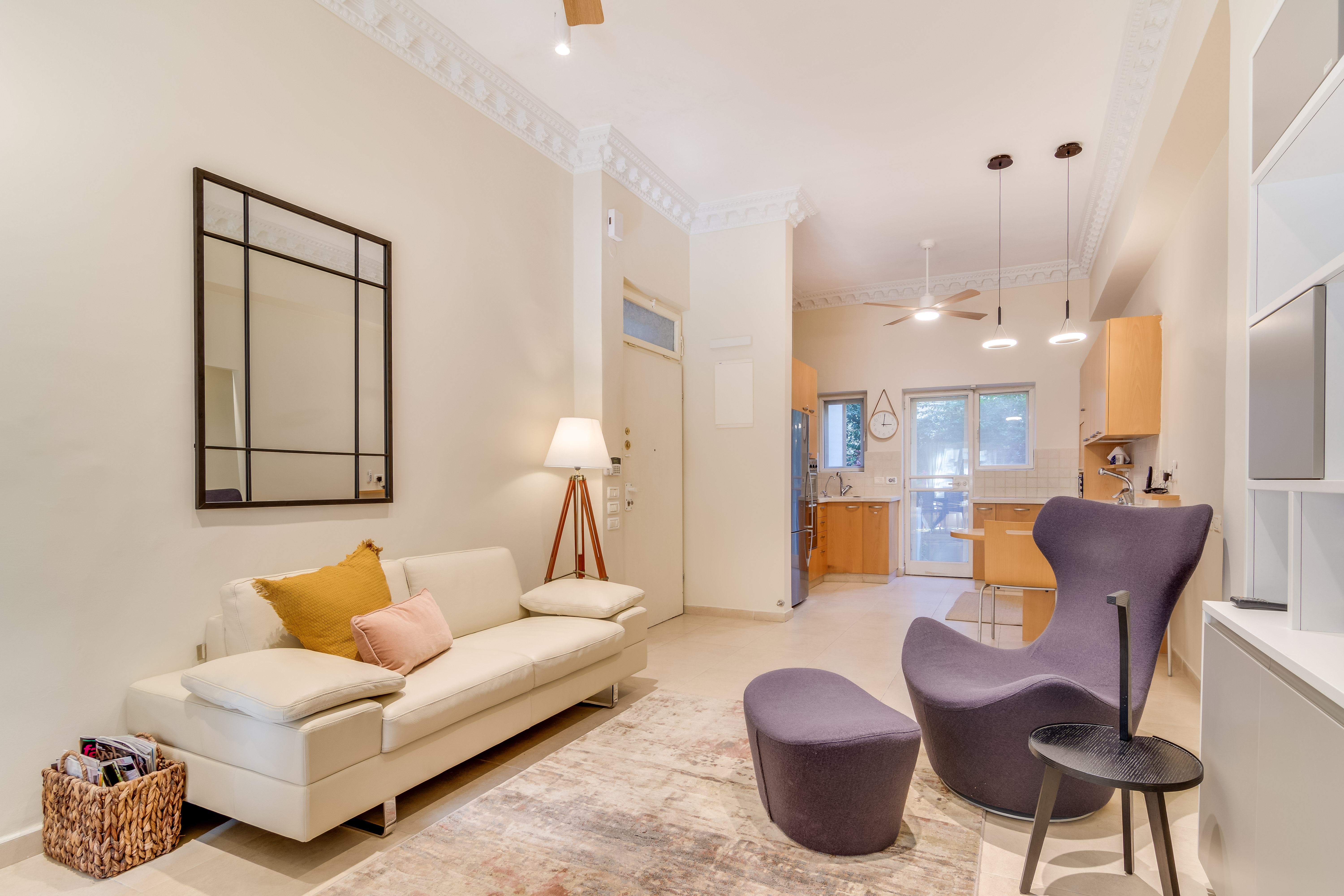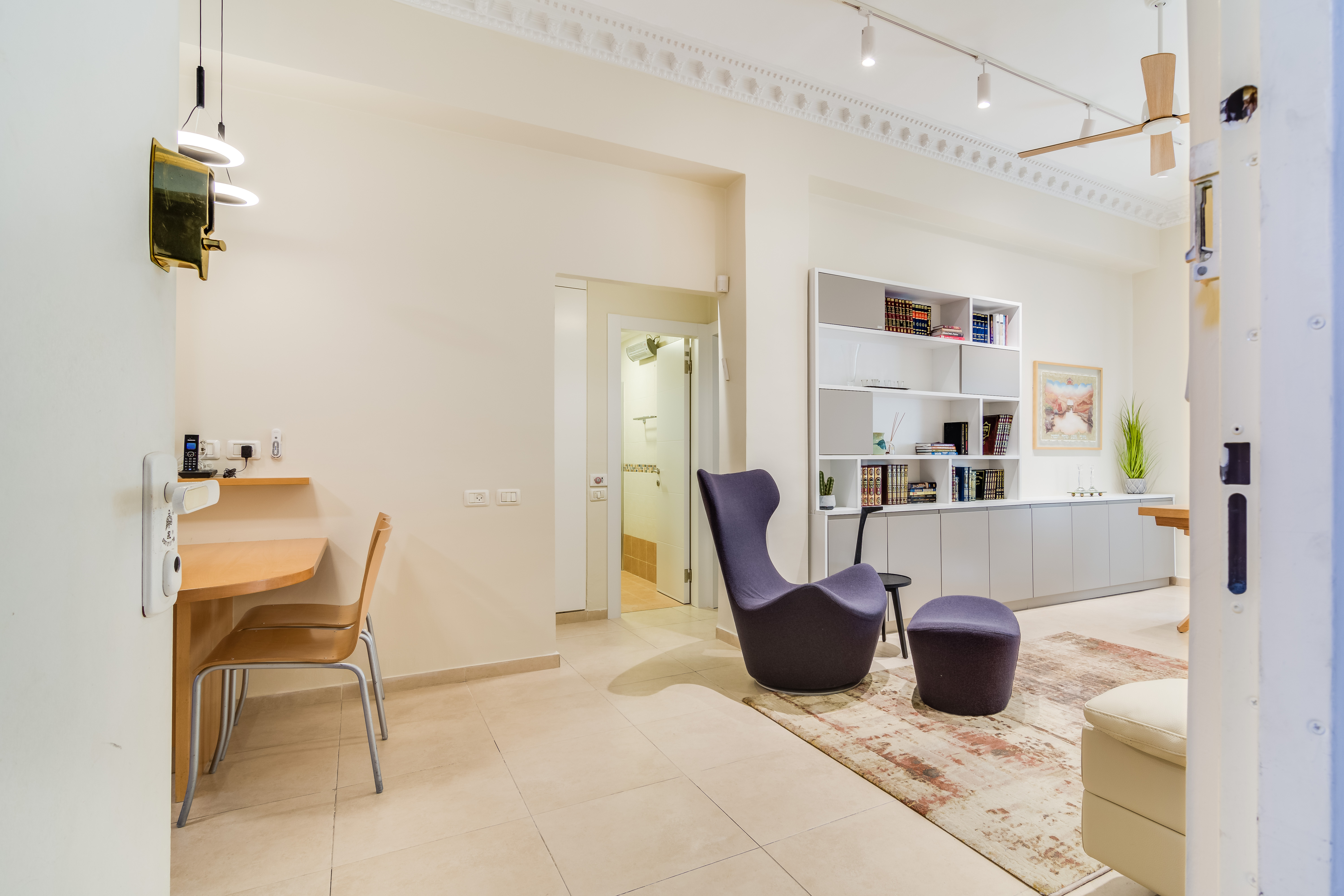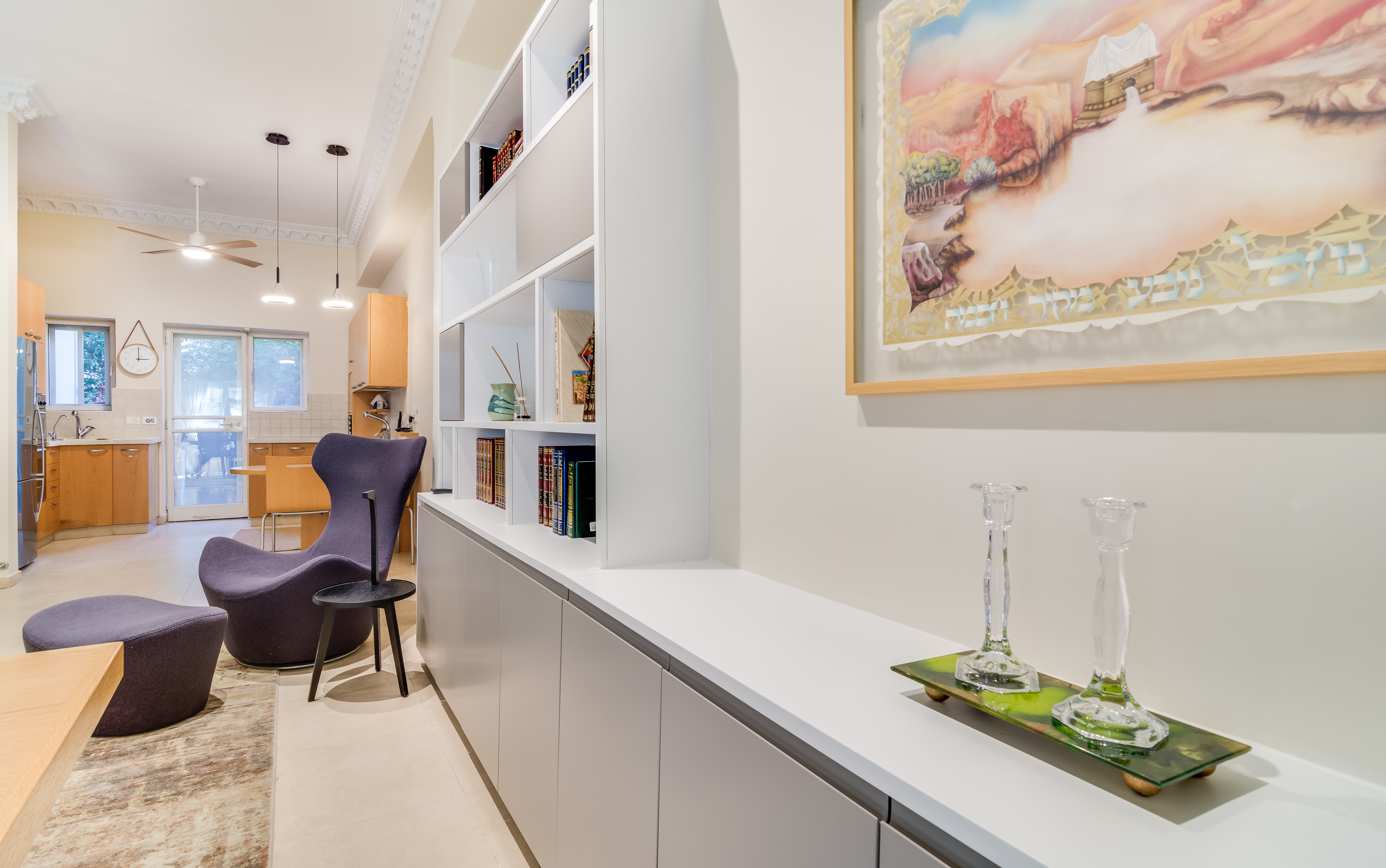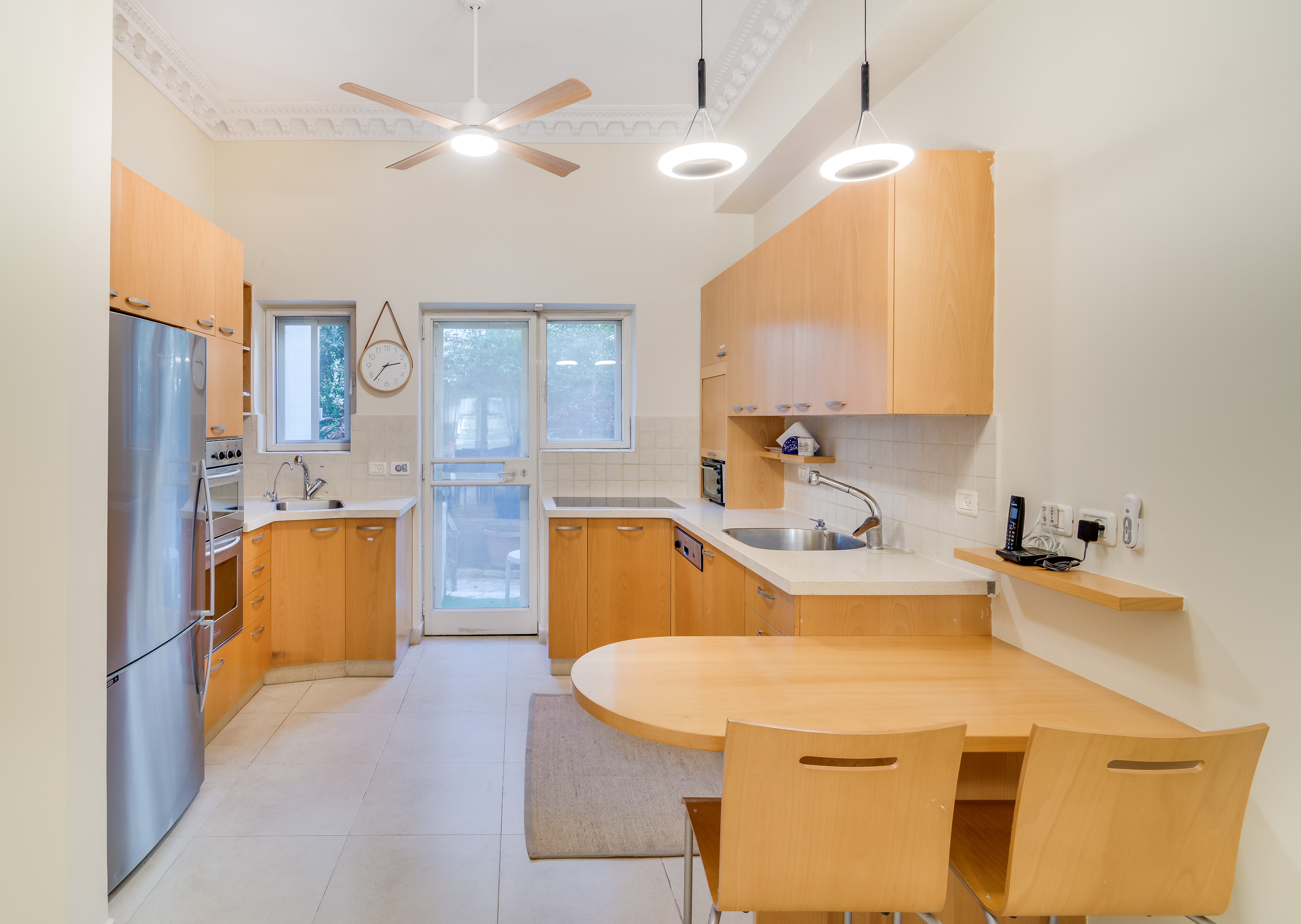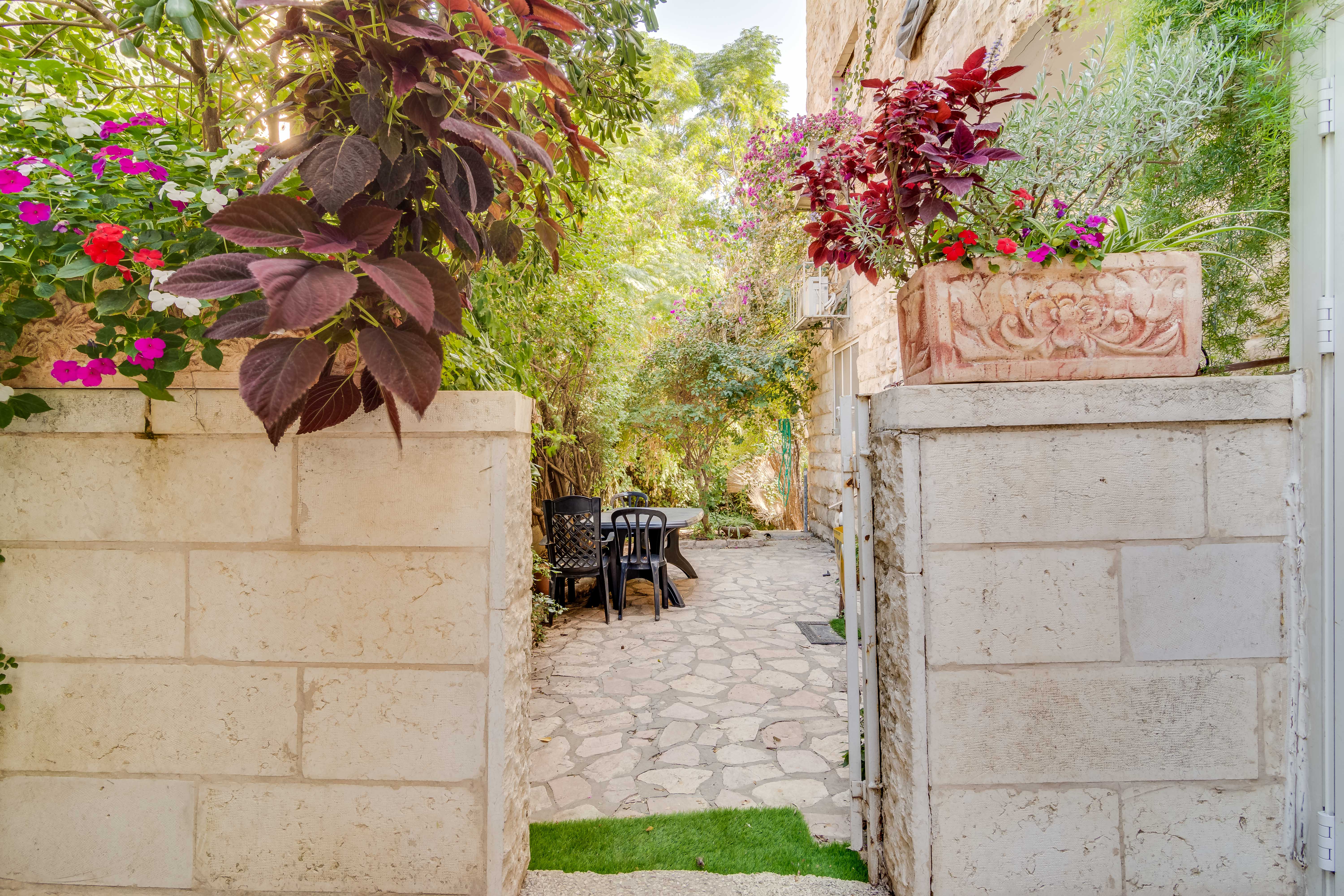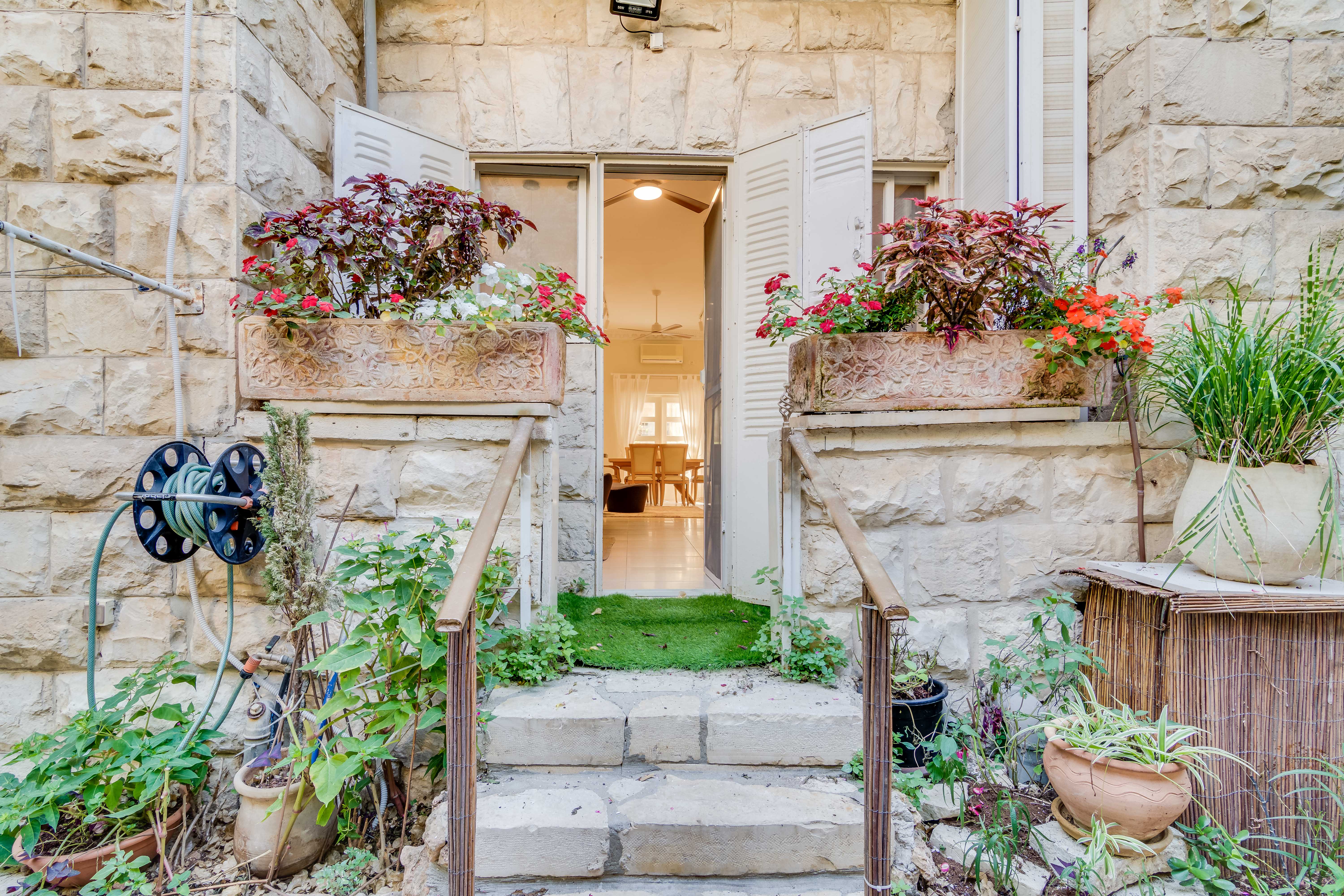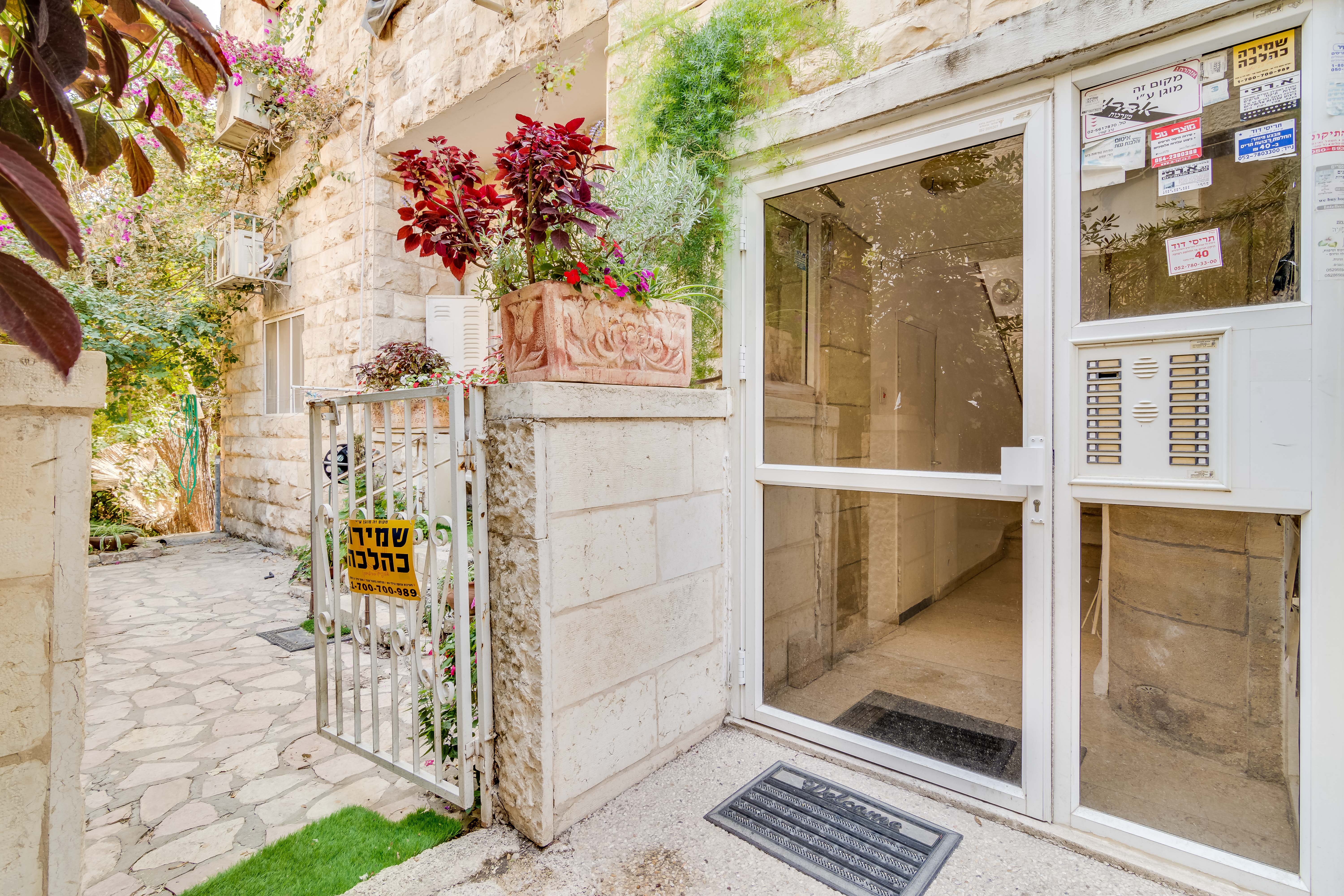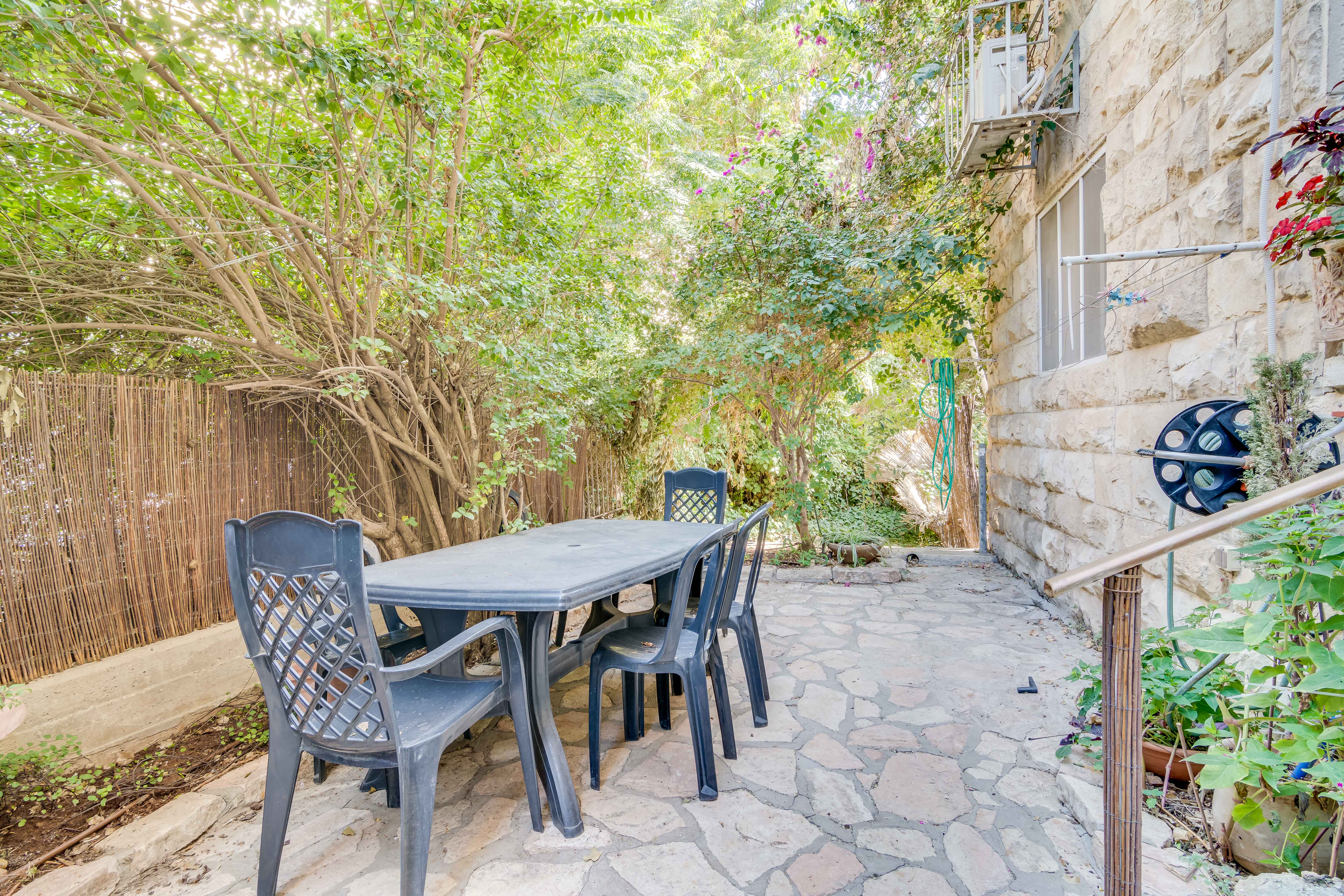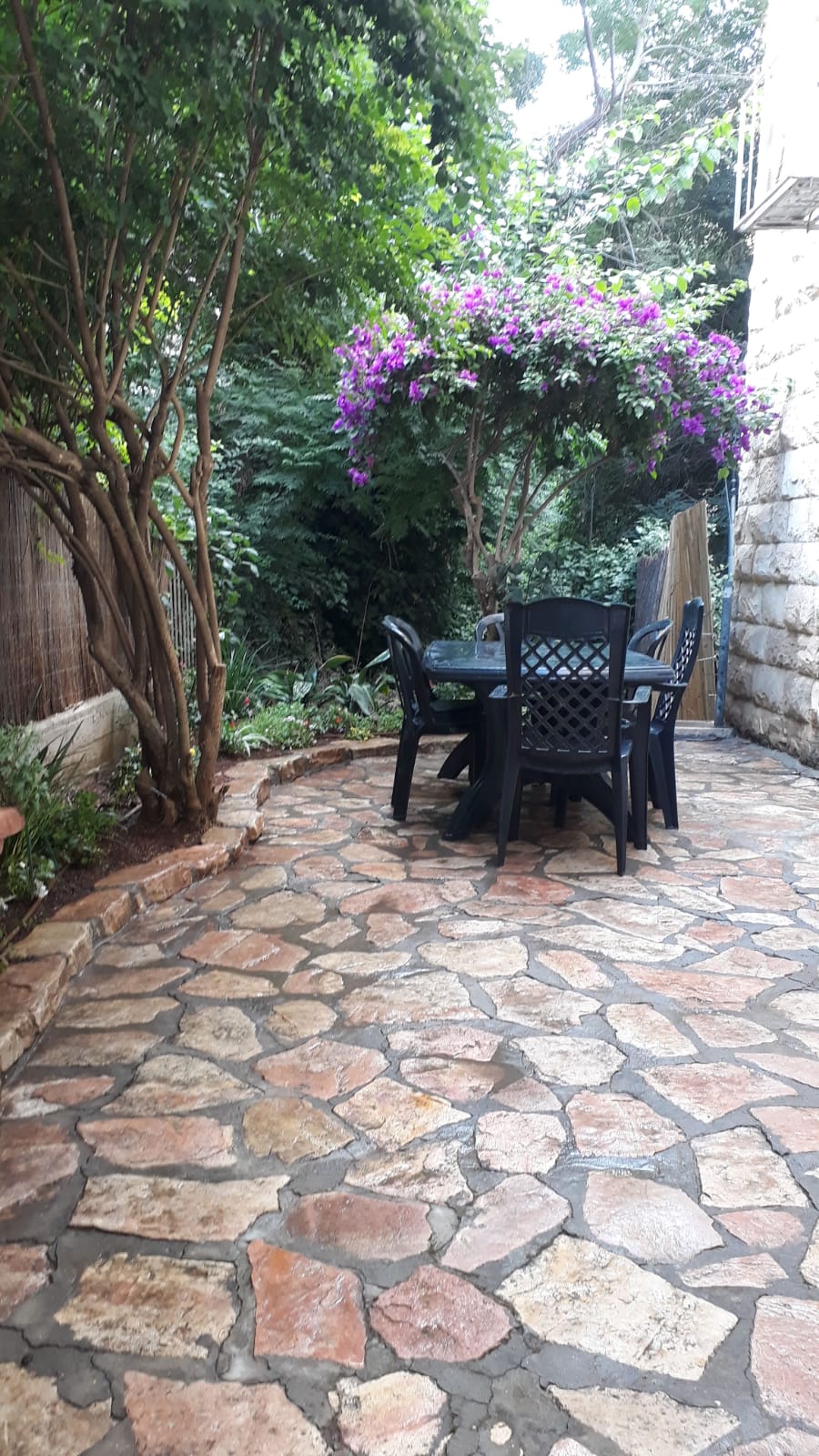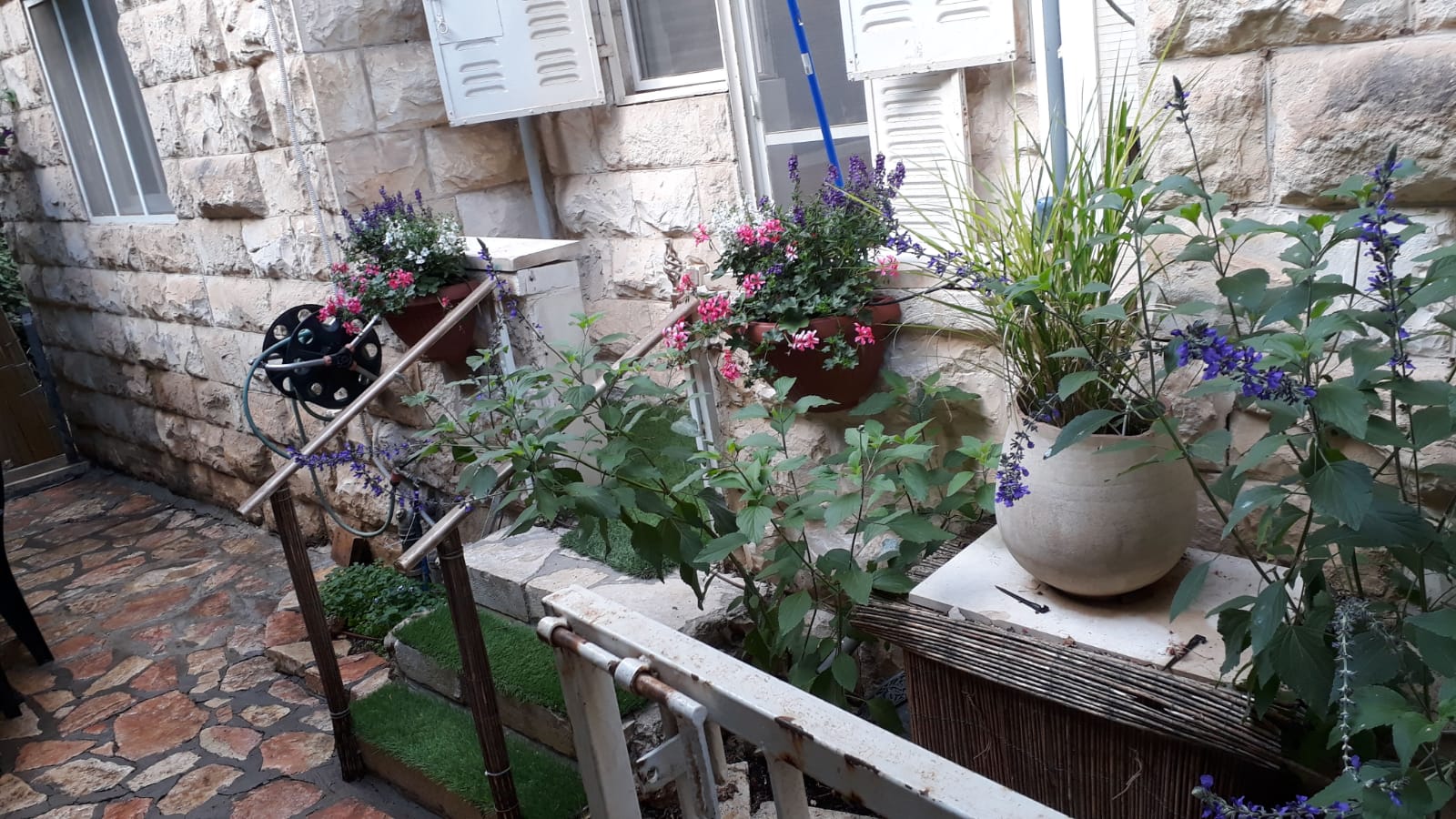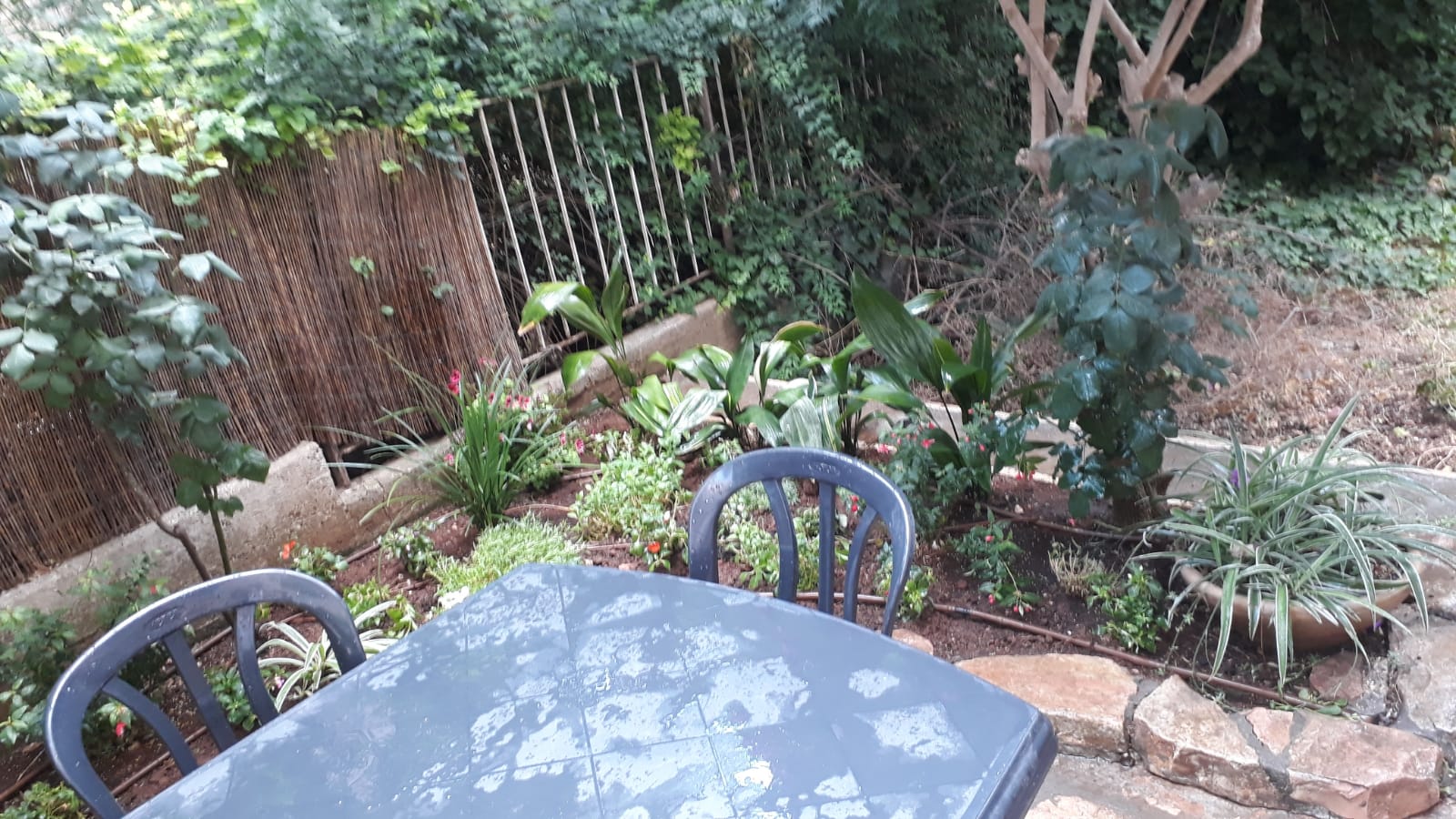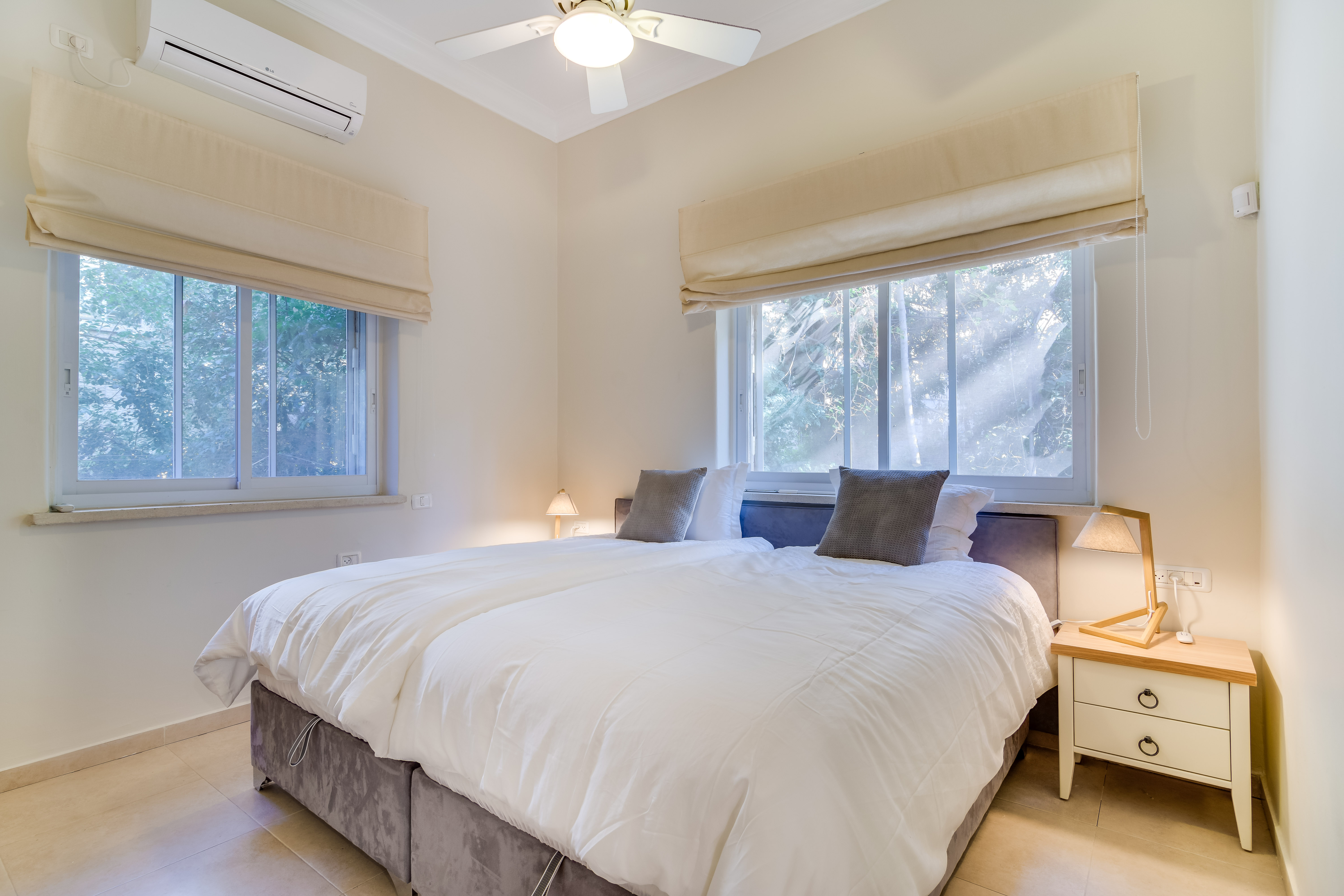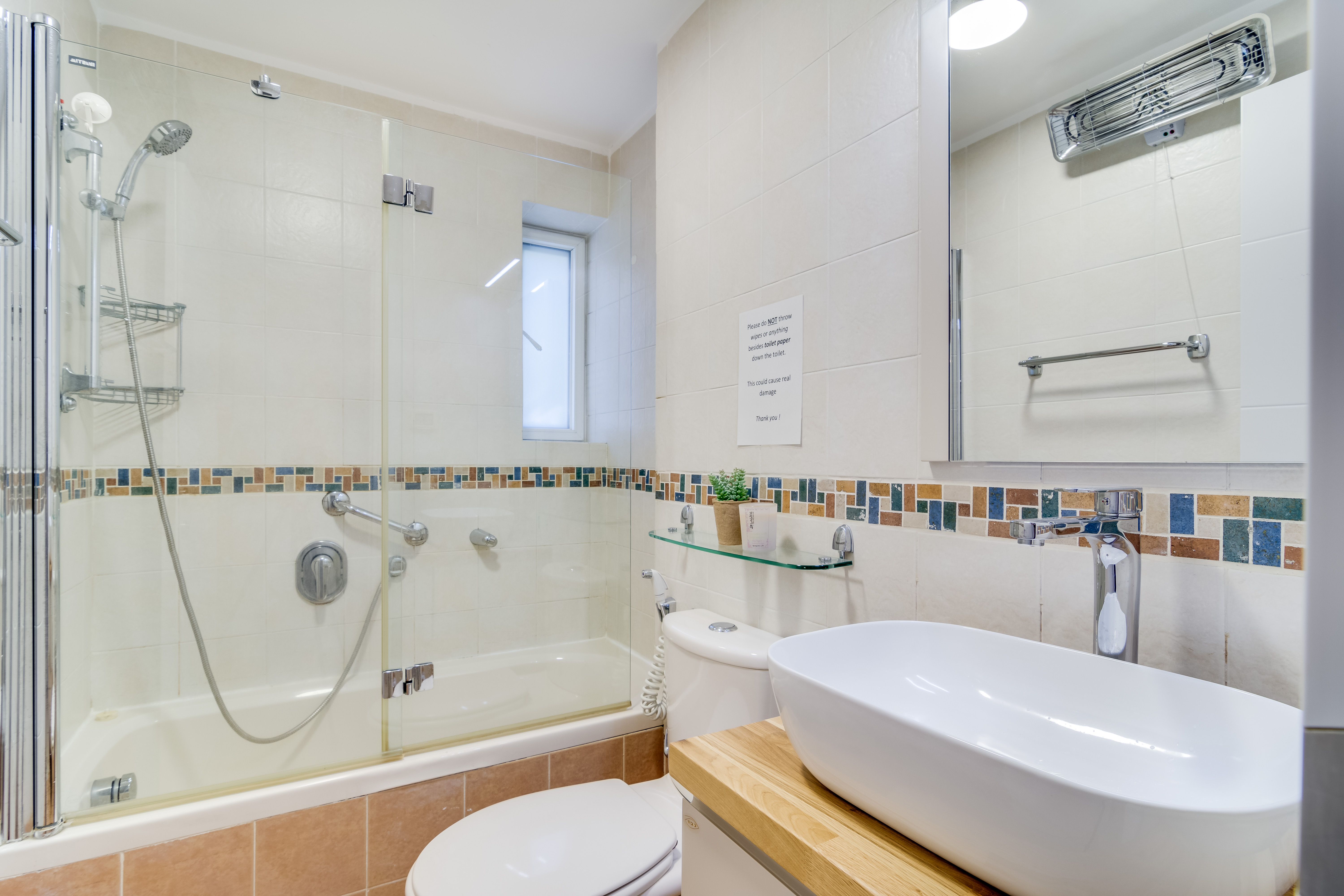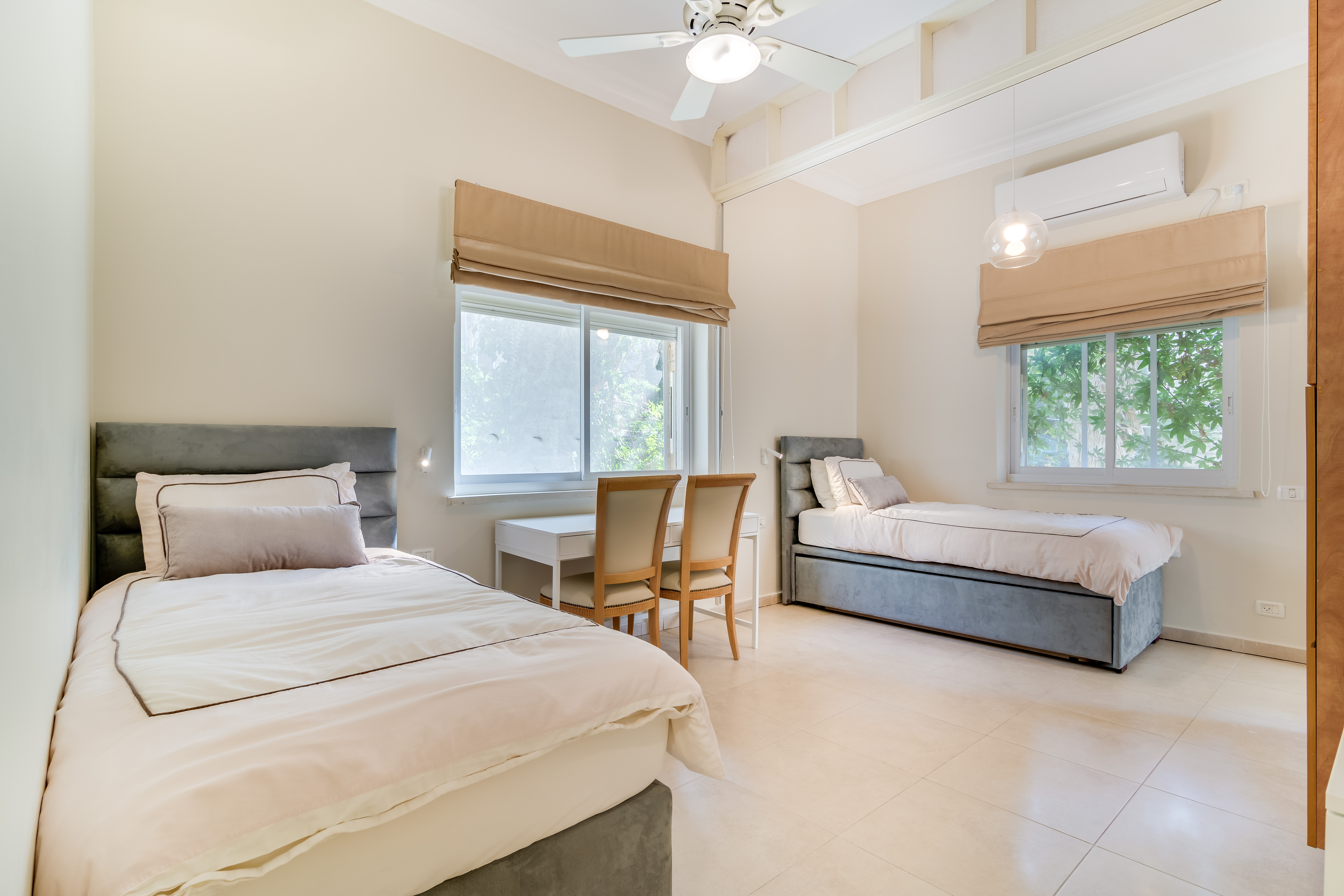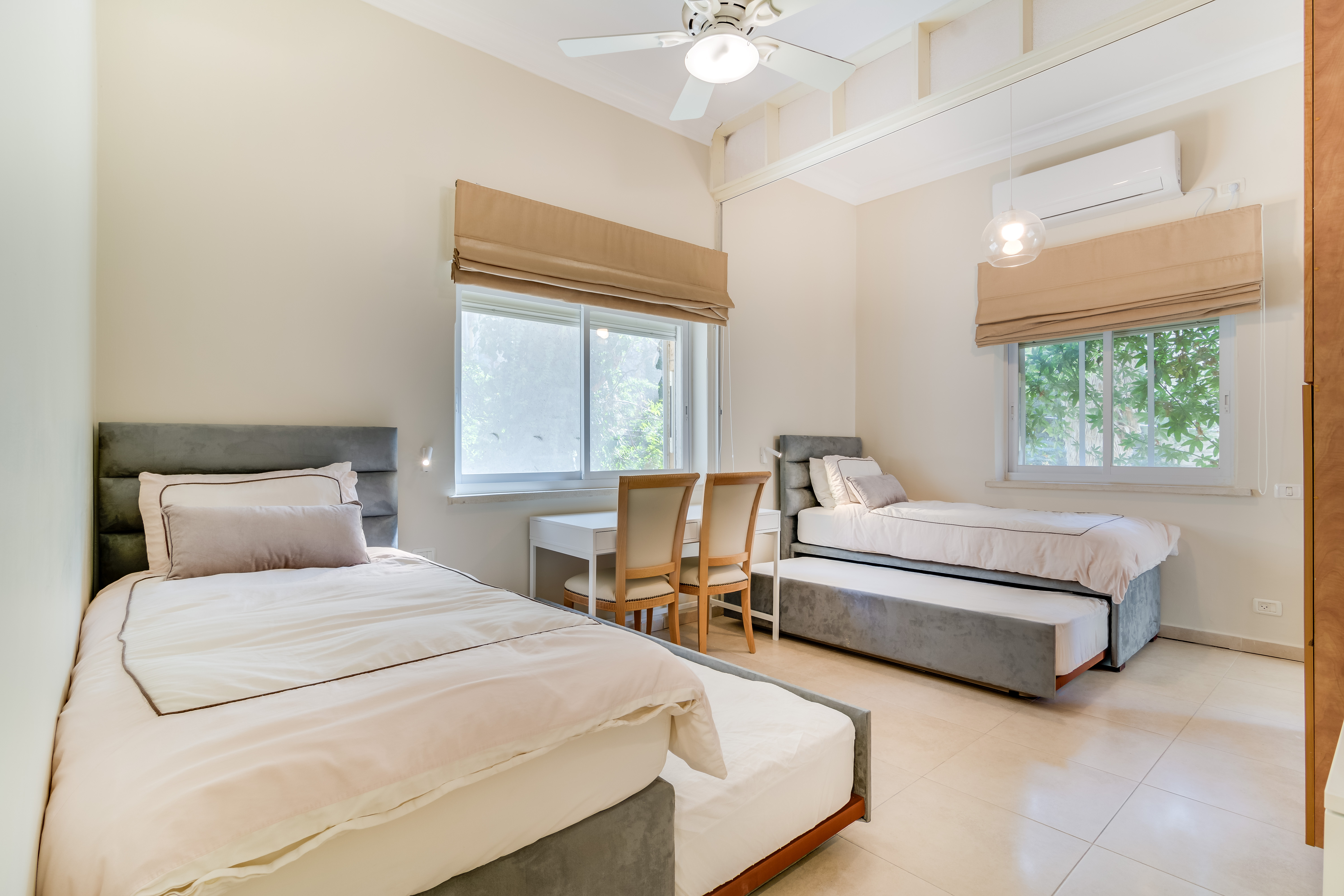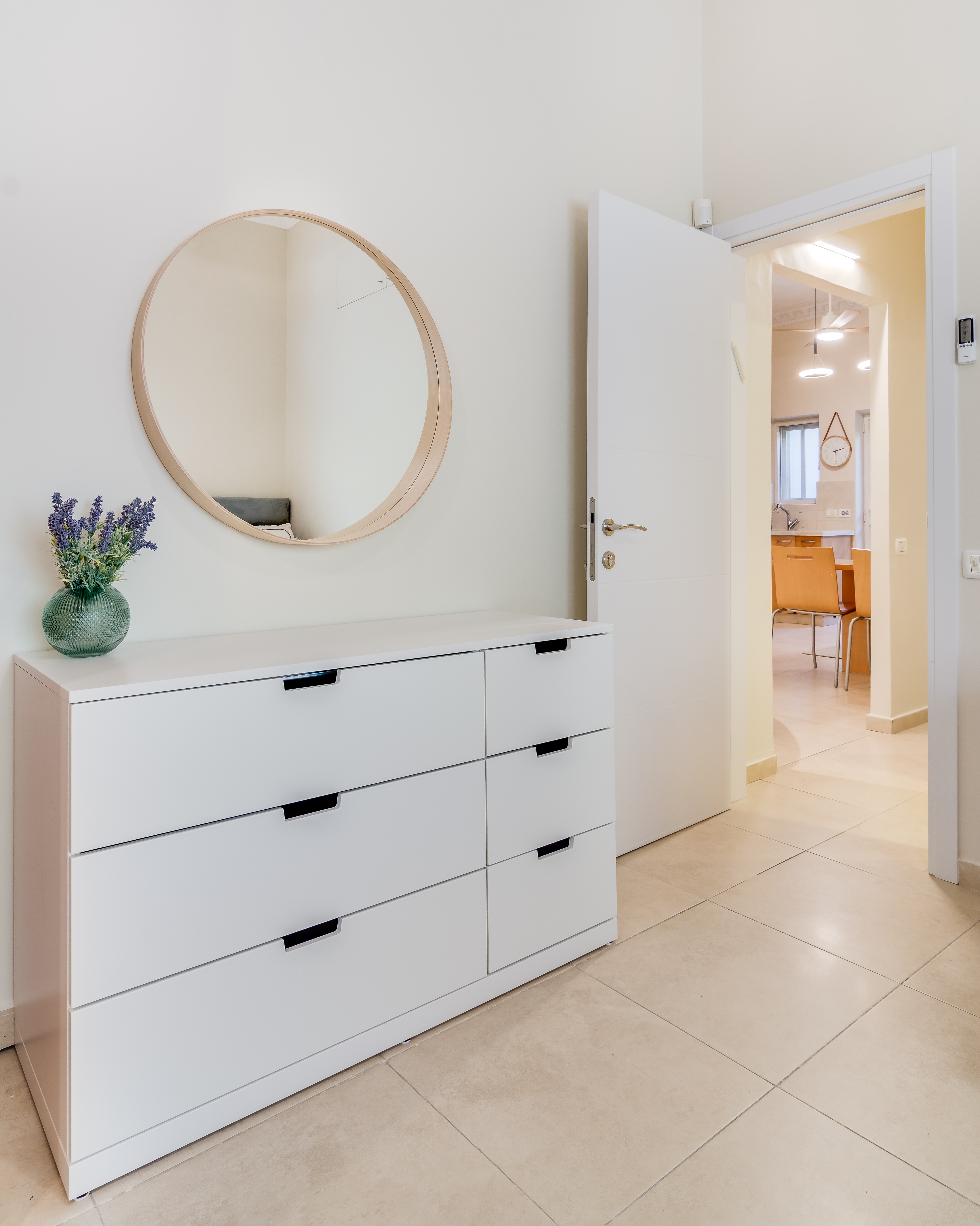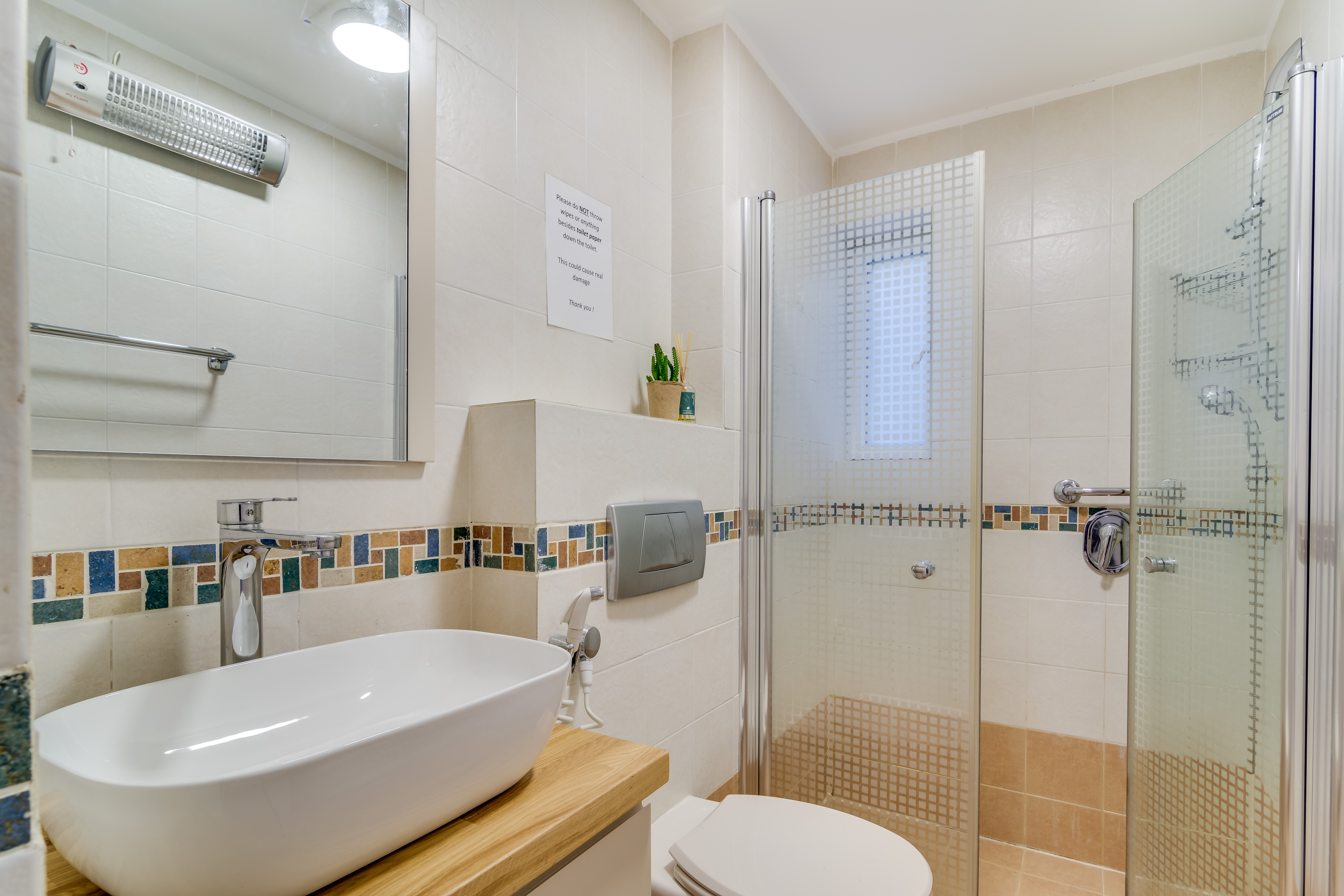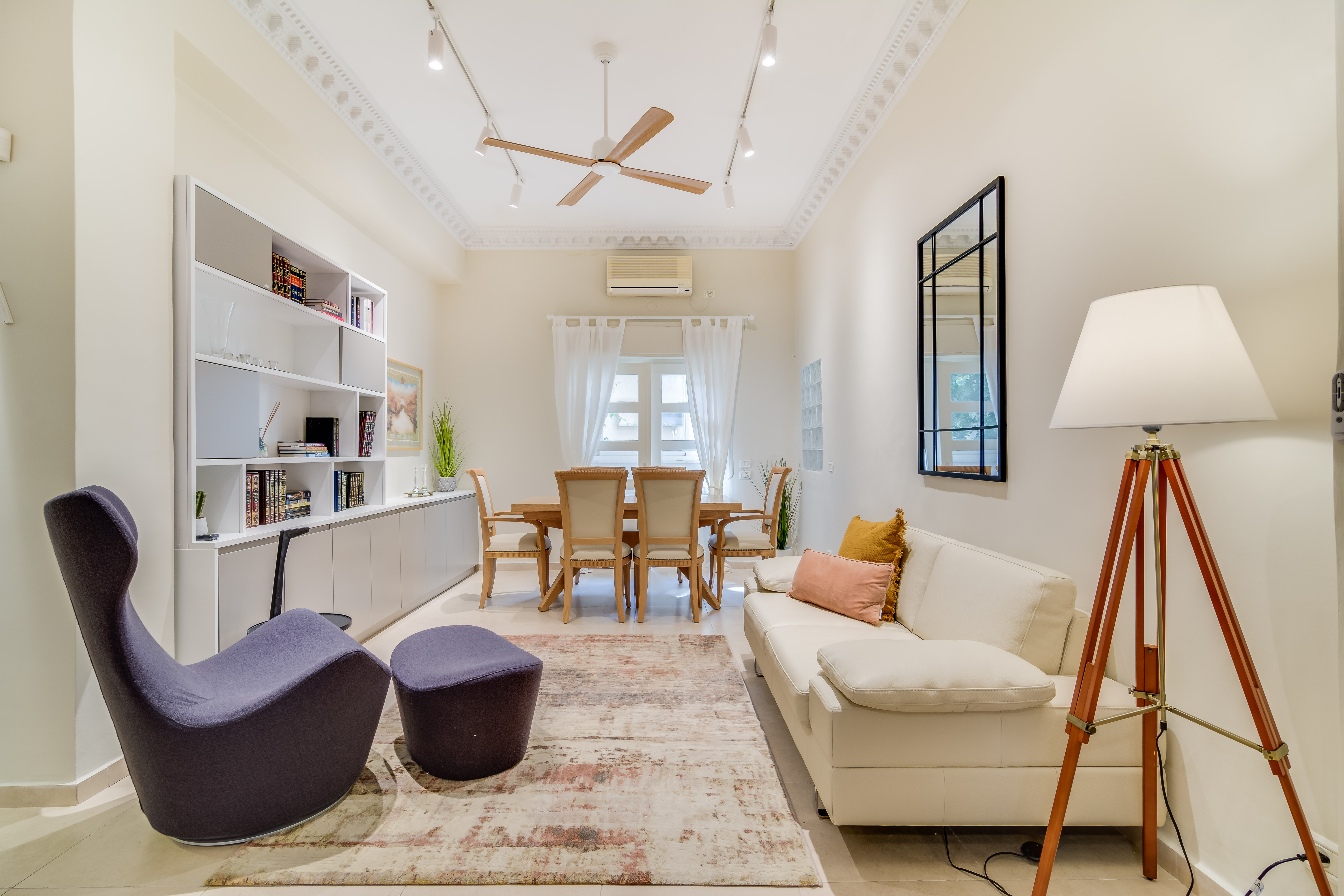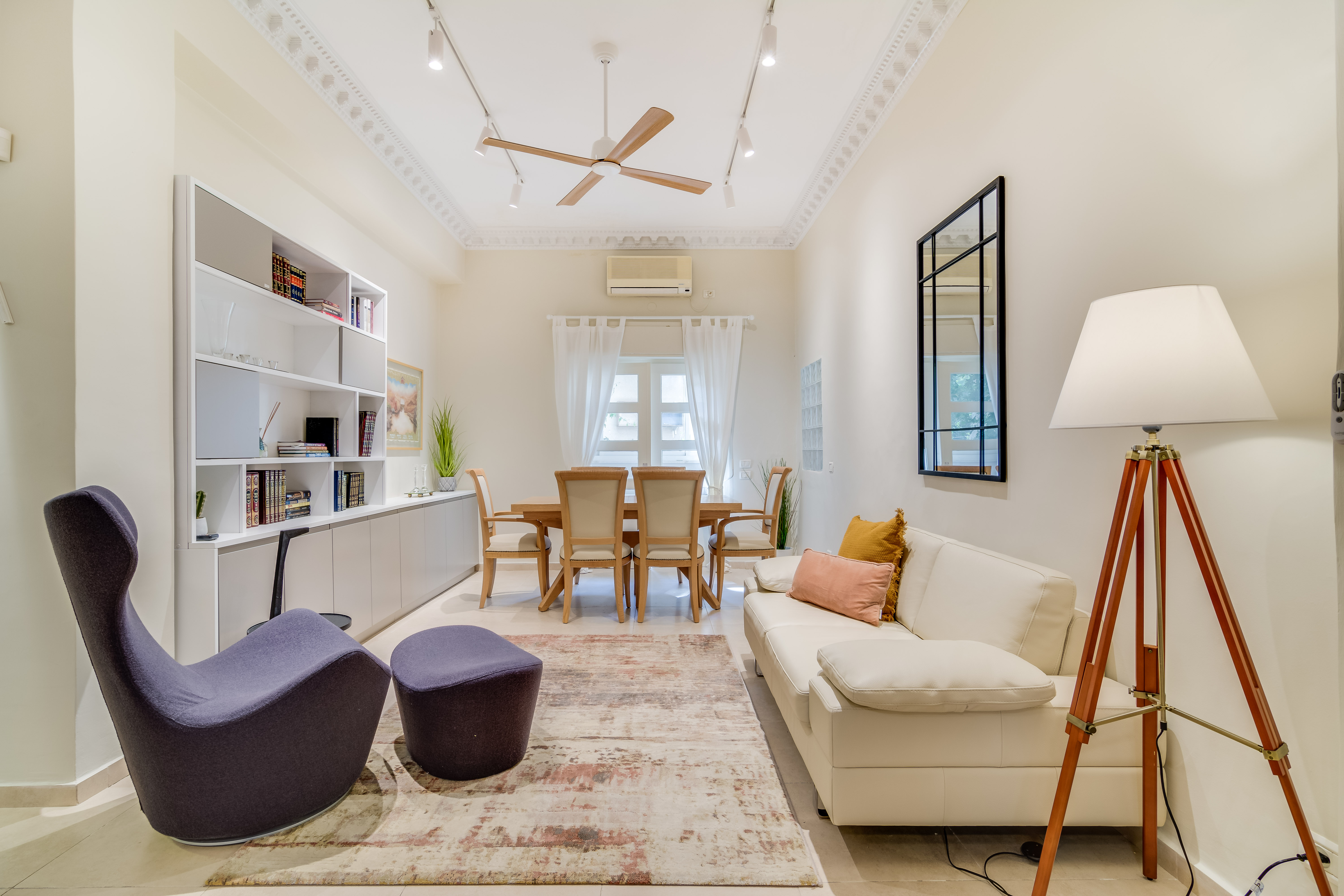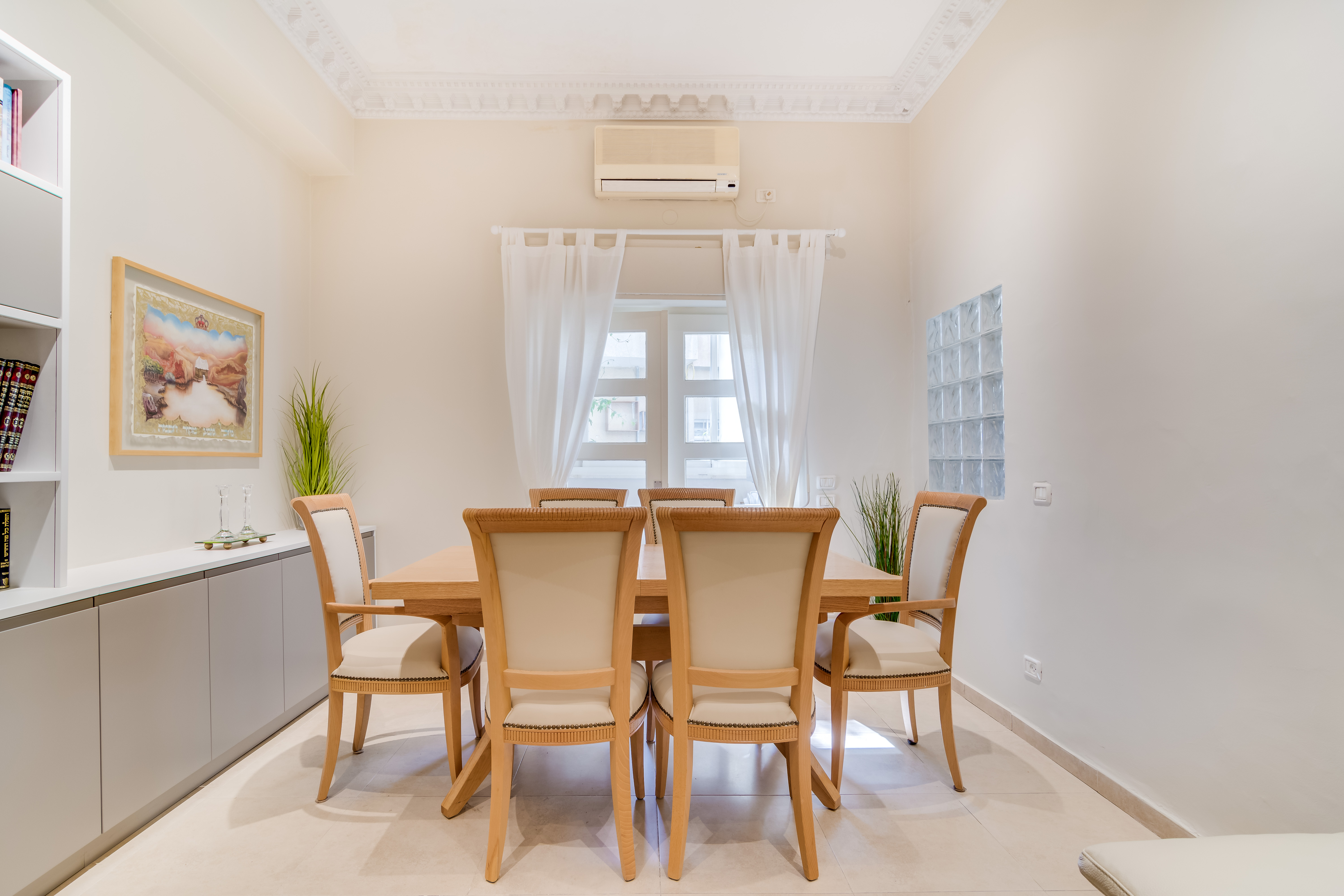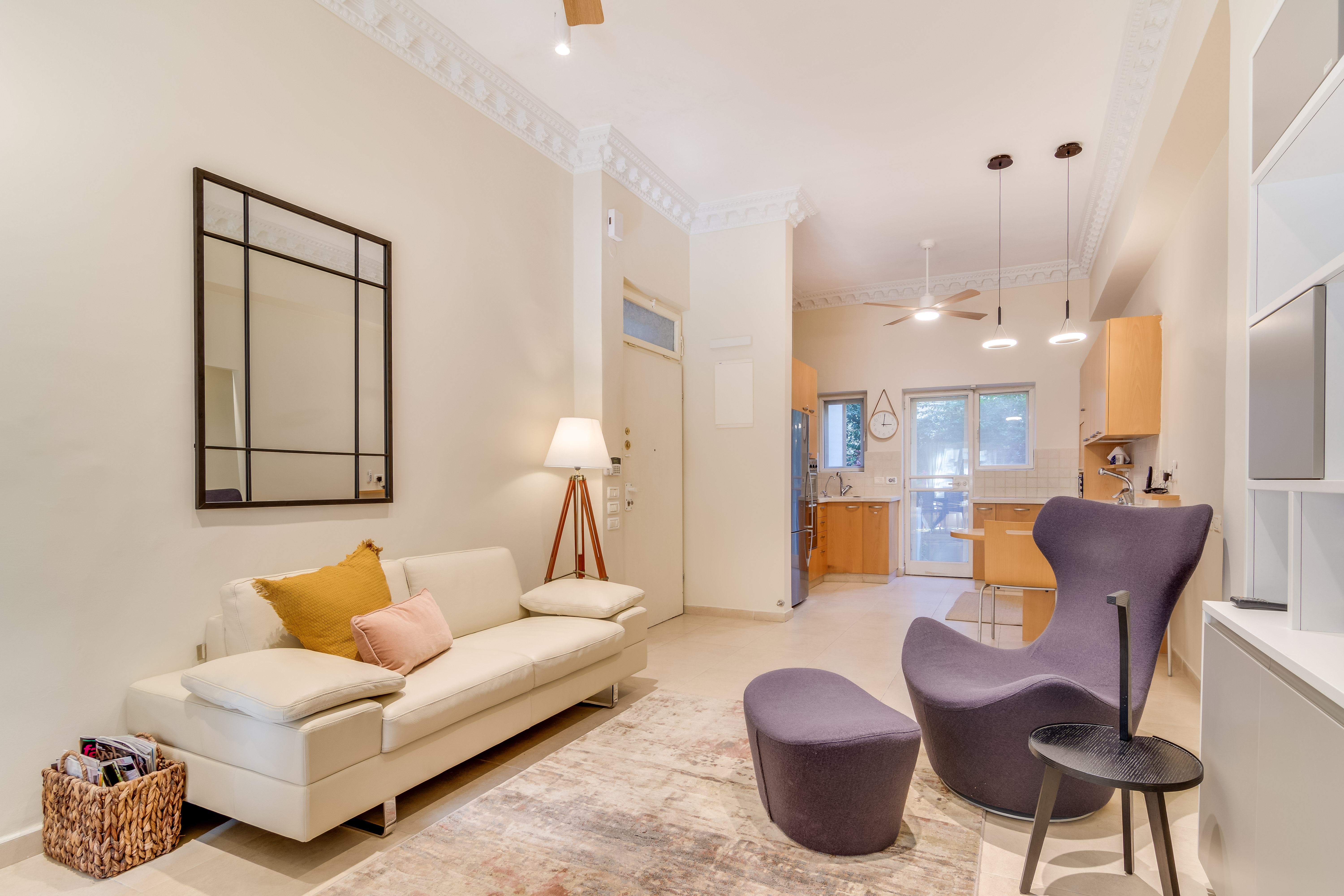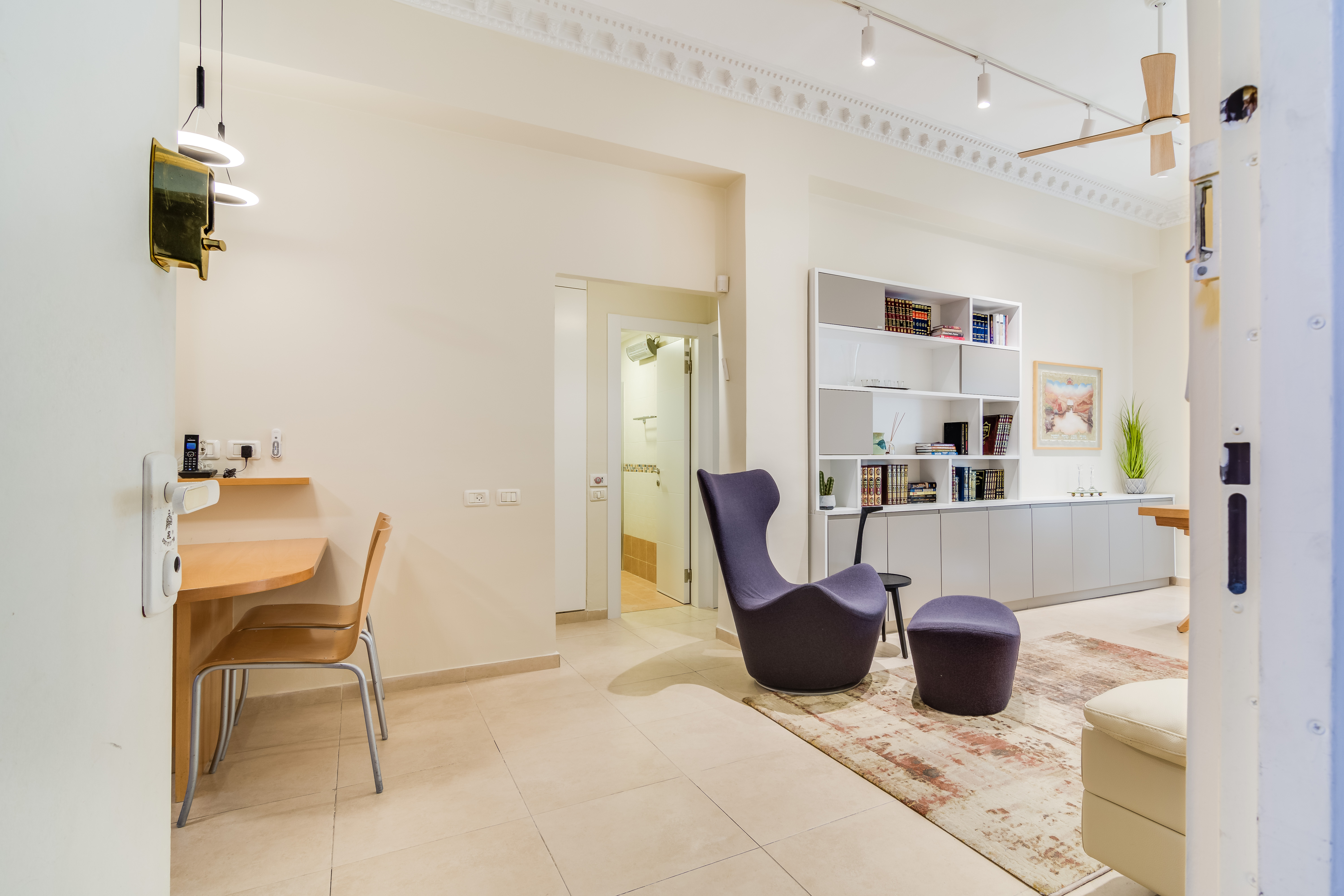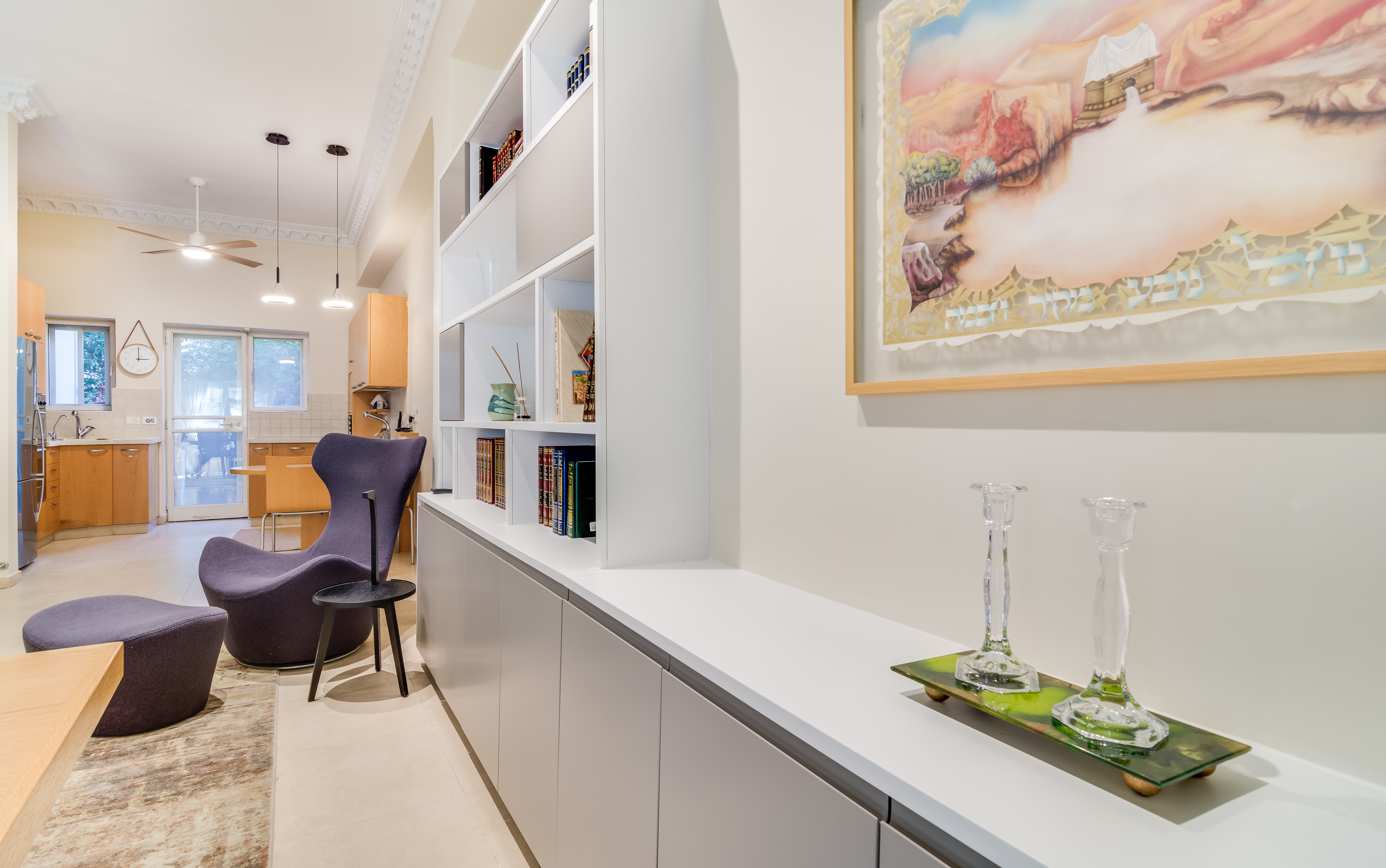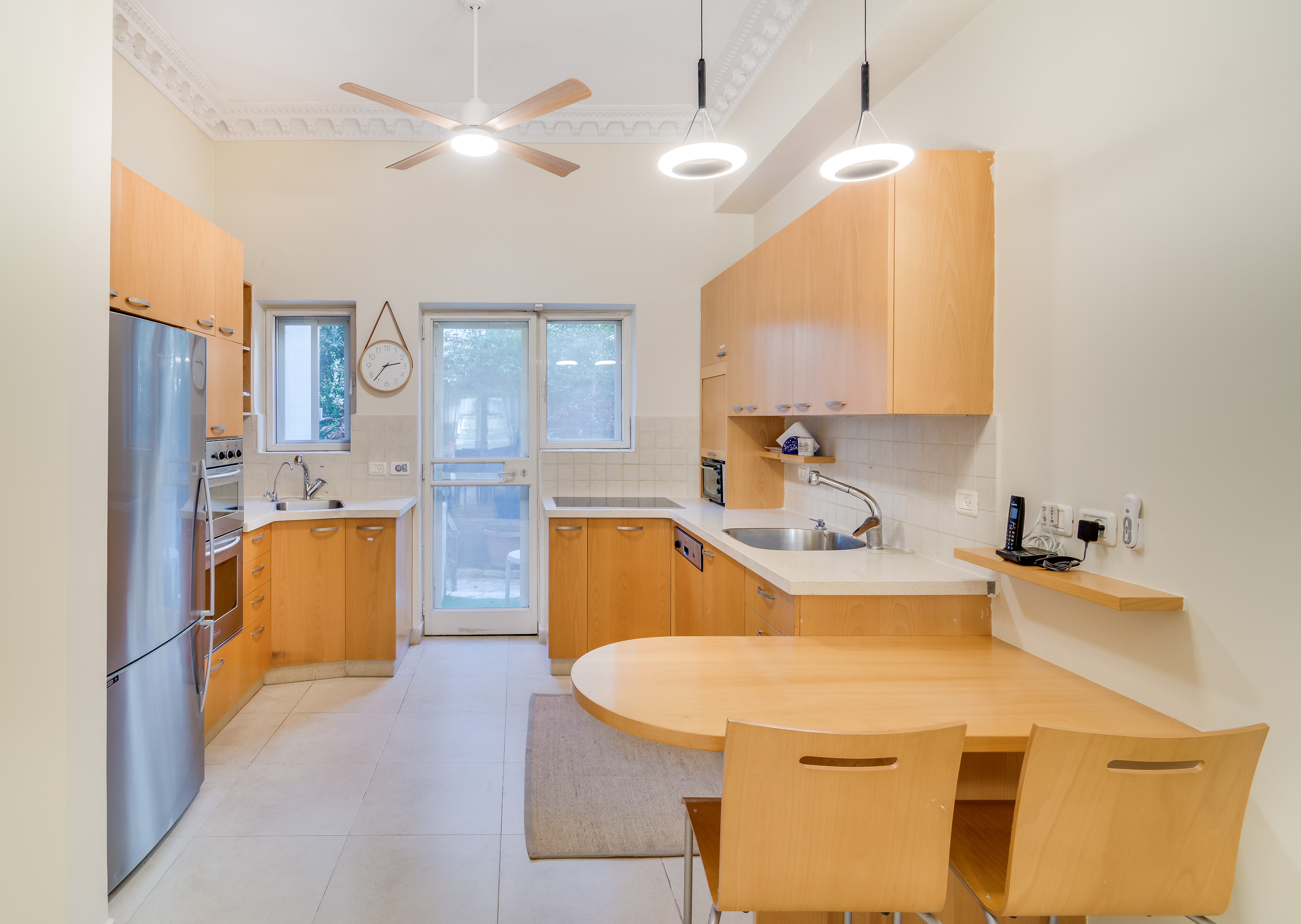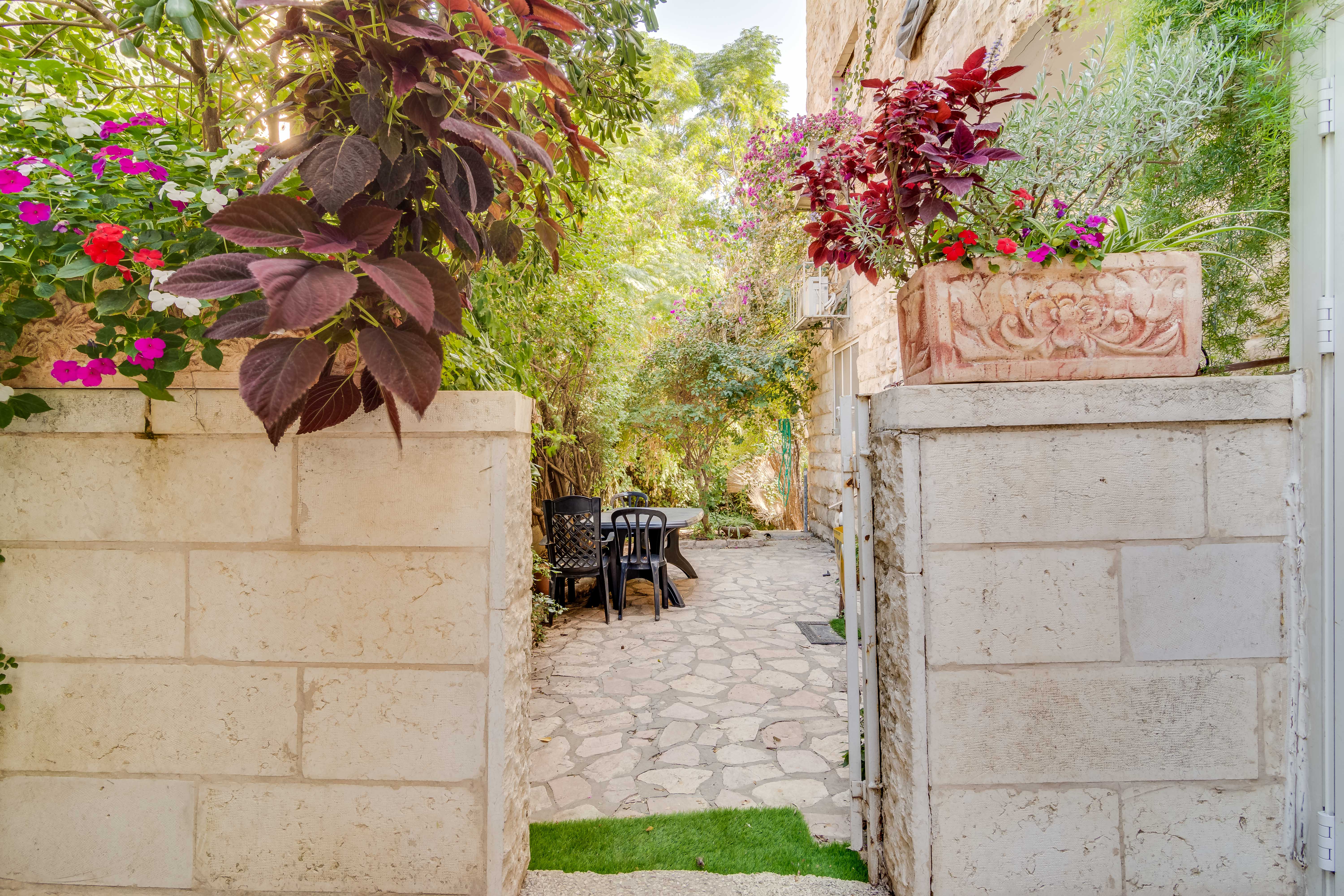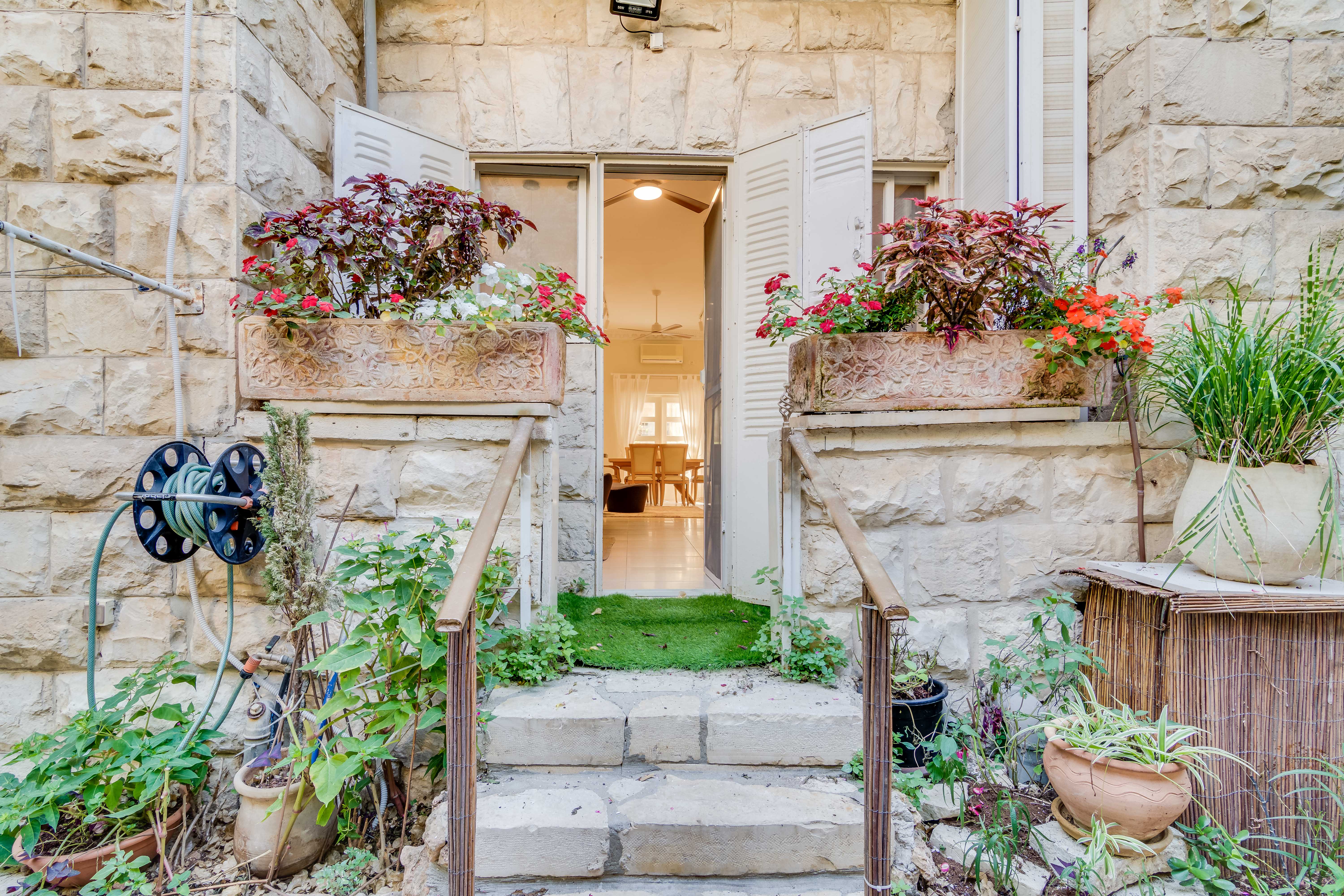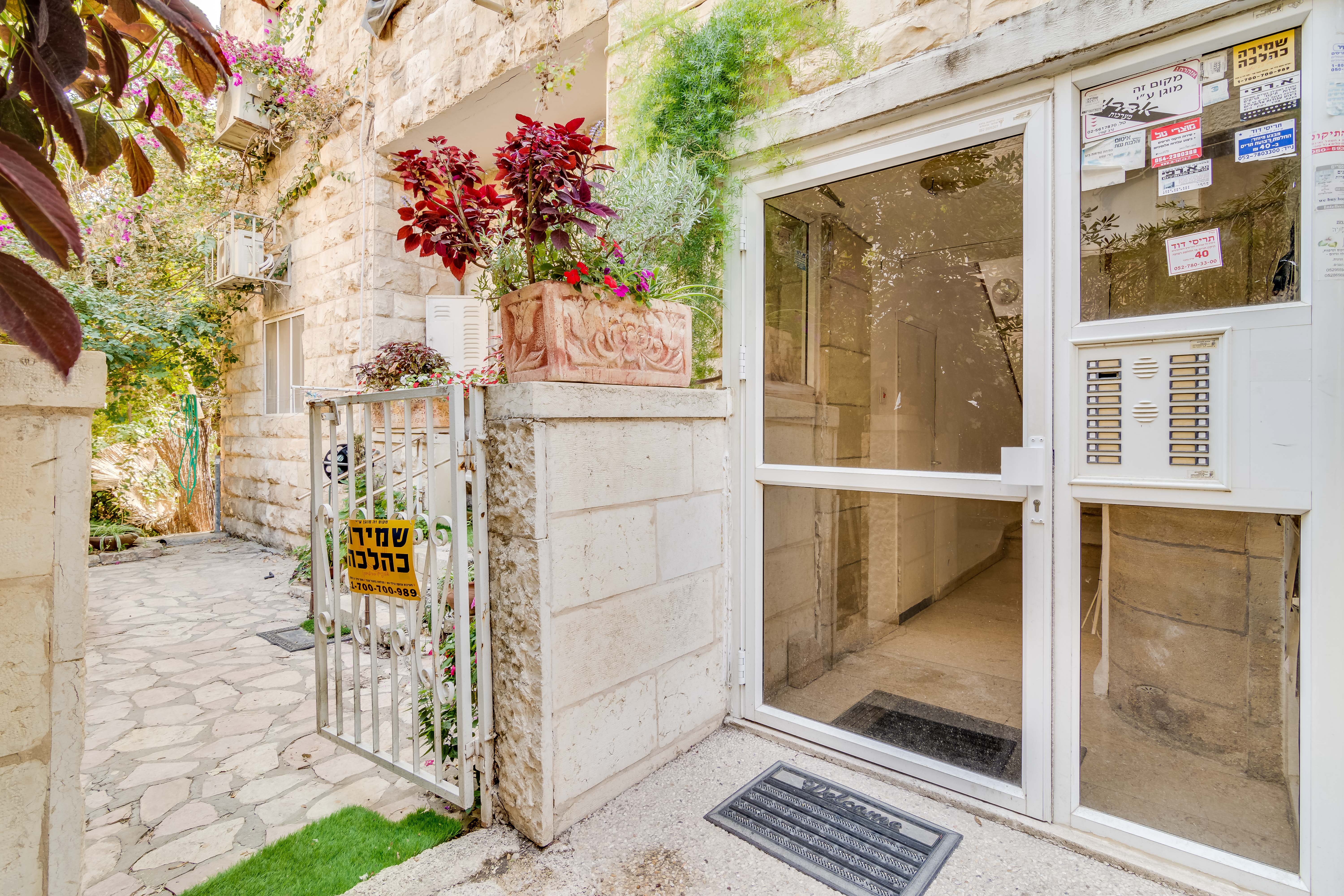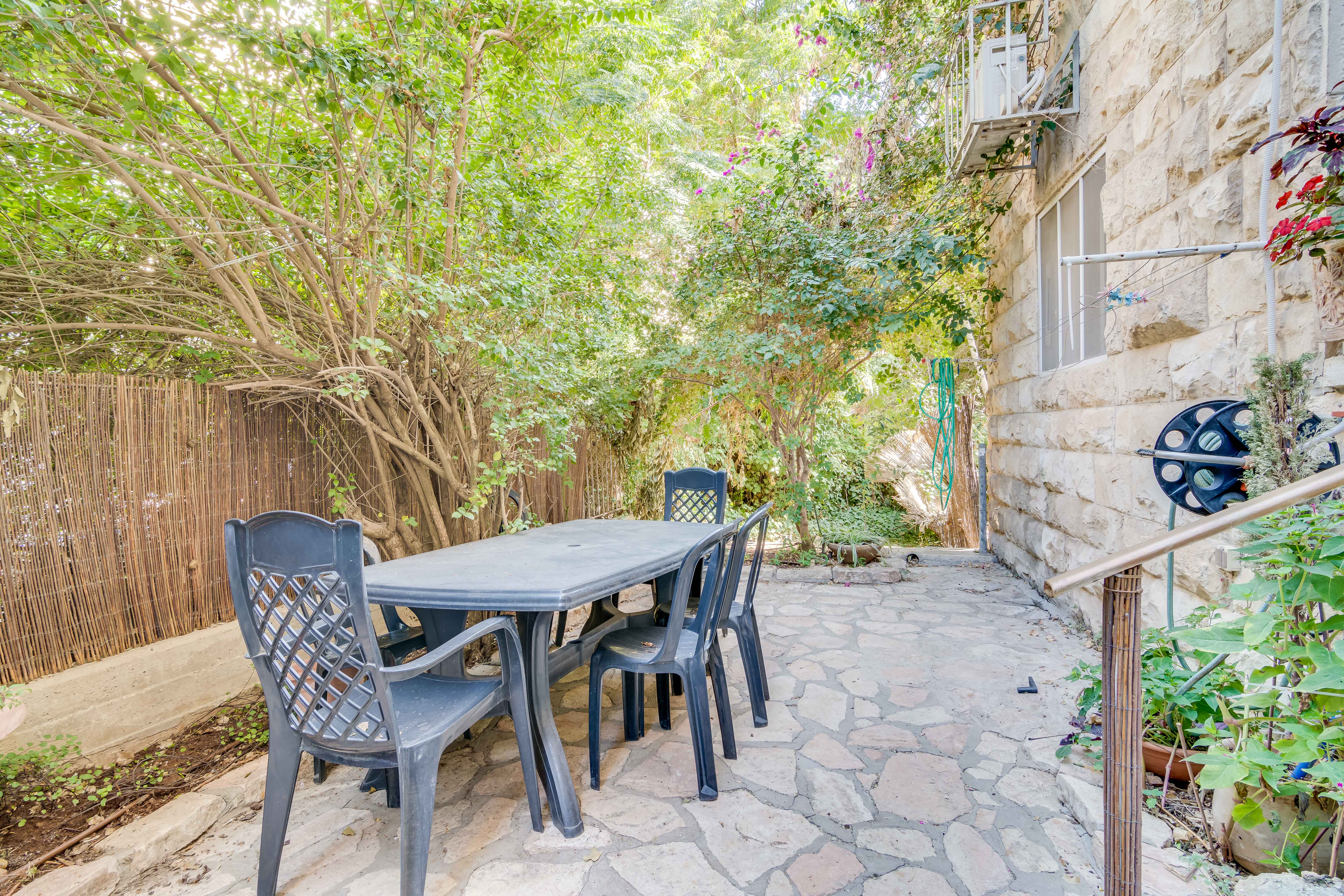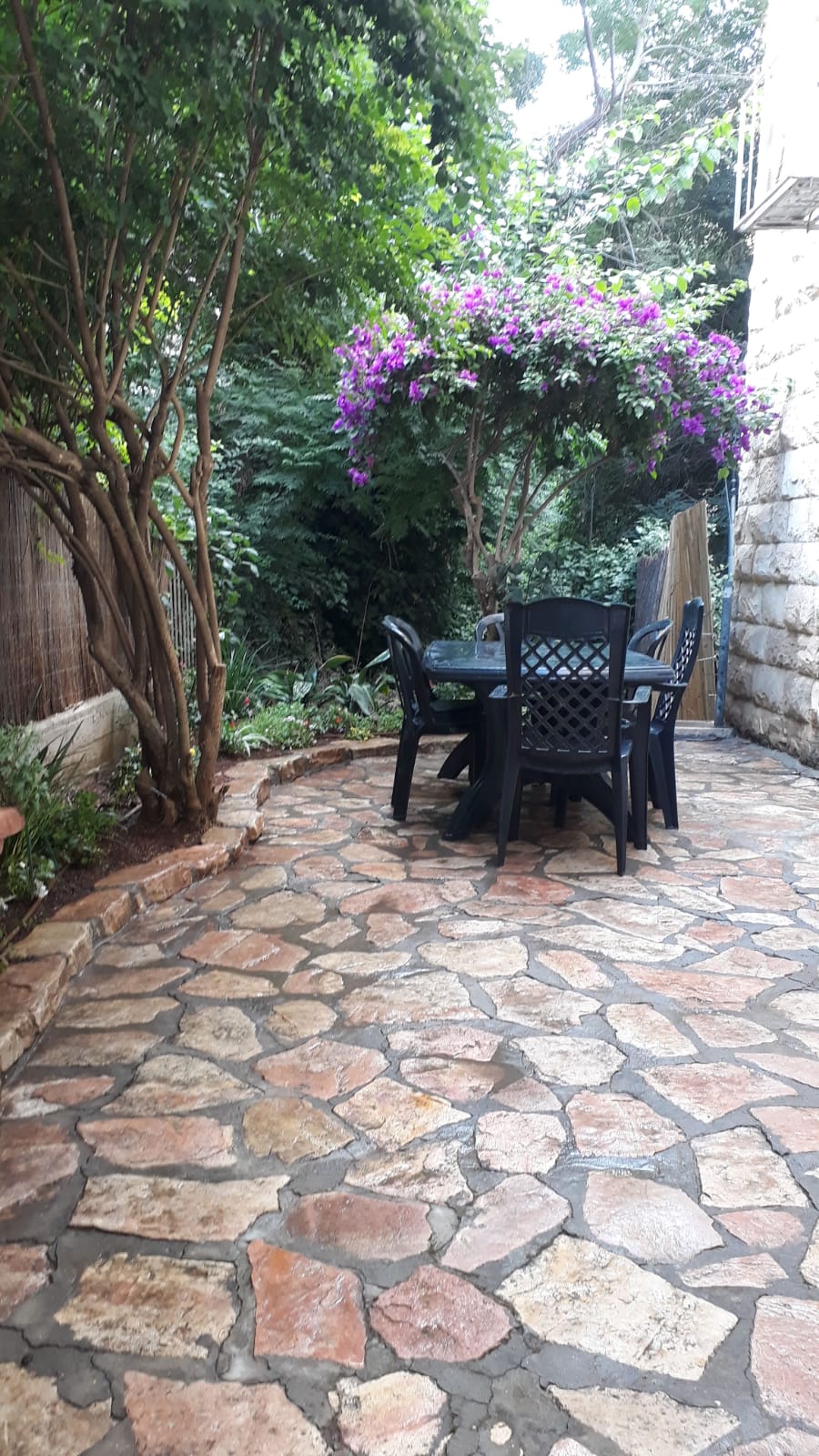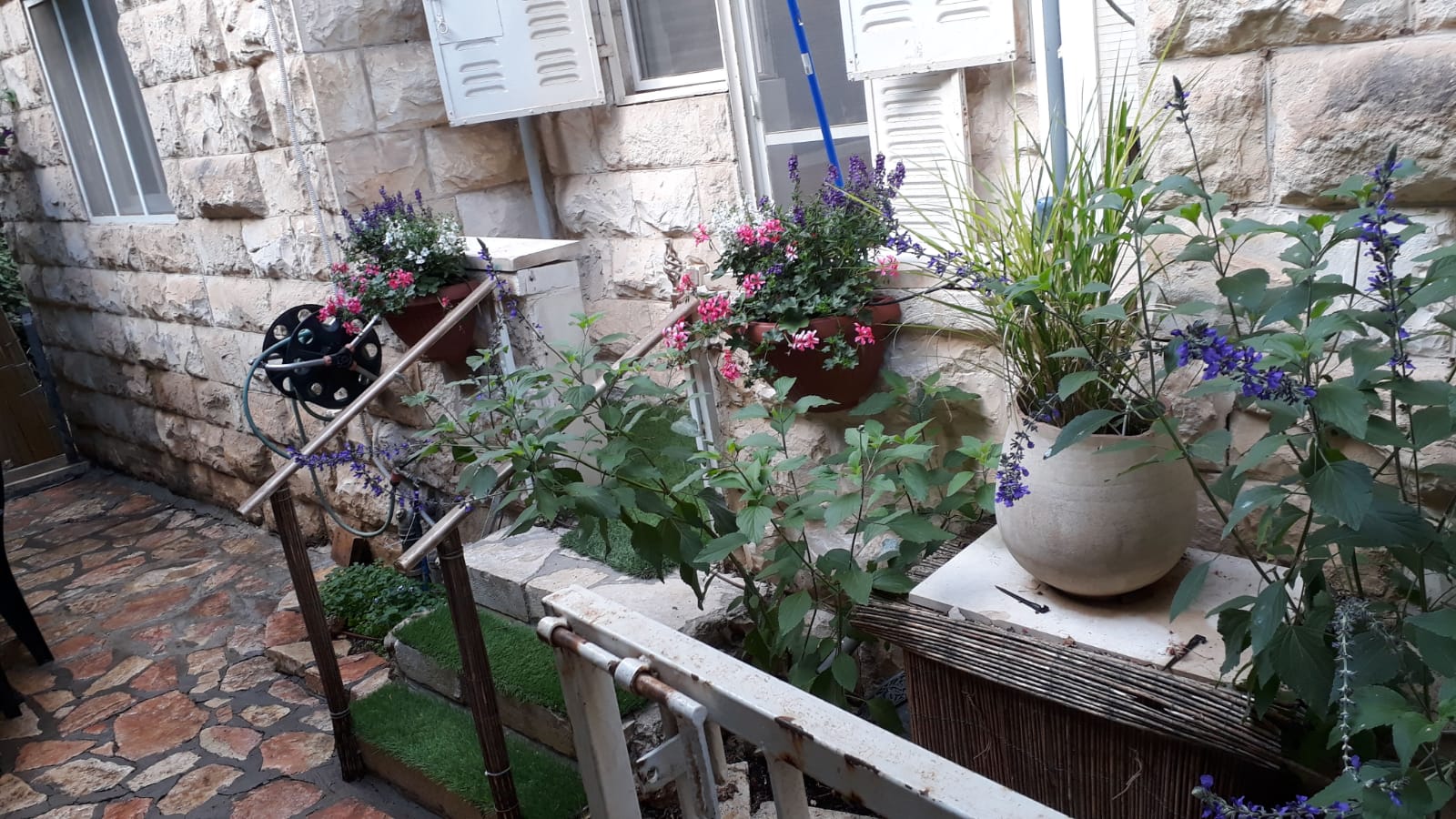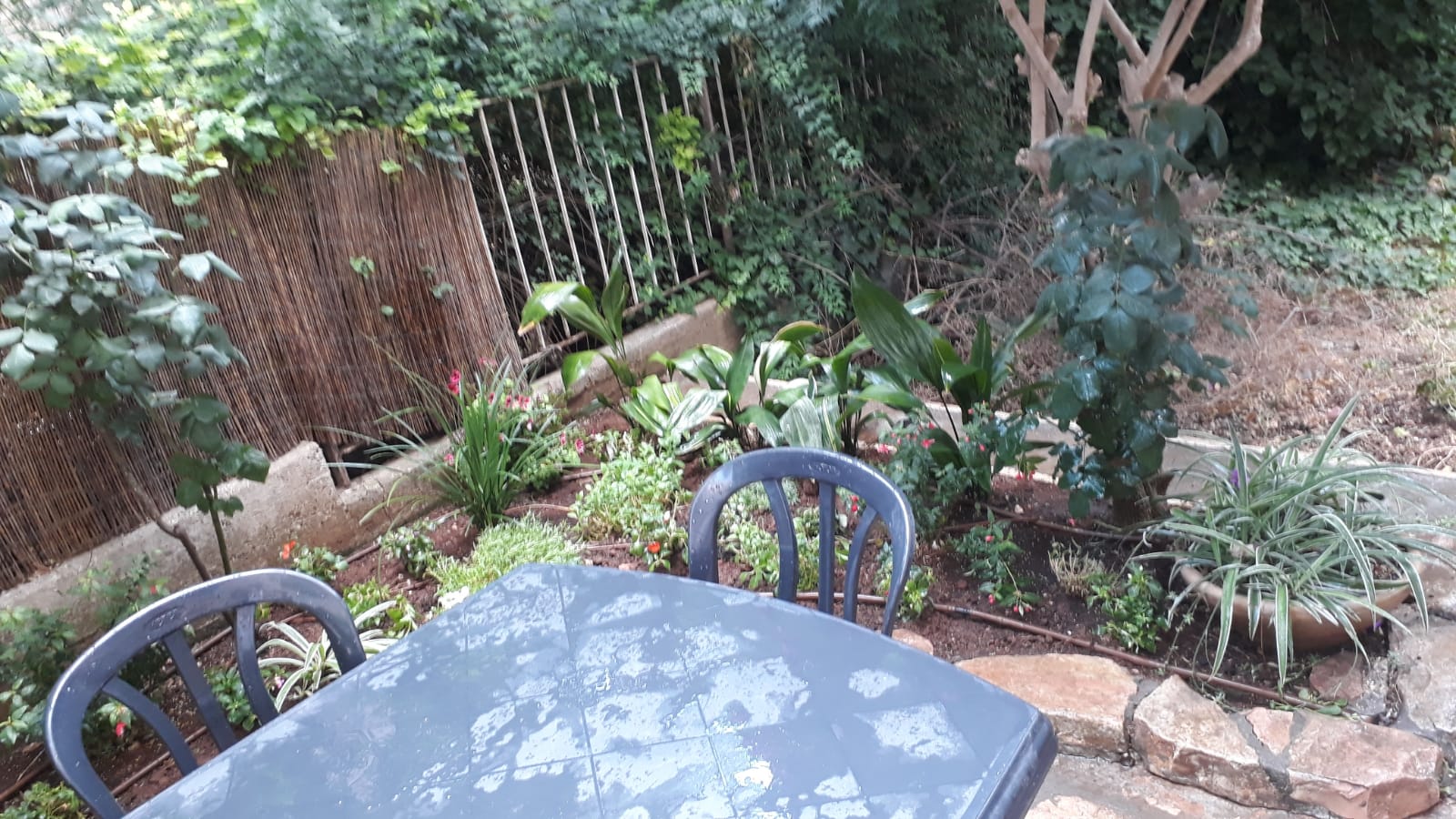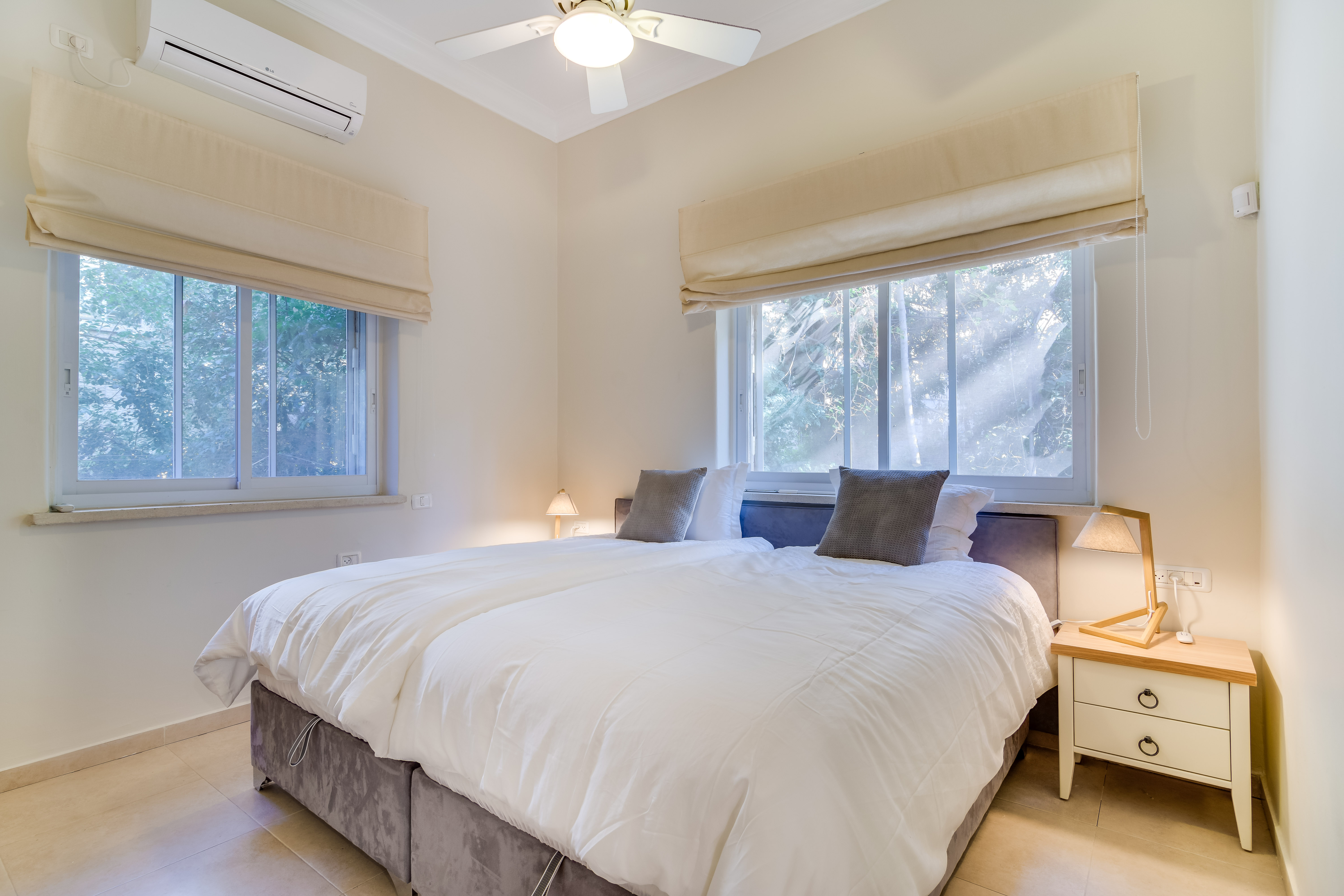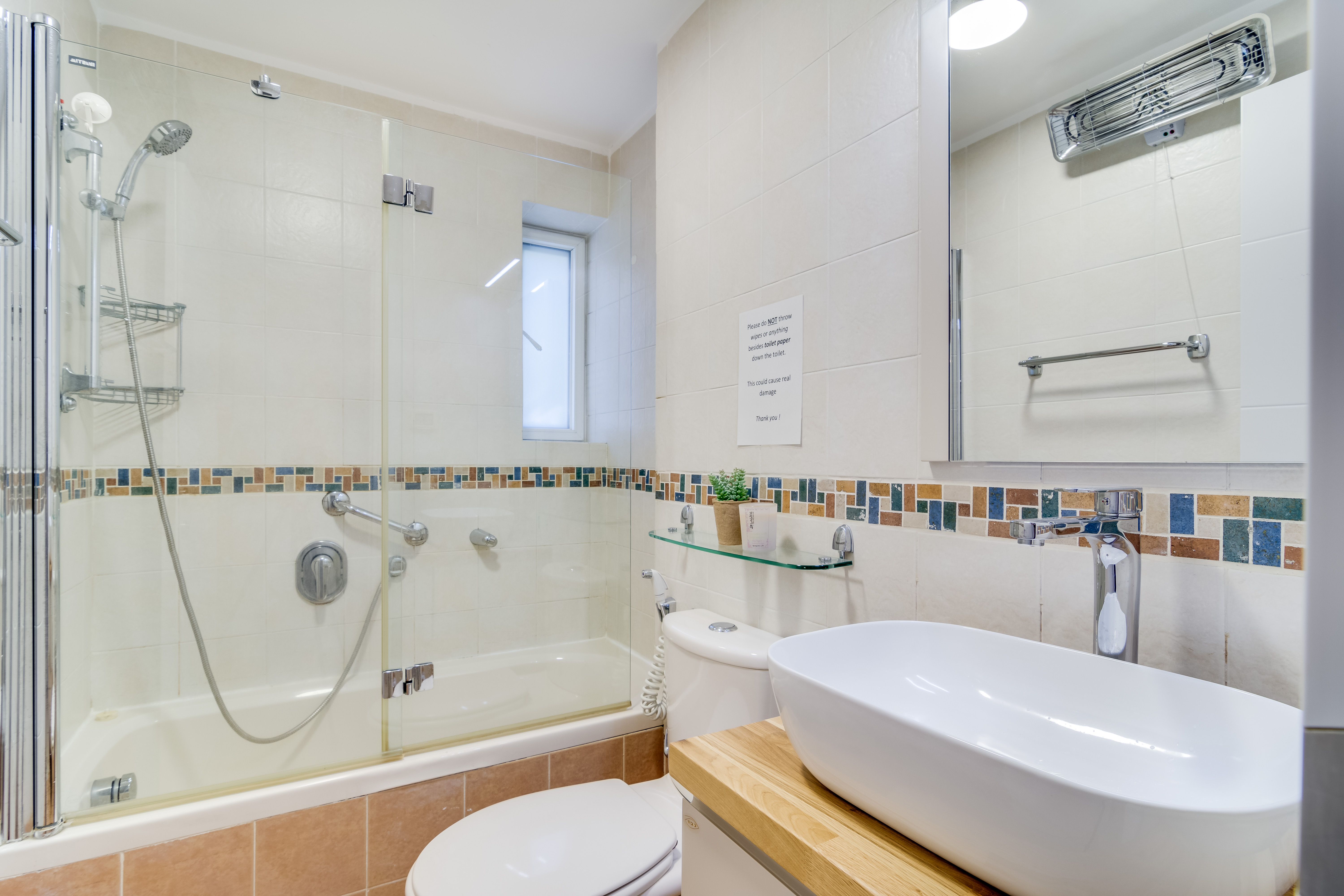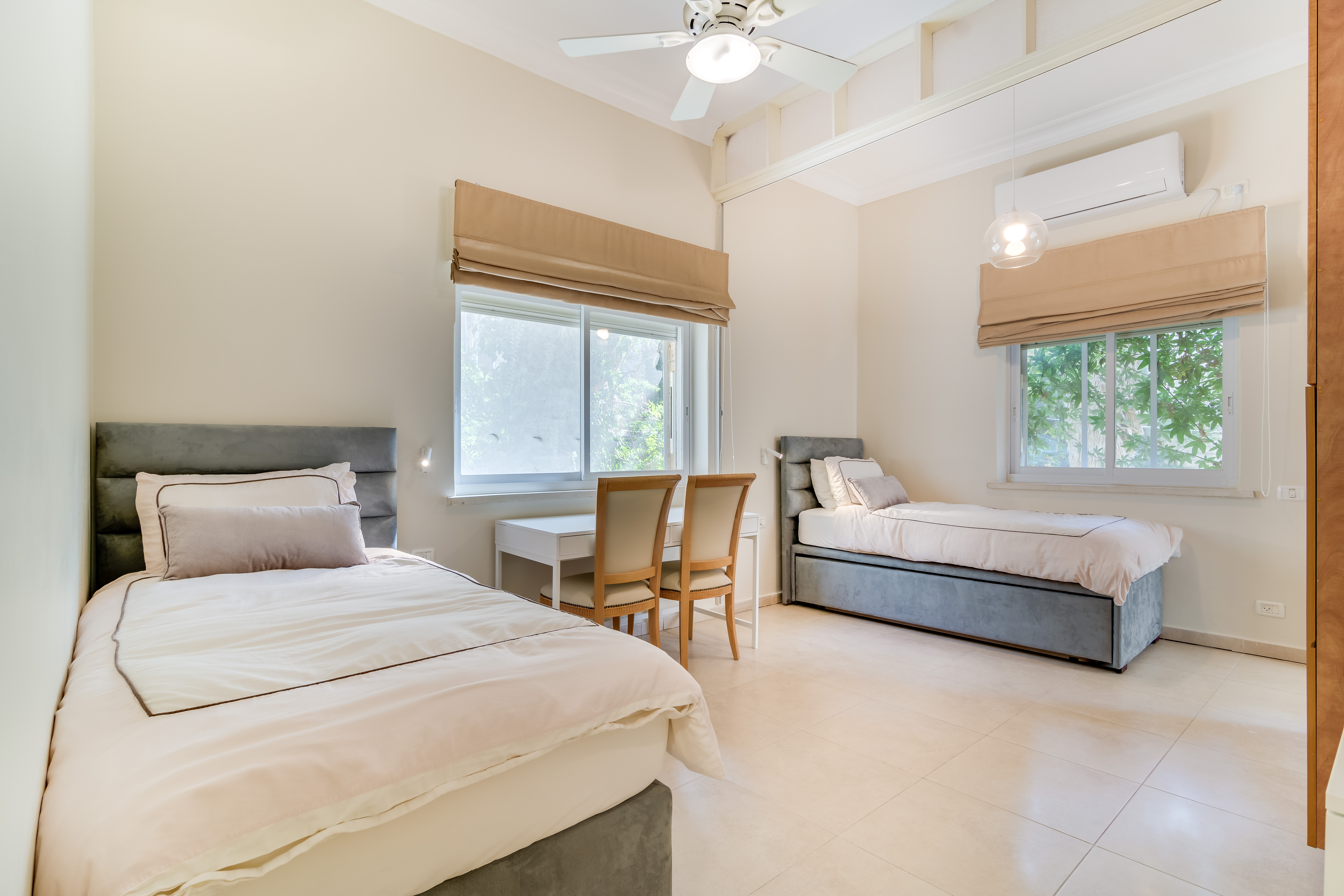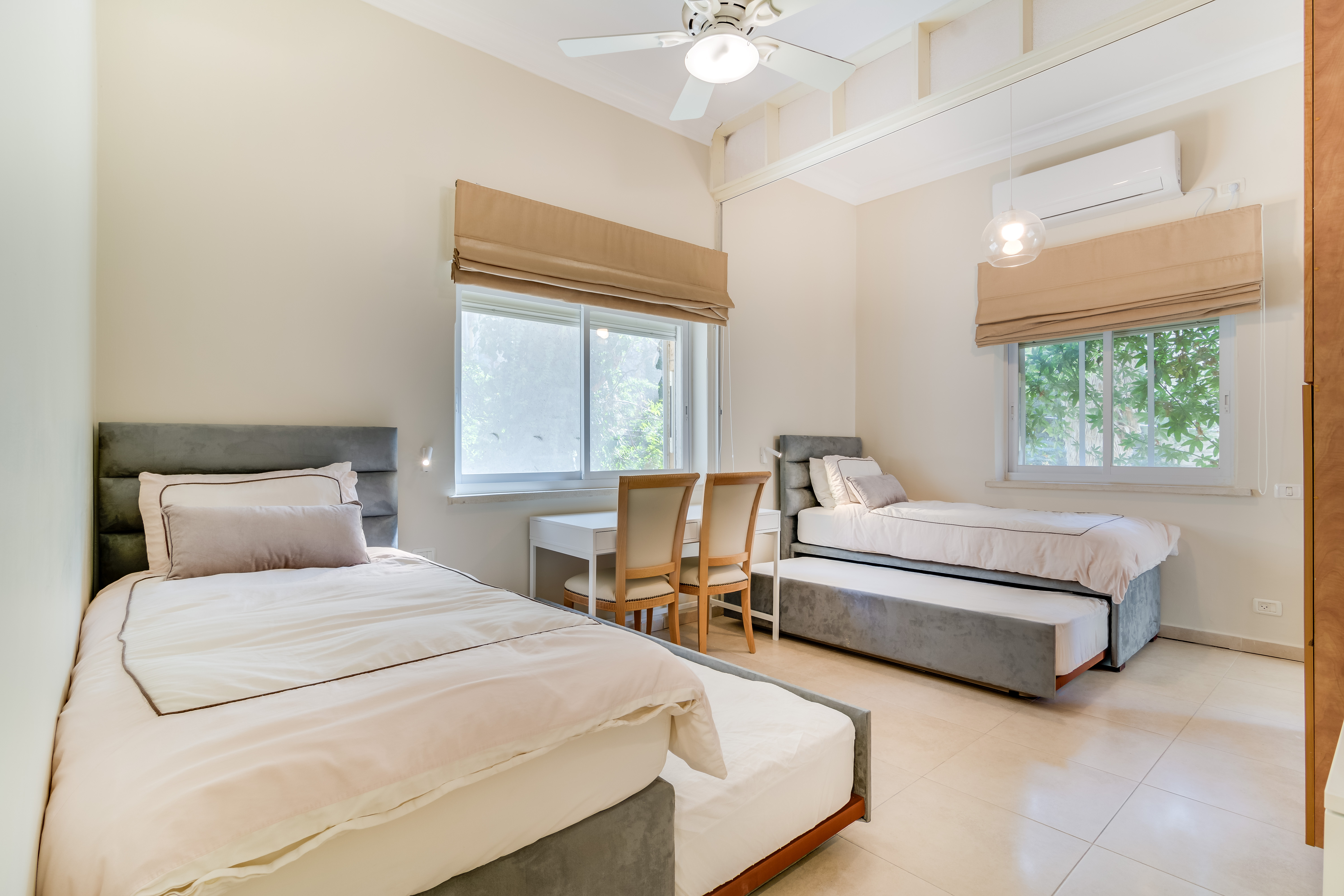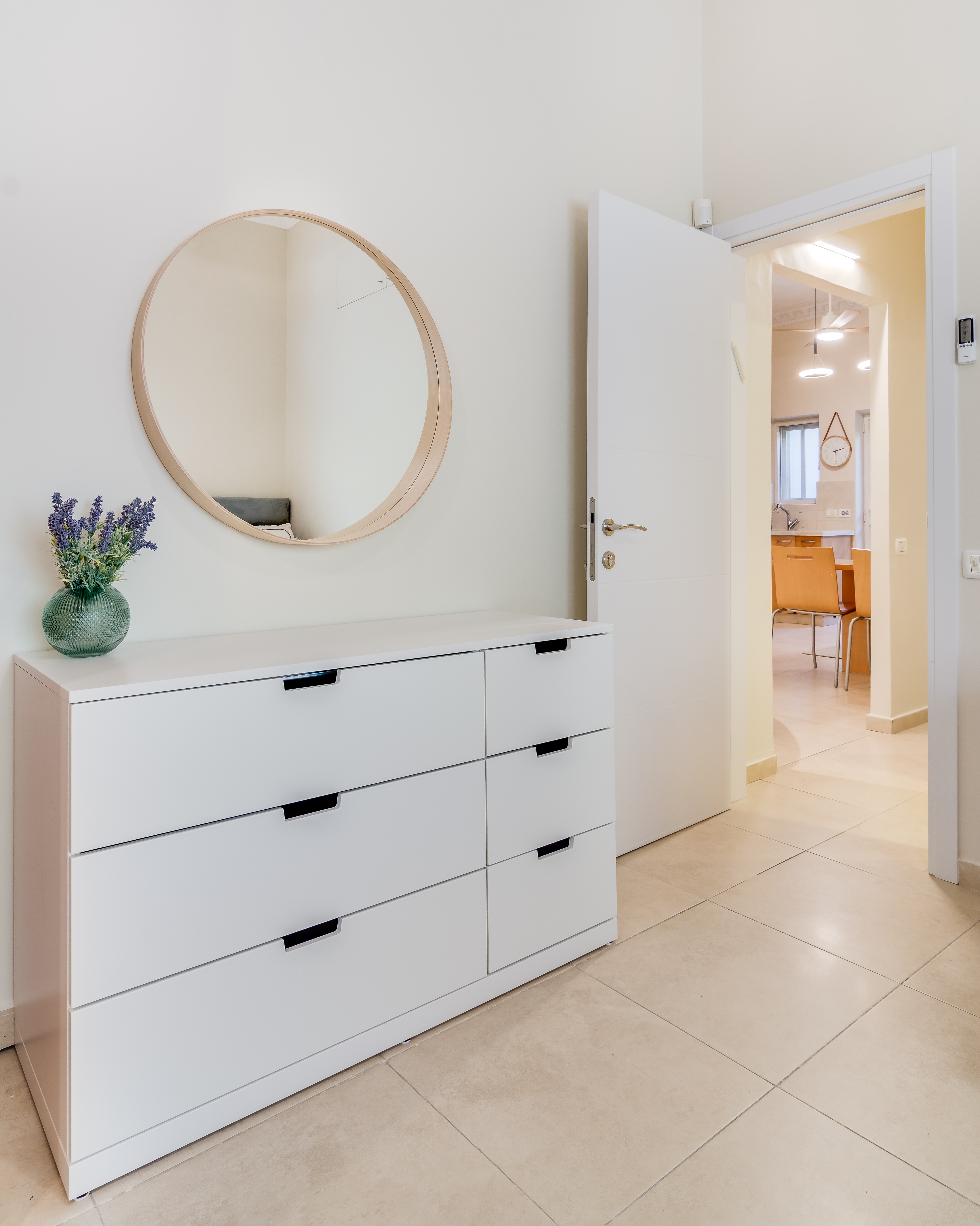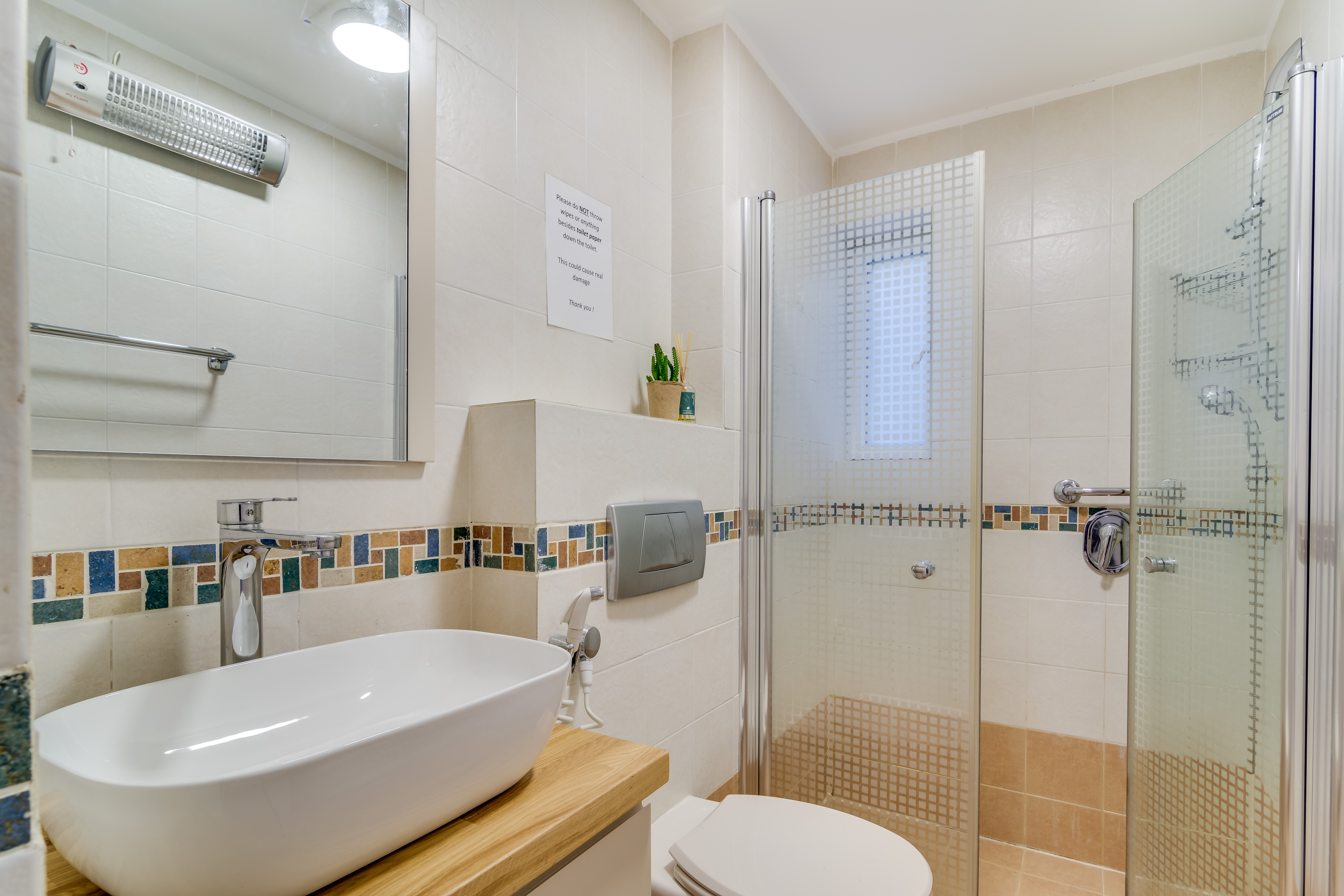 2.0

6

2

90 sq. m.

Ground & No Elevator
BRAND NEW renovated and modernized 2 bedroom ground floor apartment with private garden area! Modern and high end new furniture with a comfortable seating and dining space. Beds for up to 6 people comfortably. Small Grocery store located right next to the apartment, pizza with ice cream shop on the corner and Sushi restaurant. Mikvah and Shul right up the street. Fabulous location! In the apartment there is a Glatt kosher kitchen with eat in area. Use the kitchen for full cooking or take out. Walk out to your private updated garden area with beautiful greenery and relax in the Jerusalem breeze. Don't miss out, book this apartment today!
Bedroom 1
2 Twin Sized Beds The first bedroom is the master en-suite bedroom with two twin-sized beds and closet space.
Bedroom 2
2 Twin Sized Beds, 2 High Riser Beds The second bedroom is very large and can sleep up to four comfortably. There are two twin-sized beds and two high risers as well as a work area with a desk.
Bathroom 1
The first bathroom is the en-suite master bathroom with a bathtub-shower combination, sink, and toilet.
Bathroom 2
The second bathroom is a full guest bathroom with a walk-in shower, sink, and toilet.
Fridge/ Freezer
2 Sinks separate for Dairy and Meat
2 Ovens separate for Dairy and Meat
Electric cook top
Meat Dishwasher
Full Set of Dairy and Meat Pots and Pans
Full Set of Dairy Dishes
Toaster Oven
Microwave
*
Sukkah
**
* Please Note: Metered Parking is on a "as available" basis.
Sukkah seats 12
** Please note there are 4-6 steps from the entrance of the building to get to the floor of the Apartment
Free unlimited wireless Internet access
You will be personally met at the apartment (during normal business hours of 8 AM - 6PM) and showed around by friendly English speaking managers
Self entry will be provided and the English speaking managers will be available to help you with any questions, problems or concerns
Detailed guide of the area with helpful names and phone numbers for dry cleaning, restaurants, Shuls, Shabbos take out, Shaitel wash, etc.
Fresh and clean beds will be prepared for you with high quality American style blankets, pillows and towels upon arrival.
Fresh and clean beds will be prepared for you with blankets, pillows and towels upon arrival.
A cleaning service will clean the apartment and restore it to its original state when you leave to ease your departure from the apartment.
Free starter supply of toilet paper, dishsoap, and garbage bags.
Hot Water Urn
Hot Plate
Kiddush Cup
Challah Board
Havdalah
Candle Sticks
blow dryer
Siddurim and Sefarim (Mishna Brura, Chumash, Mikraos Gedolos)
Pesach Items available upon request
REVIEWS
Hear from many of our happy tenants who have stayed in this apartment! References are available to call or email! Please contact us for details.
This year, our family decided to go the apartment rental route (as opposed to a hotel) for Shavuos. We spoke with a neighbor, who owns an apartment in Yerushalayim, and they suggested that we contact the RoD team. The overall experience was excellent. A nice selection of potential rentals was quickly presented and the entire booking/payment process was done very smoothly and quickly online. The apartment we ultimately chose and stayed at was clean and well-maintained. The manager met us there upon our arrival from the airport and thoroughly explained the workings and amenities in & about the apartment. While we have been to Yerushalayim many times before and are quite familiar with what this beautiful city & neighborhood has to offer, the RoD team followed up before/during/after our stay to make sure all went well, along with a number of very appropriate suggestions for activities, Shabbos/Yom Tov food availability and other services that one might want to avail themselves of. We will certainly call RoD the next time we look for this type of accommodation and would highly recommend your contacting RoD if you are looking for a great experience as well. Yitz & Gilla Stern
Jun 2017
Thank you, Akiva, Aliza, and Rafi for excellent and professional service, start to finish, in finding us beautiful apartments in Yerushalayim. Our many stays, brokered by you, were enjoyed in spacious and beautifully decorated apartments, well located for our needs. Rentals of Distinction has been an excellent resource for our stays in Eretz Yisroel, kein yirbu! Rabbi Menachem & Rebbetzin Bracha Goldberger
Jun 2016
The apartment was great for our needs. The manager in Israel was very accommodating, and when an important issue came up Erev Shabbos she dealt with it in a timely manner. Miriam Wallach - Cedarhurst, NY
May 2016
Great apartment, great location!
Feb 2016
My daughter and her family were so pleased with the apartment and location!
Aug 2015
The apartment was nice and clean. We especially enjoyed the nice garden terrace and we even had some meals outside. The amenities were impressive as well especially access to Seforim and all pots necessary to warm up the meals we purchased. Overall we were happy with the rental and look forward for our next trip.
Jun 2015
We just returned from our amazing family trip to Israel. Thank you so much for all the help you gave us finding two apartments that were so well suited to our needs. This apartment was sweet and cozy. The management staff was superb. They met us upon our arrival promptly and left us with cookies and sweets - a nice touch. We had a small plumbing issue which they responded to Immediately and sent a very nice English speaking plumber who swiftly solved the issue. They were wonderful! Both apartments were clean, well stocked, well air conditioned ( we had a heat wave while we were there) and added to our amazing experience. Thank you so much and we look forward to working with you again soon!! Leah Milch Pittsburgh, PA
Aug 2015
I enjoyed my stay very much. The apartment was very comfortable and the service was great. Thank you again!
Jul 2014
From the outset of planning this vacation, it has been a pleasure dealing with rentals of distinction. The apartment I rented was accurately pictured. The agent responsible for the care of the apartment met us with punctuality, and friendliness. The apartment was clean, and well maintained. The location was perfect for our needs I have already mentioned this rental agency to others planning a trip. Thank you once again, and looking forward to future rentals, until I have a place of my own, malky konstam
Jan 2015
Our rental was really great, we loved the apt, the location was wonderful, the beds were great, and we found everything we needed easily. We would definitely recommended you to everyone and will be staying in one of your apartments again next time instead of a hotel!
Dec 2014
We were overall very satisfied with our rental. The apartment met our needs, the location was good, the manager was very nice, and everything was the way it was supposed to be.
Sep 2014
We were very happy! great apt - no complaints. RoD was great - really on top of things making sure all the details worked out. Would definitely recommend and book through RoD again
Apr 2014
We had a lovely stay in Israel. It is a pleasure to deal with rentals of distinction. Everyone is courteous and helpful. The apartment was pretty, clean, and high end. It was in a convenient location. Thank you for your wonderful service. Sincerely, Yehudit Gelb
Mar 2014
Good afternoon. The apartment we rented on 2 Metudella was lovely, spacious and clean. We enjoyed our stay very much and would definitely consider renting again the next time were in Israel. Thank you again, Ariela
Feb 2014
My husband, mother and three children all stayed here at the end of January 2014. Our flight landed a little late and I was nervous about Uri, who was to meet us, being annoyed at the delay. However, when I called, everyone was pleasant and reassuring that they were aware of the flight delay and he would meet us when we arrived. Uri was warm, personable and informative. We were very pleased with the service. The apartment was exactly what I had expected based on my conversations with the staff and the website. (My husband actually thought it was better than he expected.)The location was perfect for us. It was close to several bus lines and we walked to the Old City a few times. The kitchen was easy to use and things were marked well. We loved that there was laundry also, this was a big help. We had a great experience and would not only use Rentals of Distinction again but will refer them to others as well. Kricket & Eric Schwartzberg
Feb 2014
We wanted to say that we had such a great stay in the apartment.The apartment was clean and everything was laid out for us when we arrived so we could fully enjoy all the amenities from our first moment in the apartment. We had a wonderful time and would surely return.
Dec 2013
We enjoyed our stay in your Metudella II apartment. The apartment was spacious, comfortable, clean and well equipped. It was convenient to several buses, makolets and shuls, and it was easy to catch a taxi on either Metudella or nearby Rechov Aza. The patio was a lovely place for relaxing and sitting and learning. It was especially convenient for us as a ground floor apartment with only a step or two to access the apartment. It was very thoughtful to have some refreshments awaiting us when we arrived. We enjoyed our stay very much and would recommend your agency to our friends. Thank you again. The Gartenbergs
May 2014
We rented a two bedroom (with the possibility of clsing a wall to make a third bedroom) at 7 Binyamin Mitudela St in the Rechavia area. It was perfect for our needs. The apartment is well kept, comfortable and very convenient. There is a makolet right next door with essentials and just up the street are several other stores and restaurants. The price was perfect also. We were very happy with the service we received from Rentals of Distinction and with the apartment itself. The office responded quickly whenever we had any questions and was very helpful through the entire process. We would certainly rent from you again.
Jan 2017
Thanks so much to everyone at Rentals of Distinction (especially Aliza), who went above and beyond to accommodate me and my family with our specific requests during our recent trip to Israel!! Not only was everyone nice and helpful in the planning of the trip, but the hosts who met us in Israel were so nice and accommodating as well. The apartment on Metudella II was clean and neat, and perfectly located. I would definitely recommend Rentals of Distinction to anyone planning a trip to Israel. Thanks so much again for helping to make this trip to Israel a wonderful and most pleasurable experience!
Mar 2017
Conveniently located in Rechavia with easy walking to Ben Yehuda or Old City. We were met by a representative when we arrived and everything was as promised. Nice Shabbat conveniences.
Sep 2017
We recently rented through Rentals of Distinction. They made the process super easy and seamless, from beginning to end. Akiva and the other managers accommodated us in every way. The apartment was spacious and extremely well located in the heart of Rechavia. Will definitely plan to rent from them in the future.
Dec 2017
We had a great pleasure in staying in your apartment - everything was ready for our arrival . Getting around was easy and so was shopping. Our problem was where to park our car ... thank you so much for everything
Feb 2019
We were very happy with the apartment. The location and amenities are excellent. David Kantor was there to meet us and settle us in. He dealt quickly and efficiently with all problems or requests. We would certainly consider staying there again.
Jan 2018
We stayed at Metudella II for a week. The moment we entered the apartment, we were impressed by how spacious and well-maintained it was. Nir, who helps manage the apartment, helped us settle in and was available whenever we needed something. The apartment's location is ideal, just a few minutes from several shuls and from shopping. Metudella II has beautiful styling, with very high ceilings. The open kitchen/dining room/living room contributes to the spacious feel. The apartment's appointments are very modern. The wifi worked perfectly,. We highly recommend Akiva, Rafi, and the staff of Rentals of Distinction; we look forward to using them again. Kol hakavod! Avi and Dawn Goldstein
Jan 2017
I had the privilege of spending a month in Jerusalem this past November and through Rentals of Distinction, resided at Metudellah 7. Rafi and the staff were most accomodating during the apartment search, finding a wonderful apartment in Rechavia. David met us upon arrival, and aside from a couple of minor things, we had very little contact with him since things were quite smooth. The apartment is nicely furnished, clean, and well-stocked. The first floor location made for easy access and the patio garden is an added bonus. The location is excellent - a small makolet literally steps away and another larger one just around the corner. A very short walk to transportation and restaurants, with an ATM across the street. Highly recommended!
Dec 2018
The apartment we rented from the Rentals of Distinction team was fantastic and really uplifted our whole stay in Israel. The apartment was spacious, clean, very comfortable and really exceeded our expectations! The property manager in Israel was very easy to be in touch with for any questions. The Rentals of Distinction team was very helpful throughout the whole process and was such a pleasure to deal with! We'll definitely be back!
Feb 2019
The apartment was really nice. It was clean and comfortable and stocked with whatever we needed. Additionally, the management company was readily available to help us with whatever we needed. Thank you for such a great experience!
Jul 2019
The process of renting was easy. The apartment was great, exactly where we wanted it to be in Yerushalayim. We are very pleased with our experience and would use Rentals of Distinction again. D. Gerstman, Baltimore
Dec 2019
Lovely apartment with everything we needed, the 5 us were extremely comfortable, the beds were great! Location was excellent, the grocery shop next door a win! Would definitely stay there again.
Jan 2020
We rented an apartment in Rechavia and were very pleased with the accommodations. The apartment was clean and fresh. The apartment looked just like the pictures. We had a small problem with internet access but both the American & Israeli teams addressed the issue in a very timely manner. We will iyh use Rentals of Distinction for future rentals. Thanks, M & M Engelberg
Oct 2020
We recently stayed at the Metudella II apartment in Rechavia. The location of the apartment was excellent and most convenient for shopping and the center of Jerusalem. The apartment was comfortable and easily accessible via the first floor entrance. Amenities in the apartment including washer and dryer were great to have. The apartment was clean and neat with a nice outdoor garden.
Jun 2022
ROD has a unique comprehensive customer service. There is a 24hr international team to ensure all our needs were met. The apartment was as advertised and the experience with ROD was perfection.
Nov 2022
My family enjoyed a week stay in this apartment. The location was perfect, close to restaurants, shuls, groceries and an easy 20 min walk to town. The beds were very comfortable and the rooms clean and spacious. It was also so nice that anything we needed was already there, soap, laundry detergent, plastic utensils/cups, coffee and tea. The ROD team were extremely helpful and attentive. We look forward to renting again.
Feb 2023
We loved the apartment. It surpassed our expectations! Roomy and had everything we needed to prepare for the holiday.
Apr 2023
My recent stay in the Metudella apartment was a great experience. It was the right size for a family of four and the perfect location. The apartment itself had everything we needed with plenty of space and was a comfortable place. While getting in to the apartment hit a roadblock since we arrived early, Akiva Bookman helped smooth things out and got us in. The manager was helpful in answering all the questions we had about the apartment to help us settle in. And we greatly appreciated the flexibility so we could check out a bit later. A great experience and would definitely come back. Overall stay Management experience Apartment
Jun 2023
Thank you again, all was great!
Jul 2023
We stayed in the Metudella apartment in late June/early July. We enjoyed the apartment very much. It had everything we need – good linens, comfortable beds, great showers (with lots of hot water and high pressure) and excellent air conditioning. The outside area was a bonus. The street is very quiet and the makolet outside the building is a great convenience. The guys that worked there were very friendly. The location of the apartment is excellent. It is very central and easy to get to Machane Yehuda and the centre of town either by foot or by bus. Thank you to Rentals of Distinction for being accommodating and understanding. On check out day our flight was delayed 9 hours. They allowed us to use the apartment for the additional time, leaving behind a few towels so we could freshen up after a day in the sun and more walking in Jerusalem before our flight. Without their help we would have had to go to the airport and sit there all day. We would highly recommend this apartment and we hope to return and stay there again ourselves.
Aug 2023
The apartment and service were great! Manager was very responsive and the apartment was exactly as described. We were very happy!
Oct 2023